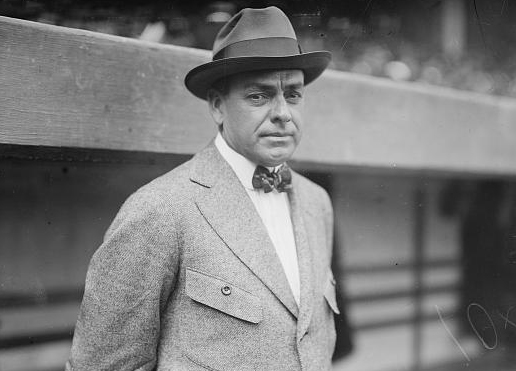 September 2, 1918: Braves, Giants finish a season cut short by war
---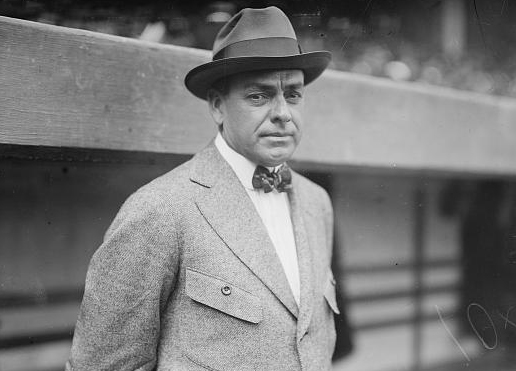 With baseball nearing the end of its second season of play since the United States declared war on Germany and entered World War I, the game's continued operation was being called into question by high-ranking military officials, particularly the provost marshal of the US Army, General Enoch Crowder, who was in charge of the military draft. With the country fully committed to its involvement in the war, baseball was ruled a non-essential industry and the 1918 season was cut short after Crowder issued a "work-or-fight" order. As a result, the doubleheader scheduled for Monday, September 2 (Labor Day) at Braves Field would be the season's finale.
In lieu of Boston's annual holiday parade, between 4,000 and 5,000 people, mostly military personnel and government workers in the shipbuilding industry, turned out that day to march in the "Win-the-War-for-Freedom" parade. President Woodrow Wilson, in his Labor Day message to the nation, managed to tie the national holiday to the war effort by declaring, "To fail to win (the war) would be to imperil everything that the laborer has striven for and held dear since freedom first had its dawn and his struggle for justice began."1
On the field, 1918 was the second consecutive season in which manager George Stallings' Braves were considerably worse than the year before. At 52-70 going into the season's final day, the team retained only a few key players from the team that won the 1914 World Series and posted a .582 winning percentage from 1914 through 1916.
Meanwhile, in another part of town, the Red Sox – with Babe Ruth slated to pitch Game One –were gearing up to travel to Chicago in two days to play in a World Series that would long be remembered as the last one the Red Sox won for 86 years.
As many as 6,000 fans turned out to witness the season-ending doubleheader at Braves Field, more than 1,500 of whom were soldiers and sailors.2 As had been the case all year, servicemen were admitted free as guests of the management.
The Braves were looking for their first win of the year against the second-place New York Giants, a streak of futility that stretched across 14 games. The defending National League champions had been among the hardest hit by the draft, but you couldn't tell by the way John McGraw's team had dominated Stallings' squad.
The first game of the twin bill did nothing to reverse the Braves' fortunes against McGraw's men. Art Nehf was on the hill for Boston, pitching on one day's rest after twirling an 11-inning complete-game victory in Philadelphia on Saturday for his 15th win of the season.
Nehf had pitched excellently in August, posting a 1.55 ERA over 64 innings in six starts, but with only two wins to show for it. However, the decision to pitch him on short rest on the season's final day proved to be a poor one. The 26-year-old Boston staff ace was tied with Chicago's Hippo Vaughn for the National League lead in complete games, so the season's workload may have been a factor as well.
Opposing Nehf was Red Causey, who was the Giants' second winningest pitcher in 1918 despite not cracking the rotation until mid-June. After weathering some inconsistency immediately after his promotion from the bullpen, Causey had emerged as one of the stalwarts of the Giants' staff, even winning six consecutive complete games from July 13 to August 3. A late-August swoon, in which he'd allowed six earned runs in two of his last three starts, had put a slight damper on his rookie campaign. But on this day, Causey looked more like the pitcher whose ERA was barely above 2.00 less than a month before.
The Giants scored a pair of runs in three of the game's first four innings, leaving the Braves down 6-0 before managing any offense themselves. Heinie Zimmerman – who at 31 was finishing the worst full season of his career, — was the hitting star with a single, double, triple, sacrifice fly, and two RBIs. Art Fletcher contributed three singles and scored twice.
Ross Youngs started the game by singling to center. Larry Doyle walked and Fletcher beat out a bunt single to load the bases with nobody out. After striking out Jim Thorpe, Nehf yielded a sacrifice fly to Zimmerman and almost worked out of further trouble, but an error by Ed Konetchy on a grounder by Jose Rodriguez scored Doyle with the second run.
In the third, Fletcher reached on an infield hit and scored on Zimmerman's triple. A groundout by Rodriguez scored Zimmerman and gave New York a 4-0 lead.
Youngs led off the fourth with a walk, moved to second as Doyle was retired, and scored on a single by Fletcher. Thorpe walked and Zimmerman followed with a single to load the bases. Rodriguez's fielder's choice brought home Fletcher with the New Yorkers' sixth run of the game.
The Braves scored in their half of the fourth, as singles by Robert Taggert (aka Jim Kelly) and Chet Chadbourne and a walk to Zeb Terry walk loaded the bases with no outs. But Causey managed to limit the damage; a grounder by Red Smith and a single by Konetchy produced Boston's only two runs.
Nehf settled down and pitched scoreless ball the rest of the way, getting his league-leading 28th complete game in the 6-2 defeat.
In the second game, the Braves rode the right arm of 31-year-old ex-Giant Dick Rudolph. Because of arm trouble, Rudolph hadn't performed in 1918 like the pitcher who anchored the Boston staff from 1913 to 1917, winning 94 games and throwing nearly 1,500 innings in his short-lived peak. However, on this day, he was every bit as good as in the past.
The Giants got on the board first, scoring an unearned run in the second inning on a play that nearly resulted in two outs being recorded due to some over-aggressive baserunning.
After Zimmerman drew a one-out walk, Jay Kirke singled to right on a hit-and-run. With Zimmerman advancing to third, Kirke attempted to take second but was thrown out on a close play. Zimmerman continued through third attempting to score, and Boston shortstop Terry's throw had him dead to rights at the plate, but catcher Bill Wagner dropped the ball while applying the tag.
That was the only run the Giants mustered off Rudolph, although they threatened twice more before the Braves took their first lead of the game.
Rudolph helped his own cause in the third, singling off Giants starter Bob Steele and swiping second on a Buck Herzog strikeout. An infield hit by Taggert moved him to third, from where he scored the tying run on a single by Chet Chadbourne.
Rudolph pitched out of bases-loaded jams in back-to-back innings in the game's middle innings.
In the fourth New York left fielder Joe Wilhoit walked to load the bases with one out, but the Boston hurler came back to strike out Bill Rariden and his counterpart Steele to snuff out the rally.
In the fifth Rudolph walked Zimmerman and faced Kirke with two outs and the bases full. Kirke hit one with authority, but Taggert snared it on the run near the left-field line to preserve the tie.
Boston scored what proved to be the winning run in the sixth. After one-out singles by Smith and Konetchy, Wagner walked. Johnny Rawlings then lofted a deep fly to left that scored Smith, giving the Braves a 2-1 lead they would not relinquish, and ultimately, their first victory in 16 games against the Giants that season.
With the season over for both the Braves and Giants, players and spectators were left wondering what impact the Great War would have on baseball in 1919.
This article appeared in "Braves Field: Memorable Moments at Boston's Lost Diamond" (SABR, 2015), edited by Bill Nowlin and Bob Brady. To read more articles from this book, click here.
Sources
In addition to the sources mentioned in the Notes, box scores for this game can be seen on baseball-reference.com, and retrosheet.org at:
http://www.baseball-reference.com/boxes/PHI/PHI191809021.shtml
http://www.retrosheet.org/boxesetc/1918/B09021PHI1918.htm
http://www.baseball-reference.com/boxes/PHI/PHI191809022.shtml
http://www.retrosheet.org/boxesetc/1918/B09022PHI1918.htm
Neft, David S., and Richard M. Cohen, The Sports Encyclopedia:Baseball, 7th ed. (New York: St. Martin's Press, 1987), 84.
Boston Post, September 3, 1918.
Boston Post, September 2, 1918.
Boston Herald, September 2, 1918.
Boston Herald, September 3, 1918.
Boston Globe, September 3, 1918.
Notes
1 "All America in War to Win," Boston Post, September 2, 1918, 1.
2 Figures varied. The Boston Herald reported 4,000 in attendance and the Boston Globe reported 6,000.
Additional Stats
New York Giants 6
Boston Braves 2
Boston Braves 2
New York Giants 1
---
Braves Field
Boston, MA
Box Score + PBP:
Game 1:
Game 2:
Corrections? Additions?
If you can help us improve this game story, contact us.
Tags
http://sabr.org/sites/default/files/images/Stallings-George-Bain-17329r.jpg
600
800
admin
/wp-content/uploads/2020/02/sabr_logo.png
admin
2017-07-07 14:54:07
2020-04-17 10:25:48
September 2, 1918: Braves, Giants finish a season cut short by war