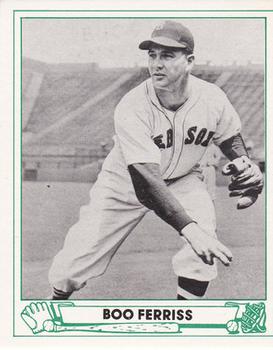 September 2, 1946: Boo Ferriss puts nail in Yankees' coffin with 12th consecutive win
---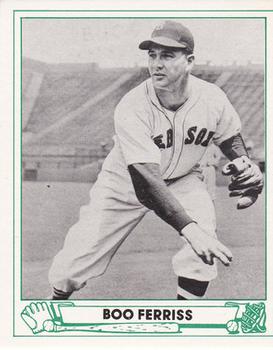 The Boston Red Sox were red hot going into the last month of the 1946 season with a league-leading 13½-game lead over the New York Yankees, and no one on the team was more sizzling than pitcher Dave "Boo" Ferriss. He was tied for the American League lead (with Detroit's Hal Newhouser) with 23 wins for the season and had an active streak of 11 victories in a row.
Ferriss knew something about streaks, since as a rookie in 1945 he began his major-league career by winning his first eight starts, including a stretch of 22⅓ consecutive scoreless innings.1 Earlier in the 1946 season he had posted a 10-game winning streak from April 26 to June 9.2
He had gained a measure of national attention with his unexpected rookie season, followed by his similar performance in 1946. Referred to as the "darling of the Deltas,"3 Ferriss was as popular as some of his better-known teammates.
Before a season-record crowd of 73,551 in Yankee Stadium on September 2, Ferriss was charged by Red Sox manager Joe Cronin with preventing the distant but second-place Yankees from gaining any ground on the Red Sox. Even though Boston had been in first place for every day of the season except for April 24, the players were wary of a potential meltdown that might lead to a contentious battle for the pennant during the final days of the season. The crowd was the largest at Yankee Stadium since a Red Sox game in 1938.4
Ernie "Tiny" Bonham (5-5) drew the starting assignment for the Yankees. It was only his 12th start of the season; he had missed a good part of the season with back and arm pains.5
The Red Sox got the scoring started in the top of the second inning when Ted Williams walked and scored on a double by Rudy York. York also had advanced to third on an error involving Yankee second baseman Snuffy Stirnweiss's attempt to throw Williams out at home. Bonham avoided another run when York was thrown out at home on Pinky Higgins' ground ball to third base.
In the top of the third, leadoff batter Wally Moses doubled and advanced to third on Johnny Pesky's groundout to Stirnweiss. Dom DiMaggio then hit a fly ball to right field that scored Moses, giving Boston a 2-0 lead.
Ferriss held the Yankees in check until the bottom of the fourth inning. He gave up consecutive singles to Billy Johnson and Tommy Henrich, followed by a double to Joe DiMaggio that scored Johnson. Charlie Keller struck out and Aaron Robinson drew a walk. The Yankees tied the score when Nick Etten flied out to left field, scoring Henrich. A walk to Stirnweiss loaded the bases, but Ferriss got out of the jam by retiring Bonham on a pop fly to third baseman Higgins.
Ferriss, with a reputation as a good-hitting pitcher6, hit an infield single to lead off the fifth inning. Bonham retired Moses and Pesky on fly outs before Dom DiMaggio homered down the right-field line to make the score 4-2. The Red Sox and Yankees each got two runners on base in the sixth inning, but failed to push across runs.
In the top of the seventh inning, Cuddles Marshall relieved Bonham, who had been pinch-hit for by Bud Souchock in the sixth. Marshall yielded walks to Moses and Williams, which sandwiched a sacrifice bunt by Pesky and a groundout by DiMaggio, resulting in Moses on third and Williams on first. York then singled to center field, scoring Moses for the Red Sox' fifth run.
Ferriss got in trouble in the bottom of the eighth when he walked Keller, Robinson singled, and pinch-hitter Johnny Lindell was hit by a pitch, loading the bases with two outs. But Phil Rizzuto flied out to right field, ending the Yankees' threat. Ferriss pitched a perfect ninth inning to wrap up a 5-2 victory, his 24th of the season against four losses.
The Red Sox' hitting star of the day was Dom DiMaggio, who often had to take a back seat to his more popular brother Joe, but in this game he outshone his older sibling with the tie-breaking home run and 3 RBIs.
Ferriss wasn't particularly efficient, giving up eight hits and five walks. But he managed to contain the Yankees when he needed to; they were only 1-for-11 with runners in scoring position. It was Ferriss's fourth win against the Yankees in 1946, against no losses.. In 1945, the Yankees had been his nemesis, tagging him for five of his 10 losses.
Ferriss extended his winning streak to 12 games. It had started on July 12 and encompassed 11 complete games, including two shutouts. His stretch also included a no-decision and a save. His streak was broken in his next outing, on September 7 against the Philadelphia A's.
Ferriss's 24th victory, combined with 21 in 1945, placed him one win shy of the American League record for most wins by a pitcher in his first two seasons, set by Wes Ferrell in 1929 and 1930.7 Ferriss tied Ferrell's record on September 15 with his 25th win of the season. An article in The Sporting News drew several parallels between the starts of the two hurlers' careers.8
By pitching standards then (largely based on a pitcher's number of wins), Ferriss was regarded as one of the best pitchers in the league along with Bob Feller and Hal Newhouser. He was considered a nominee for American League MVP with teammates Williams, DiMaggio, Pesky, and Bobby Doerr.9 In fact, though, pitching teammate Tex Hughson had as good a season as Ferriss or better when considering current-day metrics.10 Undoubtedly, Ferriss's excellent record was also a testament to the Red Sox' ability to score runs.
Boston's Mickey Harris defeated the Yankees in the second game of the day's doubleheader, completing the Bosox' the first sweep (albeit only a two-game series) of the Yankees in the Bronx since 1939.11 Ferriss and Harris figuratively put "nails in the Yankees' coffin" with respect to their potentially mounting a comeback to overtake the Red Sox for the league lead. With 20 games remaining, the Red Sox had reduced the magic number (combination of Red Sox wins and Yankees losses) for winning the pennant to seven games.12 However, the Red Sox did lose six consecutive games before clinching the pennant on September 13.
The Red Sox won their first pennant since 1918 by 12 games over the Detroit Tigers, who wound up surpassing the Yankees. However, Boston lost to the St. Louis Cardinals in a seven-game World Series.
Ferriss won 12 games in 1947, but suffered a shoulder injury that season which effectively ended his major-league career in 1948 at age 26. He made futile attempts in the majors and minors through 1952 to return to his form of 1945 and 1946.
Sources
In addition to the sources cited in the Notes, the author also consulted:
https://www.baseball-reference.com/boxes/NYA/NYA194609021.shtml
http://www.retrosheet.org/boxesetc/1946/B09021NYA1946.htm
Cleveland, Rick. Boo: A Life in Baseball, Well-Lived (Battle Ground, Washington: Pediment Publishing, 2008).
Notes
Additional Stats
Boston Red Sox 5
New York Yankees 2
Game 1, DH
---
Yankee Stadium
New York, NY
Box Score + PBP:
Corrections? Additions?
If you can help us improve this game story, contact us.
Tags
http://sabr.org/sites/default/files/Ferriss-Boo-TCMA.jpg
600
800
admin
/wp-content/uploads/2020/02/sabr_logo.png
admin
2017-11-02 02:35:26
2020-04-17 10:25:41
September 2, 1946: Boo Ferriss puts nail in Yankees' coffin with 12th consecutive win