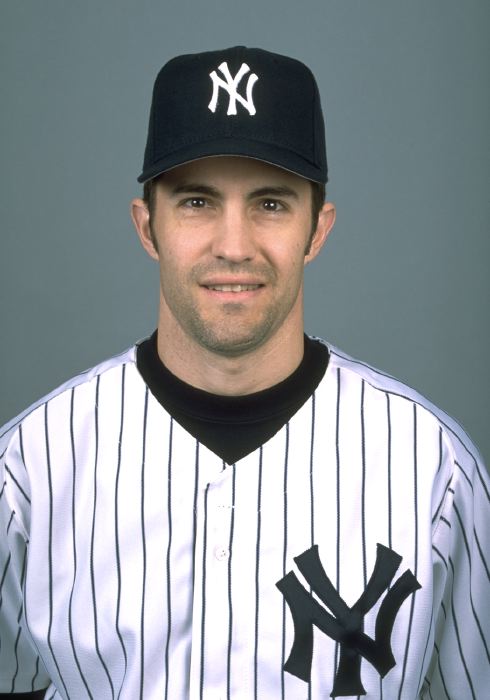 September 2, 2001: A near-perfect storm for Yankees' Mike Mussina
---
"It was supposed to happen." — Yankees manager Joe Torre1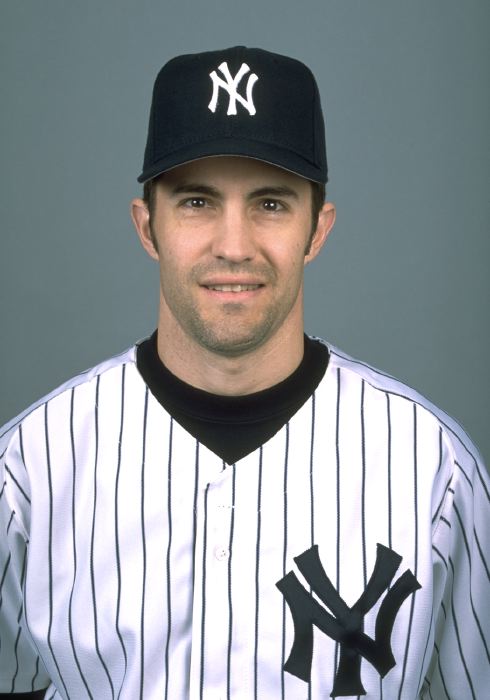 It was a perfect storm. This early September game was the final contest of a three-game set between the Yankees and Red Sox at Fenway Park. This series had already seen stellar starting pitching performances, but pitching in this game would prove noteworthy. Boston starting pitchers had not allowed a run in the first two games; however, the team's bullpen surrendered winning runs in both games. The Yankees led the Red Sox in the American League East by nine games as of September 1, and Boston trailed the Oakland A's in the wild-card race by seven games with only 27 games remaining.2
Former Yankee David Cone faced off for Boston against Yankees starter Mike Mussina. The most recent pitcher to throw a perfect game in a Yankees uniform, Cone began the game with a three-pitch strikeout of Yankees leadoff hitter Chuck Knoblauch. Cone set the tone for what would turn out to be an exactly three-hour-long pitchers' duel. Shortstop Derek Jeter followed Knoblauch by reaching on an error by Boston shortstop Mike Lansing, and Jeter stole second with center fielder Bernie Williams at the plate. The running game seemed crucial to the Yankees' success in 2001; they stole more bases than any other team apart but the Seattle Mariners,3 and they continued to show flashes of speed in this game. In the bottom of the first, however, Cone retired the side without damage.
Cone, however, is not the story of this game. Mussina got off to a commanding start in his first two innings of work. He fanned four of the first five batters he faced, striking out the side in the bottom of the second. The only batter who managed to put the ball in play was left fielder Izzy Alcantara, who hit a weak groundball.
The Yankees' bats remained quiet, too: Through five innings, there was no score, and only one base hit. Cone seemed sharp, but Mussina was perfect. Some Yankees were making contact, but Red Sox hitters were swinging and missing, as Mussina racked up an impressive nine strikeouts though five innings. He not only had not allowed a baserunner, but also had managed to prevent the Sox from getting the ball out of the infield.
Even the casual observer could discern that Mussina's performance was exceptional. He had thrown an impressive 80 percent first-pitch strikes,4 and Boston hitters were making short round-trips between the dugout and the batter's box. But Yankees hitters were faring only slightly better. This performance, in many ways, mirrored Mussina's entire season. In his first season as a Yankee, Mussina led the American League in one-two-three innings up to this point. By contrast, he had received the sixth lowest run support in the major leagues.5
In the bottom of the sixth, the Red Sox finally managed to hit a ball out of the infield: a weak popup landed easily in Williams's glove. Mussina was outstanding, but could he be perfect? The Moose had come close before: in 1997, while with the Orioles, Mussina was just two outs away from tossing the major leagues' 13th perfect game. After that game Mussina commented: "Maybe sometime in the future I'll take another run at it. Who knows?"6 On that day in 1997, only three balls were hit beyond the infield against Mussina;7 through the first six innings of this game, only one ball had reached outfield grass. Cone admitted after the game, "Part of me didn't want him to do it because I was the last one [to throw a perfect game as a Yankee]. But part of me wanted him to do it because he's such a great pitcher."8
The fantasy of a Mike Mussina perfect game looked as if it could become a reality. The seventh inning arrived, and not a single member of a struggling Boston lineup had reached base. No one even got close. The Yankees' defense did not have to make unbelievable plays to bail out Mussina. Sportswriter James Buckley observed that Mussina received little help in this effort.9 The impervious right-hander simply wasn't making mistakes.
The eighth inning came, and the score was still 0-0. The Yankees' number-nine hitter, Alfonso Soriano, led off the inning with a single. Soriano made himself a pesky baserunner. He took a good lead off first, and stole second with David Justice at the plate. Given Cone's strong performance, it looked as if the Yankees might have to turn to small ball to break the scoreless tie. Justice reached on a walk, triggering a mound visit by the Red Sox pitching coach, John Cumberland. The Yankees seemed to be getting something going; however, Trot Nixon made a nice play to retire Williams to end the inning, leaving Mussina to go back out to the mound with the game scoreless.
Mussina continued his remarkable performance, allowing no baserunners in the bottom of the eighth and recording his 12th strikeout. No score through eight. Perfection through eight. Cone and Mussina faced off again less than a week later, and the Yankees scored 6 runs off Cone in that game.10 That was far from the case in this contest, though.
Cone went back to the mound to face the Yankees in the ninth. This game was the first in which he had gone into the ninth inning since he threw his perfect game in 1999.11 Tino Martinez led off the inning with a bloop single to center field. Jorge Posada popped up to left fielder Alcantara to bring up Paul O'Neill with one on and one out. Cone got O'Neill to ground to second baseman Lou Merloni, whose error allowed O'Neill to reach and Martinez to advance to third. Yankees manager Joe Torre opted to pinch-run for Martinez with the speedier Clay Bellinger. And then the Yankees got what they needed: Enrique Wilson doubled down the first-base line, and Bellinger scored. Wilson was the last batter Cone faced. The hurler exited the game to a standing ovation from the Boston crowd. Pitching had been so good on both sides that Trot Nixon reflected, "No one guy deserved to lose."12 Red Sox reliever Derek Lowe struck out Soriano to end the inning. Mussina, whose team finally had a lead, went back out the mound to try to record the final three outs to complete his perfect game.
Mussina began the ninth inning as he did previous eight. He dispatched Troy O'Leary and Merloni, bringing up the number-nine spot. Only one out away from a perfect game, Mussina was compelled to face the tying run in pinch-hitter Carl Everett. Mussina did something he had been doing the whole evening: He quickly jumped ahead 1-and-2 in the count. It appeared the perfect-game daydream could become a reality on the next pitch. But it did not happen: A looping line drive to left field13 rolled off Everett's bat. The oft-stoic Mussina winced at the sight of the ball rolling into the outfield. Posada darted out to the mound to check on his pitcher. "What could I say to him?" Posada said after the game.14 The narrative of the game shifted at this point. Now that the Red Sox had gotten a hit, Mussina's perfect-game bid had instantly transformed into a one-run game with the winning run at the plate. But Trot Nixon grounded out to second, and Boston's brief burst of life ended, along with Mussina's near-perfect game.
Though this game was not added to the list of now 23 perfect games,15 it provides a good opportunity to appreciate just how unusual they are and to think about the game in the context of Mussina's 2001 season. More than 200,000 regular-season games have been played in the major leagues.16 None of the 23 pitchers who threw perfect games (one in the postseason) ever repeated the achievement. Mussina got within two outs once, and, this time, within one pitch. Moreover, he pitched four complete games in 2001. Of the top five finishers in the voting for the American League Cy Young Award, Mussina was the leader in WHIP, ERA+, and WAR. Perhaps most astounding is that he walked 29 fewer batters, while pitching 8⅓ more innings, than his teammate Roger Clemens, who won the award. (Mussina finished fifth.17) This is not meant to imply that Mussina would have automatically won the award had he completed the perfect game. And although the numbers outlined above suggest that he could have finished higher than fifth, which statistics should be weighted most heavily in Cy Young Award voting is fodder for another debate.
The point is that Mussina nearly achieved a feat, for the second time, for which the odds are clearly very low. Moreover, the game in which he did so was not a one-off stupendous performance but was a small part of a whole season during which he performed at the highest level.
Mike Mussina was elected to the Baseball Hall of Fame on January 22, 2019.
Sources
baseball-reference.com/boxes/BOS/BOS200109020.shtml.
retrosheet.org/boxesetc/2001/B09010BOS2001.htm.
Notes
1 Buster Olney, "Mussina Misses Yankees' 4th Perfect Game by One Pitch," New York Times, September 3, 2001. Accessed November 12, 2018. nytimes.com/2001/09/03/sports/baseball-mussina-misses-yankees-4th-perfect-game-by-one-pitch.html.
2 Sunday Night Baseball. ESPN. First broadcast September 2, 2001. Hosted by Jon Miller and Joe Morgan.
3 Ibid.
4 Ibid.
5 Ibid.
6 Richard Justice, "Orioles' Mussina Is Almost Perfect," Washington Post, May 31, 1997. Accessed November 13, 2018. https://www.washingtonpost.com/archive/sports/1997/05/31/orioles-mussina-is-almost-perfect/6e7b6846-f52f-492b-9733-d444947fec92/?utm_term=.fadf23e13445
7 Ibid.
8 Ibid.
9 James Buckley Jr. Perfect: The Inside Story of Baseball's Twenty Perfect Games (Chicago: Triumph Books, 2012), 415.
10 The box score for that game can be found here: baseball-reference.com/boxes/NYA/NYA200109080.shtml.
11 Justice.
12 Bob Hohler, "Red Sox Break Up Mike Mussina's Perfect Game Bid in 9th," Boston Globe, September 2, 2001. Accessed November 18, 2018. bostonglobe.com/sports/2001/09/02/red-sox-break-mike-mussina-perfect-game-bid/V4ek3fcgRtZdKV4orMLqwK/story.html.
13 Olney.
14 Ibid.
15 As of 2018.
16 Craig Calcaterra, "Major League Baseball to Celebrate Its 200,000th Regular Season Game on September 24th," NBC Sports. Last modified August 23, 2011. Accessed November 20, 2018. mlb.nbcsports.com/2011/08/23/major-league-baseball-to-celebrate-its-200000th-regular-season-game-on-september-24th/.
17 "2001 Awards Voting," in Baseball Reference, accessed November 18, 2018, baseball-reference.com/awards/awards_2001.shtml.
Additional Stats
New York Yankees 1
Boston Red Sox 0
---
Fenway Park
Boston, MA
Box Score + PBP:
Corrections? Additions?
If you can help us improve this game story, contact us.
Tags
https://sabr.org/sites/default/files/Mussina-Mike-headshot.jpg
600
800
admin
/wp-content/uploads/2020/02/sabr_logo.png
admin
2019-01-24 11:51:54
2020-04-17 10:23:41
September 2, 2001: A near-perfect storm for Yankees' Mike Mussina