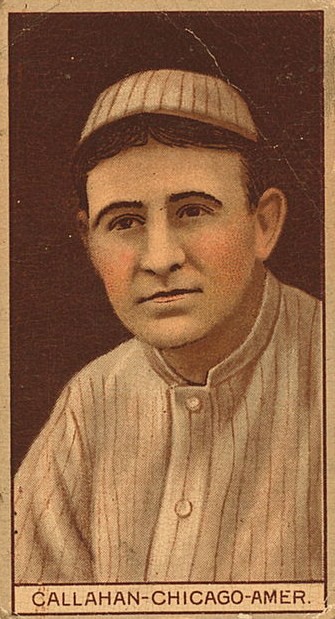 September 20, 1902: Chicago's Nixey Callahan throws American League's first no-hitter
---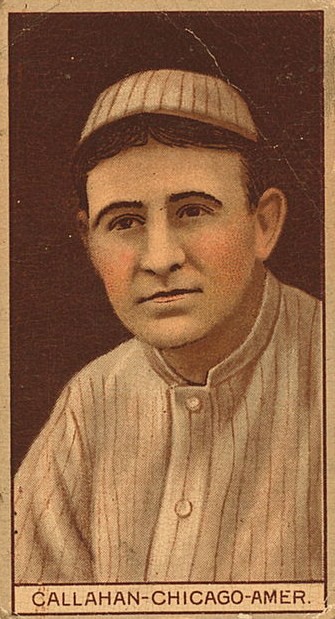 When seventh-place teams visit fourth-place teams in the third week of September, they usually hope to play the role of spoiler. As such, the Detroit Tigers hoped to vanquish the Chicago White Sox in at least one game of a scheduled doubleheader. The American League pennant had already been claimed by Connie Mack's Philadelphia Athletics. The White Sox were determined to remain in fourth and maintain their hold on the first division.
Abysmal weather, which had marred the entire 1902 American League schedule, made its presence known this day as well. Gray clouds hung overhead, threatening showers that would deliver rain on Sunday, and the temperature never exceeded 55 degrees. A steady wind also blew out of the south. It was the kind of raw, dour day that put everyone's minds on thoughts of next spring. Despite the threatening skies, a healthy crowd of 3,300 passed through the gates of South Side Park. Chicago had taken a shine to Comiskey's team in a big way and wanted to bid them a fond adieu. Just four home games remained in the season.
The game promised to be interesting. The Tigers starter, 21-year-old Aloysius Jerome "Wish" Egan, of Evart, Michigan, was in only his second big-league game. He had impressed in a 5-3 loss to the Athletics on September 3. The 6-foot-3, 185-pound right-handed hurler would be facing off against 5-foot-10, 180-pound right-handed pitcher James Joseph "Nixey" Callahan.
Jimmy Callahan had thus far compiled a 15-12 record for the season, fairly undistinguished for him; in most years he racked up twice as many wins as losses. Callahan was a control pitcher who modeled his delivery on that of teammate and friend Clark Griffith. Like many of the pitchers of that era, including stars such as Christy Mathewson, he was content to have the men behind him do the job of recording outs. Strikeouts just weren't his bag.
Portly, walrus-mustached home-plate umpire Jack Sheridan, who spent the offseason as a mortician, settled himself and his massive chest protector behind catcher Ed McFarland, currently in his 10th season. He was virtually the same height and weight as his batterymate.
As with a fair number of other American League players, a legal cloud clung to McFarland. Rejecting the reserve clause of the National League, he had jumped from the Phillies to the White Sox at the beginning of 1902. The Phillies sued to try to retain his services. McFarland was in such a legal quagmire that when the White Sox journeyed to Philadelphia on June 3, both he and Wiley Piatt, who had jumped from the Phils to the White Sox in 1901, were left behind in Chicago, lest the Phillies' lawsuit-happy owner, Colonel John Rogers, find some legal chicanery to keep the players in the City of Brotherly Love and force them back into the Phillies fold.1
No one on either end of the battery put in much effort. Callahan set the first three Tiger batters, Dick Harley, combative Kid Elberfeld, and the slight Jimmy Barrett, down in order. Jimmy made his way off the mound hoping for some early support.
That is just what happened. Singing Sammy Strang immediately took it to the tall rookie by firing a hot single past third. Fielder Jones followed, fouling out. Danny Green punched a single through, sending Strang to third. George Davis tripled to deep left field, plating two runs. Sam Mertes became the inning's second foul out. Tom Daly's grounder should have ended the inning, but shortstop Kid Elberfeld made a wild toss past first, sending Davis home. Those three runs would be all that Callahan would need.
Callahan's perfect first five had their share of drama. Lew McAllister left off the second with a nasty grounder on which Davis at shortstop made a spectacular grab. In the fourth, Elberfeld smashed a wicked liner that knocked down third baseman Strang. Saving the day again was Davis, who retrieved the ball in time to nail Kid at first.
The sixth frame was Callahan's most troublesome. John O'Connell whiffed, Callahan's first K. Jim McGuire grounded to Davis, but the shortstop's spectacular play to this point was marred when his toss to first went wide of the bag. Behind the plate, McFarland allowed a costly passed ball, giving McGuire second. Wish Egan tried to aid his own cause; his groundout sent McGuire to third. That would be the high-water mark for Detroit. Dick Harley popped out to crotchety Frank Isbell at first, dousing the flames.
The seventh began with Callahan's first walk — to Kid Elberfeld. Jimmy Barrett grounded to shortstop Davis for a force out and Lew McAlister flied out to Fielder Jones in center. Joe Yeager received Callahan's second and final walk. Pete LePine ended the inning with a grounder to first that was handled by Isbell, who lobbed the ball to Callahan.
To his considerable credit, Wish Egan had little trouble with the White Sox after that first inning. His biggest spot of trouble occurred in the fifth. Pitcher Callahan was safe at first on Elberfeld's second error. Sammy Strang went to first on Egan's first walk. Usually reliable Fielder Jones and Danny Green produced consecutive outs, but George Davis delivered a single that loaded the bases. The inning ended when Dick Harley made a running catch of Sam Mertes' very long drive to left center.
The only other time the White Sox came close to scoring again was the eighth. George Davis got Egan's second walk; two outs later, he tried to score on a nifty double by Frank Isbell but was out at the plate when Quebec-born Peter LePine, in right field, made an equally nifty throw to McGuire.
The eighth found Jimmy Callahan in firm control. Tigers first baseman John O'Connell hit one to right, where it was flagged by Danny Green. Jim McGuire sent a dribbler to third for the second out, and Wish Egan lived up to the reputation of pitchers as hitters by becoming Callahan's second and final strikeout victim.
Callahan's ninth frame mirrored his first. Harley led off with a pop out to third, Elberfeld lofted a fly to Mertes in left, and when Barrett hit a grounder to third, Strang tossed the ball to Callahan, who tagged first, recording the final out of what for many years was recorded as the first no-hitter in the American League.
In the 21st century, convincing evidence resurfaced that Cleveland's Pete Dowling had thrown a no-hitter against Milwaukee on June 30, 1901, which major baseball reference sources now consider to be the first in American League history. Another no-hitter had been tossed by an AL pitcher on Opening Day in 1900, by Doc Amole; however, the American League in that year was considered a minor league.
Callhan's game consumed a brisk one hour and 20 minutes.
One question that cannot be answered at this remove is whether the fans at South Side Park really appreciated how momentous the event they had just witnessed was. No-hitters were not unknown, but they did not seem to inspire the same intensity of focus as one does today. In a media-driven age when cable, radio, satellite, and the Internet flash word of no-hitters in progress to every interested eye and ear on the planet, the understated reaction to Callahan's no-hitter seems positively surreal. The St. Paul Globe's coverage on September 21, 1902, was a succinct piece of understatement: "Callahan was in rare form in the first game today and accomplished the unusual feat of shutting out his opponents without the semblance of a hit."2 With just one more sentence describing how the White Sox scored all of their runs in the first inning, the newspaper's coverage of the no-hitter closed.
Even the local papers were sedate. The Chicago Tribune offered no banner headlines, not much heralding at all, Under the main headline, "White Sox Win And Tie," was a subhead that said simply,"Callahan Pitches No Hit Game In First Contest."3 With that, Chicago's largest newspaper moved on to what it considered the far more important event of the day — the parade of 200 local baseball clubs before the game and "the presentation of a handsome fishing outfit" to Charles Comiskey.
Lost in the milestone's glare, this was the second no-hitter of catcher McFarland's career. The conclusion of the twin-bill was decidedly underwhelming, a 3-3 tie called on account of darkness. Saving the best for last, Callahan effectively concluded his career as a pitcher. He won his last season outing, for a 16-14 record. In 1903 he appeared in just three games, his ERA swelling ominously. Jimmy, who at one point had played every position except catcher, and was a fairly good hitter, transitioned to becoming a position player, spending most of his subsequent time at third base and second base.
An earlier version of this article was published in SABR's "No-Hitters" (2017), edited by Bill Nowlin.

Notes
1 Bill Nowlin, "Ed McFarland," SABR BioProject, https://sabr.org/bioproj/person/0826b933.
2 "One Shutout and One Tie," St. Paul Globe, September 21, 1903: 8.
3 Chicago Sunday Tribune, September 21, 1902: 9.
Additional Stats
Chicago White Sox 3
Detroit Tigers 0
Game 1, DH
---
South Side Park
Chicago, IL
Box Score + PBP:
Corrections? Additions?
If you can help us improve this game story, contact us.
Tags
http://bioproj.sabr.org/bp_ftp/images2/CallahanJimmy.jpg
600
800
admin
/wp-content/uploads/2020/02/sabr_logo.png
admin
2018-10-16 14:27:52
2020-12-09 14:16:05
September 20, 1902: Chicago's Nixey Callahan throws American League's first no-hitter