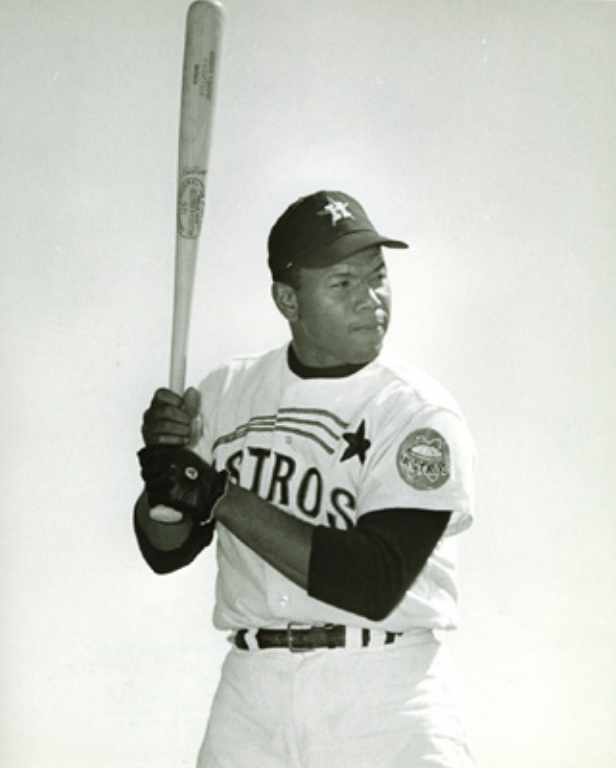 September 22, 1974: Astros edge out the Braves in 14-inning battle
---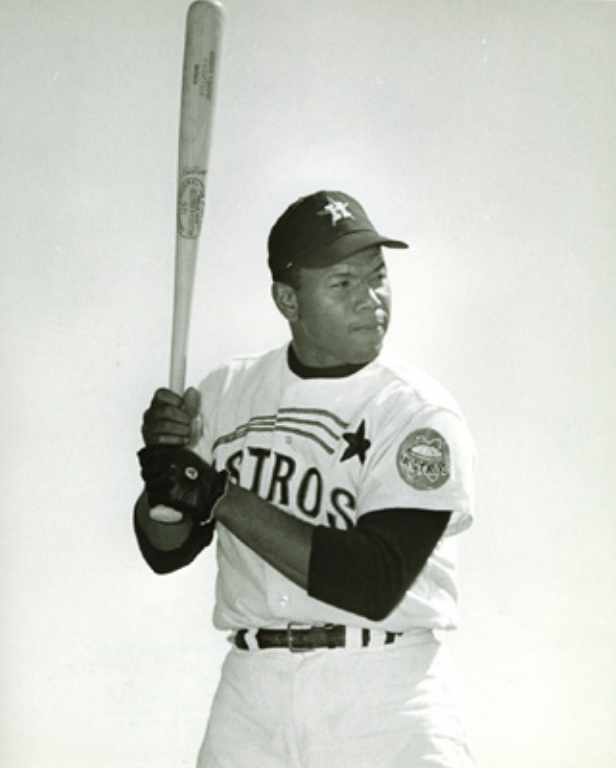 A starting pitcher's offday routine includes — but is not limited to — stretches; warm-up tosses; advanced scouting notes; and, on occasion, batting practice. It's not often that the latter task would prove vital to the outcome of a game. On September 22, 1974, pitcher Tom Griffin pinch-hit for another pitcher, Ken Forsch, and smashed a hard grounder that knocked in Larry Milbourne with the winning run in the 14th inning. Thanks to Griffin's RBI, Forsch, who had hurled two scoreless innings of relief, earned the victory.
The two clubs were playing out the string. The 1974 campaign found the Astros hovering around .500 for the second straight season; at game time, they sat in fourth place at 77-75, 18 games back of the first-place Los Angeles Dodgers, while Atlanta (84-69) was in third place, 11½ behind. The day's starting pitchers were the Braves' Buzz Capra (15-8) and Houston hurler Don Wilson (10-13). Capra was finishing his first full year as a starter after three part-time seasons with the New York Mets. His 2.28 ERA (in 217 innings) was tops for Braves starters.1
Wilson, the seasoned veteran of the two, completed his ninth and final season in 1974. Tragically, his life ended mysteriously the following January, when he was found asphyxiated in his car, which was parked in his closed garage with the gas tank empty. His son Alex was also found dead of asphyxiation in his bedroom. Many suspected that Don committed suicide, although several of his teammates refused to believe it. His daughter also felt the effects of carbon monoxide poisoning but survived. Wilson's wife, Bernice, showed bruising on her face, but displayed no exposure to the carbon monoxide, leading some to ponder whether she was responsible for the deaths. A medical examiner, Dr. Joseph Jachimczyk, ruled the deaths accidental.2
On an afternoon marked by Houston's version of Hank Aaron Day, which commemorated what was supposed to be the Hammer's final major-league season, the marathon contest was the second consecutive extra-inning victory for the Astros and their third in four games. They had knocked off the Braves the previous day in 10 innings, 6-5. Forsch earned the victory in that game as well, shutting the door after surrendering back-to-back singles to open the 10th and then getting the victory when his teammates pushed a run across in the bottom of the inning. As if one dramatic finish were not enough, the Astros teetered on the brink of defeat a couple of times in this game before Griffin's game-winner in the series finale.
Griffin, a Los Angeles native, entered the game sporting a .286 batting average. Throughout his career, he was no slouch with the stick as pitchers go. He even had 10 career home runs, two of them in his 1969 rookie season. On the mound, his bread-and-butter pitches included a hard slider and a fastball.3 A stalwart 6-feet-3 and 190 pounds, Griffin had the muscle to put zest into a baseball. On the mound Griffin had logged 202 innings thus far in 1974, a career high in his sixth season. He would finish the year with a career-high 14 wins against 10 defeats, and his 3.54 ERA was more than a half-run better than in the previous season.
The Braves scored first, taking a 1-0 lead in the fourth inning. Manager Clyde King's crew began the inning with consecutive singles by Mike Lum and Frank Tepedino. Johnny Oates fanned, then shortstop Craig Robinson, a .217 hitter who would tally three hits in the game, smacked an RBI single. As Lum crossed the plate, Tepedino was thrown out at third by right fielder Greg Gross, and after applying the tag, third baseman Doug Rader whipped the ball to second to gun down Robinson. The odd 9-5-4 double play squelched a potential big inning.
The Braves clung to their 1-0 lead until the bottom of the ninth. Houston's Roger Metzger led off with a walk and was sacrificed to second by Gross. Capra walked Cesar Cedeno, then Cliff Johnson singled to score Metzger. After striking out Doug Rader, Capra was lifted for Tom House,4 Buzz had pitched 8⅔ strong innings but had to settle for a no-decision.
Hank Aaron, a week away from his planned retirement, gave his team another chance to dispatch the Astros in the 10th. Marty Perez opened the inning with a triple off Ramon de los Santos, who had come on for Wilson to start the ninth. Darrell Evans whiffed and Dusty Baker was walked intentionally. Jim York relieved de los Santos and Aaron, pinch-hitting for Lum, smacked a grounder to shortstop Metzger, who forced Baker at second, but Aaron was safe at first as Perez scored the go-ahead run.
(Aaron batted just .268 in 1974 and had his worst slugging percentage (.491) since his rookie season. Nevertheless, he later delayed his retirement and played his last two seasons with the Milwaukee Brewers, in the city in which he began his illustrious major-league career with the Milwaukee Braves.
The Astros lost Cedeno to injury in the 10th when he suffered a badly broken fingernail. He pleaded with manager Preston Gomez to keep him in the game, to no avail. The shuffling of players was nothing new for the veteran skipper but losing his star outfielder was a blow. "I'd have been okay this game, except for Cedeno getting hurt," said Gomez. "I just wasn't expecting that to happen."5
The Astros struck back against reliever Tom House with singles by Bob Watson and pinch-hitter Ray Busse, batting for the pitcher, York. Gross followed with an RBI double to plate Watson and tie the game. Both teams offered mild threats in innings 11 through 13, but the game stayed tied until the 14th. In the 11th Bob Gallagher, who had replaced Cedeno in center field, led off with a single and advanced to second on an errant pickoff attempt by House. Rader walked and was forced at second by Tommy Helms. That left Gallagher on third with two outs, and the reserve outfielder was stranded when Milbourne grounded out. In the 12th, the Braves got consecutive one-out singles by Perez and Evans off Astros reliever Mike Cosgrove but that rally died on the vine as well.
Entering the 14th inning, Gomez had one position player left on the bench, Mick Kelleher, with his paltry .161 average. But that was not the reason the skipper chose to use Griffin. "I had to save Kelleher for defensive reasons in case somebody got hurt," said Gomez. With one out in the bottom of the inning, Milbourne singled to center off diminutive reliever Max Leon and Watson followed with a single to left. Up came Griffin, who laced a grounder to short that handcuffed Craig Robinson. The ball escaped into left-center field, providing enough time for Milbourne to score easily and tag Leon with his second loss in as many days.
Griffin's last pitching start had occurred five days earlier, so fatigue was not a factor. "I wanted to go up there (to the plate)," he said. "I just knew I could hit. I like to hit."6 Apparently Griffin was not Gomez's first choice to pinch-hit. "If Watson had led off with a hit, I would have used (pitcher) Larry Dierker to bunt because he's a better bunter than (Dave) Roberts," said Gomez. (He had used Roberts as a pinch-hitter in the 12th.) "If it had been possible, I wanted to save Roberts because I know he's played first base. Or I could have batted him later."7 Luckily for Gomez, Griffin made his manager look smart.
"The pitchers have to get the big hits because the hitters can't," cracked Houston's pitching coach, Roger Craig, perhaps taking a free jab at the team's sluggers.8
Griffin was so full of jubilation after the game that his big wide smile could have been mistaken for laughter. "As much fun as throwing a complete game?" asked a reporter. "No, not that much fun," replied Griffin. "I wish that could count as a win for me. That's the first time I've ever been asked to pinch hit. I was really nervous up there. It's different from hitting in a game when you're pitching. It's tough to come off the bench and hit."9
Griffin finished his career in 1982 with a 77-94 record, a 4.07 ERA and a pitcher's-style .163 batting average. For one brief moment, however, Griffin overcame his nerves and delivered a victory via his bat rather than his arm.
This article appears in "Dome Sweet Dome: History and Highlights from 35 Years of the Houston Astrodome" (SABR, 2017), edited by Gregory H. Wolf. To read more articles from this book at the SABR Games Project, click here.
Notes
1 Harry Shattuck, "Griffin's Singles Tops Braves," Houston Chronicle, September 23, 1974.
2 Matthew Clifford, "Don Wilson," SABR BioProject, at sabr.org/bioproj/person/1643c2b4.
3 Rob Neyer and Bill James, Neyer/James Guide to Pitchers (New York: Fireside Books, 2004), 223.
4 John Hollis, "Griffin's Bat Turns Back Atlanta," Houston Post, September 23, 1974.
5 Ibid.
6 Ibid.
7 Shattuck.
8 Ibid.
9 Ibid.
Additional Stats
Houston Astros 3
Atlanta Braves 2
14 innings
---
Astrodome
Houston, TX
Box Score + PBP:
Corrections? Additions?
If you can help us improve this game story, contact us.
Tags
https://sabr.org/sites/default/files/Screen%20Shot%202018-09-18%20at%201.18.31%20PM.png
600
800
admin
/wp-content/uploads/2020/02/sabr_logo.png
admin
2018-09-18 13:15:19
2020-04-17 10:24:39
September 22, 1974: Astros edge out the Braves in 14-inning battle