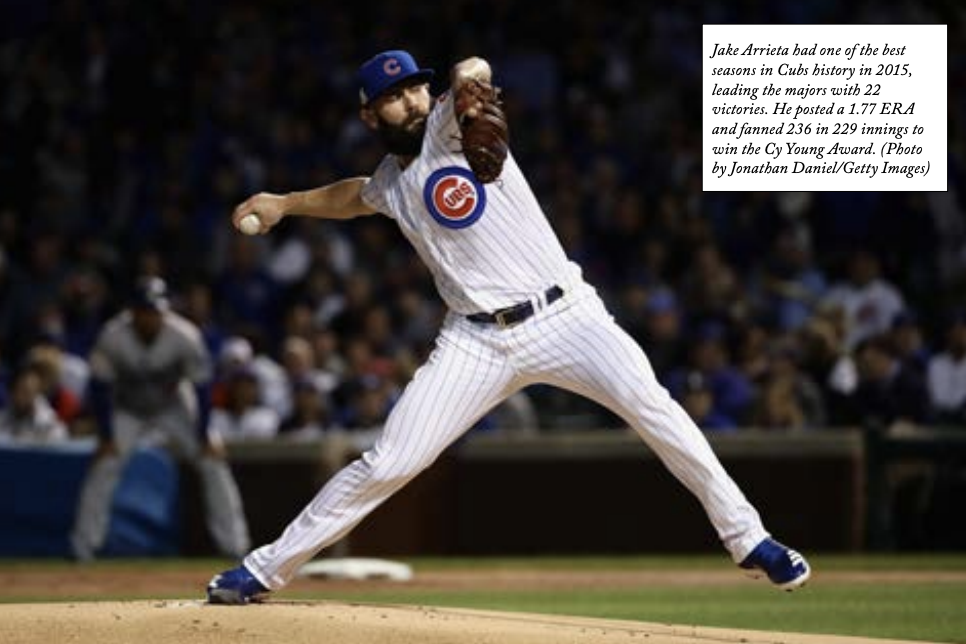 September 22, 2015: Cubs' Jake Arrieta tosses 3-hit shutout for 20th victory
---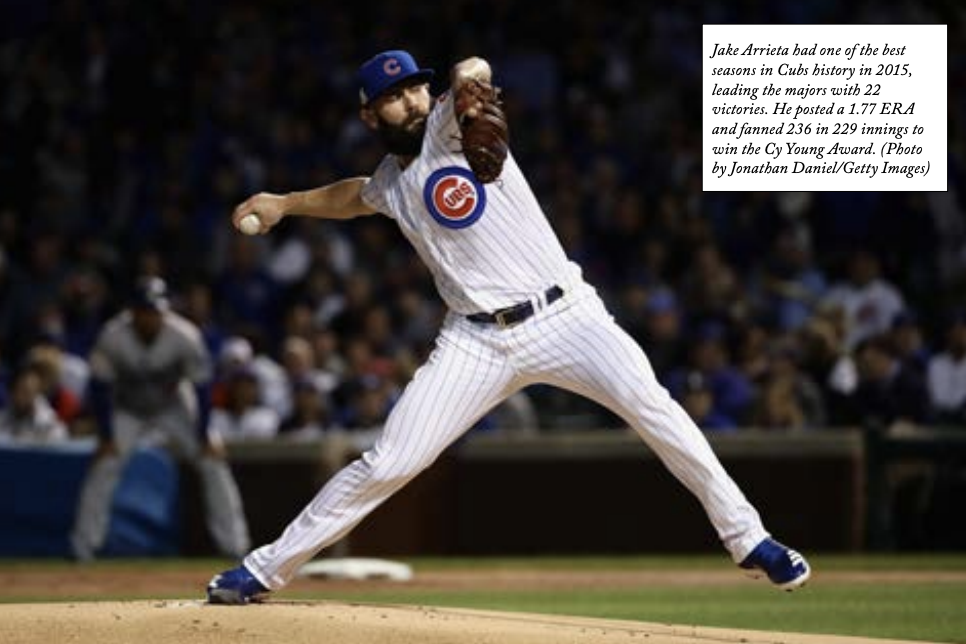 The Chicago Cubs' 29-year-old right-handed ace Jake Arrieta was on a roll of historic proportions. "It's just incredible what he's done in the second half. He's Bob Gibson-esque," said skipper Joe Maddon, making a bold comparison to the former St. Louis Cardinals Hall of Famer.1 Madden was not entirely correct in his assessment – Arrieta was currently pitching better than Gibson did in 1968 when he posted a record-setting 1.12 ERA.
Meaningful baseball in September had returned to the Windy City. Maddon's squad (88-62) was in third place in the NL Central Division, six games behind the Cardinals and two behind the Pittsburgh Pirates, but the team had won 13 of its last 18 games to reduce its magic number to four to secure a wild-card spot and its first playoff berth since 2008. Their intradvisional opponent Milwaukee Brewers (63-87) were tied with the Colorado Rockies with the second worst-record in baseball.
After five dismal, losing seasons, the Cubs had assembled a group of young, exciting hitters and fielders; however, the unequivocal focal point of this club was the emergence of Arrieta as one of the game's best pitchers. Acquired in a midseason trade with the Baltimore Orioles in 2013, Arrieta had been considered an underachiever and disappointment, given his lackluster 20-25 slate and 5.46 ERA in three-plus seasons with the Orioles. His breakout campaign (10-5, 2.56 ERA in 25 starts) in his first full season with the Cubs suggested his potential, but no one anticipated his utter dominance in 2015. "He's made himself into this player/pitcher," glowed Maddon. "Durability-wise, everything, it's him – the look, the stare, the way he wears his hat. His delivery is different, and I'm so glad no one tried to change [it]."2 Critics had long pointed to Arrieta's awkward, across-the-body motion as a cause of concern, but the big, 6-foot-4, 225-pounder refused to make any significant adjustments; instead, he worked diligently to improve his most glaring weakness – the command of his fastball. "That's what makes him as productive as he is," said Maddon about Arrieta's heater. "He's got this wonderful slider and this great curveball, and he's come up with the changeup; but if the fastball isn't a strike pitch, then his other pitches become moot."3
Entering his start against the Brewers, Arrieta was leading the majors in victories (19, with six losses) with an eye-popping 1.96 ERA, which amazingly was well behind the Los Angeles Dodgers' Zack Greinke (1.65), himself having a season for the ages. However, it was Arrieta's recent dominance that drew comparisons to Gibson and some of the best extended stretches in big-league history. In his last 17 starts (since June 21), Arrieta was 13-1 with a 1.01 ERA; in his last nine, he was 8-0, with a 0.54 ERA, which included a no-hitter with 12 punchouts against the Dodgers in California.
On a beautiful, midweek evening with the game-time temperature hovering around 70 degrees, Wrigley Field was packed with 36,270 blue-clad fans. They barely had time to settle into their seats when Brewers leadoff hitter Scooter Gennett sent Arrieta's second pitch down the left-field line for a double. It turned out to be the Brewers' highlight of the game. Possessing what sportswriter Mark Gonzales of the Chicago Tribune called a "sweeping slider and a sharp breaking curve that rarely broke above the knees," Arrieta set down the next 14 batters before yielding a single to Hernan Perez in the fifth.
While Arrieta aimed for his 20th victory, another Cubs player was on the cusp of history, too. Kris Bryant entered the game with 25 home runs, tied with Cubs icon and Hall of Famer Billy Williams (1961) for the most round-trippers by a Cubs rookie. With two outs in the third and rookie Kyle Schwarber on first via a walk, Bryant hit a line-drive missile off Brewers rookie starter Tyler Cravy, who entered the game with an unsightly 0-7 record. According to the Tribune, the shot barely cleared the left-field wall, but it put Bryant in the team's record book and the Cubs on the board, 2-0.4 The ecstatic crowd applauded as Bryant rounded the bases and stopped only after he emerged from the dugout for a curtain call. "That was a special moment for me to get up in the steps and get that recognition," he said. "It was something I'll never forget."5
While Arrieta mowed down the Brewers, the Cubs tacked on two more runs. With two outs in fifth and Dexter Fowler on first, Schwarber sent reliever Kyle Lohse's offering to short right field. Second baseman Scooter Gennett attempted an over-the-shoulder catch, reported the Tribune, but the ball dropped, enabling the speedy Fowler to score while Schwarber slid into second with a double.6 Schwarber led off the eighth with a single off Corey Knebel, the Brewers third hurler of the game, and then scored on Bryant's double to the deep left-center-field gap for a 4-0 lead.
Through eight innings Arrieta had thrown 108 pitches, allowed only three hits, and fanned nine. Maddon thought about a reliever, but then trusted his heart and not his head. "With everything attached to [the game], I thought it was appropriate to send him back out," the Cubs manager revealed after the game. Maddon, long regarded as one of the best skippers in baseball, understood the significance of statistics. Arrieta fanned Logan Schafer and Adam Lind on seven combined pitches, then with what proved to be his season-high 123rd pitch, dispatched Khris Davis on a weak grounder to second to end the game in 2 hours and 22 minutes.
Not only did Arrieta's victory reduce the Cubs' magic number for a playoff spot to three, it enabled him to reach several milestones. He became the Cubs' first 20-game winner since Jon Lieber won 20 in 2001; he was the first Cubs hurler under 30 to win 20 games since Greg Maddux in 1992; and he became the first Cubs flinger since Fergie Jenkins in 1971 to record 20 wins and strike out 200 batters in the e season.
Arrieta, whose low-key personality stood in stark contrast to his competitive spirit on the mound, shrugged off the personal accomplishments. "[Winning 20] means I'm putting my team in position to win games. And at the end of the day, that's our goal: to try to pitch on as much as we can."7
"You talk about a 20-game winner," gushed Maddon in the postgame press conference. "The things that Jake's done, you saw today, the total domination of the game, which [never] even permits the other team to come back on us even when we're not scoring a lot of runs."8
Arrieta won his last two starts, yielding only three hits in 13 innings to extend his streak of scoreless innings to 22. He finished the season with a major-league-best 22 victories (6 losses), yielded a major-league-low 5.90 hits per nine innings, while striking out 236 batters in 229 innings, and fashioning a 1.77 ERA, the majors' second lowest behind Greinke's 1.66. He also became the Cubs' first Cy Young Award recipient since Maddux in 1992.
This article appears in "Wrigley Field: The Friendly Confines at Clark and Addison" (SABR, 2019), edited by Gregory H. Wolf. To read more stories from this book online, click here.
Sources
In addition to the sources cited in the Notes, the author also accessed Retrosheet.org, Baseball-Reference.com, and SABR.org.
https://www.baseball-reference.com/boxes/CHN/CHN201509220.shtml
https://www.retrosheet.org/boxesetc/2015/B09220CHN2015.htm
Notes
1 Carrie Muskat, "Arrieta Pitches His Way Into Record Books," MLB.com, September 23, 2015.
2 Mark Gonzalez, "King of the Hill. Arrieta Dominates in 20th Victory; Cubs 4, Brewers 0," Chicago Tribune, September 23, 2015: 1.
3 Muskat.
4 Gonzalez.
5 Brain Sandalow, "Arrieta Wins No. 20 in Style," Northwest Herald (Woodstock, Illinois), September 23, 2015: 17.
6 "Cubs 4, Brewers 0," Chicago Tribune, September 23, 2015: 3.
7 Ibid.
8 Muskat.
Additional Stats
Chicago Cubs 4
Milwaukee Brewers 0
---
Wrigley Field
Chicago, IL
Box Score + PBP:
Corrections? Additions?
If you can help us improve this game story, contact us.
Tags
https://sabr.org/sites/default/files/Jake%20Arrieta.jpg
600
800
admin
/wp-content/uploads/2020/02/sabr_logo.png
admin
2020-01-09 13:13:23
2020-04-17 10:22:20
September 22, 2015: Cubs' Jake Arrieta tosses 3-hit shutout for 20th victory