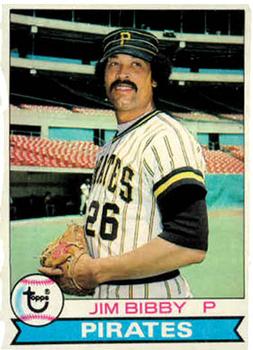 September 23, 1979: Jim Bibby's 3-hit shutout keeps Pirates ahead in division race
---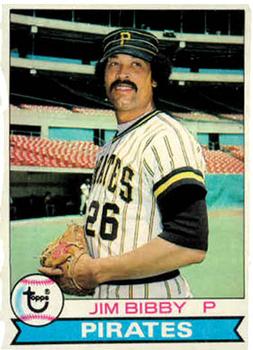 "It's show time in the National League East," wrote Charley Feeney of the Pittsburgh Post-Gazette after the Pirates downed the Chicago Cubs in a "must-win" game to stay hot on the trail of the division-leading Montreal Expos.1 The season was coming down to the wire with nine more games to play. While the Pirates were fighting for a title, the Cubs were on the verge of mutiny.
As the Pirates prepared to play the Cubs on Sunday, September 23, manager Chuck Tanner might not have shown any outward concern for his "We Are Family" ballclub, but he must have been nervous. Three days earlier, the Pirates lost their second straight game to the Philadelphia Phillies to fall out of first place for the first time since they claimed sole possession of the top spot after winning a doubleheader on August 5. A third consecutive loss followed — a four-hit, 2-0 shutout at the hands of Lynn McGlothen in the first game of a three-game set at Wrigley Field to drop the Pirates a full game behind the Expos. Pittsburgh finally stopped its longest losing streak since dropping four straight July 23-26, when Bruce Kison scattered four hits while Kent Tekulve closed out to subdue the Cubs, 4-1, to pull within a half-game of Montreal (92-61). The Pirates had their work cut out for them. The Expos, the hottest team in baseball, having won 28 of their last 36 games, seemed destined to capture their first-ever division crown since the expansion franchise started play in 1969 in the newly formed National League East.
Fireworks began even before the game started. The Cubs, who were a half-game out of first place on July 27, had lost 22 of their last 33 games and had fallen to fifth place in the NL East (78-76). Manager Herman Franks, a baseball lifer, had had enough. With rumors about his eventual firing at the end of the season, Franks lambasted the front office and his club to the AP's Joe Mooshil in the clubhouse. "I know it and they know it," said Franks of his fate. "I don't know what they are waiting for. I've had it up to here [his hand going to this throat]. Some of these players are crazy."2 Franks whipped out his wallet and showed a check for $24,000 made out to a country club in his offseason home in Salt Lake City to prove he was serious. As can be expected, Cubs players did not react warmly to their skipper's comments. "If we're crazy, what does this make him," said an unnamed player. "He's 65, worth millions of bucks, but he wants to waste the last three years being a lousy manager on a lousy team."3 Cubs reliever Dick Tidrow, known for his own antics, mused, "Crazy? I don't think we're crazy enough."4
The pitching match-up featured two big, rugged right-handers. Eight-year veteran Jim Bibby, a 34-year-old journeyman with his fourth team, signed with the Bucs as a free agent in 1978 spring training. Serving as a swingman that season, Bibby had been used primarily in relief in 1979 until he was moved into the starting rotation on July 10, winning his first six decisions. Despite a nifty 10-4 record and 3.16 ERA, the stout North Carolinian had been clobbered in his last two starts, surrendering nine runs in 7⅓ innings. Rick "Big Daddy" Reuschel toed the rubber for the North Siders. Since breaking in as a 23-year-old rookie in 1972, Reuschel had proved to be one of the NL's most consistent workhorses, averaging 14 wins and 244 innings for mainly poor Cubs teams over the previous six years. With a record of 18-10 and two starts remaining, Reuschel was aiming to reach the 20-win plateau for the second time in his career.
Before many in the afternoon crowd of 24,571 spectators at Wrigley Field on Fan Appreciation Day had a chance to settle in their seats and sip their Old Style, the Pirates got on the board in the first inning. Tim Foli was hit by a pitch, moved to second on Dave Parker's single, and then scampered home on John Milner's single to left. Little did the Pirates know that that was the only run they would need.
Ed Ott, Phil Garner, and Bibby led off the second with consecutive singles, the last of which made the game 2-0. Omar Moreno, who entered the game mired in a 2-for-21 slump in his last five games, hit a grounder to third base, but according to Charley Feeney, third sacker Steve Ontiveros failed to tag Garner as he slid back into third on a fielder's choice, filling the bases. (No error was charged.) Foli followed with a sacrifice fly deep enough to center field to drive in Garner, who barreled over catcher Barry Foote. Center fielder Scot Thompson's throw home enabled Bibby and Moreno to each move up a base. Playing the percentages, the Cubs had Parker intentionally walked to load the bases and play for a twin killing with the slow-footed Willie "Pops" Stargell at the plate. The 39-year-old charismatic leader of the club derailed that plan by smacking a double to deep right, knocking in Bibby and Moreno. Reuschel intentionally walked Milner (who had managed only three hits in his last 20 at-bats entering the game) to face former Cub and two-time NL batting champ Bill Madlock and again hope for a double play. "Mad Dog" Madlock, whose acquisition from the San Francisco Giants in a blockbuster trade on June 28 stabilized the infield and added yet another dangerous bat to the lineup, chopped a grounder to third for what appeared to be an easy inning-ending double play. Ontiveros booted the ball, allowing Parker to score the Pirates' fifth run of the inning. Reuschel's worst outing of the season (1⅓ innings, six hits, six runs, all earned) was over. Left-hander Dave Geisel, a mid-September call-up, retired Ott and Garner to end the frame.
While the Pirates cruised the rest of the game, and connected for only four more hits in the final seven innings off Geisel and Doug Capilla, Bibby mesmerized the Cubs with an assortment of fastballs, curves, and sliders. He yielded only three hits and issued a walk; only one batter advanced as far as second base (Ivan De Jesus doubled in the third.) Bibby whiffed Thompson to record his seventh punchout and complete the game in 2 hours and 22 minutes.
Bibby's shutout, the 16th of 19 in his career, evened his record at 80-80. But more important than personal accomplishments, Bibby's complete game allowed Tanner to rest his overworked bullpen. While Pirates starters completed only 24 games and hurled only two shutouts in '79, a trio of relievers led by Kent Tekulve, Enrique Romo, and Grant Jackson made a collective 250 appearances and logged 345⅔ innings.
The mood in the Pirates clubhouse was reserved after the victory. The players had no time to savor the crucial victory and recognized that a four-game set with Montreal beginning the next evening at Three Rivers Stadium would probably determine their season. "The potential is there," opined beat writer Charley Feeney. "Many Pirates, including their manager, Chuck Tanner, say they are entering the most exciting week of their career."5 The club often looked to Willie Stargell to provide some levity to the situation, but even he revealed that this coming series got him anxious. "I get butterflies and goose bumps just like anybody else," said Pops. "It's just that if things don't develop like we want, I'm not going to jump off the Hancock building."6 But Stargell, en route to sharing the NL MVP with Keith Hernandez of the St. Louis Cardinals, also exuded the confidence that the Pirates felt as a team. "We'll be ready for the [Expos]," he said. "It's a thrill just to be out there. We're doing something that a lot of clubs wanted to be doing back in spring training. Now we have to meet the challenge."7
The situation in the Cubs locker room was equally tense, but for all the wrong reasons. Still smarting from their manager's comments before the game, many players wondered if Franks would be their skipper the next game. They didn't have to wait long. The Cubs fired him the following morning and named bench coach Joey Amalfitano interim skipper.
This article appeared in "When Pops Led the Family: The 1979 Pitttsburgh Pirates" (SABR, 2016), edited by Bill Nowlin and Gregory H. Wolf. To read more game stories from this book at the SABR Games Project, click here.
Notes
1 Charley Feeney, "Bucs Tops Cubs, 6-0, Face Expos Tonight," Pittsburgh Post-Gazette, September 24, 1979: 11.
2 Bob Verdi, "Frank cries foul after saying 'I quit'," Chicago Tribune, September 24, 1979: C1.
3 Ibid.
4 Ibid.
5 Feeney.
6 Ibid.
7 United Press International, "Pirates, Expos to Clash," Pharos Tribune (Logansport, Indiana), September 24, 1979: 9.
Additional Stats
Pittsburgh Pirates 6
Chicago Cubs 0
---
Wrigley Field
Chicago, IL
Box Score + PBP:
Corrections? Additions?
If you can help us improve this game story, contact us.
Tags
https://sabr.org/sites/default/files/BibbyJim.jpg
600
800
admin
/wp-content/uploads/2020/02/sabr_logo.png
admin
2018-05-31 12:28:32
2020-04-17 10:24:46
September 23, 1979: Jim Bibby's 3-hit shutout keeps Pirates ahead in division race