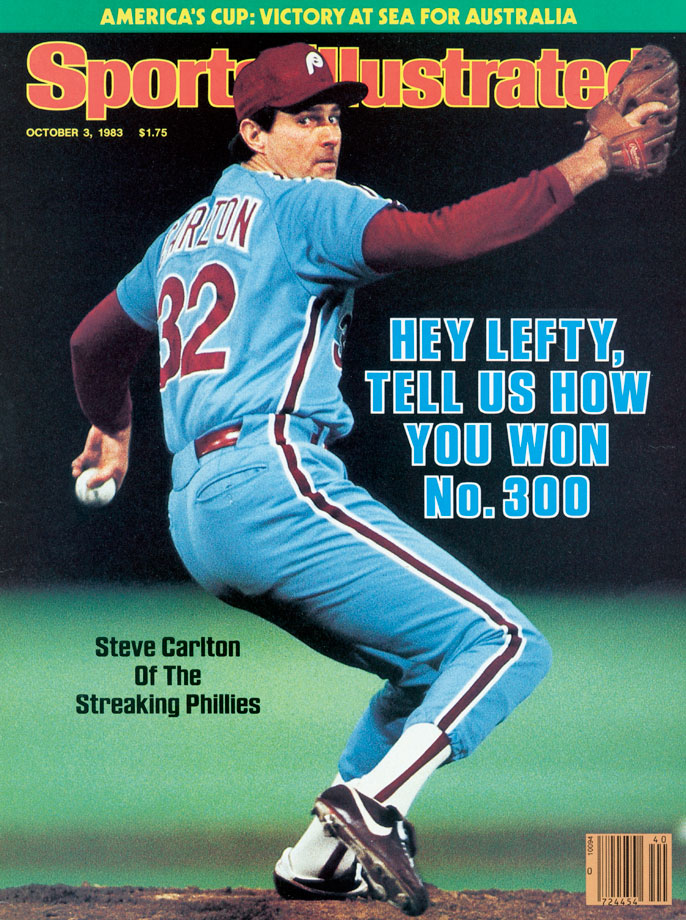 September 23, 1983: Steve Carlton wins his 300th game
---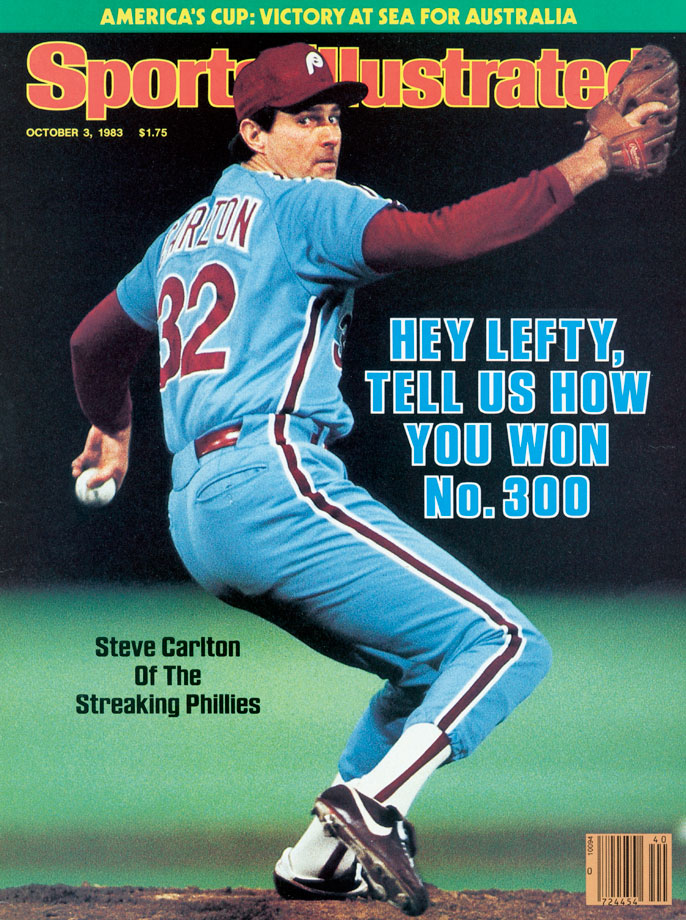 As the month of August 1983 came to a close, the battle for first place in the National League East division heated up. Pittsburgh (68-63) led second-place Philadelphia (67-64) by one game. Montreal (66-64) and St. Louis (65-65) were 1½ and 2½ games back, respectively. The final month of the season promised some exciting baseball to be played on the diamonds as the finish line was clearly in view for all four clubs.
Perhaps the most exciting baseball was being played by the Phillies. So far in September, the Phils were sporting a 16-6 record, and they were the owners of seven straight victories.1 This recent success catapulted Philadelphia into first place, as the Pirates (three games back) and the Expos (four games back) were on the brink of elimination with only a week of games left on the schedule.
In their recent winning streak, the Phillies swept the Cardinals in a three-game series at home and won a doubleheader over the Expos. It would seem as if it was only a matter of time before the Phillies were crowned division champions.
There was no doubt that the Phillies had a talented team as they began a three-game series in St. Louis on September 23. Their offense was led by Mike Schmidt, who was having another tremendous season, leading the league in home runs (38) and walks (126) and was third in RBIs (104). The pitching staff was anchored by John Denny, who was tied for the league lead in wins with Montreal's Steve Rogers (17); Denny was second in ERA (2.40).
But while the Phillies were enjoying a successful season, it took a midseason jolt to get the team pointed in the right direction. After dropping two of three to Cincinnati in mid-July, the Phillies found themselves tied for first place with St. Louis. Manager Pat Corrales was fired by the Phillies, and replaced with Paul Owens. Owens, primarily a scout, had last managed in 1972 with the Phillies. "A 43-42 record is not what we expected at this time," said Phillies general manager Bill Giles. "You see players hitting 40 points below what they are supposed to. The manager's job is to motivate players to play up to their capacity. Was it the players' fault? Was it Pat's fault? My fault? We have to find out. We had a meeting with Pat. We told him what we felt he should do to improve the club. And we feel he didn't do it."2
It could be debated where the finger of blame should be pointed, but the result was that Owens had the Phillies on the doorstep of the postseason.
In the first game of the Phillies-Cardinals series, there was certainly some drama building. Phillies left-handed pitcher Steve Carlton was going for his 300th career win. It was a bit ironic that he was trying to gain immortality at Busch Stadium, the ballpark where he broke into the big leagues two decades earlier. Lefty was having a so-so year in 1983. He entered the game with a 14-15 record, but a very respectable 3.15 ERA. Carlton had beaten the Cardinals just five days earlier, 5-3. St. Louis countered with Joaquin Andujar (6-15, 4.04 ERA). Andujar pitched against the Phillies and Carlton in the previous matchup, and was charged with the loss.
St. Louis fans, a knowledgeable bunch with regard to baseball, knew that the reigning world champions were done for the season. But still, a crowd of 27,266 showed up to witness baseball history. While many fans of other clubs might have packed it in, fans in St. Louis, noted as a "great baseball town," were not deterred.
After a scoreless first inning, the Phillies reached Andujar for single runs in the second and third frames. Carlton backed his effort with a single to plate one run and Greg Gross did the same to stake the visitors to a 2-0 advantage.
The Cardinals evened matters in the home half of the fourth, when George Hendrick led off with a single and came home via David Green's eighth home run of the year.
The Phillies untied the score in a hurry. With one out in the top of the fifth, Schmidt got aboard with an infield single. Joe Lefebvre followed with a single to left field. The Phillies then executed a double steal, moving both baserunners up a base. Gary Matthews singled to left to plate Schmidt. Gross walked to reload the bases. Bo Diaz came through with a single to right field, scoring both Lefebvre and Matthews.
The plug was pulled on Andujar, bringing reliever Jeff Lahti into the game. The righty induced Iván de Jesús to hit into a 1-6-3 inning-ending double play.
Carlton seemed to be in control with the comfortable lead after five innings and whiffing seven St. Louis batters. The Phillies tacked on another run in the top of the sixth, on doubles by Joe Morgan and Schmidt. The Phillies now led 6-2.
Ozzie Smith led off the bottom of eighth inning with a triple to center field. But Carlton showed why he was one of the best pitchers ever when he came back to strike out Willie McGee and Hendrick. Green grounded out to Carlton to keep the Cardinals run total at two.
Al Holland came in and mopped up the ninth inning to preserve Carlton's 300th win. The 38-year-old Carlton, the career strikeout leader at the time, added 12 more to his total. Keeping with his boycott of the media, Carlton did not speak after the game, but his teammates held a private celebration in the Phillies clubhouse. Carlton was the 16th pitcher in major-league history to win 300 or more games in his career.
"I could tell he was more on edge than he usually is," said pitching coach Claude Osteen. "He really wanted to get this out of the way. He was pacing in the clubhouse with a bat and looked pretty anxious."
"Warming up he didn't have very good stuff, but you can never tell about that with him. And by the fourth or fifth inning he had a really good fastball."3
"I'm like Lefty," said Schmidt. "I got the impression that this was one more step up the ladder for Lefty. I don't think he was ever a big statistic guy. If Lefty gave a damn for embellishment, he'd talk to the press. Not caring about it, that got him there quicker."4
The Phillies won the East and defeated Los Angeles in the NLCS in four games. However, they lost the World Series to Baltimore in five games.
Carlton retired after the 1988 season with a career record of 329-244 and an ERA of 3.22. He totaled 4,136 strikeouts. He ranks fourth all-time in strikeouts behind Nolan Ryan (5,714), Randy Johnson (4,875), and Roger Clemens (4,672).
Steve Carlton was elected to the Baseball Hall of Fame in 1994, his first year of eligibility. He garnered 95.6 percent of the votes.
Sources
The author accessed Baseball-Reference.com for box scores/play-by-play information and other data, as well as Retrosheet.org.
baseball-reference.com/boxes/SLN/SLN198309230.shtml.
retrosheet.org/boxesetc/1983/B09230SLN1983.htm
Notes
1 The streak reached 11 games.
2 Stan Hochman, "Bridging the Communication Gap," Philadelphia Daily News, July 19, 1983: 79.
3 Peter Pascarelli, "Carlton Notches 300th Victory," Philadelphia Inquirer, September 24, 1983: 6-D.
4 Stan Hochman, "A Toast to Carlton's 300th Win," Philadelphia Daily News, September 24, 1983: 47.
Additional Stats
Philadelphia Phillies 6
St. Louis Cardinals 2
---
Busch Stadium
St. Louis, MO
Box Score + PBP:
Corrections? Additions?
If you can help us improve this game story, contact us.
Tags
https://sabr.org/sites/default/files/Carlton-Steve-1983-SI.jpg
600
800
admin
/wp-content/uploads/2020/02/sabr_logo.png
admin
2018-08-27 11:27:47
2020-04-17 10:24:43
September 23, 1983: Steve Carlton wins his 300th game