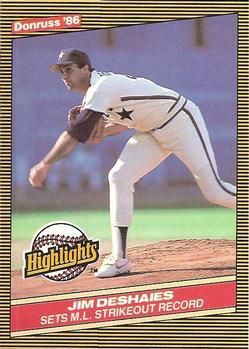 September 23, 1986: Eight straight strikeouts for Jim Deshaies
---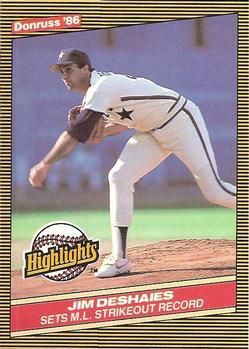 On September 15, 1985, the Houston Astros exchanged pitchers with the New York Yankees: Houston sent veteran Joe Niekro to New York in exchange for minor-league left-handed pitcher Jim Deshaies. The 25-year-old Deshaies pitched well for the Astros in 1986. Through August 24 he had a 9-3 record for Houston with 111 strikeouts in 125 innings. In his next three starts, though, Deshaies didn't pitch beyond the fifth inning, and allowed 20 hits and 12 runs in the games, all losses, including a 5-1 defeat by Los Angeles at Dodger Stadium on September 10. Houston manager Hal Lanier decided to have Deshaies skip a start.1
Deshaies made his next start on September 23, facing the Dodgers again before a crowd of 27,734 at the Houston Astrodome. Houston was closing in on the National League West Division championship, while Los Angeles had a record of 70-80 and was mired in fifth place.
Deshaies rebounded emphatically from his recent struggles. He struck out the first eight Dodgers batters. In the first inning, Steve Sax, Reggie Williams, and former Astro Enos Cabell all swung and missed at high fastballs. Cabell whiffed on a pitch that was over his head.2 Deshaies said afterward, "If you don't get to do your job for 10 days, you want to get out there and do your best. I was pumped, no question about that."3
The Astros scored two runs in the first inning as they worked Dodgers left-hander Dennis Powell for two walks and a hit. Phil Garner's sacrifice fly drove in a run, and third baseman Jeff Hamilton's error led to another run.4
In the second inning, a classic battle occurred between Deshaies and L.A. cleanup hitter Pedro Guerrero. With a 3-and-2 count, Guerrero fouled off nine consecutive pitches, then struck out.5 Alex Trevino and Hamilton went down swinging to end the inning.
The Dodgers' Dave Anderson, leading off the third, whiffed on a high fastball. Jose Gonzalez fouled two pitches back, took a ball, then swung late on the next offering to become Deshaies' eighth strikeout victim .
With that strikeout Deshaies broke the modern major-league record of seven consecutive strikeouts to start a game, set by the Chicago White Sox' Joe Cowley just four months earlier, on May 28. Deshaies also broke the National League record of six straight strikeouts to start a game.6 (The all-time record of nine strikeouts to start a game was set by 19th-century pitcher Mickey Welch of the New York Giants on August 28, 1884.) The Astrodome crowd had been notified on the scoreboard about the record, and the fans gave standing ovations to Deshaies following both his record-tying and record-breaking strikeouts.7
After Gonzalez struck out, the Dodgers pinch-hit for Powell with Larry See, who popped up to second baseman Bill Doran to end the strikeout streak at eight.8
See had been a late-season promotion from Los Angeles' Triple-A affiliate in Albuquerque, where he had struck out 101 times before being called up. Since his call-up, he had gone down on strikes six times in 15 at-bats. In the Dodger Stadium game on September 10, Deshaies had struck out See twice.9
After the game Doran said, "Everybody was mad at me. They wanted me to drop it so he could get more strikeouts."10 See, on the other hand, was proud just to make contact. "There's a lot of satisfaction in knowing he got everybody but me," the rookie told reporters.11 I didn't want to let him get me, too. I didn't know anything was going on. I knew he'd struck out eight guys in a row, but I didn't know it was any kind of record."12
Anderson didn't think Deshaies was particularly overwhelming. "He threw well, but we were swinging at everything," the Dodgers shortstop said. "He was good, but we helped him by swinging. There was no trick to it. He was throwing high fastballs, and we swung."13
In the top of the fourth inning, the Dodgers' Steve Sax singled to left field, extending his hitting streak to 21 games. That inning ended with Deshaies striking out Guerrero again, but the gusher of K's dried up after that; Deshaies added just one more strikeout the rest of the way.
In the bottom of the fourth, Alan Ashby's home run added to Houston's lead. Deshaies went on to pitch his first complete game and had 10 strikeouts. He surrendered just two hits and one walk in the 4-0 shutout. "'I wouldn't call it a fluke, but it was a freak thing," Deshaies said of his feat. "If I'd gotten, say, just one pitch a little in or something, there might have been a hit, and no record. I didn't know about the record, but I knew I was striking everybody out. I was really pumped up, throwing almost all fastballs except the changeup to Guerrero, and once I struck out the side the first two innings, there was no way I was thinking about anything but getting strikeouts. I knew it would have to come to an end, and then I'd have to settle down. If I had pitched the whole game the way I did the first three innings, I would have blown my arm out."14
The radar gun showed how pumped up Deshaies was. Houston manager Hal Lanier said, "His velocity was 89 tonight, the highest it's been all season. I always ask Les [pitching coach Les Moss] before the game how the starter looks in the bullpen. Tonight, Mossie told me that Jimmy looked the best he had all season. (Moss) must be a genius."15
Deshaies normally threw about 85 miles per hour. "That's kind of a freak thing," he said of the extra hop he had to start the game. "I'd struggled my last two or three starts and had some rest. I said, 'I'm going to go out and throw fastballs and see if they can hit 'em.' They kept swinging and missing, and I kept throwing fastballs."16
Sax said, "He threw as hard as anybody tonight — he was up there with (Dwight) Gooden. When he throws that ball up there that's borderline, it's tough to lay off."17
Los Angeles manager Tommy Lasorda wasn't buying Sax's hyperbole and griped about the Dodgers swinging at the high fastball. "Not only are they balls, but even if you hit them, you hit fly balls," the Dodgers skipper said.18
This game was the first of three straight home shutouts by the Astros. The next night Nolan Ryan and Charlie Kerfeld combined on another two-hitter, as Ryan struck out 12. After that, Mike Scott pitched a no-hitter, striking out 13, to clinch the National League West and cap a series of amazing pitching performances by the Astros.
This article appears in "Dome Sweet Dome: History and Highlights from 35 Years of the Houston Astrodome" (SABR, 2017), edited by Gregory H. Wolf. To read more articles from this book at the SABR Games Project, click here.
Notes
1 United Press International, "Astros' Deshaies Fans First 8 for Record," New York Times, September 24, 1986.
2 Neil Hohlfeld, "Deshaies Pitches Astros Near Title — Lefty Fans 8 at Start to Set Major Record," Houston Chronicle, September 24, 1986.
3 Hohlfeld.
4 Hohlfeld.
5 Most media accounts said an inside changeup caught Guerrero looking for the third strike; UPI said he struck out swinging.
6 Hohlfeld.
7 Kevin Modesti, "Deshaies' Biggest Fans Are Dodgers — He Strikes Out First 8 For Record," Los Angeles Daily News, September 24, 1986.
8 Gordon Edes, "Astros' Deshaies Guns Down First 8 Dodgers, Wins," Los Angeles Times, September 24, 1986.
9 Hohlfeld.
10 Hohlfeld.
11 Edes.
12 Modesti.
13 Hohlfeld.
14 Edes.
15 Hohlfeld.
16 Modesti.
17 Ibid.
18 Ibid.
Additional Stats
Houston Astros 4
Los Angeles Dodgers 0
---
Astrodome
Houston, TX
Box Score + PBP:
Corrections? Additions?
If you can help us improve this game story, contact us.
Tags
https://sabr.org/sites/default/files/DeshaiesJim-1986.jpg
600
800
admin
/wp-content/uploads/2020/02/sabr_logo.png
admin
2018-10-01 23:10:43
2020-04-17 10:23:54
September 23, 1986: Eight straight strikeouts for Jim Deshaies