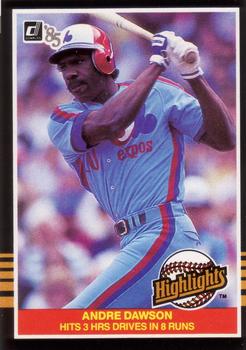 September 24, 1985: The Hawk hits three home runs for Expos at Wrigley
---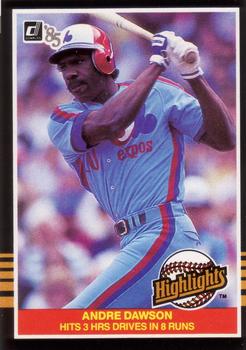 Wrigley Field has seen its share of wild games over the past 100-plus years, and the September 24, 1985, contest between the Montreal Expos and the hometown Chicago Cubs ranks right up there. Andre Dawson belted three home runs – two in one inning – to help the Expos build a 13-run lead, only to see the tying run for the Cubs come to the plate in the ninth before the final out was recorded in a 17-15 Expos victory.
"In this ballpark the game isn't over until the very last out," Dawson said. "We needed each one of those home runs."1
Eight home runs were hit in the game, five by the Expos and three by the Cubs, aided by a 17-mph wind blowing out.
Fittingly, Dawson had started the scoring by hitting a home run in the opening frame, a two-run blast that also brought Mike Webster home to score. Montreal added a run in the third, as Webster singled home Sal Butera, who had reached base on a fielder's choice and moved to second on an error by third baseman Keith Moreland.
The Cubs got on the board in the fourth inning, taking advantage of an Expos miscue, as Ryne Sandberg reached first after an error by Hubie Brooks at shortstop. Sandberg stole second, moved to third on a fly out by Moreland, and scored when Jody Davis went deep off Expos starter Bryn Smith for a two-run shot.
The victors did most of their scoring in just one inning, crossing the plate 12 times in the fifth to take a commanding 15-2 lead. Webster and Vance Law set the stage for the first of two Dawson homers in the inning by singling in front of him to start the inning. Dawson followed with his first blast of the frame, off Cubs starter Ray Fontenot, to put Montreal ahead 6-2. Brooks struck out, but Tim Wallach got things going again with a single, chasing starter Fontenot from the game.
Andres Galarraga greeted reliever Jon Perlman with a single, moving Wallach to third base while Galarraga scampered to second on an error by Cubs center fielder Bob Dernier. After an intentional walk to Jim Wohlford, Butera singled to score Wallach and Galarraga. Smith bunted Wohlford and Butera over, and then Webster doubled both runners in to make it 10-2.
After the next batter, Vance Law, walked to put runners on first and second, "The Hawk" stepped in again. Dawson drilled a Perlman pitch out of the park for his second round-tripper of the inning – becoming only the 19th player to perform the feat since 1900 and the second to do it twice.2 The other time came on July 30, 1978, against the Braves at Atlanta-Fulton County Stadium. "This was the second time I've done it, so it was no big deal," he said afterward.3
It was Dawson's sixth home run in his last four games, and it was a preview of the many fine seasons he would have later at Wrigley Field as a member of the Cubs. In his first season in Chicago, in 1987, Dawson would hit 49 home runs with 137 RBIs and be named the NL's Most Valuable Player despite the Cubs' sixth-place finish (of six teams) in the NL East.
After Dawson's second home run, the Expos added two more runs in the big inning. Brooks singled and Wallach socked a two-run homer, his second hit of the frame, to put the Expos up 15-2 and end Perlman's day. Dave Beard replaced Perlman and mercifully ended the inning for the Cubs by striking out Galarraga.
After the Expos' onslaught in the fifth, the Cubs added a run in the sixth that looked harmless enough at the time, with Moreland scoring on a sacrifice fly to left by Thad Bosley. Trailing by 12 runs, the Cubs unloaded their bench in the seventh, replacing four starters, including their first (Dernier), third (Sandberg), and fourth (Moreland) hitters, as well as number-six hitter Davis – a move that later would have importance.
However, the Cubs were about to be inspired by announcer Harry Caray, "who came out to sing 'Take Me Out to the Ballgame' at the seventh-inning stretch, and just as sure as Caray urged 'Let's Get Some Runs!' that's what the Cubs did."4
The hosts scored three times that inning off John Dopson. Dopson had relieved Smith, who would get the win, having gone six innings while giving up three runs – only one earned – and five hits. Billy Hatcher led off the inning with a home run. Gary Woods followed with a double and advanced to third base on a groundout by pinch-hitter Richie Hebner, before scoring on a single by Dave Owen. Owen moved to third on a single by Chris Speier and came in when Leon Durham hit into a force play at short.
The Expos responded right away, though, adding two more runs in the top half of the eighth on a two-run homer by Butera, scoring Doug Frobel, who had drawn a leadoff walk off the Cubs fifth reliever of the day, Steve Engel. That put the lead back up to double digits, 17-6, and none of the 6,947 in attendance who might have had their hopes raised in the seventh would likely have imagined that those two extra runs would be all that meaningful.
But meaningful they were, as the last two Cubs at-bats turned this rout into one of Wrigley's most memorable games. The North Siders got four runs back in the eighth. Bosley led off with a single, moved to second on a groundout by Shawon Dunston, advanced to third on a wild pitch, and scored on a single by Hatcher. Another hit, this time by Gary Woods, put runners at first and third, setting the table for pinch-hitter Gary Matthews, who drilled a three-run homer to cut the visitors' lead to 17-10. Randy St. Claire replaced Dopson, and he immediately gave up back-to-back singles to Owen and Speier to put runners on first and third, before squashing the threat by striking out Durham and retiring Steve Lake on a popup to short.
After the Expos squandered a leadoff double by Brooks in the top of the ninth, the Cubs started quietly in the bottom half, as Bosley flied out to left. After the next two batters, Dunston and Hatcher, both singled, Woods grounded out to third, and the end seemed near. But Ron Cey scored Dunston and Hatcher with a pinch-hit single, Owen walked, and Speier singled to score Cey and trim the lead to four.
That was the day for St. Claire, as Jack O'Connor came on to finish things. Instead, Durham greeted him with a double to score both Owen and Speier, cutting the lead to just two runs and, incredibly, bringing the tying run to the plate. Expos skipper Buck Rodgers wasted no time bringing in his closer, Jeff Reardon, who was on his way to a league-leading 41 saves that year.
"I wasn't even planning on pitching," Reardon said. "They had to come into the locker room to get me."5
Reardon faced Cubs backup catcher Steve Lake. Lake, a .151 hitter in 1985, had replaced the strong-hitting Davis – who had homered earlier in the game – after the sixth inning, when it seemed Davis's bat would no longer be needed. Reardon got Lake to ground to first as the Montreal closer covered the bag for the final out, recording his 36th save and ending this 3-hour, 32-minute affair and one of Wrigley's zaniest games ever. The 32 runs scored by both teams was a record for an Expos game, eclipsing the 27 scored in a 19-8 Expos win over the Mets on July 3, 1973. The 12-run fifth was also a team record.
"It got kind of scary, didn't it?" Brooks said. "Playing at Wrigley Field is no day at the beach. We almost lost. If it wasn't for Andre's day, I don't think we would have come out on top. And thank God for Reardon 'The Terminator.'"6
This article appeared in "Au jeu/Play Ball: The 50 Greatest Games in the History of the Montreal Expos" (SABR, 2016), edited by Norm King. To read more articles from this book, click here.
Sources
Box scores for this game can be seen on baseball-reference.com, and retrosheet.org at:
http://www.baseball-reference.com/boxes/CHN/CHN198509240.shtml
http://www.retrosheet.org/boxesetc/1985/B09240CHN1985.htm
In addition to the sources listed in the notes, the author consulted:
Montreal Gazette
MLB.com
Notes
Additional Stats
Montreal Expos 17
Chicago Cubs 15
---
Wrigley Field
Chicago, IL
Box Score + PBP:
Corrections? Additions?
If you can help us improve this game story, contact us.
Tags
https://sabr.org/sites/default/files/DawsonAndre-1985.jpg
600
800
admin
/wp-content/uploads/2020/02/sabr_logo.png
admin
2017-10-10 13:55:56
2020-04-17 10:25:43
September 24, 1985: The Hawk hits three home runs for Expos at Wrigley