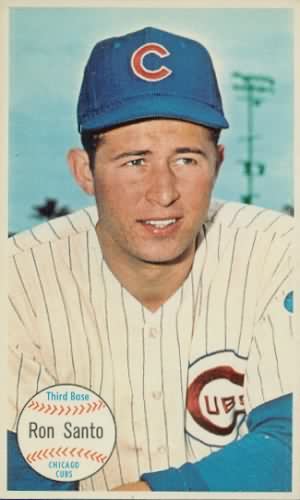 September 25, 1968: Santo's walkoff grand slam accounts for all Cubs' runs
---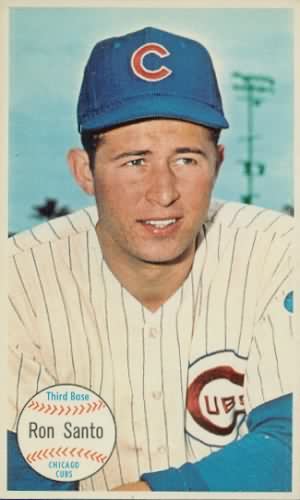 Had anyone asked the Chicago Cubs' Ron Santo what he expected as he walked to the plate in the ninth inning against the Los Angeles Dodgers on September 25, 1968, the words "game-ending grand slam" would not have been the first to come to his mind. "I've been missing my pitch an awful lot this year," Santo said after the game.1 His frustration throughout the season had led him to review films of his at-bats after every game, and he even believed his vision had begun to fail. Yet, with the bases loaded and Dodgers pitcher Bill Singer on his way to a shutout, nothing stopped the All-Star third baseman from ending the game with a single swing of the bat to give the Cubs a 4-1 victory that fateful day at Wrigley Field.
The game could not have come at a better time for Santo, concluding his ninth season in the big leagues. Despite entering the game with 23 home runs and ranking fourth in the circuit with 89 RBIs, the Cubs captain thought he had not been contributing to his team. He hadn't hit a home run since September 1 and had not driven in a run in his last eight games. The Cubs (80-78) were fighting to post consecutive winning seasons for the first time since 1945-1946. Nonetheless, for the competitive Santo, the club's record added to what he considered a "dismal year."2 Widely predicted to be challengers the for the pennant, the Cubs were tied with two other teams in fourth place, 14 games behind the St. Louis Cardinals, as they prepared for the second of a two-game set with the Dodgers. Two years removed from a pennant, the Dodgers, piloted since 1954 by Walter Alston, were in unusual territory. In eighth place with a lackluster 74-84 record, the team was headed for consecutive losing seasons for the first time since 1937-1938.
On this sunny Wednesday afternoon, a paltry crowd of 2,657 turned out at the "Friendly Confines" on the north side of the Windy City. Toeing the rubber for the Cubs was right-hander Bill Hands, who, in his first season as a full-time starter, had emerged as a dependable workhorse. His 16-10 slate so far had improved his career record to 31-33 in parts of four seasons. Hands looked shaky in the early going, yielding a leadoff single to Willie Crawford, who was left stranded on third after Len Gabrielson's two-out single. In the second he worked around leadoff singles by Wes Parker and Paul Popovich, and in the fourth, Bill Sudakis reached second on a one-out single and stolen base, but once again the Dodgers came up empty.
Dodgers right-hander Singer matched Hands' zeros in the first four frames. Coming off a stellar 12-8 record and 2.64 ERA in 1967, his first full big-league campaign, Singer entered this game with a hard-luck 13-15 slate. He overcame a pair of leadoff walks in the second, and surrendered his first hit, described by sportswriter George Langford of the Chicago Tribune as a "scratch single off [Singer's] knee," to Billy Williams with one out in the fourth.3
The Dodgers' 21-year-old leadoff hitter Willie Crawford ended Hands' shutout by connecting with what the pitcher himself called a "bad slider" for a solo home run with two outs in the fifth.4 It was his fourth round-tripper of the season, and his career.
After Crawford's blast, neither team managed a hit until the ninth inning as both hurlers mowed down the competition. Hands permitted only two more baserunners, both in the seventh when he hit Popovich, then walked light-hitting Bart Shirley (batting .188 entering the game) with one out, but escaped the jam by striking out Singer and Crawford to end the inning. Throwing what many of his teammates called "the best game of the year," Singer fanned the side in the fifth.5 In the seventh he punched out Ernie Banks on a wild pitch that got away from batterymate Tom Haller. Instead of two outs, there was just one, and Santo stepped to the plate. Batting a miserable .197 and slugging just .268 in 71 at-bats beginning September 1, the hit-hungry slugger was caught staring at three strikes in a row, leaving him upset and confused as he shuffled back to the dugout. "I was trying to hit a home run and I struck out," said Santo. "I came back to the bench and I just couldn't understand how I missed those pitches – all three good fastballs."6
The electrified atmosphere entering the ninth was only heightened by Hands' replacement on the mound. It appeared as though the Cubs had squandered Hands' successful performance, including six strikeouts and six hits in eight stellar innings. On the rubber was right-hander Phil "The Vulture" Regan. A former All-Star with the Dodgers who had posted an eye-popping 14-1 record and 1.62 ERA out of the bullpen for the '66 pennant winners, Regan had been traded to the Cubs in April, less than two weeks into the season, along with outfielder Jim Hickman for pitcher Jim Ellis and outfielder Ted Savage, and came to the mound sporting a 10-5 record and an impressive 2.31 ERA. Regan quickly forced two groundouts. After Popovich singled, Regan struck out Shirley to keep the gap at one run.
Working on a one-hitter with 10 punchouts to open the ninth, Singer issued his fourth walk of the game, to journeyman outfielder Willie Smith. Billy Williams (who entered the game slugging .696 with 16 RBIs in his last 17 games) laced a double that left fielder Gabrielson misjudged, though he was not charged with an error, while Smith held up at third base. With no outs and hoping to create a forceout at home plate, Singer intentionally walked Dick Nen (who had replaced John Upham, a pinch-runner for Banks in the seventh and subsequently took over at first base) to face Santo with the bases loaded. "I was surprised to see them walk Nen intentionally to get to Santo," recalled Cubs manager Leo Durocher. "Sure he [was] in a slump, not hitting well, but that's a pretty dangerous man to let up there."7
Santo was no stranger to big hits. Four times in his career thus far he had belted walk-off home runs, including consecutive extra-inning blasts against the Atlanta Braves in 1966; however, Santo was probably not thinking about the long ball when he dug in against Singer. "When I went up with the bases loaded in the ninth," he said, "I knew all we needed was a base hit so I just tried to meet the ball."8 Unfortunately for Singer, it was more than just a meeting. Santo's first swing of the bat was explosive. The ball sailed over the ivy-covered wall in left field for a dramatic grand slam, the third of Santo's career, to end the game in 2 hours and 13 minutes.9
Santo's bases-clearing home run provided not only a boost to his team's morale but to his own as well. "All Santo ha[d] to do is just meet the ball," reflected Durocher. "He [was] strong enough to hit it out of any ballpark by just making contact. When he [swung] hard, he [threw] everything off." With that swing, Santo caught fire, hitting two more home runs and knocking in five runs in his final three games of the season to finish with 26 round-trippers and tie teammate Billy Williams for second place in the NL with 98 RBIs.
"When I was a ballplayer, I was very intense," said Santo, reflecting on his career. "When I walked across those white lines, nobody was my friend. Once the game was over, off the field, I was a different guy. But on the field, I was very intense. … That was the kind of player I was."10 A nine-time All-Star in his 15-year career (1960-1974), Santo was elected posthumously to the Baseball Hall of Fame in 2012, less than two years after his death.
This game summary was the product of Prof. Wolf's seminar "Lying, Cheating and Stealing: America through the Lens of Baseball," taught during the spring term 2017 at North Central College, Naperville, Illinois.
Sources
The sources Baseball-Reference.com and Retrosheet.org were accessed online in addition to the sources mentioned in the notes.
http://www.baseball-reference.com/boxes/CHN/CHN196809250.shtml
http://www.retrosheet.org/boxesetc/1968/B09250CHN1968.htm
Notes
Additional Stats
Chicago Cubs 4
Los Angeles Dodgers 1
---
Wrigley Field
Chicago, IL
Box Score + PBP:
Corrections? Additions?
If you can help us improve this game story, contact us.
Tags
http://bioproj.sabr.org/bp_ftp/images4/SantoRon.jpg
600
800
admin
/wp-content/uploads/2020/02/sabr_logo.png
admin
2017-05-12 16:09:53
2020-04-17 10:25:51
September 25, 1968: Santo's walkoff grand slam accounts for all Cubs' runs