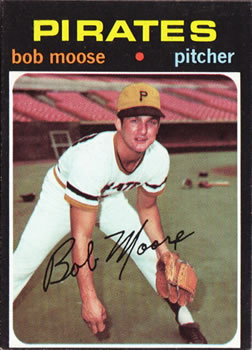 September 25, 1976: Bob Moose makes final appearance for Pirates before tragic death
---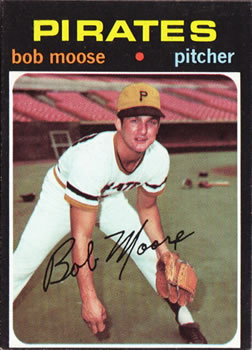 A spate of premature deaths between 1970 and 1979 brought baseball fans face-to-face with the fragility of human life. In those 10 years, no fewer than 14 active or recently active professional baseball players lost their lives to accidents, disease, murder, and suicide. Most prominent among the deceased players were Hall of Famer Roberto Clemente of the Pirates, who died in a plane crash on December 31, 1972; pitcher Don Wilson of the Houston Astros, winner of 104 major-league games and author of two no-hitters, who died accidentally on January 5, 1975; outfielder Lyman Bostock of the California Angels, a lifetime .311 hitter, murdered in Gary, Indiana, on September 24, 1978; and All-Star catcher Thurman Munson of the New York Yankees, who died in an airplane accident on August 2, 1979.
Other notable major leaguers dying in that time period include utilityman Chico Ruiz, pitcher Jim McGlothlin, infielders Danny Thompson and Mike Miley, and pitchers Danny Frisella and Bob Moose, a dependable and versatile Pirate right-hander.5
Moose debuted for the Pirates at the end of the 1967 season, making two starts against the Houston Astros. In his second start, on September 29, he won his first major-league game. He made the 1968 team and for the next six years worked effectively in both starting and relief roles. He won at least 11 games each season from 1969 through 1973, and in 1969 had a 14-3 mark for a major-league-leading .824 winning percentage and a 2.91 earned-run average, and pitched a no-hitter in the thick of the National League East Division race against the eventual World Series champion New York Mets. Two years later, Moose played an important role in the 1971 Pirates' drive to the World Series, winning 11 games for the team. Moose also pitched two scoreless innings against the San Francisco Giants in the National League Championship Series and made three World Series appearances without a decision against the Baltimore Orioles in the Series.
Along with his successes, Moose also suffered the bitter disappointment of ending the 1972 NLCS by throwing a wild pitch that sent the Cincinnati Reds into the World Series. The then best-of-five 1972 NLCS proved a nightmare for Moose. He failed to retire a batter in his second-game start, on October 8, then in the fifth game he seemed on the verge of getting out of trouble when he threw the two-out, ninth-inning wild pitch with Hal McRae batting, allowing the walkoff run to score from third. Pirates teammate Steve Blass recalled that after the devastating loss, Moose "just dealt with it. He shrugged it off. Bob had a wonderful positive attitude. He was a great guy with the ideal temperament for a ballplayer. He had a great approach to what he did, was a fine guy and an ideal teammate." Moose claimed that "[f]or about 10 minutes after the game, the pitch disturbed me. Then I realized it was just part of the game. I didn't have any trouble living with it."2
By that 1972 season, Moose was pitching almost exclusively as a starter. He had appeared only once in relief in 31 appearances during the regular season. In 1973, as the Pirates, demoralized by the death on New Year's Eve of Roberto Clemente, staggered through a desultory season, Moose made 29 starts and four relief appearances. With a mediocre 12-13 record, nevertheless he tied for second in wins on a pitching staff in disarray. Already stricken by the loss of Clemente, the Pirates saw their pitching ace, Steve Blass, drop from a 19-8 record with a 2.48 earned-run average in 1972 to 3-9 with an unbelievable ERA of 9.85. Blass simply could not throw strikes. In 1972, he had walked 84 batters in 249⅔ innings; in 1973, he walked the same number of batters in only 88⅔ innings. The Pirates never found anyone to fill the hole created by Blass's ineffectiveness and finished the season 80-82, 2½ games behind the division-winning New York Mets.
The Pirates moved Moose into the second spot in the rotation for the 1974 season. However, after several poor outings, he was obviously not all right physically. By May 23, Moose owned a 1-5 record and a 7.57 ERA. His season ended when doctors discovered a blood clot in his right shoulder near his collarbone.3 Moose had two surgeries to correct the problem. He recovered sufficiently to make the Pirates' Opening Day roster in 1975, but he struggled on the mound. Again pitching as both a starter and reliever, by the end of June, Moose had an 0-2 record with a 5.88 ERA. The Pirates sent him to Triple-A Charleston, and recalled him at the beginning of September. When he returned to the Pirates, Moose was a new man. In his last six appearances, covering 26⅓ innings, Moose allowed only one earned run. In his final appearance of the season, he beat the Philadelphia Phillies 3-1 in the final complete game of his major-league career. His brilliant September pitching squared his won-lost record at 2-2 and lowered his ERA to 3.72.
Moose ostensibly began the 1976 season as a long reliever. On April 17, Pittsburgh beat writer Charley Feeney wrote of the Pirates in The Sporting News that "their middle-inning relievers Bob Moose and Larry Demery should be able to pick up the starters until they are ready to go nine innings."4 However, when injuries and ineffectiveness hampered Pirates relief ace Dave Giusti, Moose began to pitch regularly as the closer. By July 7, he had notched 10 saves and sported an ERA of 2.16. Moose won his final major-league game, 4-2, in relief on June 12, 1976, when the Pirates scored two runs in the top of the 11th against the Atlanta Braves. His pitching declined the rest of the season. He failed to garner another save, and he lost all five of his decisions. His ERA wound up at 3.70.
Moose made his final major-league appearance in a 3-0 loss to the St. Louis Cardinals at Busch Stadium on Saturday, September 25, 1976. The Pirates, who would be eliminated in the division race the next day by the Phillies, were still mathematically alive for the title. Moose entered the game in the bottom of the sixth with the Cardinals leading 3-0. He pitched two scoreless innings, allowing two walks and a single to Jerry Mumphrey. When Ed Kirkpatrick pinch-hit for Moose in the top of the eighth, he was out of the game, and unbeknownst to anyone, at the end of his career.
Two weeks later, on the evening of October 9, 1976, Bob Moose's 29th birthday, an automobile accident on a rain-slicked road near Martins Ferry, Ohio, snuffed out his life. Remembrances of Moose's life and career included Pete Rose calling him "my kind of player. He would fight you to the bitter end."5 Pirates teammate Al Oliver remembered Moose's poise and strength after the 1972 NLCS loss: "Moose didn't go into hiding after that pitch. He walked off the field with his head high. Later in the clubhouse, he didn't hide from reporters. He answered every question and he didn't alibi. He was a pro." Oliver also remembered Moose as a great teammate. "When I was down, maybe for not hitting," Oliver recalled, "Moose would find a way to talk to me. I appreciated that."6 Perhaps the most poignant reflection came from Moose's recently retired manager, Danny Murtaugh, who would himself die less than two months later. An obviously pained Murtaugh said, "I can't tell you how depressing this is. Here's a young man in the prime of his life, alive and healthy one minute and not with us anymore the next."7
As Murtaugh lamented, Bob Moose died far too young. Putting Moose's tragic death in perspective, Steve Blass juxtaposed the unexpected end of a baseball game with the unexpected end of a human life. "A wild pitch can be abrupt, but nothing like real life."8
This article appears in "Moments of Joy and Heartbreak: 66 Significant Episodes in the History of the Pittsburgh Pirates" (SABR, 2018), edited by Jorge Iber and Bill Nowlin. To read more stories from this book at the SABR Games Project, click here.
Notes
1 Information on the deaths of active major leaguers comes from: Baseball Almanac, baseball-almanac.com/players/baseball_deaths.php, accessed August 21, 2017; and Baseball Reference, baseball-reference.com/bullpen/List_of_major_league_players_who_died_while_still_playing, accessed August 21, 2017. Game and player career information comes from Retrosheet, retrosheet.org/, accessed August 20, 2017. Don Wilson's death by carbon monoxide poisoning in his garage, was ruled accidental by the medical examiner. See, Matthew Clifford, "Don Wilson," SABR Biography Project, sabr.org/bioproj/person/1643c2b4, accessed August 22, 2017.
2 Earl Lawson, "Wild Pitch Sets Off Reds' N.L. Pennant Party," The Sporting News, October 28, 1972: 9. Quoted in Fran Zimniuch, Shortened Seasons: The Untimely Deaths of Baseball's Stars and Journeymen (Lanham, Maryland: Taylor Trade Publishing, 2007), 45. Quoted in Bruce Markusen, "Card Corner: Remembering Bob Moose," National Baseball Hall of Fame: baseballhall.org/discover/card-corner/remembering-bob-moose, accessed August 21, 2017. See also The Sporting News, October 23, 1976: 70.
3 Markusen, "Remembering Bob Moose." See also Floyd Johnson, "Bob Moose," SABR Biography Project, sabr.org/bioproj/person/cc344cf0, accessed August 19, 2017.
4 Charley Feeney, "Buccos Thankful for Depth on Hill," The Sporting News, April 17, 1976: 6.
5 Markusen, "Remembering Bob Moose."
6 Charley Feeney, "Pirate Scholarship to Keep Moose Memory Green," The Sporting News, January 8, 1977: 36.
7 The Sporting News, October 23, 1976: 70.
8 Zimniuch, Shortened Seasons, 45.
Additional Stats
St. Louis Cardinals 3
Pittsburgh Pirates 0
---
Busch Stadium
St. Louis, MO
Box Score + PBP:
Corrections? Additions?
If you can help us improve this game story, contact us.
Tags
https://sabr.org/sites/default/files/MooseBob_0.jpg
600
800
admin
/wp-content/uploads/2020/02/sabr_logo.png
admin
2019-01-26 10:43:17
2020-04-17 10:23:41
September 25, 1976: Bob Moose makes final appearance for Pirates before tragic death