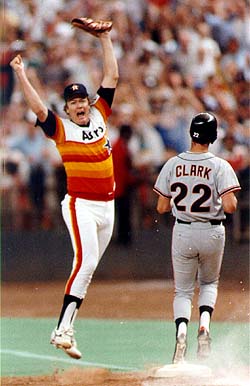 September 25, 1986: Astros' Mike Scott no-hits the Giants to clinch NL West title
---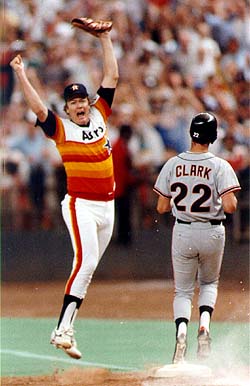 Most preseason prognosticators had predicted that Houston would finish in third place or lower in 1986, but as the Astros prepared to face the San Francisco Giants on September 25, they knew that a victory would clinch their first National League West title since 1980. The Astros featured a powerhouse pitching staff whose 3.15 team ERA that season was second in the NL only to the 3.11 posted by the New York Mets. The fact that staff ace Mike Scott was the starter on this day gave the Astros favorable odds to clinch the division before 32,808 hometown fans in the Astrodome.
The prowess of the Astros' pitching staff already had been on prominent display the previous two nights. On September 23 Jim Deshaies tied a major-league record by striking out the first eight Los Angeles Dodgers batters he faced on his way to a two-hit shutout in which he totaled 10 strikeouts. The next night, Nolan Ryan held the Giants hitless into the seventh inning, registered 12 strikeouts in eight innings, and combined with Charlie Kerfeld on a two-hit shutout. On this day, Scott's performance would make his fellow moundsmen almost appear to be slackers.
The game began on an inauspicious note as Scott hit Giants leadoff batter Dan Gladden with his first pitch. He later confessed, "I was out of control. The crowd was into it, and I was pumped up."1 Gladden stole second base and, after Robby Thompson flied out, advanced to third on Will Clark's groundout. Scott retired the next hitter, Candy Maldonado, to end what would be the Giants' only scoring threat that day.
In the bottom of the first inning, Giants starter Juan Berenguer retaliated against the Astros by hitting their leadoff man, Billy Hatcher, with his first pitch. Hatcher turned the tables by stealing second base, just as Gladden had done for the Giants, but he was erased from the basepaths when Giants catcher Phil Ouellette gunned him down as he tried to steal third. Berenguer allowed back-to-back singles to Denny Walling and Glenn Davis but pitched out of trouble to keep the game scoreless.
In the top of the second inning, Scott walked Chili Davis, who also proceeded to steal second base. But at this point Scott settled down. He struck out Bob Brenly and Ouellette and retired Jose Uribe on a pop fly to second baseman Bill Doran to begin a string of innings in which he retired 19 consecutive batters. By the end of the game, he had thrown 69 of his 102 pitches for strikes and had struck out 13 Giants.
Scott held the Giants spellbound throughout the game with his split-fingered fastball. Giants manager Roger Craig had to be struck by the irony that he was the man who had taught Scott the pitch after the 1984 season. Scott had finished that campaign 5-11 with a 4.68 ERA and had sought help from Craig, who at the time was out of baseball. Craig recalled, "The first three times I worked with him he didn't pick it up, then he just got it. Right then I knew the guy was going to have a good one, but I didn't know he'd be that good."2
Scott threw the split-finger so well now that many opponents, including Craig, had accused of him of scuffing the ball. No such accusations were forthcoming on this day, though, and Craig claimed to be so impressed by Scott that sometime in the fourth or fifth inning he told one of his coaches that the Giants would not get a hit off him.3
Though Berenguer's performance did not match Scott's, he did keep the Astros off the scoreboard for four innings. In the top of the fifth, however, Walling gave Scott all the run support he would need in this game when he hit a one-out solo home run over the wall in right-center field to give the Astros a 1-0 lead.
Scott was well aware of the game situation, saying, "About the fifth inning, I knew they didn't have a hit, but I didn't think about going for (the no-hitter) until the seventh. At that point, I decided to go for it."4 Scott had struck out the side in the bottom of the sixth inning and, after he decided "to go for it," he struck out the first two batters in the seventh inning as well. In the bottom of the seventh, Walling scored his second run of the game on Jose Cruz's two-out single to give the Astros their final margin of 2-0.
Scott allowed one final baserunner in the eighth inning on a one-out walk to Ouellette. The next batter, Harry Spilman, who was pinch-hitting for Uribe, almost broke up the no-hitter with a sharp grounder, but Doran scooped up the ball on the run and fired it to shortstop Craig Reynolds to get the force out on Ouellette at second base. The only other time the Astrodome crowd gasped at the thought that Scott might lose his shot at a no-hitter occurred in the very next at-bat. Mike Aldrete, who had spoiled Nolan Ryan's no-hit bid in the previous game, hit a long fly ball that Hatcher caught "in full stride 10 feet from the fence" in center field.5 Ryan, who had pitched five no-hitters but had never seen a teammate pitch one, said, "I was nervous. … Any little thing can end it. Now I know what I've put everybody else through."6
From that point on, the spotlight was solely on Scott, who would get to bask in its full glow. He struck out Gladden and Thompson to start the ninth inning and then got Clark to hit a weak grounder to the first baseman, Davis, who retired Clark himself and started the victory celebration. Scott had made a slow trot to cover first base and admitted, "I told (Davis) to take it himself because I didn't want to bobble it."7
When it was over, Scott had accomplished the dual feat of pitching a no-hitter and clinching a division title, which was a first in major-league history. The New York Yankees' Allie Reynolds had come closest to the achievement when he had clinched a tie for the American League pennant with a no-hitter against the Boston Red Sox on September 28, 1951. As for Scott's team, the Astros, they won the right to face the New York Mets, their 1962 NL expansion brethren, in what was now being called the "Silver Anniversary Series."8
Scott's no-hitter was the most dominant performance of the Astros' three consecutive shutouts, prompting Deshaies to quip, "It sure is hard to sustain any kind of fame around this place."9 The Astrodome crowd was so excited that they did not want to leave the stadium. So many fans stayed to celebrate that Scott was carried back onto the field to a new round of cheers a full 30 minutes after the last pitch. Kerfeld, the Astros' popular reliever, was elated for both his team and its fans and declared, "Shakespeare couldn't have written this any better. We wanted to get this one for the city of Houston and we got it."10
After the celebration was over, the Astros made it clear that there was one additional accolade they believed Scott had earned. Catcher Alan Ashby said, "I personally felt he had the Cy Young Award wrapped up already, but if this doesn't win it for him, then something is really fouled up in the system."11 In spite of the superlative season that Scott already had been enjoying, the Dodgers' Fernando Valenzuela was mentioned most often as the likely recipient of that award and, as coincidence would have it, Valenzuela had won his 20th game of the season with a two-hit victory over the Astros just three days earlier. Scott finished the season with an 18-10 record and led the league with 306 strikeouts, a 2.22 ERA, and 275⅓ innings pitched, but it was most likely his no-hitter that vaulted him past Valenzuela and garnered him the 1986 NL Cy Young Award.
This article appears in "Dome Sweet Dome: History and Highlights from 35 Years of the Houston Astrodome" (SABR, 2017), edited by Gregory H. Wolf. To read more articles from this book at the SABR Games Project, click here.
Notes
1 Neil Hohlfeld, "Great Scott! Astros clinch, Pitcher saves best for last," Houston Chronicle, September 26, 1986.
2 Roy S. Johnson, "Astros Clinch With Pizzazz On No-Hitter By Scott," New York Times, September 26, 1986.
3 Neil Hohlfeld, "'Great Scott' Clincher," The Sporting News, October 6, 1986: 12.
4 Hohlfeld, "Great Scott! Astros clinch, Pitcher saves best for last."
5 Johnson, "Astros Clinch With Pizzazz."
6 Hohlfeld, "'Great Scott' Clincher."
7 Johnson, "Astros Clinch With Pizzazz."
8 Ivy McLemore, "Great Scott! Astros clinch NL West with no-hitter," Houston Post, September 26, 1986, astrosdaily.com/history/19860925/, accessed June 10, 2015.
9 Hohlfeld, "'Great Scott' Clincher."
10 McLemore, "Great Scott! Astros clinch NL West with no-hitter."
11 Eddie Sefko, "Astros agree: Cy Young Award should go to Scott," Houston Chronicle, September 26, 1986.
Additional Stats
Houston Astros 2
San Francisco Giants 0
---
Astrodome
Houston, TX
Box Score + PBP:
Corrections? Additions?
If you can help us improve this game story, contact us.
Tags
https://sabr.org/sites/default/files/ScottMike-nohit.jpg
600
800
admin
/wp-content/uploads/2020/02/sabr_logo.png
admin
2018-10-01 23:57:37
2020-04-17 10:23:54
September 25, 1986: Astros' Mike Scott no-hits the Giants to clinch NL West title