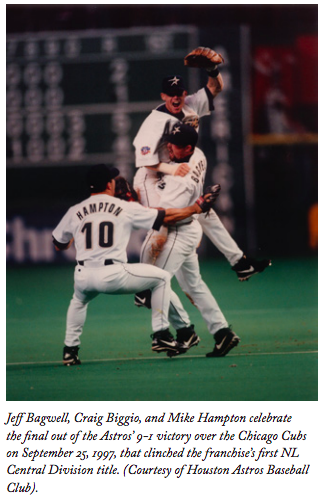 September 25, 1997: Astros clinch first National League Central Division title
---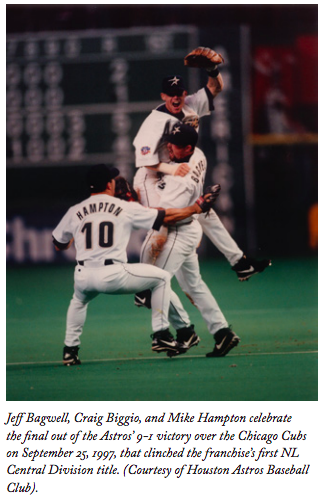 After playing second fiddle during each of their first three seasons in the National League Central Division, the Houston Astros clinched their first title exactly 11 years to the day after Mike Scott's no-hitter won the NL West in 1986. The Astros had blown a chance to win the division in 1996, but general manager Gerry Hunsicker believed the team had learned from its experience.
"There were enough people talking about it, and I think it might have inspired the club," Hunsicker said, "Guys were saying, 'It's just not going to happen this year.' "
The fact that the NL Central had been derided as the "Comedy Central" all season — the Astros were the only team to finish above .500 — gave the team additional motivation to clinch the division with a victory rather than to back into the playoffs. On September 25, lefty Mike Hampton pitched a dominant four-hitter to lead the Astros to a 9-1 win over the Chicago Cubs that set up a postseason matchup against the Atlanta Braves.
The Astrodome crowd of 35,623 witnessed a pitchers' duel between Hampton and Cubs starter Geremi Gonzalez for much of the game until the Astros broke things open in the bottom of the seventh inning.
Houston struck first when Ricky Gutierrez walked to lead off the bottom of the third and scored on Craig Biggio's two-out double. The Astros increased their lead to 2-0 in the fourth when Jeff Bagwell led off with a double, advanced to third base on right fielder Sammy Sosa's throwing error, and scored on a sacrifice fly by Luis Gonzalez.
The Astros got a scare in the fifth inning when Cubs hurler Gonzalez hit Biggio with a pitch that knocked off his batting helmet. Trainer Dave Labossiere rushed to home plate to attend to the team's All-Star second baseman, who was lying motionless on the ground. Biggio later recalled, "I wasn't knocked out, but I was dazed and scared. … When I got up I knew I was OK."2 It was Biggio's 34th hit-by-pitch of the season, which led Bagwell to declare, "I'm getting tired of seeing Bidge get hit. That was scary."3 The Astros and their fans breathed a collective sigh of relief as a wobbly Biggio stayed in the game.
The Cubs scored their lone run in the top of the seventh inning when Jose Hernandez slugged a two-out triple and scored on Mike Hubbard's single. The run cut the Astros' lead in half, but Houston would soon put the game out of the Cubs' reach.
Gonzalez walked Bill Spiers and Gutierrez to start the Astros' half of the seventh inning, and then Brad Ausmus blasted a three-run homer that made it 5-1. Gonzalez retired Hampton, and then was replaced by Dave Stevens, who walked Biggio on five pitches. With Derek Bell at bat, Biggio stole second and third before he scored on Bell's double. After Stevens hit Bagwell with a pitch, Cubs manager Jim Riggleman replaced him with Ramon Tatis, who lasted only one batter. Tatis was relieved by Ramon Morel after he surrendered an infield single to Luis Gonzalez that loaded the bases. Morel walked Richard Hidalgo to force Bell home, and Spiers followed with a single that drove in Bagwell. Morel retired the final two Astros hitters, but the Cubs now trailed 8-1.
Hampton set the Cubs down in order in the top of the eighth before the Astros added one more run to their tally in the bottom of the inning. Biggio drew a one-out walk and scored on Bagwell's triple to make the final score 9-1. It seemed fitting that the two franchise cornerstones had put an exclamation point on the division-clinching victory. Biggio, who was headed to the playoffs for the first time in his 10-year career, could barely contain himself. He recounted that, as the Astros took the field in the top of the ninth, "I was hyperventilating, I was just so excited. I knew we had it won. I couldn't calm down."4 After Hampton retired Sosa for the final out of the game, Biggio leaped into Bagwell's arms to start the Astros' celebration.
As fireworks went off, confetti rained down, and Kool and the Gang's song "Celebration" blared from the speakers, Astros fans overwhelmed the security guards who were supposed to maintain order and poured onto the field. The fans' celebration was peaceful, so the Astros returned from their clubhouse to join the party that was taking place on Astrodome floor. Luis Gonzalez declared, "Our fans were tremendous tonight. … It was like we had a 10th person on the field. It was a great feeling, especially late in the game when we got that lead."5 After a three-game finale against the Pittsburgh Pirates, the Astros and their fans would be able to look back at all the team had accomplished.
Hampton's complete-game win over the Cubs gave him a 15-10 record for the season, an amazing turnaround from the 2-6 mark he had in mid-June. Manager Larry Dierker had asked Hampton to make the transition from a power pitcher into a sinkerball pitcher, and he knew that Hampton would likely experience some rough spots at first. Dierker said, "I told him he might have to take a step backward before taking two forward, but that if he did take two steps forward, he could be a number-one pitcher in the rotation. … I was talking about being an ace-of-the-staff type pitcher."6 While Daryl Kile paced the Astros in wins with 19, Hampton's 15 were second on the staff and both he and Kile finished among the NL's top 10 in wins, innings pitched, and complete games.
Bagwell and Biggio played in all 162 of the team's games and both posted MVP-worthy numbers. Bagwell batted .286 with 40 doubles and 43 home runs, stole 31 bases, and scored 109 runs while amassing a team-record 135 RBIs. Biggio batted .309 with 37 doubles and 22 homers, stole 47 bases, scored a team-record 146 runs and had 81 RBIs as the Astros' leadoff hitter. Colorado's Larry Walker was voted the 1997 NL MVP, as Bagwell and Biggio finished third and fourth respectively behind Walker and Los Angeles Dodgers catcher Mike Piazza.
While individual accolades would have been a nice reward, the division title was far more satisfying, especially since the iron-man performances of Bagwell and Biggio were not the team norm. Over the course of the season, several starting players had missed games with injuries, including Opening Day starter Shane Reynolds, right fielder Derek Bell, and shortstop Tim Bogar. The Astros' injuries made it appropriate that, in an odd twist of fate, their division-clinching game was featured on the hit television show ER, which was set in a fictional Chicago hospital. ER was broadcasting a live episode on September 25, and the Astros-Cubs game was shown periodically in the background. Ausmus's seventh-inning homer that blew the game open was captured in the episode, a serendipitous event that pleased the Astros catcher, who said ER "was his favorite series and he was taping the program to watch later, not knowing he would be on the show."7
The person with the right to be the most pleased, however, was Dierker. From the moment he had been lured out of the Astros' broadcast booth to become the skipper, Dierker had been subjected to everything from doubt about his managerial capabilities to outright ridicule from some corners of the baseball world. Now, 159 games into his first season, he was the manager of a division champion. Though he had sometimes been tentative in his new position, he had confirmed the Astros' faith in his abilities. "I haven't tried as hard as I will next year," he vowed. "I'll have a foundation with some success where I can be a little more insistent [with his players]."8
Dierker, who had a 33-year history with the Astros — a time that included, most notably, 13 seasons as a pitcher and 18 as a broadcaster — savored the moment, saying, "I played on teams that didn't come close to winning a title. It means something to win, and to be wearing this uniform."9
This article appears in "Dome Sweet Dome: History and Highlights from 35 Years of the Houston Astrodome" (SABR, 2017), edited by Gregory H. Wolf. To read more articles from this book at the SABR Games Project, click here.
Notes
1 Alan Truex, "Bring on the Braves/Hampton, Ausmus Lead Rout as Astros Claim Central Crown," Houston Chronicle, September 26, 1997.
2 Mickey Herskowitz, "Special Moments From a Coronation," Houston Chronicle, September 26, 1997.
3 Ibid.
4 Ibid.
5 Michael Murphy, "Astros Clinch Championship With Authority," Houston Chronicle, September 26, 1997.
6 Neil Hohlfeld, "1997 National League Central Champions/StrongerRrotation Was Starting Point to Run at Title, Houston Chronicle, September 26, 1997.
7 "1997 — Season Recap," astrosdaily.com/history/1997/, accessed June 27, 2015.
8 Joe Drape, "A Company Man Succeeds as Astros' Manager," New York Times, September 27, 1997.
9 Herskowitz.
Additional Stats
Houston Astros 9
Chicago Cubs 1
---
Astrodome
Houston, TX
Box Score + PBP:
Corrections? Additions?
If you can help us improve this game story, contact us.
Tags
https://sabr.org/sites/default/files/HOU%201997%20Clincher.png
600
800
admin
/wp-content/uploads/2020/02/sabr_logo.png
admin
2018-09-26 13:17:32
2020-04-17 10:23:55
September 25, 1997: Astros clinch first National League Central Division title