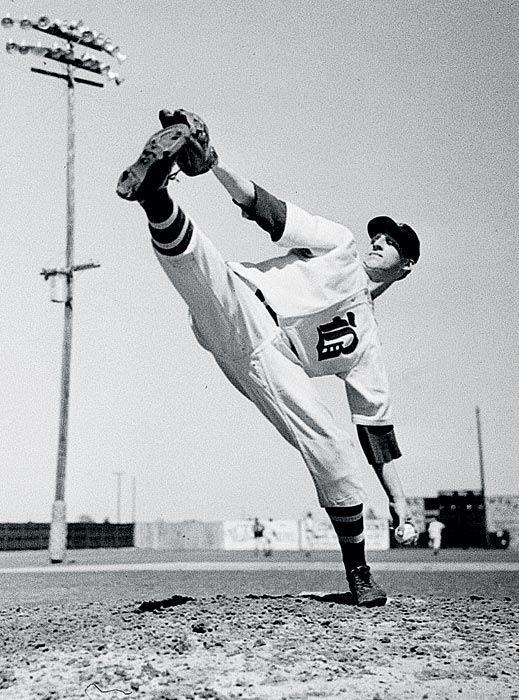 September 26, 1942: Braves win by forfeit behind rookie Warren Spahn at Polo Grounds
---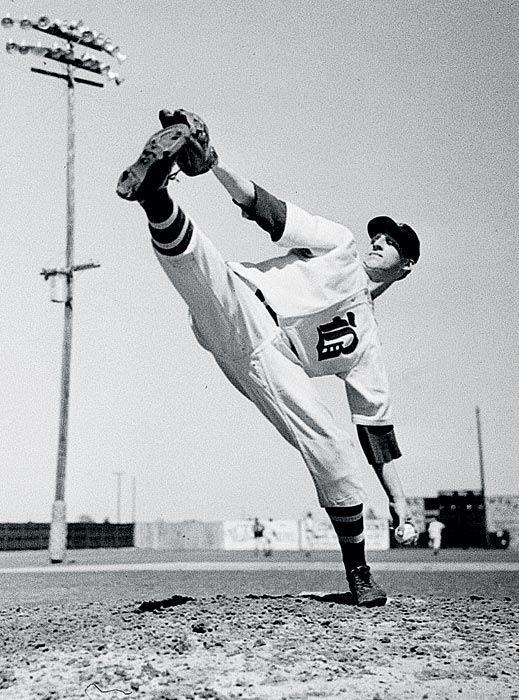 Warren Spahn's record in 1942: No wins, no losses, one complete game.
That very peculiar statistical line was the product of one very peculiar Saturday afternoon at the Polo Grounds.
Paid attendance for the Boston-New York doubleheader on September 26, 1942 was a paltry 2,916. After all, the games meant nothing. The Giants were a decent team, but they had been mathematically eliminated from the pennant race weeks earlier. And the Braves were the Braves — dreadful, as usual.
However, the paid attendance did not include the nearly 10,000 youngsters who got into the game for free in exchange for their contributions to a scrap metal drive. All over the country at that time, kids were collecting empty tin cans and old pots and pans, which found new life as raw material for the ships, tanks, and planes the United States needed for its march to victory in World War II.
While outside the massive mound of metal grew higher and wider by the minute, inside the Giants took the opener of the twin bill 6-4 behind a complete game from Carl Hubbell and Mel Ott's 30th home run. The second game began with rookie Warren Spahn on the mound for Boston. Had the 21-year-old Spahn broken in during the era of the internet and 24/7 sports media, his arrival would have been proclaimed by a choir of angels. At Class B Evansville in 1941, he had gone 19-6 with seven shutouts and a microscopic 1.83 earned-run average. He made the big-league team out of spring training in 1942, appeared in relief in two games, and then was optioned to Class A Hartford, where again he was nearly unhittable — a 17-12 record with a 1.96 ERA.
Boston manager Casey Stengel declared that his young lefty could become one of the best pitchers in baseball if he stayed healthy.1 Stengel was right, of course, but on this day Spahn was just a no-name kid struggling with his command in only his second major league start. "I didn't have anything resembling self-confidence," he said later as he looked back at his first few games with the Braves. "I was as tight as a drum and worrying about every pitch."2
New York jumped on Spahn early. They capitalized on a pair of walks to score twice in the first inning. Johnny Mize accounted for the first run with a sacrifice fly, and then Babe Young followed with an RBI single. The Braves got one back in the third. Spahn, an outstanding hitter, led off with a single. He raced to third on a Skippy Roberge double, and then trotted home on a groundout by the primeval Paul Waner.
Spahn gave it right back in the fourth, though, as the Giants pecked out a run on an infield hit, a walk, and Dick Bartell's run-scoring single, which made it 3-1. New York stretched out its lead again in the seventh on Babe Barna's two-run triple. Meanwhile Spahn's mound opponent, 24-year-old Bob Carpenter, who was seeking his 12th win of the season, kept the Braves shackled, surrendering just six hits and two runs through eight innings.
By the middle of the eighth it had been a long afternoon and the kids at the Polo Grounds did what kids do when they get tired and bored — they went nuts. Out of nowhere, they began streaming onto the field, first in a trickle, then in a tidal wave. Besieged umpires Ziggy Sears and Tommy Dunn slogged through what the New York Times called "the hopeless, tangled, confused mass" toward the Giants dugout, where they called upstairs and ordered that an announcement be made to clear the field.3 Amid the clamor, though, no one could hear the public address system — not that it would have mattered. City police, security guards, even members of the grounds crew tried to restore order but they found it impossible "to make even a faint impression against the mass swirling on the field."4
The umpires had no choice but to forfeit the game to the Braves 9-0. Giants president Horace Stoneham couldn't argue with the decision. "It was an unfortunate ending but there was no alternative under the circumstances." Stoneham was disappointed but undeterred. "We will continue to admit youngsters bearing war scrap, but we will try to marshal them in restricted sections tomorrow for our final doubleheader."5 Stoneham's Plan B wasn't necessary, however, as rain washed away those last two games.
By rule, all the individual statistics counted and Spahn was credited with a complete game, but neither pitcher received a decision.6 It was the last baseball fans would see of Spahn for three years. That fall he enlisted in the Army, where he received a Bronze Star and a Purple Heart for his service in Europe.7
Although the day turned out to be a split decision for the Giants, at least it was a winning afternoon for Uncle Sam. By the end of the day, the towering junk heap contained 56 tons of scrap metal, including the hollowed out shell of a broken-down car.
Sources
In addition to the sources listed in the notes, box scores can be found below:

https://www.baseball-reference.com/boxes/NY1/NY1194209262.shtml
http://www.retrosheet.org/boxesetc/1942/B09262NY11942.htm
Notes
Additional Stats
Boston Braves 9
New York Giants 0
---
Polo Grounds
New York, NY
Box Score + PBP:
Corrections? Additions?
If you can help us improve this game story, contact us.
Tags
https://sabr.org/sites/default/files/SpahnWarren-BSN.jpg
600
800
admin
/wp-content/uploads/2020/02/sabr_logo.png
admin
2017-11-22 01:04:33
2020-04-17 10:25:00
September 26, 1942: Braves win by forfeit behind rookie Warren Spahn at Polo Grounds