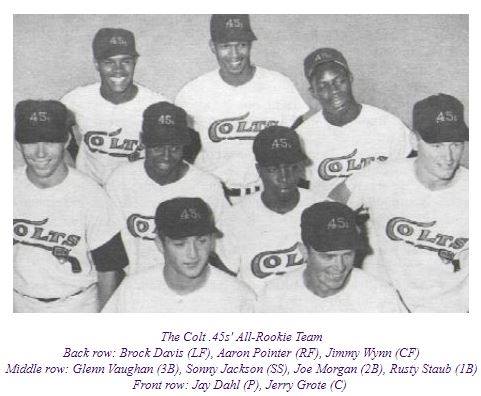 September 27, 1963: Houston Colt .45s start a lineup of all rookies
---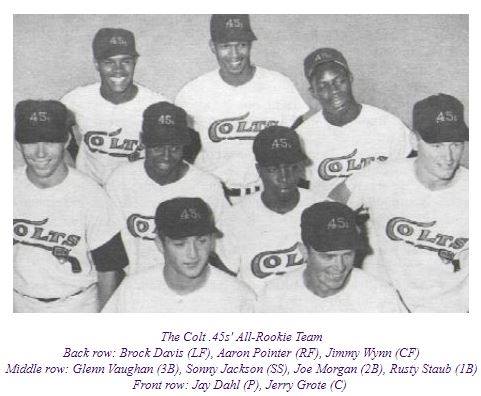 On September 27, 1963, the Houston Colt .45's (64-95) were entering the first game of a final three-game home series versus the New York Mets (50-109). They were also on a four-game winning streak and a sweep of the Mets would give them their longest winning streak of the season, surpassing a six-game stretch from May 10 to 14.
Houston was also entering this series with a record that month of 14-10, clinching the club's first winning month since September 1962 (15-12). A sweep would also give the second-year franchise its most wins in a month. The 5,802 attendance that Friday evening did not reflect the team's September success. Entering this series, Colt Stadium had drawn fewer than 6,000 fans in eight of the last nine home games.
Colt .45's Manager Harry Craft sent out the following lineup: (Age)1
Making his major league debut, Dahl was starting in place of another rookie, Larry Yellen. Yellen had made his debut the day before versus the Pittsburgh Pirates because Yom Kippur, the holiest day on the Jewish calendar, began sundown on September 27.5
Dahl retired the Mets in order in the first inning. The Colt .45's stirred in the bottom half of the inning, but Wynn, who reached on a two-out single, was caught stealing second, Chris Cannizzaro to Al Moran, to end the inning.
The Mets opened the scoring in the top of the second, scoring three runs—only one of them earned—off Dahl. Frank Thomas led off with a single and advanced to second on a wild pitch. Jim Hickman singled to left fielder Davis, who overran the ball, allowing Thomas to score the first run of the game and Hickman to advance to second on the error. Hickman went to third and then scored on ground outs by Tim Harkness and Cannizzaro. Moran then reached second on an error by Sonny Jackson and scored when Al Jackson, the Mets' pitcher, singled.
The Colt .45's had back-to-back two-out singles by Davis and Vaughan in the bottom of the inning, but Al Jackson snuffed the rally by striking out Grote.
In the top of the third, Dahl had more trouble. Dick Smith singled and then scored on Ron Hunt's double. Thomas fouled out to Staub for one out. Hickman singled in Hunt and gave the Mets a 5-0 lead. Harkness reached first a fielder's choice for the second out. Cannizzaro singled Harkness to third, ending Dahl's debut as Craft brought in left-hander Danny Coombs to face Moran. Coombs inherited runners on first and third and two outs. Grote's passed ball allowed Harkness to score the Mets' sixth run and Cannizzaro to go to second during Moran's at-bat. Coombs then gave up three straight singles to Moran (scoring Cannizzaro), Jackson, and Joe Christopher (scoring Moran) and the score was 8-0. Smith grounded out to Coombs to end the inning as the Mets batted around.
Craft said this about Dahl's performance: "It could have been a lot closer game if we had caught the ball early in the game. They didn't hit Dahl so hard."6 Colt .45's pitching coach Cot Deal added, "It wouldn't have mattered if he hadn't got anybody out. We know he's going to be a good one."7 Deal had said of Dahl before making the rookie's debut: "He was surprisingly calm in the clubhouse although he did ask me if I could suggest something for sweaty hands."8
Unfortunately, Houston could not answer in the bottom half of the inning as John Weekly, pinch-hitting for Coombs, walked to lead off… He was left there after Sonny Jackson, Morgan, and Wynn made successive outs. Joe Hoerner replaced Coombs and held the Mets scoreless in the fourth, fifth, and sixth innings as he retired nine of the 11 batters he faced.
The Colt .45's scored a run each in the fourth and fifth innings. Staub and Pointer reached on consecutive singles to open the bottom of the fourth. Davis's fielder's choice groundout to Harkness scored Staub and Houston's first run of the game. Al Jackson struck out Grote looking to end the inning for the second time in a row with at least one runner on base. Hoerner led off the bottom of the fifth by reaching on Harkness's error and scored on Staub's two-out single.
The Mets scored another unearned run in the top of the seventh off of Jim Dickson in his first of two innings of work. Cannizzaro reached second when Davis made his second error of the game and Houston's third miscue, dropping a fly ball that would have ended the inning.9 The Mets capitalized when Moran singled in Cannizzaro to give the Mets a 9-2 advantage. In Houston's half of the eighth, Craft sent a relative graybeard, 26-year-old Carl Warwick, to pinch-hit for Dickson with two outs and a runner on first base. He grounded out to Hickman to end any threat.
Dick Drott pitched in the ninth and allowed the Mets' 10th run of the game.10 He allowed a Harkness double with one out. Harkness advanced to third on Drott's wild pitch and scored on Cannizzaro's sacrifice fly.
Ernie Fazio, who had come in as a defensive replacement at shortstop in the top of the sixth, led off the bottom of the ninth by reaching on Hickman's error. Morgan's triple to center with none out scored Fazio with Houston's third run of the game. Although still down 10-3, Houston didn't go quietly. Wynn walked, putting runners on the corners and still no outs. But Al Jackson finished his 11th complete game of the season by striking out Staub and Pointer and retiring Davis on a comebacker.
Craft used 16 rookies in the game. Houston's general manager Paul Richards gave his opinion about the team's future after the game: "We made some progress, I believe, but, the progress merely points out the size of the building job ahead of us."11 Richards added, "Our evaluation now has to be that even standout youngsters like Rusty Staub and John Bateman are now fully prepared for major league competition."12 He also said, "If we go with a maximum number of youngsters next season, as we hope to do, it probably will mean that some of our better kids will have to be sent to Oklahoma City. That means we are two or three years away from major progress."13
Epilogue
Houston, which had come into existence as an expansion club for the 1962 season, finished 66-96 in 1963 and had an identical record in 1964. The team won 65 and 72 games, respectively, in 1965 (their first season as the Astros) and 1966. Houston's first non-losing season was in 1969 (81-81), when they finished in fifth place in the newly-formed six-team National League West division.
Morgan (22 years in the majors) was a 1990 Baseball Hall of Fame inductee. Grote (16 seasons), Sonny Jackson (12), Staub (23), and Wynn (15) each played for more than a decade in the majors. Vaughan and Davis last played in the minors in 1964 and 1975, respectively. Pointer finished his career in Japan in 1972.
Dahl's career was abruptly ended at age 19 when he died in an automobile accident on June 20, 1965.14 At the time he was a member of Houston's Salisbury (NC) entry in the Class-A Western Carolinas League.
Sources
In addition to the sources mentioned in the Notes, I referred to Baseball-Reference.com and Retrosheet.org for box scores, play-by-plays, and other pertinent information.
https://www.baseball-reference.com/boxes/HOU/HOU196309270.shtml
http://www.retrosheet.org/boxesetc/1963/B09270HOU1963.htm
Notes
1 It is not clear who receives credit for the all-rookie lineup. In a September 28, 1963, article, "Mets Wallop Colt Rookie Lineup, 10-3," (http://www.astrosdaily.com/history/19630927/) Mickey Herskowitz wrote in the Houston Chronicle, "As promised, Manager Harry Craft started an all-rookie lineup…" An article titled, "Harry Craft's All-Rookie Lineup September 27, 1963," (www.astroland.net/allrookielineup.html) noted that "On September 27, 1963, in a plan undoubtedly hatched by GM Paul Richards to show off the team's youth program, the Colt .45's placed on the Colt Stadium field a starting lineup comprised entirely of rookies."
2 Dahl and Sonny Jackson were making their major-league debuts. Both Coombs and Hoerner, who came into the game later, were also making their debuts.
3 Pointer had made his major league debut on September 22 as a pinch-runner, but was making his first start in this game.
4 "Jay Dahl," https://www.baseball-reference.com/bullpen/Jay_Dahl.
5 John Wilson, "Mets Rough On Colts' Kidde Corps," Houston Post, September 28, 1963. http://www.astrosdaily.com/history/19630927/.
6 Mickey Herskowitz, "Colt All-Greenie Lineup Battered in Major Debut," The Sporting News, October 12, 1963: 27.
7 Mickey Herskowitz, "Colt All-Greenie Lineup Battered in Major Debut," The Sporting News, October 12, 1963: 27.
8 Despite Davis's two errors, two of his four putouts were on "two spectacular catches, one facing the wall in left center and another into the Houston bullpen. Herskowitz, Houston Chronicle.
9 Drott and Warwick were the only non-rookies Craft used during this game. This was the final appearance of Drott's seven-year MLB career.
10 Herskowitz, "Colt All-Greenie . . ."
11 Herskowitz, "Colt All-Greenie . . ."
12 Herskowitz, "Colt All-Greenie . . ."
13 Darrell Pittman, "The All-Rookie Game: September 27, 1963." http://www.astrosdaily.com/history/19630927.
14 "Jay Dahl." See also: Statesville (NC) Record and Landmark, June 22, 1965: 6.
Additional Stats
New York Mets 10
Houston Colt .45's 3
---
Colt Stadium
Houston, TX
Box Score + PBP:
Corrections? Additions?
If you can help us improve this game story, contact us.
Tags
https://sabr.org/sites/default/files/1963-Astros-rookies.jpg
600
800
admin
/wp-content/uploads/2020/02/sabr_logo.png
admin
2018-03-29 13:50:37
2021-07-23 12:35:13
September 27, 1963: Houston Colt .45s start a lineup of all rookies