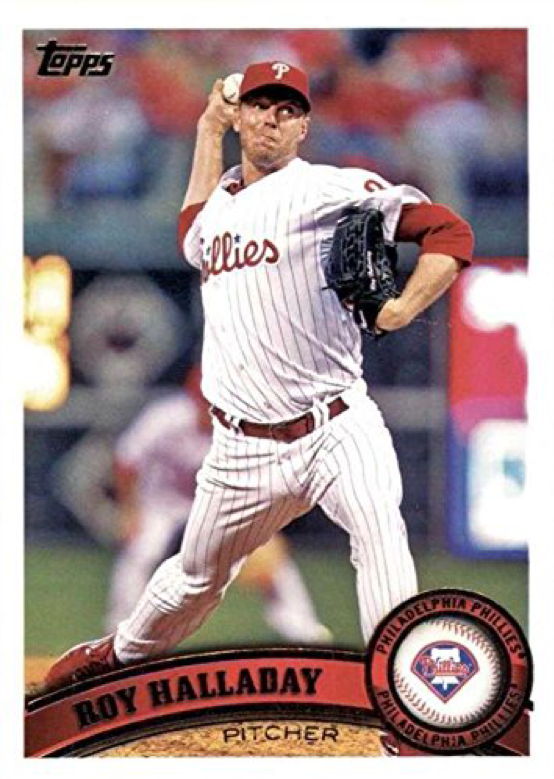 September 27, 2010: Phillies clinch NL East on Roy Halladay's two-hitter
---
"Baseball is really two sports — the summer game and the autumn game. One is the leisurely pastime of our national mythology. The other is not so gentle." — Thomas Boswell1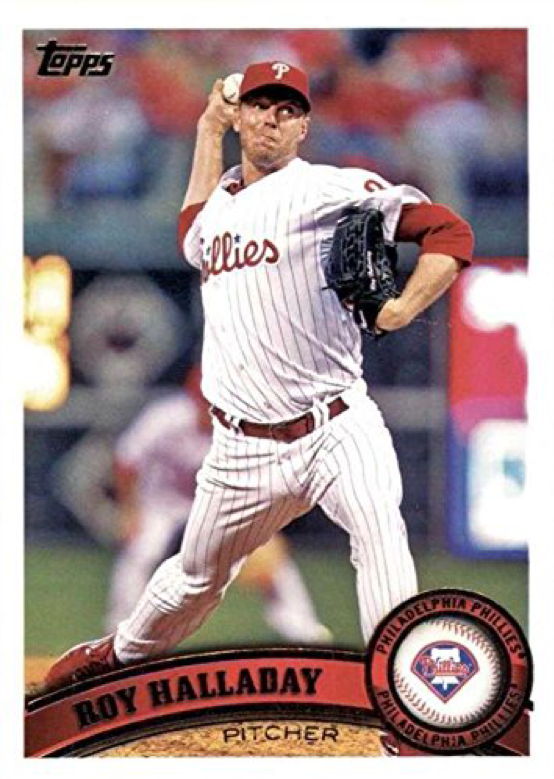 When the late Roy Halladay2 was elected to the Baseball Hall of Fame in 2019, it was announced that his plaque would not contain a hat logo.3 His career of accomplishment would be a shared memory for family, friends, and fans of the Toronto Blue Jays and the Philadelphia Phillies.
Halladay spent his first 12 seasons pitching in Toronto (1998-2009) with remarkable results. A six-time All-Star and twice a 20-game winner, he amassed a 148-76 record. In 2003 he won the American League Cy Young Award, leading the major leagues in wins (22), games pitched (36), innings pitched (266) and complete games (9). Perhaps the most remarkable accomplishment of that season occurred in September. He finished the season by winning five of six games, two by shutouts, and all five wins were complete games.
By 2009, the Blue Jays were in the midst of a long streak of failing to make it to the postseason, having beaten the Phillies 4-2 in the 1993 World Series, and Halladay longed for that opportunity.4 "I think the older you get, the longer you play in your career, the more important that becomes," Halladay said. "The more I play, the more I realize how important that is to me."5 In December he approved a trade that sent him with cash to the Phillies for Travis d'Arnaud, Kyle Drabek, and Michael Taylor. The Phillies had also experienced a postseason drought after the 1993 World Series. They returned to the postseason in 2007, won the 2008 World Series against the Tampa Bay Rays in five games, and returned to postseason play again in 2009. Indeed, Roy Halladay would get his chance.
Opening Day 2010 brought a full crowd (41,290) to Nationals Park and estimates indicated that nearly half of them were exuberant Phillies fans.6 After President Barack Obama threw out the first pitch, the view from Section 219 captured Roy Halladay on the mound at Nationals Park in his Phillies road uniform. Both occasions were firsts. Opening Day jitters? Two hits and a stolen base gave the Nationals a temporary 1-0 lead in the first inning. A Ryan Howard home run, a Placido Polanco grand slam and a solid pitching line by Roy Halladay — seven innings, six hits, one run and nine strikeouts — led the Phillies to a season-opening 11-1 win.
By the time Halladay returned to the mound at Nationals Park, he was a 20-game winner (20-10, 2.53 ERA). He had already pitched to perfection. On a warm May night in Miami, Halladay became the 20th pitcher in baseball history to throw a perfect game, striking out 11 in a 1-0 win over the Marlins.7 On September 27 his job was to clinch a division title, six games ahead of the second-place Braves with six games to play.
The unenviable task of facing the Phillies fell to John Lannan (8-7, 4.58 ERA), who had opposed Halladay on the mound on Opening Day at Nationals Park. Unenviable? Trailing the Phillies by 26 games, the Nationals only dreamed of postseason baseball, and at least 75 percent of this night's small crowd (14,309) were red-clad, towel-waving Phillies fans ready to clinch a division title.8 Lannan made his major-league debut in Philadelphia on July 26, 2007, and yielded five runs in 4⅓ innings of a no-decision start that yielded a 7-6 win for the Nationals. Since that time, Lannan had started nine games against the Phillies, all loses for the Nationals, and was saddled with an 0-7 career mark against them.
Jayson Werth opened the scoring off Lannan in the second inning with his 26th home run of the season. At no point in the game did the Nationals bats have any answers. Halladay struck out six, didn't yield a walk and was simply dominant. He retired the side in order in seven of his nine innings. Wilson Ramos lined a single to right field in the third inning and was quickly erased in a 4-6-3 double play. A single up the middle by Adam Dunn to lead off the eighth inning was harmless since he advanced no farther.
Meanwhile, Lannan was holding his own and almost made it through the sixth inning. With one out, he walked Placido Polanco and hit Chase Utley to advance Polanco to second. Ryan Howard struck out for the second out, but Werth struck again, lining a two-run double to right center. When Raul Ibanez hit a squibber9 up the third-base line, Lannan was done, but the Phillies were not. Carlos Ruiz greeted reliever Craig Stammen with a run-scoring line-drive double to left field and the Phillies led 4-0.
As the game wore on, the noise funneling down to my seat in Section 119 grew louder and louder. Nationals center fielder Nyjer Morgan observed, "It was a lot louder at our place than it was at their place when we go there. It felt like a home game for the Phillies."10 "Kind of embarrassing," rookie shortstop Ian Desmond said, "when everyone in the stadium is clapping against you when you're at home."11
The top of the ninth inning was icing on the cake for Philadelphia and again the Phillies struck with two outs and Wilson Valdez on third. Reliever Joe Bisenius walked Shane Victorino. Polanco's single scored Valdez as Victorino advanced to third base. Utley doubled to deep center field, scoring two runs, and when Bisenius walked Howard, he was replaced by Miguel Batista. Werth's third hit, a weak grounder to first, scored Utley for an 8-0 lead. When Halladay struck out Danny Espinosa in the bottom of the ninth to end the game, the Phillies were headed to the playoffs in only a week's time. A postgame question had a simple answer. "I wanted him out there," Phillies manager Charlie Manuel said of letting Halladay go the distance. "I felt like he earned it, and he deserved it."12
The story about Halladay's journey to his first postseason was almost complete, but not quite, as he took the mound at Citizens Bank Park for the first game of the NLDS against Cincinnati. After all, his regular-season stat line — 21-10, 2.44 ERA and leading the majors in wins,13 complete games (9), shutouts (4), and innings pitched (250⅔) — was good enough to win the National League Cy Young Award. In his first postseason start, he pitched the second no-hitter in postseason history, striking out eight and walking just one on 104 pitches in the Phillies' 4-0 win over the Reds.14
Two weeks later, as the Phillies faced elimination in Game Five of the NLCS against the Giants at AT&T Park, Halladay fought through a pulled groin muscle in the second inning to pitch six innings, allowing six hits and striking out five to gain a must victory over the Giants. In considering Halladay's 10 greatest career moments, one writer included these two postseason performances and his perfect game, along with his division-clinching effort on this night, to be perfectly placed on that list.15
Author's note
Writing about baseball's history provided the author with an opportunity to peer into the future beyond the 2010 season. Phillies fans joyously yelled and screamed as their team celebrated the division title on the field at Nationals Park. However, would anyone have guessed that Phillies right fielder and free-agent-to-be Jayson Werth would be roaming that same field wearing Nationals white? In less than three months, he signed a seven-year, $126 million contract with the Nationals.
On this night, Nationals fans had to be asking when their turn to celebrate would come. That time came in two years.16 Even as the Nationals lost the 2012 NLDS to the St. Louis Cardinals in five games, Jayson Werth became synonymous with one of the great moments in Nationals history, a walk-off home run in NLDS Game Four.17 For now, it was Roy Halladay's turn for the postseason.

Sources
The author accessed Baseball-Reference.com for box scores/play-by-play information (baseball-reference.com/boxes/WAS/WAS201009270.shtml) and other data, as well as Retrosheet.org (retrosheet.org/boxesetc/2010/B09270WAS2010.htm).
Notes
1 David Plaut, Speaking of Baseball (Philadelphia: Running Press, 1993), 317.
2 Alan Cohen, "Roy Halladay," SABR Baseball Biography Project, https://sabr.org/bioproj/person/bc92edb8.
3 "No Hat Logo for Roy Halladay's Hall of Fame Plaque, Mike Mussina Uncertain," Denver Post, January 23, 2019.
4 The Blue Jays returned to postseason play in 2015, beating the Texas Rangers, 3-2 in the ALDS but losing to the Kansas City Royals in the ALCS, 4-2.
5 Ronald Blum and Greg Bell, "Trade Complete: Halladay to Phillies; Lee to Mariners," New York Post, December 16, 2009, accessed January 29, 2019, nypost.com/2009/12/16/trade-complete-halladay-to-phillies-lee-to-mariners.
6 Adam Kilgore, "Phillies Clinch NL East Title with 8-0 Win over Nationals," Washington Post, September 28, 2010.
7 Alan Cohen, "27 Up and 27 Down," in Bill Nowlin, ed., No-Hitters (Phoenix: SABR, 2017), 459-461; Alan Cohen, "May 29, 2010: 27 Up and 27 Down for Phillies' Roy Halladay," SABR Games Project.
8 Kilgore.
9 Paul Dickson, The Dickson Baseball Dictionary, 3rd Edition (New York: WW Norton & Company, 2009), 819: "A spinning blooper or ground ball hit off the end of the bat that is difficult to field and often becomes an infield base hit; a scratch hit.
10 Ibid.
11 Ibid.
12 "Halladay Wraps Up East Title for Phillies," NYTimes.com, September 27, 2010, accessed January 29, 2019, nytimes.com/2010/09/28/sports/baseball/28bats.html .
13 The New York Yankees' C.C. Sabathia (21-7, 3.18 ERA) led the American League in wins for the 2010 season.
14 Alan Cohen, "October 6, 2010: Game One of the National League Division Series," in Bill Nowlin, ed., No-Hitters (Phoenix: Society for American Baseball Research, 2017), 462-464; Alan Cohen, "October 6, 2010: Phillies' Roy Halladay throws postseason no-hitter," SABR Games Project.
15 Todd Zolecki, "Halladay's 10 greatest performances on the hill," MLB.com, January 22, 2019, accessed February 1, 2019, mlb.com/news/roy-halladays-10-greatest-baseball-moments/c-260906826.
16 Laura H. Peebles, "October 1, 2012: Washington Nationals Lose Game, Clinch First NL East Division Title," SABR Games Project.
17 Steven C. Weiner, "October 11, 2012: Jayson Werth Walk-Off HR Beats Cardinals in NLDS Game 4," SABR Games Project.
Additional Stats
Philadelphia Phillies 8
Washington Nationals 0
---
Nationals Park
Washington, DC
Box Score + PBP:
Corrections? Additions?
If you can help us improve this game story, contact us.
Tags
https://sabr.org/sites/default/files/Doc.png
600
800
admin
/wp-content/uploads/2020/02/sabr_logo.png
admin
2019-04-23 11:10:38
2020-04-17 10:23:36
September 27, 2010: Phillies clinch NL East on Roy Halladay's two-hitter