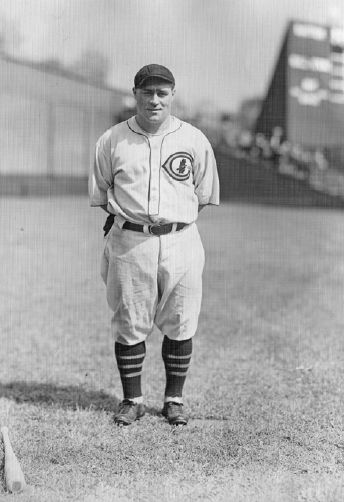 September 28, 1930: Comeback Cubs prevail as Hack Wilson sets RBI mark
---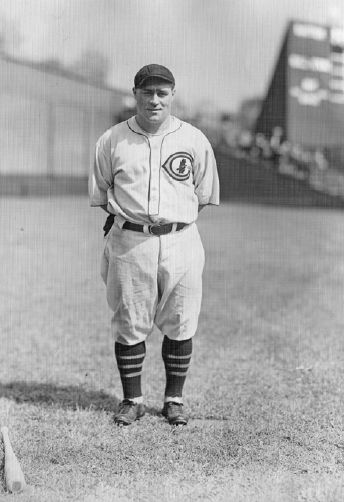 It is often said in sports that records are meant to be broken. Yet it is also true there are some achievements in baseball that may never be topped, such as Joe DiMaggio's 56-game hitting streak, Johnny Vander Meer's back-to-back no-hitters, or Cy Young's 511 victories. Joining this elite company is certainly Hack Wilson's 191 RBIs generated in one season. Wilson attained baseball immortality when he drove in two runs on the final day of the 1930 season as the Chicago Cubs overcame a nine-run deficit to defeat the Cincinnati Reds, 13-11.
Hack Wilson was the epitome of a Prohibition-era ballplayer in Chicago, that "toddlin' town." Nicknamed after a professional wrestler, George Hackenschmidt, Wilson thrived on the adoration of Cubs fans who waited patiently after games for a glimpse of their hero or possibly an autograph. Although he had a penchant for drinking and his escapades in Chicago's speakeasies were legendary, Wilson was an affable sort, willing to strike up a conversation with anyone, stranger or friend.1
On the diamond, Hack Wilson looked like an "ambulatory beer barrel."2 He stood just 5-feet-6 and weighed 200 pounds – a human fireplug. Further accentuating his unique physique were an 18-inch neck, 16-inch biceps, a massive chest, and thunder thighs tapering to very tiny feet.3 Understandably, Wilson had a very powerful swing, rotating hard from his heels to achieve maximum torque. The ball often launched off the bat like a cannonball. As Sparky Adams, infielder for several National League clubs, recalled years later, "Hack could hit a ball with his eyes shut, and he could hit it a long way. I have a mark on my shin yet."4
Wilson joined the Cubs from the New York Giants through the Rule 5 draft in the 1925 offseason. From 1926 to 1930, he proved to be an integral part of the Cubs' offensive juggernaut that included Gabby Hartnett, Charlie Grimm, Riggs Stephenson, Woody English, Kiki Cuyler, and Rogers Hornsby. In 1930, when the baseball was reportedly "juiced" and more runs were scored per game since 1895, the defending NL champions sported a .309 team average. The starting outfield of Cuyler, Stephenson, and Wilson averaged an unbelievable .358! Yet even in the midst of such offensive power, Hack Wilson achieved a career year that remains to this day one of the best in the history of professional baseball.5
For much of the 1930 season, the Cubs were locked in a tight pennant race with the Cardinals and Giants, and at times with the Brooklyn Robins and Pittsburgh Pirates. Most baseball scribes of the day believe the Cubs' quest to repeat as NL champions came to an end on Labor Day when the lowly Reds took both ends of a doubleheader. These key losses, combined with a surging Cardinals finish and winning only half of the games played against the hapless Reds during the season, sealed the Cubs' fate.6
With nothing to play for, the Cubs came home from a 14-game road trip to conclude the 1930 season with a four-game series against those pesky Reds. Playing perhaps with a vengeful heart, the Cubs won the first three games, supported by Wilson's three home runs and seven RBIs.
The season finale was played in a manner fitting for two teams that were extremely eager to get the offseason quickly underway. In fact, there was more chatter in the "Friendly Confines" among the 22,000 attendees concerning the coming crosstown series against the White Sox later that week than the poor excuse of a contest about to be played.7
Taking the mound for the Cubs was veteran right-hander Guy Bush. Opposing the North Siders was right-hander Si Johnson, who was completing his first full season in the big leagues.
Both hurlers sailed through the first inning unscathed. However, in the second, the Reds erupted for nine runs on nine hits and two walks, sending Bush to an early shower. Interestingly, the Reds' rally was a classic demonstration of "small ball," as shortstop Leo Durocher had the only extra-base hit – a triple – in the inning.
The Cubs began the long climb back into the game by scoring three on just one hit in the home half of the third. Third baseman Les Bell opened the frame with a walk and went to third on relief pitcher Jess Petty's base hit. Second baseman Footsie Blair drew another pass, loading the bases. Shortstop Wally English continued the free passes, scoring Bell. Right fielder Kiki Cuyler forced Petty at the plate for the first out. Wilson then drew another walk, scoring Blair for the center fielder's 190th RBI. Cuyler scored the third run when left fielder Dan Taylor forced Wilson at second.
In the fifth, the Cubs added two more runs as a result of an error by Reds second baseman Pat Crawford, a base hit by English and a double by Cuyler.
The Cubs closed the gap to 9-8 in the sixth, forcing Johnson out of the game. Relieving the youngster was right-hander Benny Frey, who was the only Reds hurler to have success against the Cubs that season.8 With one out, Bell walked and advanced to third again on Petty's second single of the contest. Blair smashed a triple to right-center, scoring both Bell and Petty. Blair crossed the plate shortly thereafter with the Cubs' eighth tally on a passed ball.
With the crowd buzzing excitedly about the Cubs' gradual comeback, Jess Petty, who surrendered only one Reds' tally over the course of 5⅔ innings, was relieved by left-hander Bud Teachout in the eighth inning. Teachout was not as sharp as his predecessor, as the Reds padded their lead by scoring two insurance runs via a single by right fielder Curt Walker, a walk to third baseman Tony Cuccinello and a triple by first baseman Joe Stripp.
Now down by three, 11-8, heading into the bottom of the eighth, the Cubs executed their best late-inning rally of the season. The drama began when Frey walked English and then served up a double to Cuyler, the right fielder's second of the game and 50th of the season, advancing English to third. Wilson collected his 191st RBI on an infield single that scored English and moved Cuyler to third.9 Frey gave up his second pass of the inning, to Taylor, loading the bases for Hartnett. The scrappy Cubs catcher drove in Cuyler to reduce the Reds' lead to one when Durocher bobbled a surefire double-play grounder. Wilson crossed the plate with the tying run when Frey uncorked a wild pitch. After first baseman High Pockets Kelly popped out to Crawford, Bell sealed the Cubs' victory by driving a single to left, scoring Taylor and Hartnett.
This final game of the 1930 season was a true laugher technically speaking, but one that Cubs fans would long remember. Si Johnson was effective in spots for the Reds, as witnessed by his seven strikeouts. Johnson's six walks, however, proved his undoing. Four of the batters he walked eventually scored, more than the margin of victory. Benny Frey also lacked control as his four walks and wild pitch set the table for disaster. For the Cubs, the combination of a tenacious offense and Jess Petty's strong long-inning relief work was simply too much for a talent-deficient Reds squad.
The North Siders finished the season with 90 wins, only two games behind the league champion Cardinals. The Reds completed their woeful campaign with 95 losses, the most for a 154-game schedule by a Reds team since 1914.
For Hack Wilson, though, this matinee contest was the capstone of an unforgettable season:
Wilson's 191 RBIs set a new major-league record that will most likely not be surpassed.10
Wilson's 56 home runs stood as the NL record for 68 years until fellow Cubs outfielder Sammy Sosa hit 66 and Mark McGwire of the St. Louis Cardinals hit 70 in 1998.11
Wilson got only 97 of his 191 RBIs by home runs. A quarter of his total (48 RBIs) was generated from singles.
Wilson drove in an average of three of every 10 Cubs runners on base.12
Wilson produced RBIs in three of every five games played (92 of 155 games).
Wilson's RBI output of 53 in August is perhaps the most productive month of any hitter in major-league history.
In addition to his RBI and home-run exploits, Wilson hit .356 with an astonishing slugging average of .723. He scored 146 times and accumulated 423 total bases.
In 1952, veteran baseball writer James Crusinberry reflected on the legendary Cubs outfielder: "Hack Wilson was as great a hero in Chicago as Babe Ruth was in New York. From 1926 through 1930, Wilson's feats on the ball field for the Chicago Cubs were tremendous and his popularity with Chicago's fans was greater than that of any Windy City player before or since his time."13
This article appears in "Wrigley Field: The Friendly Confines at Clark and Addison" (SABR, 2019), edited by Gregory H. Wolf. To read more stories from this book online, click here.
Sources
In addition to the sources cited in the Notes, the author consulted the following:
Baseball-Reference.com: https://www.baseball-reference.com/boxes/CHN/CHN193009280.shtml
"Bruins Outlast Reds to Annex Last Game, 13-11," Associated Press, September 28, 1930.
"Cubs Rally to Beat Reds," Chicago Evening American, September 29, 1930: 13.
Burns, Edward. "Cubs Overcome Reds' 9 Run Lead; Win 13-11," Chicago Tribune, September 29, 1930: 13.
Lieb, Frederick G. "Baseball Is Still the National Sport," Baseball Research Journal, v.1, 1972, sabr.org/research/baseball-still-national-sport, accessed July 17, 2017.
"Hack Wilson Signs, Given Boost in Pay," Sporting News, February 5, 1931: 1.
Simons, Herbert. "The One Record They'll Never Break," Baseball Digest, July 1963: 5-7.
"Howleyites Blow Big Lead and Hand Game to Chicago," Cincinnati Times-Star, September 29, 1930: 16.
"Notes on the Cubs," Chicago Evening American, September 29, 1930: 16.
Retrosheet.org: http://www.retrosheet.org/boxesetc/1930/B09280CHN1930.htm
"Right to Form," Cincinnati Enquirer, September 29, 1930: 11-12.
Swope, Tom. "Reds Finish With Worst Record in City's History," Cincinnati Post, September 29, 1930: 12.
Notes
1 Thomas E. Schott, "Hack Wilson," SABR Baseball Biography Project, sabr.org/bioproj/person/e2c5ebeb, date unknown, accessed July 7, 2017; James Crusinberry, "Baseball's Forgotten Men," Baseball Magazine, April 1952: 30.
2 Harold Rosenthal, "Hack Wilson – What The 190-RBI Man Was Like," Baseball Digest, August 1963: 13.
3 Clifton Blue Parker, Fouled Away: The Baseball Tragedy of Hack Wilson (Jefferson, North Carolina: McFarland & Company, Inc.), 5.
4 Parker, 97.
5 The aggregate 1930 National League average was .303. Six of the eight NL clubs batted .303 or higher, the highest being, ironically, the last-place Philadelphia Phillies at .315. Jerome Holtzman, "On Baseball: Lively Ball Put Wilson in Record Book," Chicago Tribune, September 6, 1999, Sports Section: 3.
6 Parker, 113.
7 In 1930, the Cubs fell just 20,000 shy of their 1929 attendance record of 1,485,000. "Cubs Fall 20,000 Short of 1929 Attendance Mark," Chicago Tribune, September 29, 1930: 23.
8 Going into the game, Frey had a 5-3 record versus the Cubs in 1930. Frey pitched seven innings of more in all but one of his victories. retrosheet.org/boxsetc/1930/Kfreyb1010021930.htm, date unknown, accessed July 7, 2017.
9 Wilson hit a high bouncer to Reds first baseman Joe Stripp who lost the ball in the sun momentarily before knocking it down as Wilson's foot touched the base. There was some debate about whether Stripp committed an error on the play, but the official scorer ruled the play a hit. Wayne K. Otto, "Cubs Rally to Win From Reds, 13-11," Chicago Herald and Examiner, September 29, 1930: 21.
10 Wilson was credited with only 190 RBIs at the time he achieved his record in 1930. For almost 69 years, the 190 total remained intact until June 23, 1999, when Major League Baseball awarded Wilson an additional RBI, bringing his 1930 total to 191. Thanks to excellent game-by-game research by James Braswell and Cliff Kachline, National Baseball Hall of Fame historian and co-founder of the Society for American Baseball Research, the "lost" RBI was discovered in the second game of a doubleheader played by the Cubs against the Reds on July 28, 1930. An RBI was credited erroneously to first baseman Charlie Grimm instead of Wilson. "Around the Horn: Credit Grimm Reapers for Hack Wilson 191st RBI," Seattle Times, June 27, 1999; "69 Years Later, Hack Wilson Gets Another RBI," Associated Press, June 23, 1999.
11 Mark McGwire hit 58 home runs in 1997, but he split that season playing for the Oakland Athletics (34 home runs) and St. Louis Cardinals (24 home runs).
12 Herbert Simons, "Hack Drove in Three of Every Ten Runners," Baseball Digest, October-November 1963: 67-71.
13 Crusinberry.
Additional Stats
Chicago Cubs 13
Cincinnati Reds 11
---
Wrigley Field
Chicago, IL
Box Score + PBP:
Corrections? Additions?
If you can help us improve this game story, contact us.
Tags
https://sabr.org/sites/default/files/Hack%20Wilson.JPG
600
800
admin
/wp-content/uploads/2020/02/sabr_logo.png
admin
2019-12-02 14:15:10
2020-04-17 10:22:24
September 28, 1930: Comeback Cubs prevail as Hack Wilson sets RBI mark