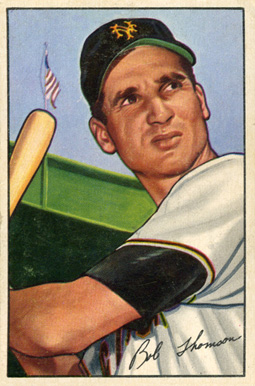 September 28, 1950: Phillies' lead shrinks as Giants sweep doubleheader
---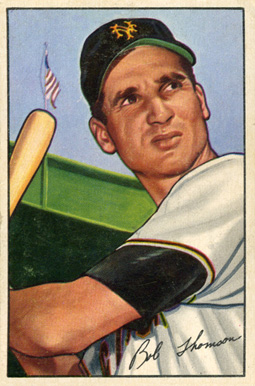 "What a difference a day makes." Think Dinah Washington and you have a classic. Tweak it to "What a difference a week makes" and you've summed up life for the Philadelphia Phillies.
On September 20, 1950, the great Red Barber would have said, "The Phillies are sittin' in tall cotton." They led the Boston Braves and the defending National League champion Brooklyn Dodgers by 7½ games. The Braves would fade as the Phillies took two out of three from them on the 25th and 26th. But the Dodgers of Jackie Robinson and an all-star cast, a marvelous team that dominated the NL from 1949 to 1953, were something else.
The Dodgers started winning; the Phillies started losing.
September 20 notwithstanding, the Phillies' troubles began 10 days earlier, when Curt Simmons reported for active military duty. His departure, with a 17-8 record, left a tremendous hole in the Philadelphia pitching staff. Matters got worse on September 15, when a line drive from Ted Kluszewski's bat hit Bubba Church in the face; he continued to pitch after a stay in the hospital, but not effectively. Worst of all, the Phillies' last nine games (three with Boston, four with New York, two with Brooklyn) were away.
When the Phillies took the field on the 28th, their comfortable lead was down to four games. After the bleeding was over, thanks to the Phillies dropping a pair to the New York Giants and the Dodgers splitting a doubleheader with the Braves, the Phillies' lead was three, and they had two to play in Ebbets Field. For their part, the Dodgers had four games to play, including a doubleheader the next day at home against the Braves before the final two against the Phillies.
The Giants were an intriguing team. Managed by the ever-cunning Leo Durocher, they had started the season badly, not getting over the .500 mark to stay until August 4. Once they righted themselves, they went 42-21 from August 2 until the end of the season.
Among their standout players were second baseman Eddie Stanky, catcher Wes Westrum, and left fielder/first baseman Monte Irvin. The spark plug of the team, Stanky was a magician at drawing walks. He led the National League with 144 in 1950 and had coaxed pitchers out of a league-record 148 in 1945. Westrum didn't hit for a high average (.236 in 1950), but he had an incredible eye, drawing 92 walks, and power (23 homers, second on the team) — all this with 103 hits in 140 games. In addition, he was a wizard behind the plate, committing just one error all season for a league-record .999 fielding percentage. Negro Leagues legend Irvin was the best player on the team. He helped the Giants through all-around play and leadership.
Offensively, other than Stanky, the Giants got the job done without eyebrow-raising numbers. Shortstop Alvin Dark was a fine complement to Stanky. Negro Leagues veteran Hank Thompson got Stanley Woodward's vote as the NL's top third baseman1 and led the team in RBIs with 91. The outfield was made up of Whitey Lockman (soon to become the team's first baseman), Bobby Thomson (the team leader with 25 home runs), and Don Mueller (who hit for a decent average, rarely struck out, and walked even less).
The Giants' strongest suit was their pitching. Their 3.71 ERA and 643 runs allowed were second to the Phillies. Stanley Woodward named 19-game-winner Larry Jansen (along with Robin Roberts) as the NL's top pitcher.2 Sal Maglie, once the Giants realized he should be a starter, ran off an 11-game win streak. Jim Hearn, acquired from St. Louis, led the NL in ERA.3 Lefty Dave Koslo and Sheldon Jones won 13 games apiece (while losing 15 and 16, respectively) but ate up innings and had some good moments.
Not surprisingly, the doubleheader of September 28 was a low-scoring affair. For the Phillies' part, it was a day of lost opportunities and torture through hope.
The opener pitted southpaw Ken Heintzelman against Sal Maglie. Heintzelman, basically a journeyman pitcher, had enjoyed a career year in 1949, with a 17-10 mark, a 3.02 ERA, and a league-best five shutouts. He struggled all through 1950, however, and was looking for his fourth win to go with eight losses. In contrast, Maglie was seeking his 18th win and had only four losses.
Eddie Waitkus and Richie Ashburn started the game with singles, and Del Ennis walked after Dick Sisler popped up. Bases loaded, one out — life looked good, no? No. Maglie retired Willie Jones on a called third strike and Granny Hamner on a fly to Bobby Thomson.
Mike Goliat singled with one out in the second and died on first.
With one out in the Giants' second, Bobby Thomson homered to draw first blood. Hank Thompson singled to center, going to second on Mueller's groundout, but got no further. Phillies 0, Giants 1
The Phillies scored in the third, as Ashburn singled to left and Sisler walked. Ennis's fly to right, sent Ashburn to third. Jones then forced Sisler at second, to drive in Ashburn. Hamner grounded out, Maglie to Irvin. A good start produced just one run. Phillies 1, Giants 1
Stanky led off the Giants' third with a walk. Heintzelman appeared to escape, retiring Lockman on a fly and Dark on a groundout that sent Stanky to third. But Irvin's double to right scored Stanky. Then it almost got ugly. Heintzelman walked Thomson and Thompson but he slipped out of a potential disaster by striking out the contact-hitting Mueller. Phillies 1, Giants 2
Both teams went down in order in the fourth, but Ashburn made some noise in the fifth. Singling to center with one out, he stole second. Maglie's wild pitch sent him to third, but neither Sisler nor Ennis could get the ball out of the infield to bring him in.
After the Phillies went down in order in the sixth, Bobby Thomson homered to lead off the Giants' half of the inning. Phillies 1, Giants 3
And that's how it ended, with the last nine Phillies going down in order. The Phillies had their chances and failed to take advantage of them. Heintzelman pitched reasonably well, but Maglie was better at escaping jams. It was Bobby Thomson's day, with five putouts to go with his two homers.
The story line for the nightcap was eerily similar, with the very same result.
Robin Roberts was making his third start in five days. He'd pitched eight innings on the 23rd, giving up three runs in a 3-2 loss to Brooklyn. He'd then started the first game of a doubleheader against the Giants on the 27th, lasting four innings and giving up seven hits and five runs but not figuring in the 8-7 loss. And one day later he was looking for his 20th win while facing Sheldon Jones and trying to stop his team's collapse.
The Phillies got off to the best possible start — Eddie Waitkus's leadoff home run. Ennis's two-out double looked as if it might lead to another run when Westrum allowed a passed ball with Jones at the plate. But Jones struck out. Phillies 1, Giants 0
The Giants and Phillies made the third interesting. Dark singled to left. Westrum walked, but Seminick picked him off first. Dark stole third. Roberts, normally blessed with good control, then committed the unpardonable sin of walking Sheldon Jones. Jones came to Roberts's rescue by getting thrown out trying to steal second. Roberts walked Stanky. Lockman finally forced Stanky at second. Roberts escaped (absurdly), but three walks didn't make anybody happy.
The teams traded goose eggs until the Giants' sixth. Stanky led off with a home run. Lockman doubled to right, and the Giants threatened to blow the game open. Mueller sacrificed Lockman to third, but Roberts retired Hank Thompson on a called third strike and Irvin on a fly to Ennis. Disaster averted — for now. Phillies 1, Giants 1
Bobby Thomson led off the seventh with a double to left, only to be thrown out at third trying to advance on Dark's groundball to first, and Westrum took a called third strike for the second out. Roberts, pitching on heart, finally faltered. Jones, a .105 hitter, singled to right, sending Dark to third. Stanky walked — again — to load the bases. Lockman's single scored Dark and Jones. Mueller's pop foul to Waitkus ended the carnage. Phillies 1, Giants 3
The Phillies mounted their second and last threat of the day in the ninth. Ennis and Jones singled, but Hamner lined to Irvin for an unassisted double play. Seminick flied out to Thomson for the final out.
The Phillies' season-high 7½-game lead had shrunk to three games. The mathematics could become interesting. The Dodgers had four games to play, the Phillies just two. After Brooklyn swept a doubleheader from the Braves the next day in Ebbets Field the lead would be down to two games with two to play. The Phillies and Dodgers would face each other on September 30 and October 1 with the pennant on the line.
What a difference a week makes.
This article appears in "The Whiz Kids Take the Pennant: The 1950 Philadelphia Phillies" (SABR, 2018), edited by C. Paul Rogers III and Bill Nowlin. Click here to read more stories from this book at the SABR Games Project.
Acknowledgments
Special thanks to editors and fact-checkers Leonard Levin, Bill Nowlin, Carl Riechers, and C. Paul Rogers III for their help making this article better.
Sources
Honig, Donald. Baseball in the '50s: A Decade of Transition. An Illustrated History (New York: Crown Publishers, Inc., 1987).
Jordan, David M. Occasional Glory: The History of the Philadelphia Phillies (Jefferson, North Carolina: McFarland, 2002).
Marshall, William. Baseball's Pivotal Era: 1945-1951 (Lexington: University Press of
Kentucky, 1999).
Roberts, Robin, and C. Paul Rogers III. The Whiz Kids and the 1950 Pennant (Philadelphia:
Temple University Press, 1996).
Baseball Stars 1951
backtobaseball.com
baseball-almanac.com
baseball-reference.com
retrosheet.org
thisgreatgame.com
Notes
1 Who's Who in Sports by Stanley Woodward (1951): 8-9.
2 Ibid.
3 Hearn's ERA of 2.49 was the lowest in the National League. At the time, and in sources some years later, he was acknowledged as the league leader. However, he pitched only 134 innings, short of the required minimum of 154. Teammate Sal Maglie pitched 206 innings with an ERA of 2.71 and is now regarded as the National League leader at baseball-reference.com and retrosheet.org.
Additional Stats
New York Giants 3
Philadelphia Phillies 1
New York Giants 3
Philadelphia Phillies 1
---
Polo Grounds
New York, NY
Box Score + PBP:
Game 1:
Game 2:
Corrections? Additions?
If you can help us improve this game story, contact us.
Tags
https://sabr.org/sites/default/files/images/ThomsonBobby-1952Bowman.jpg
600
800
admin
/wp-content/uploads/2020/02/sabr_logo.png
admin
2018-11-28 12:58:56
2020-04-17 10:23:44
September 28, 1950: Phillies' lead shrinks as Giants sweep doubleheader