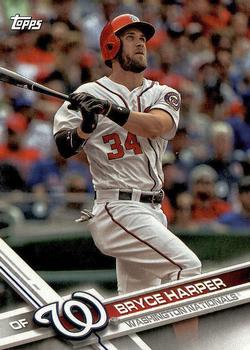 September 3, 2015: Harper scores four runs without an official at-bat
---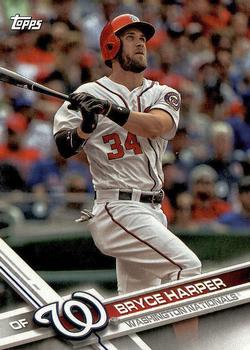 When Matt den Dekker replaced Bryce Harper in the Washington Nationals lineup in the sixth inning, Harper had walked four times, scored four times, and collected an RBI; all without swinging the bat at any of the 20 pitches he was offered. Only three other players since 1914 had scored four runs without registering an official at-bat: Larry Doby (September 19, 1951), Joe Morgan (July 27, 1973), and Rickey Henderson (July 29, 1989),1 but none had collected an RBI. Harper's performance was in contrast to that of his teammates, who swung early and often for a total of 18 hits in 38 at-bats on the night.
The Nationals approached the game with a mixture of hope and exhaustion. Hope: They were 6½ games behind the National League East Division-leading Mets, but four games against the struggling Atlanta Braves (losers of 32 of their last 39 games, 20 games behind the New York Mets) might put them within striking distance for their coming three-game series against the Mets.2 Exhaustion: They had arrived at Nationals Park at 4:30 A.M. following a night game in St. Louis.3 Batting practice had been canceled (or, as one announcer put it: at least until Atlanta started pitching). For their part, the Braves were hoping to end an eight-game losing streak.
Jordan Zimmermann (11-8, 3.45 ERA, 1.88 against the Braves in four 2015 starts) took the hill for the Nationals. After a leadoff walk to Nick Markakis, Cameron Maybin bounced one up the middle, but Zimmermann deflected the ball with his foot so shortstop Ian Desmond was able to throw out Maybin at first. A walk to Freddie Freeman put runners on first and second with one out, but the opportunity was wasted when Markakis misjudged A.J. Pierzynski's bloop to shallow right. Second baseman Anthony Rendon caught it and tossed to Desmond covering second, catching Markakis off the bag for a double play.
Matt Wisler (5-5, 5.22 ERA) was pitching for Atlanta. His year-to-date record disguised a significant split: Through July 31, his record was 5-1 with an ERA of 3.43, but his August numbers were 0-4, 7.85 ERA. He opened the first with a flyball out and a groundout, then walked Harper, who looked at five pitches. Perhaps walking Harper wasn't the worst idea: He was leading the league in batting at .331. Ryan Zimmerman was greeted with a standing ovation while his 200th home run from the night before played on the video board. He bounced a double off the scoreboard before the applause died down. Harper and Zimmerman then scored on Clint Robinson's single over shortstop Andrelton Simmons's head to give the Nationals a 2-0 lead.
The second inning did not start well for Zimmermann. He walked Nick Swisher, who took second on Zimmermann's first balk since 2011 and third on his first wild pitch of the year. Zimmermann had walked only 29 batters in 27 games, so walking three of the first five batters was an uncharacteristic start. Swisher scored on Hector Olivera's groundout, giving Atlanta a run without a hit, but that was it for Atlanta's scoring.
Desmond led off the bottom of the second with a double. He scampered to third on a pitch in the dirt, then scored on a Wilson Ramos double when Markakis couldn't quite squeeze a fly ball. Jordan Zimmermann tried to bunt Ramos to third, but he bunted left of the mound, allowing Wisler to toss to Olivera at third base: Ramos was out by 10 feet. A single and a hit batsman loaded the bases for Harper, who earned his 79th RBI when he walked on five pitches. A sacrifice fly scored a run, then a walk to Robinson reloaded the bases. That ended Wisler's night after 1⅔ innings and 48 pitches. Atlanta called in Sugar Ray Marimon to face Yunel Escobar. Marimon was the first of seven Atlanta relievers called on in this game. Escobar drove in two on a base hit past the diving third baseman Olivera, bringing the score to 7-1, Nationals. Desmond, whose double had opened the inning, struck out to end it.
Zimmermann seemed to stabilize in the third, pitching a 1-2-3 inning. The home half started with a groundout, then Zimmermann singled, his seventh hit of the year. Jayson Werth grounded into a fielder's choice: Atlanta tried to turn a double play, but Zimmermann broke it up by sliding hard into second, an unusual play for a pitcher. After Rendon singled, the Braves brought in Andrew McKirahan for a lefty-lefty matchup with Harper. He walked Harper on four pitches to load the bases again. Ryan Zimmerman singled to score two more, then Robinson singled in Harper, bringing the Nationals' runs to double digits.4 Escobar hit one that Freeman stopped in short right field, but no one covered first so the bases were loaded for the fifth time. McKirahan had not managed to get anyone out, so Atlanta tried Ryan Kelly as the third reliever. Desmond again struck out to end the inning.
Atlanta got its first hit in the top of the fourth, a humpback liner into right field by Pierzynski. Kelly kept the Nationals off the board in the bottom of the inning.
Nothing for the Braves in the top of the fifth, either. In the bottom of the inning, they tried Ross Detwiler in relief. He walked Harper on six pitches. Ryan Zimmerman doubled into the left-field corner;5Harper scored from first, barely avoiding a tag at the plate to score for the fourth time. Harper had left the previous game with tightness in his leg, but walked away without apparent damage on that play. Two more walks followed a strikeout, so the bases were loaded for Ramos, whose fly ball scored Zimmerman. Zimmerman rolled on his shoulder across the plate but appeared uninjured. It was now 12-1, Nationals.
Zimmermann held the Braves scoreless in the sixth, although he walked Freeman with two outs, only the second time in 2015 Zimmerman had walked four in a game. In the home half of the sixth, Atlanta changed catchers as well as pitchers: The battery was now Danny Burawa pitching, Ryan Lavarnway catching. Tyler Moore, recently returned from the disabled list, doubled as a leadoff pinch-hitter. After a walk and a fly out, Danny Espinosa, pinch hitting for Zimmerman as Washington used its bench freely, singled, loading the bases for the seventh time. Robinson achieved a personal record four-RBI night6 with a sacrifice fly when Moore scored on a throw to the plate by Swisher that Lavarnway couldn't grab. Escobar singled and another run scored. Desmond made the inning-ending out, his third of the game. With the score now 14-1, Nationals, the radio announcers mentioned that the fans chanting "N-A-T-S, Nats, Nats, Nats, WOO!" after each run were getting tired.
Sammy Solis pitched the seventh and eighth innings for Washington, recording four strikeouts and two flyouts on a total of 27 pitches. The Nationals didn't score in the seventh, but Trea Turner, who had entered the game as a defensive replacement in the top of the inning, did get his first major-league hit7 against side-arming Atlanta reliever Peter Moylan. Matt Marksberry pitched the eighth for Atlanta, giving up a solo homer to Espinosa, bringing the score to the final 15-1, Nationals.
Rafael Martín pitched a scoreless ninth for the Nationals. The Thursday night crowd of 28,627 was still enthusiastic and standing for the last out, perhaps hoping the score signaled a turnaround in their team's fortunes. Although it did not, they did witness another bit of baseball history from Bryce Harper on his way to his unanimous 2015 National League MVP award.8
Washington's 15 runs scored were a record at Nationals Park as of that date, as well as the team's largest margin of victory.9
The state of Atlanta's bullpen probably contributed to the outcome:
Relief
Pitcher
Years in Minors
Independent, etc.
Years in
Majors
ERA, beginning
of game
ERA, end
of game
Sugar Ray Marimon
8
1
5.40
6.05
Andrew McKirahan
4
1
5.82
6.23
Ryan Kelly
8
1
8.22
7.00
Ross Detweiler
2
7
6.23
7.07
Danny Burawa
5
1
0.00
6.00
Peter Moylan
1
9
6.23
5.06
Matt Marksberry
2
1
5.62
5.82
Author's Note
I was in attendance at this game, sitting in Section 313, where the "N-A-T-S, Nats, Nats, Nats, WOO!" cheer had originated a few years earlier. We'd stand to cheer and wave our hats after each run: By the end of this game, I was ready to ask my trainer for extra credit for all that exercise.
Sources
MLB.TV recording; 106.7 FM Washington, DC, radio recording; personal notes.
retrosheet.org/boxesetc/2015/B09030WAS2015.htm
baseball-reference.com/boxes/WAS/WAS201509030.shtml
Notes
1"Just a Walk – or Four – in the Park for Bryce Harper," masnsports.com/nationals-pastime/2015/09/just-a-walk—or-four—in-the-park-for-bryce-harper.html. On August 18, 2015, Harper also had four walks and four runs, but that game included two official at-bats and no RBIs.
2 It didn't work. The Nationals swept the four games against the Braves, but were swept by the Mets September 7-9, and missed the postseason.
3 "Nats Gain Ground With 15-1 Drubbing," masnsports.com/nationals-pastime/2015/09/nats-gain-ground-with-15-1-drubbing.html.
4 This was the third time in 2015 that the Nationals had scored 10 or more against the Braves.
5 The author ultimately acquired the ball Zimmerman hit, pictured above, for her collection.
6 retrosheet.org/boxesetc/2015/Irobic0010032015.htm.
7 retrosheet.org/boxesetc/2015/Iturnt0010012015.htm.
8 baseball-reference.com/players/h/harpebr03.shtml#all_leaderboard.
9 "Nats Gain Ground With 15-1 Drubbing."
Additional Stats
Washington Nationals 15
Atlanta Braves 1
---
Nationals Park
Washington, D.C.
Box Score + PBP:
Corrections? Additions?
If you can help us improve this game story, contact us.
Tags
https://sabr.org/sites/default/files/HarperBryce-2017_0.jpg
600
800
admin
/wp-content/uploads/2020/02/sabr_logo.png
admin
2018-02-15 16:13:48
2020-04-17 10:24:55
September 3, 2015: Harper scores four runs without an official at-bat