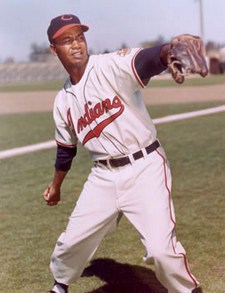 Larry Doby is best remembered for becoming the first black player in the American League and the second in the modern history of major-league baseball. When Doby made his major-league debut for the Cleveland Indians on July 5, 1947, he broke the league's color barrier less than three months after Jackie Robinson first played for the Brooklyn Dodgers. In the face of racial prejudice, Doby remained a superior hitter and outfielder during his 13-season career, with selections to seven American League All-Star teams. "I had to take it," Doby said, "but I fought back by hitting the ball as far as I could. That was my answer." 

Lawrence Eugene Doby was born on December 13, 1923, in Camden, South Carolina. Larry's father, David, met his future wife, Etta, while playing baseball on the street in front of her home. Biographer Joseph Thomas Moore said the Dobys were "one of the most prosperous black families in Camden." 

David Doby was a stablehand, grooming the horses of many wealthy New Jersey families. The marriage, however, was strained because of David's frequent travel and Etta's strong attachment to her own mother, leaving young Larry often in the care of his grandmother, Augusta Moore. She recounted how Doby said that Augusta "made me go to church with her all the time. I liked what I heard in the Twenty-Third Psalm and the Ten Commandments. Somehow I got the feeling that the church helped black people to be themselves. I liked that feeling."

When Larry was 8 years old, his father died in a tragic accident. David had gone fishing on a day off, and he drowned after falling from a boat while fishing on Lake Mohansic, in upstate New York. His death began a tumultuous time for Larry, during which he moved frequently and was cared for by his aunt and uncle. Four years after his father's death, Larry and his mother left South Carolina and moved to Paterson, New Jersey.

It wasn't easy for Doby in Paterson. "I was lonely living alone," he said. "But I just kept trying to be me." In Paterson, Doby began following in the footsteps of his father, who had been a semipro ballplayer. He developed his skills playing sandlot baseball close to home, at the Newman Playground and on Twelfth Avenue. Doby lettered in baseball at Paterson Eastside High School, where he was one of about 25 black students in the school. He won letters in three other sports, a total of 11 in all. Initially, Doby had thoughts of finishing high school and then becoming a physical education teacher or perhaps a coach.

Doby was more introspective than demonstrative, and his personality could confuse his teammates. As recounted by biographer Moore, high-school teammate Al Kachuadurian never felt he could slap Doby on the back, and thought Doby kept his teammates at a distance. "I remember distinctly that if things didn't go just right, he'd sulk. Deep down, he's a warm-hearted guy. But you didn't know if he was sulking at you personally, or whether he was sulking inwardly at himself." Doby, however, later countered that he wasn't sulking at all but had gotten accustomed to being alone based upon the circumstances in his life. In some sense, Doby's self-reliance may have been mistaken for aloofness.

Even before graduating from high school, Doby began playing second base under the assumed name of Larry Walker in the Negro Leagues for the Newark Eagles. He was an immediate star, and team owners offered him $300 to play between high school and college. Although statistics from his first season are inexact, Doby believed he had batted around .400 during that summer.

Doby enrolled at Long Island University. Part of his motivation was to play for renowned basketball coach Clair Bee. Another reason was to be able to visit Helyn Curvy, whom Doby had begun dating at Eastside High School when he was a sophomore. Curvy's father had died, however, and responsibilities for taking care of her siblings prevented Curvy from attending any of Doby's high-school baseball games. "But when I had a game," Doby recalled, "I'd take her brother George to the game with me, then I'd bring him back to her house."

At the time, Doby had concern about being drafted into the military during World War II. He made the difficult decision to transfer from Long Island University to Virginia Union College, where he would play basketball for coach Henry Hucles. Doby believed he could transfer into an ROTC program there. Yet he was drafted into the Navy at the conclusion of basketball season. The mandated racial segregation of the military at the time left a deep impression on him. He was assigned to Camp Robert Smalls, the black division of the Great Lakes Naval Training Station, outside Chicago.

Due in large part to his outstanding physical condition, Doby was able to become a physical education instructor there. He kept his baseball and basketball skills sharp by playing in the afternoons. Doby got to know future NFL Hall of Famer Marion Motley while on his tour of duty. Later, while stationed in the Pacific, Doby began what became a lifelong friendship with Washington Senators star Mickey Vernon. Vernon wrote to Senators owner Clark Griffith, touting Doby's playing abilities. After their military service was done, "[Vernon] sent me a gift of some bats when I started the 1946 season with the [Newark] Eagles," Doby recalled. "It was a gift I'll never forget."

In 1945, general manager Branch Rickey of the Brooklyn Dodgers signed Jackie Robinson to a contract to play baseball in Montreal. The move made Doby reconsider his options, as playing baseball in the major leagues now seemed a possibility. "My main thing was to become a teacher and coach," Doby said. "But when I heard about Jackie, I decided to concentrate on baseball. I forgot about going back to college."

Doby was honorably discharged from the military in January 1946. After playing two months of winter ball with the San Juan Senators for $500 a month at the invitation of Monte Irvin, a prewar teammate on the Newark Eagles, Doby subsequently rejoined the Eagles. Being close to home also allowed him to date Helyn again. "She told me if we didn't get married that year, 1946, to forget it," Doby said. "We got married on August 10, 1946, in Paterson." The night of their wedding, the couple drove to Trenton, where Doby was scheduled to play. The game was rained out. A few days later, Doby played in a Negro Leagues All-Star game against a team including Josh Gibson.

The Eagles went on to win the Negro Leagues World Series in 1946. Doby batted .272 with one home run in that series against the Kansas City Monarchs of the Negro American League. He tagged a runner out at second base for the second out of the ninth inning of the seventh game, and he caught a popup for the final out of the series. "To play the Monarchs in the World Series!" Doby later exclaimed. "They had Satchel Paige and all those guys. That was a great team. To beat those guys, you were in the upper echelon of baseball."

With Doby's notoriety high after the 1946 championship season, Bill Veeck, the owner of the Cleveland Indians, took notice. Veeck, who had long been eager to racially integrate the American League, hatched a plan for Doby to join Cleveland right after the 1947 All-Star break. Doby had played the first half of the season with the Eagles, and he had hit a home run in his final Newark at-bat. The Cleveland team quietly purchased Doby's contract and brought him to Cleveland. A scoop by local writer Bob Whiting forced the team to move up Doby's first game from July 10, which was the original intention, to July 5.

Teammates, however, did not immediately welcome Doby, averting their eyes and not speaking to him as he made his entry to the clubhouse at Comiskey Park to meet with player-manager Lou Boudreau. "Shrug it off," Boudreau reportedly said. Still, Doby in 2002 recalled, "I knew it was segregated times, but I had never seen anything like that in athletics. I was embarrassed. It was tough." As Bill White later noted, Doby had to go to the Chicago clubhouse to get a first baseman's glove since none of his Cleveland teammates offered him one.

Pinch-hitting for Bryan Stephens against Earl Harrist of the White Sox, Doby struck out in his first major-league at-bat. In the second game of that day's doubleheader, Doby made his only start of the season and got his first major-league hit, a single off Orval Grove. During that difficult first season, Doby batted only .156 in 29 games with two RBIs. "It was 11 weeks between the time Jackie Robinson and I came into the majors. I can't see how things were any different for me than they were for him," Doby said.

He had to wait until the start of the 1948 season to win a starting job in Cleveland's outfield. During his first full season, Doby hit 14 home runs and had 66 RBIs. That fall, Doby hit the first home run by a black player in the World Series when he connected off the Boston Braves' Johnny Sain in Game Four, helping Cleveland to a 2-1 win and a lead of three games to one in the Series. A photo taken after the game showing Doby embracing Cleveland pitcher Steve Gromek has become one of the most famous in baseball history, symbolizing an erosion of racial divisions and Doby's acceptance as a member of his new team.

The 1948 season was the first of 10 consecutive years in which Doby hit at least 14 home runs and drove in at least 50 runs. He was selected to the All-Star team in every year between 1949 and 1955 and finished in the top10 in the American League MVP voting in 1950 and 1954, when he finished second behind Yogi Berra. Doby's finest statistical season was 1952, when he led the American League in slugging percentage (.541), home runs (32), and runs scored (104). He hit for the cycle that year against Boston, the last time an American Leaguer accomplished that feat until Mickey Mantle did it in 1957.

After the 1955 season, during which Doby battled a wrist injury, he was traded to the Chicago White Sox for Jim Busby and Chico Carrasquel. At the time, Chicago manager Marty Marion said that Doby's arrival was "the end of the search for a No. 4 hitter." Marion later said, "This guy used to murder us when we played Cleveland. Last year, I definitely felt that, when we could get him out, we could handle the Indians. But we couldn't – and the record shows that they had a season break on us, 12-10."

Doby immediately delivered with Chicago, hitting 24 home runs and knocking in 102 runs. Over a nine game stretch in June 1956, during which the White Sox won eight, Doby hit six home runs, leading White Sox owner Charles Comiskey to remark, "Larry Doby, he's our guy. You know, when we dealt for Doby, we weren't worried about Larry. We knew he'd come through."

Doby was involved in one of the bigger melees of the 1957 season. In a game on June 12, Art Ditmar of the Yankees threw a pitch inside, causing Doby to fall to his knees. Both benches emptied, and Doby knocked Ditmar down with a punch to his jaw. Doby also got into an on-field fight with Billy Martin after the umpires had restored order. Doby, teammate Walt Dropo, and the Yankees' Enos Slaughter and Martin were all thrown out of the game. The Yankees, feeling that penalties against their players by the league were unjustified, paid all fines of their players assessed after the incident.

After his power numbers faded a bit during the 1957 season, Doby was traded to Baltimore that December with Jack Harshman, Russ Herman, and Jim Marshall in return for Tito Francona, Ray Moore, and Billy Goodman. Manager Al Lopez explained the deal, saying, "We wouldn't start another season with Doby because the fans are down on him." A contemporary article noted that the fans often booed Doby at Comiskey Park, leading to resentment on Doby's part. Doby never played with the Orioles, being traded again before the season began on April 1. This time he went back to the Cleveland Indians along with Don Ferrarese for Dick Williams, Gene Woodling, and Bud Daley.

By then, however, injuries had taken their toll, and Doby was a part-time player. In 1958, he hit 13 home runs and batted in 45 runs in only 89 games. Just before the 1959 season, Doby was traded to the Detroit Tigers for Tito Francona. Finally, on May 13, 1959, he was purchased from Detroit by the Chicago White Sox for $30,000.

Chicago was Doby's last major-league stop as a player. By then 35 years old, he played in only 21 games, batting .241 with no home runs and only nine runs batted in. His final game in the major leagues was on July 26. Sent down to the White Sox' San Diego farm team in the Pacific Coast League, Doby fractured an ankle sliding into third base on a triple on August 23. Doby finished his major-league career with a .283 batting average, 243 doubles, 253 home runs, and 970 RBIs.

In 1960, Doby signed with the Toronto Maple Leafs of the International League, but because of the lingering effects of his ankle injury, he was released in May without getting into a game. In 1962 he played for the Nagoya Dragons in Japan. He went on to coach with Montreal, Cleveland, and the White Sox. He also owned a lounge and a liquor store in Newark, and he worked in the Essex County prosecutor's office in New Jersey for three years.

During that time, Doby wrote letters to major-league teams seeking the opportunity to be a major-league manager. In 1971, when he was a batting coach for the Montreal Expos, Doby spoke of the possibility of managing in the major leagues in an interview: "The Expos know what I want to do," he said. "But they want me to work my way up. …They want me to wait. I don't mind waiting because right now I'm learning. But I can't wait for the rest of my life."  Doby remarked that he enjoyed working with kids in part because he had good training – he had five children of his own.

Doby received the chance to manage in 1978, becoming the second black manager in major-league history when he took over the White Sox, succeeding Bob Lemon, who was fired but took over the Yankees and led them to the pennant. Doby's time managing was filled with frustration, however, as he had a record of only 37-50 during the portion of the one season in which he managed during his career. Doby cited injuries for the team's failures, saying, "When you have to use people you hope can play, rather than those you know can play, you are in a bad situation." 

He also maintained strong feelings about why he had to wait until the age of 53 to receive the Chicago managerial job: "Why did it take this long? You tell me. I don't mean to sound prejudiced, but you can look at the system and see that, until I was named (to replace Lemon on June 30), there was no black manager in the major leagues."

After the 1978 season, Doby was fired as the team's manager. "I can't truly say what kind of manager I was or could've been because I didn't have enough time," he said. "I thought I could have been successful. I thought I had those intangibles."

After his managerial career was over, Doby remained active with major-league baseball. He was an administrator for the Former Players Licensing Branch of Major League Baseball, helping to license people or companies that wanted to use players or their trademarks for card shows or speaking engagements. In 1995, Doby was named special assistant to American League president Gene Budig, who said at the time, "Few have done more for Major League Baseball than Larry Doby, and we are excited about having him associated with us." Doby later was also named to the Baseball World board.

In 1997, the Indians retired Doby's number 14 on the 50th anniversary of his major-league debut. He became the fifth Cleveland player to be so honored, joining Bob Feller, Earl Averill, Mel Harder, and Lou Boudreau. A banner was displayed in left field on July 5, 1997, at Jacobs Field, showing Doby and Jackie Robinson, saying "50 years: 1947-1997." At the ceremony, Hank Aaron said to Doby, "I want to thank you for all that you went through, because if it had not been for you, I wouldn't have been able to have the career that I had." In 1998, Doby was elected to the Baseball Hall of Fame by the Veterans Committee.

Doby's health plagued him in retirement. He battled a cancerous tumor in 1997 and had to have a kidney removed. Helyn, his wife of 55 years, died in 2001 after a six-month battle with cancer. Larry Doby died of cancer in Montclair, New Jersey, on June 18, 2003. More than 300 mourners attended his funeral at Trinity Presbyterian Church. He is buried in Montclair.


An updated version of this biography is included in the book "Pitching to the Pennant: The 1954 Cleveland Indians" (University of Nebraska Press, 2014), edited by Joseph Wancho. It originally appeared in the book "Go-Go To Glory — The 1959 Chicago White Sox" (ACTA, 2009), edited by Don Zminda.


Sources

American League Press Release, "Doby Named Special Assistant to the American League President," April 17, 1995.

Associated Press, "Doby Rates Tigers, Yankees Toughest Foe," February 8, 1958. No author or page number given for this clipping from Doby's Hall of Fame file.

Associated Press, "Finally a hankering to honor Doby: Aaron says thanks to barrier-breaker on 50th anniversary of his AL debut," Newark Star Ledger, July 6, 1997, Section 5, p. 8.

Anderson, Dave, "A Pioneer's Hall of Fame Wife," New York Times, July 26, 2001, p. D2

Baseball-reference.com, Doby's statistical page.

"Billy, Enos Tell Their Story," June 14, 1957. Clipping from Doby's Hall of Fame file.

"Chisox Fans Sour on Doby; Forced Deal with Baltimore," December 11, 1957. Clipping from Doby's Hall of Fame file.

Daniel, ------. "Mick Thought Homer Cleared Stadium," July 24, 1957. No publication given. Clipping from Doby's Hall of Fame file.

Decker, Bob, "Doby's next goal—manage in majors." Newark Star-Ledger, January 24, 1971, Section 5, p. 6.

"Doby among 3 named to Baseball World board," Cooperstown Crier, July 8, 1999. No author or page number given. Clipping from Doby's Hall of Fame file.

"Doby connects: Jersey Vet 'Finds Range' for Chisox," June 23, 1956." Clipping from Doby's Hall of Fame file.

"Doby Now Tonic to Old Foe: Ex-Indian Esteemed by Chicago Pilot," May 5, 1956. No author or publication given. Clipping from Doby's Hall of Fame file.

"Doby Owns Home When Fire Goes Out," June 23, 1951. Clipping from Doby's Hall of Fame file.

"Doby to Enter Johns Hopkins, Career in Danger, August 25, 1959." Clipping from Doby's Hall of Fame file.

"Doby, Unsigned, May Skip Camp," February 6, 1953. Clipping from Doby's Hall of Fame file.

Goldaper, Sam, and Jack Cavanaugh, "Sports World Specials; Honors for Doby," New York Times. July 6, 1997.

Holtzman, Jerome, "Doby's Rightful Recognition," Chicago Tribune, March 4, 1998, available at https://chicago.tribune.com/sports/whitesox/article0,1051,ART-4566,00.html.

Hutchinson, Dave, "Doby relives past, the good and the bad: Indians retire his number today." No publication given. Clipping from Doby's file at the Hall of Fame Library.

Kernan, Kevin, "Larry is the stuff of legends: Struggles of Doby a lesson for any time," New York Post, July 28, 2002, p. 97.

"Lawrence Eugene Doby," Trenton Model Cities Action, December 1973, p. 15.

Melody, Tom, "Doby's dream now a nightmare," Akron Beacon Journal, August 21, 1978.

Moore, Joseph Thomas, Pride Against Prejudice: The Biography of Larry Doby. Westport: Praeger Publishers, 1988.

"Police Grab Martin After Fighting Doby: Drysdale and Logan Swap Punches in Brooklyn Free-for-All," June 13, 1957. Clipping from Doby's Hall of Fame file.

Politi, Steve, "Doby recalled as a Hall of Famer in life," Newark Star-Ledger, June 24, 2003.

Porter, David L., ed. Doby, Lawrence Eugene "Larry." Biographical Dictionary of American Sports.

Smith, Claire. "Doby Thrown Another Curve," New York Times, November 9, 1997.

United Press, "Carrasquel, Busby Acquisitions 'Round 1' for Trading Tribe." Clipping from Doby's Hall of Fame file.

"White Sox Buy Tigers' Doby," May 14, 1959. Clipping from Doby's Hall of Fame file.

"Yanks to Foot Bill: Topping Defends His Players: Will Refund the Fines." June 14, 1957. Clipping from Doby's Hall of Fame file.