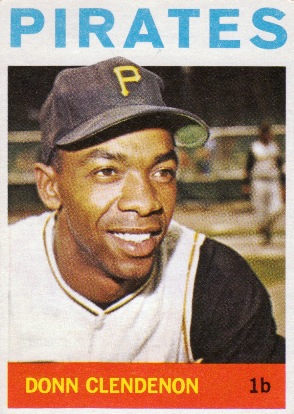 September 30, 1964: Reds fall out of first place in epic battle of fireballers Maloney and Veale
---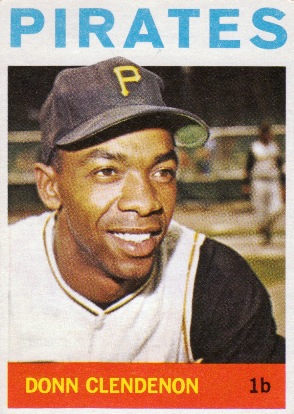 It was nailbiting time in Cincinnati when the Reds met the Pittsburgh Pirates for the second game of a three-game set at Crosley Field. The Reds unexpectedly found themselves in one of the most contested pennant races in history and appeared headed to an unprecedented three-way with the St. Louis Cardinals and Philadelphia Phillies. Just 15 days earlier, the Reds had been 8½ games off the pace, but had won 12 of 13 since then and took sole possession, by one game, of the top spot on September 27 by sweeping the New York Mets. A 2-0 loss to the Bucs in the first game dropped the Reds (91-67) into a tie with the Redbirds, with the Phillies trailing by 1½ games.
It had been an emotionally draining season for the Reds. Their popular manger, Fred Hutchinson, announced that he had inoperable lung cancer before the campaign started, and had taken a leave of absence on August 13, replaced by interim skipper Dick Sisler. Soon thereafter, the Reds caught fire. Sisler felt confident going into Wednesday night's game with the Bucs. On the mound was his ace, hard-throwing right-hander Jim Maloney, who had burst on the scene the previous season by winning 23 games. He was 15-10 thus far in '64, and was on a roll in September, winning four of his last five starts with a 1.64 ERA. Sisler was hoping for another performance like Maloney's last outing, when the big Californian blanked the Mets on one hit.
Manager Danny Murtaugh's Pirates, mired in a disappointing sixth place (78-78), weren't about to roll over. Bob Friend's 11-hit shutout the night before proved that. Toeing the rubber in this game was 28-year-old Bob Veale, who emerged in '64 as one of the most dangerous flamethrowers in baseball. He was 18-12 with a 2.88 ERA, and had been especially rough on the Reds, whom he had beaten in his last four starts, yielding just four earned runs in 33⅓ innings (1.08 ERA).
Despite the game's pennant ramifications, a paltry crowd of just 8,188 showed up at Crosley Field, the venerable 52-year-old steel and concrete ballpark, which showed its age. "There seems to be excitement about the Reds everywhere except Cincinnati," opined sportswriter Lester J. Biederman of the Pittsburgh Press.1 It was a sentiment shared by the hometown Enquirer, which implored fans to support the team.
The Pirates were playing without three of their top performers: Slugger Willie Stargell had undergone surgery on his left knee earlier that day, ending his season; catcher Jim Pagliaroni, who batted a career-best .295, had a chipped bone on the thumb of his right hand and hadn't played since September 19; and Roberto Clemente was sick with a stomach ailment.
Maloney, who had led the majors by averaging 9.52 strikeouts per nine innings and finished second in total strikeouts (265) behind the Los Angeles Dodgers' Sandy Koufax in 1963, came out throwing heat, whiffing six of the first 12 batters he faced. He mowed the Pirates down inning after inning, allowing a runner past second base only once. That came in the third when Jerry May led off with a single and moved up a station on Bill Virdon's safety. Maloney yielded only one hard-hit ball all evening, in the sixth when Jerry Lynch lofted a deep fly that sent Vada Pinson, according to Lou Smith of the Enquirer, "racing to the right centerfield bleacher screen to pull down what looked like a home run."2
Veale might not have been as sharp as Maloney, but his heater, curve, and slider perplexed Reds batters, who swung wildly at anything near the plate. Squandered scoring chances defined the game for the Reds, the first of which came in the fourth when Chico Ruiz was left stranded on third base with one out. In the sixth, Frank Robinson was intentionally walked with two outs and one on, but Veale punched out Deron Johnson to end another threat.
Shortly before the ninth, the Crosley Field scoreboard reported that the Cardinals had won their eighth straight game, 8-5, against the Phillies, placing even more pressure on the Reds' slumping offense to keep pace. They had Veale on the ropes at the end of regulation, but could not push a run across the plate. "We could have won in nine innings so simply," said an exasperated Sisler after the game. "All we needed was someone to make contact with the ball."3 Pinson drew a leadoff walk, moved to second on Johnson's single, and third on Tommy Harper's deep fly. Veale, who was vying for the league's strikeout crown, ended the frame with his 12th punchout.
Maloney and Veale were locked in what Lou Smith described as "one of the most pulsating mound duels of the decade," as the game went into extra innings.4 While Maloney worked around a leadoff walk in the 10th and then set down the Pirates 1-2-3 in the 11th, Veale bent but would not break. With two outs in the 10th, Pete Rose waked and advanced to third on Ruiz's single and third baseman Gene Freese's error, but Veale once again put out the fire with a strikeout. The Reds loaded the bases in the 11th on consecutive leadoff singles by Robinson and Johnson and an intentional walk to Leo Cardenas. Sisler lifted Maloney for rookie pinch-hitter Tony Perez, who grounded weakly to Veale to end the frame.
There was no drop-off when Sammy Ellis relieved Maloney, who had fanned 13 and yielded just three hits and walked two. Ellis set down all six batters he faced.
The Reds filled the bases again in the 13th, leading to Veale's departure. Robinson led off with a walk and stole second when Veale punched out Johnson for his 16th strikeout of the game, his career-best. After Veale issued an intentional walk to Harper, the Reds executed a daring double steal with pinch-hitter Steve Boros at the plate. Veale walked Boros, his eighth free pass of the game, and was lifted in favor of reliever Al McBean. Needing just a long fly ball to win the game, the Reds came up empty against McBean, a converted starter en route to his best season as the Bucs' most reliable reliever (1.91 ERA).
The Reds made their final charge in the 14th and loaded the bases for the third time in four innings. Following singles by Ruiz and Pinson, McBean intentionally walked Robinson with one out. But McBean extinguished the fire again. Johnson earned the golden sombrero with his fifth strikeout and Jimmie Coker grounded out. In a pressure-packed night, the Reds did not have another baserunner in the game.
The Pirates, who had not had a hit since Jerry May's leadoff single in the eighth, had their first scoring chance of the game, in the 16th, when Donn Clendenon led off with a booming double off the scoreboard and moved to third on Bill Mazeroski's sacrifice bunt. For the first time all game, Sisler came to the mound to have a conference with his hurler, John Tsitouris, who had pitched two hitless innings in relief of Ellis.
At the plate was Jerry May, the Pirates' 20-year-old backstop, who had been called up in September after the Pirates sold catcher Smoky Burgess to the Chicago White Sox in a waiver transaction on September 12. "We decided May was the lesser of the two batters," said Sisler about not walking May intentionally to face McBean.5
Murtaugh pulled out his trump card. "I was really excited when I saw the squeeze sign," said May. "I had confidence I could do it. I waited until the last second because I didn't want Tsitouris to knock me down."6 It was a perfect suicide squeeze to the third-base side that "caught everybody by surprise," wrote Biederman.7 "We got to be alive," said Sisler. "Clendenon was running and (Ruiz) should have followed him." By the time Ruiz had the ball, May had crossed first base and Clendenon home plate for the game's first and only run. "It was a good bunt," admitted Sisler. "Maybe he would have made it anyway. But I would have liked to have seen an attempt made."8
McBean retired the Reds on three straight infield grounders in the 16th to secure the Pirates' victory in 4 hours and 14 minutes
"It was beautiful pitching," said Sisler.9 Six hurlers combined for 36 punchouts for a new major-league record, three more than the San Francisco Giants and Phillies in a 14-inning game on June 22, 1958.10 In what was called a "dramatic but heartbreaking finish" for the Reds, their slumping batters left 18 men on base and extended their unenviable streak of scoreless innings to 33.11 "We blew it, we're offering no excuses," said Sisler.12
Minutes after the game, Danny Murtaugh dropped a bombshell by announcing his retirement for health reasons, effective at the end of the season.
Despite the loss, the Reds' pennant hopes were not over. With four more games to play, they still had a chance.
This article was published in "Cincinnati's Crosley Field: A Gem in the Queen City" (SABR, 2018), edited by Gregory H. Wolf. To read more articles from this book at the SABR Games Project, click here.
Sources
In addition to the sources cited in the Notes, the author also accessed Retrosheet.org, Baseball-Reference.com, SABR.org, and The Sporting News archive via Paper of Record.
https://www.baseball-reference.com/boxes/CIN/CIN196409300.shtml
http://www.retrosheet.org/boxesetc/1964/B09300CIN1964.htm
Notes
1 Lester J. Biederman, "Murtaugh Takes Only a Moment to Say Farewell," Pittsburgh Press, October 1, 1964: 50.
2 Lou Smith, Pirates Dim Reds' Hopes, 1-0," Cincinnati Enquirer, October 1 1964: 1.
3 Don Bandy, Associated Press, "Pirates Knock Reds Out of National League Lead," Indiana (Pennsylvania) Gazette, October 1, 1964: 20.
4 Smith.
5 Bandy.
6 Lester J. Biederman, "Pirates Win In 16th; Cincy Trails By 1 Game," Pittsburgh Press, October 1, 1964: 49.
7 Ibid.
8 Bandy.
9 Ibid.
10 In the first game of a doubleheader in Philadelphia, the Giants beat the Phillies, 5-4. The teams combined for 33 strikeouts to set a new major-league record.
11 Smith.
12 Bandy.
Additional Stats
Pittsburgh Pirates 1
Cincinnati Reds 0
16 innings
---
Crosley Field
Cincinnati, OH
Box Score + PBP:
Corrections? Additions?
If you can help us improve this game story, contact us.
Tags
http://bioproj.sabr.org/bp_ftp/images4/ClendenonDonn.jpg
600
800
admin
/wp-content/uploads/2020/02/sabr_logo.png
admin
2019-10-07 15:35:09
2020-04-17 10:22:29
September 30, 1964: Reds fall out of first place in epic battle of fireballers Maloney and Veale