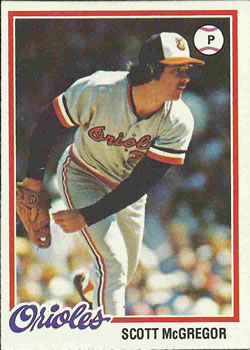 September 4, 1978: McGregor, Harlow lead Orioles to key late-season win over Red Sox
---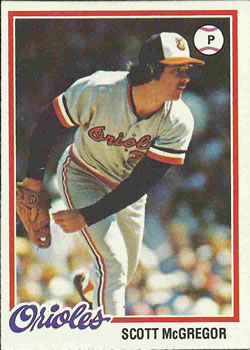 In the annals of baseball history, there have been several late-season collapses that have become legendary. Among them are the 1951 Dodgers, 1964 Phillies, 1969 Cubs, 1995 Angels, and 2007 Mets.1 However, this list would not be complete without the inclusion of the 1978 Boston Red Sox, who led the American League East by as many as nine games in mid-August, only to end the season in a tie for first place and then lose a one-game playoff to the eventual World Series champion New York Yankees.
Heading into play on September 4, 1978, the Red Sox led the division by 5½ games over the Yankees, 7½ over the Milwaukee Brewers, and 10 over the Baltimore Orioles. They were facing a crucial stretch of their schedule, with 12 of their next 14 games against either the Yankees or Orioles. The pitching matchup for the first game of a three-game series featured the Red Sox' 23-year-old ace, Dennis Eckersley, who entered with a record of 16-5 and an earned-run average of 3.12, and the Orioles' 24-year-old Scott McGregor, who had a 12-12 record with an ERA of 3.48 in his first season as a full-time member of the starting rotation.
On a crisp Labor Day evening in Baltimore, both pitchers got off to inauspicious starts. McGregor got into immediate trouble when leadoff batter Rick Burleson singled and Fred Lynn followed with a double. Jim Rice then hit a towering home run over the left-field wall, and the Red Sox had a quick 3-0 lead before a single out had been recorded. Cleanup batter Carl Yastrzemski launched a fly ball to deep right field that looked to have the makings of another home run. After the game, Orioles manager Earl Weaver admitted, "If it goes out, McGregor goes out."2 However, the ball was caught at the wall by Ken Singleton, and McGregor escaped further damage by then retiring Carlton Fisk and Dwight Evans.
Eckersley's rough start began with his very first pitch, which was blasted over the right-field fence for a leadoff home run by Orioles center fielder Larry Harlow. His third pitch to Pat Kelly soared into the upper deck in right field but landed just foul.3 Kelly was eventually called out on strikes, but Eckersley got into further trouble by walking Ken Singleton and giving up a double to Eddie Murray, sending Singleton to third. The next batter was Lee May, who lifted a fly ball to right field, shallow enough for right fielder Dwight Evans to hold Singleton at third.4 However, the normally sure-handed Evans dropped the ball, and Singleton scored. Eckersley then regrouped to retire Doug DeCinces and Billy Smith to keep the score Red Sox 3, Orioles 2 after one inning.
As shaky as each pitcher had looked in the opening inning, they both settled down nicely in innings two through five. McGregor retired all 12 batters he faced in those frames, while Eckersley gave up only two singles in the 4th inning, with no further scoring.
Over the next two innings, the momentum turned in favor of Baltimore. In the top of the sixth, McGregor again set the Red Sox down in order, extending his streak to 18 straight batters retired since Rice's first-inning home run. In the bottom of the inning, Eckersley surrendered consecutive singles to Singleton and Murray, the latter a checked-swing grounder that found its way into left field.5 Lee May followed with a double to the left-field corner to score both runners, giving the Orioles their first lead at 4-3. Eckersley escaped further damage by striking out DeCinces and Rick Dempsey (after an intentional walk to Billy Smith), then getting pinch-hitter Al Bumbry to ground out to end the inning.
Now pitching with the lead, McGregor induced two groundouts and a strikeout in the top of the seventh inning, extending his streak of consecutive batters retired to 21. In the bottom of the inning, Larry Harlow led off with a single and advanced to second when right fielder Evans booted the ball for his second error of the game. Such shoddy defensive play was extremely uncharacteristic for Evans, a Gold Glove winner in 1976, and was clearly the result of dizziness he was experiencing after having been beaned one week earlier.6 (Evans later remarked: "I feel like I just got off the Tea Cup ride at Disneyworld."7) The next batter, Pat Kelly, slapped a single to right field – this time, Evans fielded it cleanly and threw home to catcher Fisk to head off Harlow, who had been held up by third-base coach Cal Ripken Sr.8 As Fisk came out to short-hop the ball about 20 feet from home plate, Harlow was caught too far past third and decided to break for home.9 As he did, Fisk whirled around and tagged out Harlow, who then ran into Eckersley, backing up the play. Eckersley decked Harlow with an elbow to the face, and both benches emptied.
In the ensuing free-for-all, as Harlow admitted later, he "went kinda crazy" and tried to go after Eckersley.10 Fisk was able to hold back Harlow, and the Orioles' Ken Singleton likewise held off Eckersley. After the game, Eckersley was apologetic, saying, "I can't blame (Harlow) for being mad. It was a weak act on my part, but there was no evil intent."11 He credited Singleton with "saving" him by shoving him toward the Red Sox dugout.12 However, the initial punch left Eckersley with numbness in his hand, and Red Sox manager Don Zimmer pulled him in favor of left-hander Andy Hassler.13
Once play resumed, Singleton grounded out to short, with Kelly advancing from second to third. Eddie Murray then delivered a clutch RBI single to center to extend the Orioles' lead to 5-3.
In the top of the eighth, McGregor extended his streak of hitters retired to 23 when George Scott flied out to center and Orioles' right fielder and defensive replacement Carlos Lopez made a sensational catch in foul territory (falling into the stands) to retire Butch Hobson.14 The streak was broken by the Red Sox' number-nine hitter, Frank Duffy, who stroked a solid single to center. Rick Burleson lined out to third to end the inning. In the bottom of the inning, the Orioles loaded the bases with two outs against Hassler, but Red Sox reliever Dick Drago retired pinch-hitter Terry Crowley on a groundout to preserve the two-run deficit.
In the top of the ninth, McGregor retired the first two batters on routine plays: Lynn on a fly ball to right and Rice on a groundout to short. But Yastrzemski and Fisk both singled, putting the tying runs on base. Orioles manager Earl Weaver pulled McGregor in favor of his closer, Don Stanhouse. (McGregor received a well-deserved ovation from the Baltimore faithful.) As Dwight Evans dug in to face Stanhouse, first baseman Murray sneaked in behind Fisk, and Stanhouse quickly threw to first, picking off a flatfooted Fisk to end the game. Stanhouse earned his 20th save without throwing a single pitch, reducing the Red Sox' lead in the AL East to five games.
Postscript
The Red Sox lost two of the three games in the series and left Baltimore with a four-game lead over the Yankees. That set the stage for a pivotal four-game Red Sox-Yankees series, which New York swept by a combined score of 42-9 (later known as the "Boston Massacre"). By September 16 the Red Sox had dropped 3½ games behind the Yankees. Boston finished with an eight-game winning streak to forge a tie with the Yankees on the last day of the regular season. The Red Sox lost the one-game playoff to New York, 5-4, and would not come this close to a division title for another eight years.
Sources
The author attended the game in person. In addition to the sources cited in the Notes, the author consulted Baseball-Reference.com and Retrosheet.org.
Notes
Additional Stats
Baltimore Orioles 5
Boston Red Sox 3
---
Memorial Stadium
Baltimore, MD
Box Score + PBP:
Corrections? Additions?
If you can help us improve this game story, contact us.
Tags
http://sabr.org/sites/default/files/McGregorScott.jpg
600
800
admin
/wp-content/uploads/2020/02/sabr_logo.png
admin
2016-09-27 17:46:14
2020-04-17 10:26:01
September 4, 1978: McGregor, Harlow lead Orioles to key late-season win over Red Sox