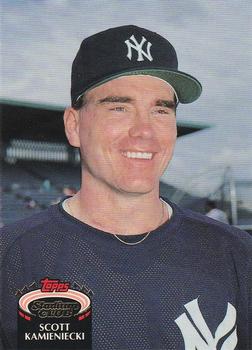 September 6, 1992: Kamieniecki fires eight shutout innings as Yankees rally late
---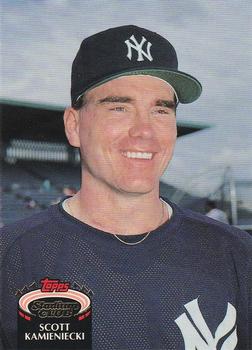 Labor Day Weekend in the Bronx was greeted with little fanfare by fans of the Yankees. The 63-73 Yankees had lost the second game of a three-game series with the Texas Rangers on Saturday, returning them to fifth place in the American League East Division. As the pennant races materialized, Don Mattingly, the Yankees' star first baseman and frequent optimist, was discouraged about missing the playoffs for another year: "You always have to dream. You really have to use your imagination and have hope that things are getting better."1 The Sunday afternoon contest was being played on the 10th anniversary of his major-league debut,2 and he had never appeared in the playoffs.
Yankees manager Buck Showalter, 36 years old, had been hired the previous October as the youngest manager in the majors.3 The Yankees initially responded positively to the change, winning six games in a row to begin the season, though they faded during the summer. Right fielder Danny Tartabull led the Yankees in several offensive categories while Mattingly and shortstop Andy Stankiewicz anchored the infield. Staff ace Melido Perez pitched well during his first season while Steve Farr enjoyed an excellent year as closer.
The 67-71 Rangers didn't fare much better than New York. Texas also started the season strong, winning six of its first seven games, but slipped during mid-May. The Rangers recovered to briefly retake the West Division lead as May ended, then slipped to fourth place in August. Texas was 13½ games behind the division-leading Oakland Athletics, who swept the Rangers at Arlington in early August to capture the lead. Midway through July, Texas fired manager Bobby Valentine and hired 1970s Rangers star Toby Harrah as interim manager.4 Texas featured slugging first baseman Rafael Palmeiro and center fielder Juan Gonzalez. The pitching staff included a solid duo of Kevin Brown and Jose Guzman; veteran closer Jeff Russell was traded to Oakland in late August, along with Ruben Sierra and Bobby Witt, for slugger Jose Canseco.5
Second-year right-hander Scott Kamieniecki started for New York. Kamieniecki was 4-11 with a 4.48 earned-run average in 146⅔ innings. He had won two of his previous three decisions and pitched at least seven innings in his last five starts. In an earlier holiday game against the Rangers, on July 4, he tossed a complete game but was a 4-1 loser.6 The youngster pitched better at Yankee Stadium than on the road; he was winless in 10 starts away from New York. Kamieniecki's pitching repertoire included a fastball, curveball, changeup, and slider.7
Third-year starter Scott Chiamparino started for Texas. Chiamparino was making his season debut, 15 months after his last start, on May 25, 1991, when he pitched to only two hitters before being removed due to elbow pain. In June he underwent reconstructive surgery; a tendon from his right wrist was inserted into his right elbow. Before his return, Chiamparino said, "I'm going to be both excited and nervous. I'll be more nervous for that than I was when I made my debut for the Rangers."8 While rehabbing in 1992, he made 14 starts in Texas's minor-league system, pitching well. He had arrived in Texas two years earlier as part of a deal that sent Harold Baines to Oakland9 and was eager to join the Rangers' rotation.
The Rangers immediately tested Kamieniecki. Leadoff batter Brian Downing was hit by a pitch. Palmeiro popped out. Canseco hit a broken-bat single, sending Downing to third. Cleanup hitter Kevin Reimer walked to load the bases. Already 23 pitches into the first inning with only one out, Kamieniecki wiggled out of the jam when Dean Palmer popped out and Ivan Rodriguez flied out.
Chiamparino pitched well in the first inning of his big-league return. Bernie Williams greeted him with an infield single. Roberto Kelly grounded into a double play on his first pitch. Mattingly walked on a full count. Tartabull flied out to end the scoreless inning.
Kamieniecki retired Texas in order in the second inning, while New York threatened in the bottom half. Mel Hall and Randy Velarde hit leadoff singles. But Matt Nokes struck out on an 0-and-2 count and Stankiewicz grounded into an inning-ending double play.
Pat Kelly started the New York third inning by walking on a full count. He stole second and took third on Williams's groundout. With two outs, Mattingly delivered the game's first run, hitting a hanging curveball for a line-drive single into center field. Tartabull hit into a fielder's choice and New York carried a 1-0 lead into the middle innings.
The Rangers pressured Kamieniecki in the fifth. Facing the bottom third of Texas's lineup, Kamieniecki walked Jeff Frye on four pitches and allowed a single to David Hulse with one out. Downing hit a fly ball to deep left field for the second out. Palmeiro walked on four pitches to load the bases. On a 3-and-1 count, Canseco's long fly ball against a hard headwind went to the warning track10 as Texas ended an inning with the bases loaded for the second time. Meanwhile, Chiamparino settled his nerves, allowing just a double by Pat Kelly from the fourth inning through the seventh.
Kamieniecki continued his impressive pitching performance into the eighth inning. After Texas threatened in the fifth inning, he retired the next eight batters. Canseco broke Kamieniecki's streak with an eighth-inning two-out double down the third-base line, but that was the last hit allowed by the pitcher. Kamieniecki struck out Kevin Reimer on a 2-and-2 fastball that "sliced back across the plate's inside edge"11 to maintain New York's slim lead.
Todd Burns relieved Chiamparino to start the New York eighth inning, and quickly experienced trouble. Pat Kelly reached first on catcher's interference and second on a sacrifice by Bernie Williams. Roberto Kelly doubled home Pat Kelly (no relation) to grow New York's lead to 2-0. Mattingly was intentionally walked and the Yankees had two runners on base for only the second time in the game. Tartabull doubled home Roberto Kelly and sent Mattingly to third base. With Mattingly and Tartabull in scoring position, Brian Bohanan relieved Burns. Hall singled through the left side of the infield to score Mattingly and Tartabull as the Yankees increased their lead to 5-0. Velarde struck out on three pitches for the second out. Nokes slugged his 20th home run of the season into the right-field bleachers to give New York a commanding 7-0 lead. Stankiewicz walked, but Pat Kelly struck out. The Yankees scored six runs on four hits during their explosive eighth inning.
New York's Curt Young relieved Kamieniecki for the ninth inning, and retired Texas on a groundout, popout, and strikeout to preserve the shutout in front of 21,643 fans.
Kamieniecki and Young combined to throw a three-hitter, striking out six Rangers and issuing three walks. The Rangers stranded seven runners; three each in the first and fifth innings as they batted 0-for-5 with runners in scoring position. Kamieniecki improved to 5-11 while the tough-luck loss was issued to Chiamparino. Texas's Canseco and New York's Hall were the only batters with multi-hit games while Hall and Nokes plated two runners apiece.
New York finished with a 76-86 record, tied for fourth place in the AL East with the Indians, 20 games behind the Toronto Blue Jays. Kamieniecki completed the campaign with a 6-14 record and a 4.36 ERA in a career-high 188 innings. He pitched eight innings in two of his next three starts, as his mound demeanor improved; pitching coach Mark Connor complimented him, saying, "He's a lot more relaxed and fun to be around. His stuff hasn't changed."12 Nokes finished with 22 home runs and Hall ended with a .280 batting average; both statistics were good for second-best on the Yankees.
Harrah was happy with his starting pitcher. "A great job by Chiamparino. He pitched his tail off. Seven innings is all we wanted from him; he was right at his pitch limit."13 Also finishing in fourth place in their division, the Rangers finished a game better than New York, 77-85 and 19 games behind Oakland. Chiamparino started three more games after this one and lost all three, including a 1-0 loss to Toronto on September 19. He finished 0-4 with a 3.55 ERA that season, his final one in the major leagues. In November Chiamparino was selected by the Florida Marlins in the expansion draft.14
Sources
Besides the sources cited in the Notes, the author consulted Baseball-Almanac.com, Baseball-Reference.com, Retrosheet.org, and the following:
baseball-reference.com/boxes/NYA/NYA199209060.shtml
retrosheet.org/boxesetc/1992/B09060NYA1992.htm
Notes
1 Bill Verigan, "Summer Fun Gone for Don," New York Daily News, September 6, 1992: 60.
2 Associated Press, "New York Yanks Texas' Power," Austin American-Statesman, September 7, 1992: 42.
3 Michael Kay, "Buck Stops Here," New York Daily News, October 30, 1991: 52.
4 Jaime Aron, "Title-Hungry Rangers Fire Valentine," Austin American-Statesman, July 10, 1992: 25.
5 Ross Newhan, "A's Trade Canseco to Rangers," Los Angeles Times, September 1, 1992: 29.
6 Jeff Bradley, "Nolan's Still Rollin'," New York Daily News, July 5, 1992: 42.
7 Bill James and Rob Neyer, The Neyer/James Guide to Pitchers: An Historical Compendium of Pitching, Pitchers, and Pitches (New York: Fireside Books, 2004), 262.
8 T.R. Sullivan, "Chiamparino Faces 'Emotional' Start," Fort Worth Star-Telegram, September 6, 1992: 62.
9 T.R. Sullivan, "Grieve, Hough's Agent Talk," Fort Worth Star-Telegram, September 5, 1990: 36.
10 T.R. Sullivan, "Chiamparino Shows Promise in Loss," Fort Worth Star-Telegram, September 7, 1990: 50.
11 Bradley.
12 Bradley.
13 T.R. Sullivan, "Chiamparino Shows Promise in Loss."
14 T.R. Sullivan, "Rangers Lose Three in Expansion Draft," Fort Worth Star-Telegram, November 18, 1992: 36.
Additional Stats
New York Yankees 7
Texas Rangers 0
---
Yankee Stadium
New York, NY
Box Score + PBP:
Corrections? Additions?
If you can help us improve this game story, contact us.
Tags
https://sabr.org/sites/default/files/Kamieniecki-Scott.jpg
600
800
admin
/wp-content/uploads/2020/02/sabr_logo.png
admin
2020-05-19 17:47:07
2020-05-28 15:30:55
September 6, 1992: Kamieniecki fires eight shutout innings as Yankees rally late