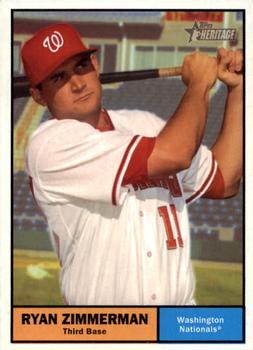 September 6, 2009: Ryan Zimmerman hits fifth career walk-off home run
---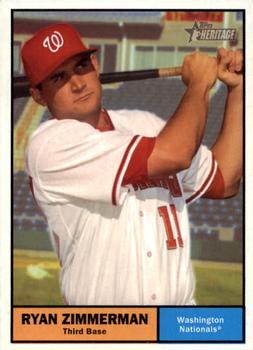 At least the weather was pleasant: 80 degrees and a breeze made the prospect of a Sunday afternoon game palatable for the 22,325 fans in Nationals Park. As always, the fans were hoping for a win since no losing streak lasts forever. Coming into the game the Nationals' (46-90) eight-game losing streak was the longest of their year, although they had suffered through a 12-game losing streak the previous year. As expected with that record, they were firmly anchoring last place in the NL East, 32½ games back of the Phillies. The Marlins (72-64) were second in the division, only 6½ games back.
Rookie J.D. Martin (3-4, 4.60 ERA) took the hill for the Nationals, making his 10th start. Although he went to full counts on Chris Coghlan and recently traded National Nick Johnson,1 he did work a 1-2-3 inning to start the game. Aníbal Sánchez (2-6, 5.01 ERA) got the same 1-2-3 results in the bottom half of the inning: Willie Harris and Cristian Guzmán flied out, Ryan Zimmerman grounded out.
After Jorge Cantú grounded out and future National Dan Uggla2 popped out, Cody Ross got the Marlins' first hit: a double to left. He was left there when Ronny Paulino flied out to center. The Nationals threatened in the bottom of the second. Adam Dunn struck out swinging and Josh Willingham grounded back to Sánchez. But then Elijah Dukes singled, followed by another single by Alberto González advancing Dukes to third. The Nationals could not capitalize, though: Wil Nieves struck out.
The Marlins managed only Coghlan's single in the top of the third. The Nationals' only baserunner in the home half was a Willie Harris walk.
The scoring started in the top of the fourth. All-Star Hanley Ramírez hit Martin's second pitch out to left to give the Marlins a 1-0 lead. Cantú was out on a foul tip and Uggla grounded out to third. Ross connected for his second double of the game, but he was left at second when Paulino grounded out. In the bottom of the frame, after Dunn flied out and Willingham grounded out, Dukes doubled down the right-field line. Again, Dukes was left on base: This time it was González who struck out to leave him there.
Martin made quick work of the Marlins in the top of the fifth: nine pitches for a strikeout, a fly out, and a groundout. Sánchez nearly matched him: 10 pitches for two fly outs and a strikeout of the opposing pitcher.
The Marlins threatened again in the sixth. After Johnson doubled when Dukes couldn't corral a ball off the wall, Martin gave Ramírez an intentional free pass.3 Although Johnson advanced to third when Cantú grounded into a double play, Uggla grounded back to the pitcher to strand him. The Nationals threatened in the sixth as well. Sánchez started by getting Guzmán to foul out and Zimmerman to ground out relatively easily, but then ran into trouble. Dunn singled to right on the first pitch, then Willingham walked. Sánchez got two strikes on Dukes, then hit him in the back with his third pitch to load the bases. But Sánchez escaped the jam when González grounded out.
Martin's top of the seventh was similar to Sánchez's bottom of the sixth: two quick outs and then trouble. After he walked Cameron Maybin, pinch-hitter Ross Gload singled to center and Maybin scooted to third. Nationals manager Jim Riggleman decided to replace Martin4 with Ron Villone.5 Villone promptly gave up a single to Coghlan, scoring Maybin: 2-0, Marlins. Johnson hit one straight down so the catcher was able to throw to first for the third out.
Matt Lindstrom took over the pitching duties for Miami in the bottom of the seventh. The Nationals managed a single by pinch-hitter Pete Orr and a four-pitch walk to Guzmán, but no scoring.
Tyler Clippard, the Nationals' dependable (2.70 ERA) set-up man and sometimes closer, pitched the eighth. He started by striking out Ramírez on three pitches. He gave up a single to Cantú, but Uggla and Ross flied out to wrap up the top of the inning.
The Nationals tied the game in the bottom of the eighth. Dunn and Willingham were two quick fly outs for Reynel Pinto. Dukes earned a four-pitch walk, then pinch-hitter6 Josh Bard singled, advancing Dukes to third. Jorge Padilla ran for Bard. Nieves drew another four-pitch walk to load the bases with two outs. This time the Nationals were able to capitalize, but missed the opportunity to pull ahead. Kiko Calero took over the pitching. Pinch-hitter Michael Morse doubled, scoring Dukes and Padilla. Meanwhile, Nieves ran a few steps past second, fooling Morse into thinking he was headed for third — but he wasn't. By the time Morse realized that second was still occupied and he headed back to first, it was too late: Uggla had the ball covering first and tagged him out. But the runs had scored, tying the game, 2-2.
Now tasked with holding a tie, Mike MacDougal7 took the mound for the Nationals. His inning did not go well. Paulino singled and was replaced by pinch-runner Emilio Bonifacio. Bonifacio took second on a wild pitch to Maybin, who ended up walking on four pitches. Wes Helms then bunted Bonifacio and Maybin to second and third. Coghlan hit the first pitch he saw on the infield: Harris was able to field the ball and throw home in time to get Bonifacio. However, MacDougal was not able to escape the inning unscathed: Johnson singled to center, scoring Maybin and Coghlan. Johnson had advanced to second on the throw home, leaving first base open for Ramírez's second intentional walk of the game. The half-inning finally ended with a pinch-hit groundout by John Baker and the score 4-2, Marlins.
John Carlos Oviedo, the Marlins' usual closer, took the mound for the bottom of the ninth to try to preserve the win for the Marlins. Harris hit his sixth home run of the year on Oviedo's first pitch, narrowing the Marlins' lead to 4-3. Guzmán singled to second on the next pitch. Next up was Ryan Zimmerman. He took a ball, swung over the next pitch, and deposited the third one into the Red Porch seats in center field for a walk-off 5-4 Nationals victory. "Mr. Walk-off"8 came through: a bright spot in an otherwise dismal season for the Nationals and their fans. This was his fifth walk-off home run in four years, but the first that wasn't on a holiday (although it was Labor Day weekend).9
MacDougal was given credit for his "vultured"10 win: his first and only win of 2009.
Sources
baseball-reference.com/boxes/WAS/WAS200909060.shtml.
retrosheet.org/boxesetc/2009/B09060WAS2009.htm.
federalbaseball.com/2009/9/6/1018561/ryan-zimmermans-walk-off-hr-ends.
youtube.com/watch?v=7JbL8uJGuvA.
Notes
1 Nick Johnson had been with the Nationals since they moved to Washington in 2005. He had been traded to the Marlins just five weeks earlier.
2 Uggla wound up his career with the Nationals in 2015: sabr.org/gamesproj/game/april-28-2015-dan-uggla-homer-beats-team-paying-him.
3 Ramirez was intentionally walked 14 times in 2009. This game included his ninth and 10th intentional walks. baseball-reference.com/play-index/event_finder.cgi?request=1&year=2009&year_to=2009&id=ramirha01&divisory=1&from=button&type=b&event=15&out_type=.
4 Martin pitched a grand total of 24 games for the Nationals in 2009 and 2010, the sum of his major-league career. However, his minor, independent, and foreign career spanned at least 17 years. He even tried a comeback as a knuckleballer. Byron Kerr, "Former Nats Starter J D Martin is back, this time as a knuckleball pitcher," MASN, August 13, 2016, masnsports.com/byron-kerr/2016/08/former-nats-starter-jd-martin-is-back-this-time-as-a-knuckleball-pitcher.html. Accessed December 17, 2018.
5 The well-traveled journeyman was finishing his 12-team, 15-year career: The end of September 2009 was also the end of his major-league career.
6 Despite the number of pinch-hitters and pinch-runners in this game, none of them were September call-ups.
7 Released by the White Sox in April when he was sporting a 12.46 ERA, he was picked up by the Nationals in May. As their usual closer, he had worked his ERA down to a respectable 3.09 by this game.
8 Dan Steinberg, "How Ryan Zimmerman Got His 'Mr. Walk-Off' Nickname," Washington Post, May 20, 2015, washingtonpost.com/news/dc-sports-bog/wp/2015/05/20/how-ryan-zimmerman-got-his-mr-walk-off-nickname/?utm_term=.78f07238fd13. Accessed December 17, 2018.
9 The previous four: Father's Day 2006, Fourth of July 2006, Mother's Day 2007, and Opening Day 2008. Opening Day isn't a legal holiday, but if you're reading the footnotes in a baseball story, you probably think it should be.
10 A win is typically considered "vultured" when a relief pitcher surrenders the lead in the top of the ninth (or later) inning but his team rallies to win with him as the pitcher of record.
Additional Stats
Washington Nationals 5
Florida Marlins 4
---
Nationals Park
Washington, DC
Box Score + PBP:
Corrections? Additions?
If you can help us improve this game story, contact us.
Tags
https://sabr.org/sites/default/files/Zimmerman-Ryan-2010.jpg
600
800
admin
/wp-content/uploads/2020/02/sabr_logo.png
admin
2019-04-24 02:19:26
2020-04-17 10:23:36
September 6, 2009: Ryan Zimmerman hits fifth career walk-off home run