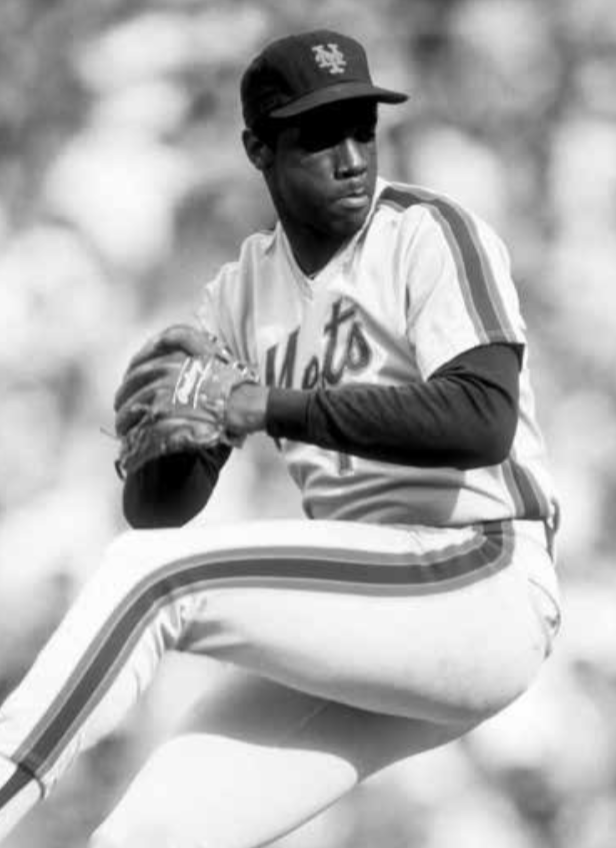 September 7, 1984: Dwight Gooden one-hits the Cubs
---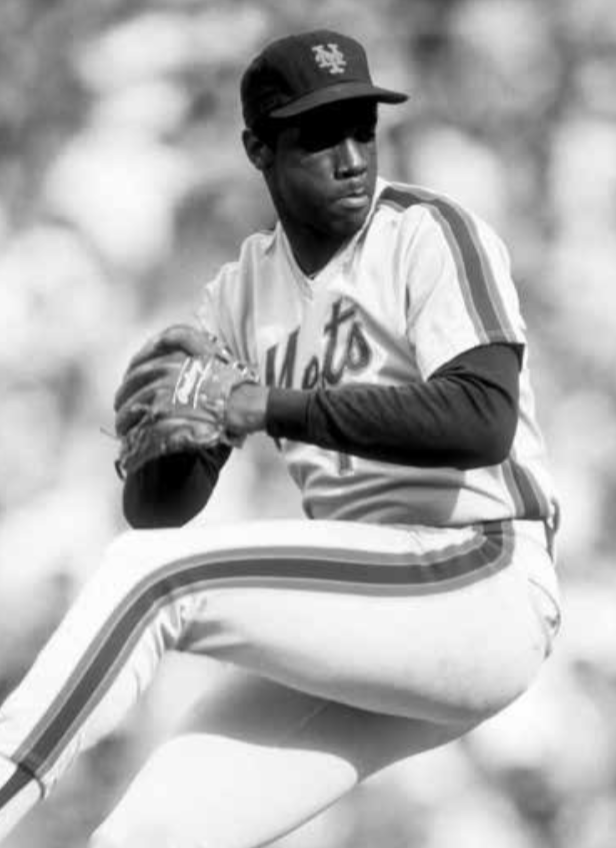 The Chicago Cubs were as hot as a summer's day as they began a three-game series with the New York Mets at Shea Stadium. They sported a 15-4 record since August 18 and increased their National League East lead over the Mets from 1½ games to 7 games.
Two reasons for this uprising on the North Side were two deals that brought instant success. Chicago acquired Dennis Eckersley from Boston on May 25, 1984. Eck pitched his way to a 10-8 record with a 3.03 ERA in 24 starts. But the real haul came three weeks later. On June 13, in a seven-player deal with Cleveland, Rick Sutcliffe came over to the Cubs and went 16-1 with a 2.69 ERA in 20 starts. The 1982 American League ERA champion had fallen on hard times (4-5, 5.15 ERA). Nobody could have predicted how well this deal would work out for Chicago. Sutcliffe was so dominating during his 3½-month stint in the new league that he was selected as the NL Cy Young Award winner in 1984.
The Mets still measured up well. It had been 1973 since their last postseason appearance, and they had been relegated to the basement of the NL East five times since 1977. But the pendulum was swinging their way as the front office put together a solid nucleus of a ballclub. Second baseman Wally Backman, third baseman Hubie Brooks, and center fielder Mookie Wilson had all made their major-league debuts while wearing Mets uniforms in 1980. First baseman Keith Hernandez and left fielder George Foster were acquired in trades to lend leadership and evoke some fear in the opposition. Darryl Strawberry, who manned right field, was named the NL Rookie of the Year in 1983 by both The Sporting News and the Baseball Writers Association of America.
Their starting pitching was young, with Walt Terrell and Ron Darling in only their second seasons. But the jewel of the staff was the youngest one of all: Dwight Gooden. The Tampa, Florida, native dominated Class-A opponents in 1983. Pitching for Lynchburg in the Carolina League, the 18-year-old Gooden posted a 19-4 record with a 2.50 ERA. He struck out 300 batters in 191 innings pitched. He earned a brief call-up to Triple-A Tidewater, beating Denver in an International League playoff game.
It was a big jump from Class A to the big leagues. But Mets skipper Davey Johnson, who managed at Tidewater in 1983, felt it was merited. "I was expecting to start the season at Tidewater and would not have been disappointed if I did," Gooden said. "I didn't think I was ready yet, but they do."1
Gooden's apprehension was squelched with a 14-8 record and a 2.98 ERA heading into the September 7 game against Chicago. He racked up 224 strikeouts, earning him the nickname Doctor K. The Cubs' Dick Ruthven (5-9 with a 4.67 ERA) opposed him, marking the fourth such time these two faced each other in '84 (with Doc holding a 2-1 edge so far).
A crowd of 46,301 packed their way into Shea for the Friday night affair. Bob Dernier led off the game with a walk, and stole second base — only to be stranded. The Mets wouldn't have as much difficulty cashing in. Backman led off the bottom of the frame with a triple to center field that soared over Dernier. He waltzed home on a fly to right field from Wilson.
The Mets held that 1-0 advantage until the third inning. New York scored five times with the big blow coming on Foster's 20th home run of the season. After a walk to Brooks, Cubs manager Jim Frey yanked Ruthven in favor of Warren Brusstar.
Meanwhile, Gooden began to exert total control of the Cubs — having not allowed a hit through four innings. Although Gooden was having his way with the Cubs batters, he also contributed on offense as well. With one down, he singled and moved to second base when Backman walked. Gooden scored on Wilson's base hit.
Keith Moreland led off the top of the fifth inning, and got aboard when he singled to third base. Third baseman Ray Knight tried to make a play on the ball hit down the line, but it was a tough chance.
"I was playing back and off the line," Knight said. "Nobody had been pulling Doc, and Moreland goes the other way and he doesn't run well. I came in at such a sharp angle, I had to catch the ball and throw it all at once. But I never got the ball out of my hand. My momentum was carrying me toward their dugout and there was no way I could throw the ball."2
Unshaken, Gooden retired the next three batters. And he had every reason not to be rattled: His offense had built a 7-0 advantage. That grew even larger when New York scored three more in the sixth to complete the 10-0 blowout. Strawberry provided two of those runs on his 21st homer of the season.
Gooden surrendered three more walks in the final three frames, but no more hits. It was the only one-hitter of his career. Doc had two hits of his own, but of more historical significance were his 11 strikeouts.
When he whiffed Ron Cey in the second inning, he surpassed Grover Cleveland Alexander's NL record of 227 strikeouts in a rookie season, set in 1911. Five days after his mastery of the Cubs, Doc fanned 16 more in a 2-0 triumph over Pittsburgh to surpass Herb Score's major-league mark for most K's in a rookie campaign. Gooden would finish with 276 — which as of 2018 remained the top mark for freshman pitchers.
"Tonight was one of my better games," said Gooden. "I felt great going into the game and I felt strong at the end."3
Frey also noticed how the 19-year-old appeared to get better as night wore on. "He threw a couple of fastballs to Henry Cotto in the ninth inning that were as hard as he threw in the first inning," the Cubs manager said. "He's just an outstanding pitcher, what else can you say? You're going to hear that for 15 more years."4
As for coming up short of a no-no, Gooden placed the emphasis on the greater priority. "I'm not disappointed. The hit doesn't matter. I just wanted to win the game."5
Gooden ended the season with a 17-9 record and a 2.60 ERA. To nobody's surprise, he was selected the NL Rookie Pitcher of the Year by both The Sporting News and the BBWAA.
Gooden had the hardware, but the Cubs won their season-long battle with the Mets — taking the NL East by 6½ games. New York improved further, but ended up bridesmaids again in 1985 with the St. Louis Cardinals emerging as the victor. But those two near misses bolstered the motivation to complete the deal in 1986.
This article was published in "Met-rospectives: A Collection of the Greatest Games in New York Mets History" (SABR, 2018), edited by Brian Wright and Bill Nowlin. To read more articles from this book at the SABR Games Project, click here.

Sources
In addition to the sources cited in the Notes, the author also consulted Retrosheet.org.
https://www.baseball-reference.com/boxes/NYN/NYN198409070.shtml
http://www.retrosheet.org/boxesetc/1984/B09070NYN1984.htm
Notes
1 Jack Lang, "Rookies Earn Way Into Mets' Rotation," The Sporting News, April 9, 1984: 23.
2 Murray Chass, "Gooden Pitches 1-Hitter and Strikes Out 11 Cubs," New York Times, September 8, 1984: 27.
3 Murray Chass, "Mets Top Cubs, 10-0," New York Times, September 8, 1984: 28.
4 Ibid.
5 Chass, "Gooden Pitches 1-Hitter."
Additional Stats
New York Mets 10
Chicago Cubs 0
---
Shea Stadium
New York, NY
Box Score + PBP:
Corrections? Additions?
If you can help us improve this game story, contact us.
Tags
https://sabr.org/sites/default/files/GoodenDwight.png
600
800
admin
/wp-content/uploads/2020/02/sabr_logo.png
admin
2019-10-16 13:19:39
2020-04-17 10:22:28
September 7, 1984: Dwight Gooden one-hits the Cubs