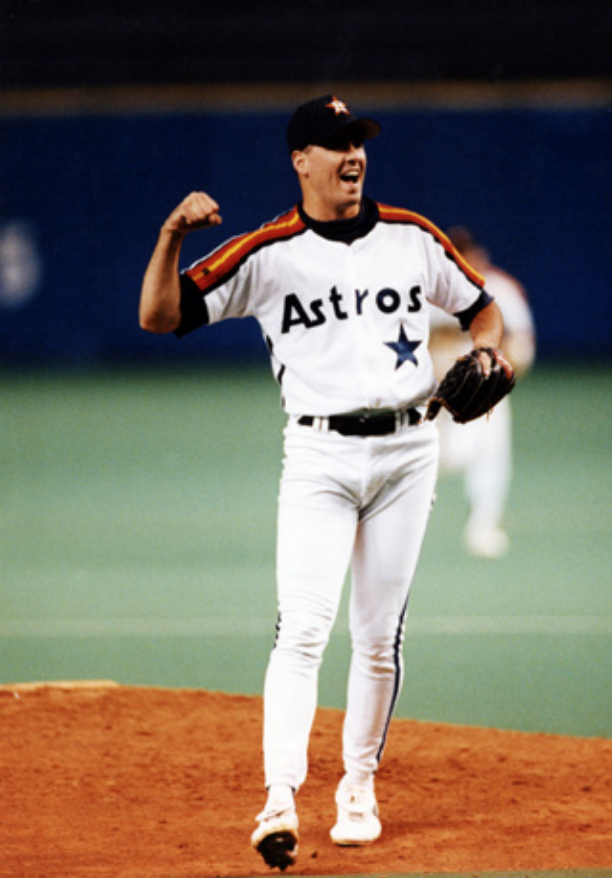 September 8, 1993: Darryl Kile no-hits the Mets at Astrodome
---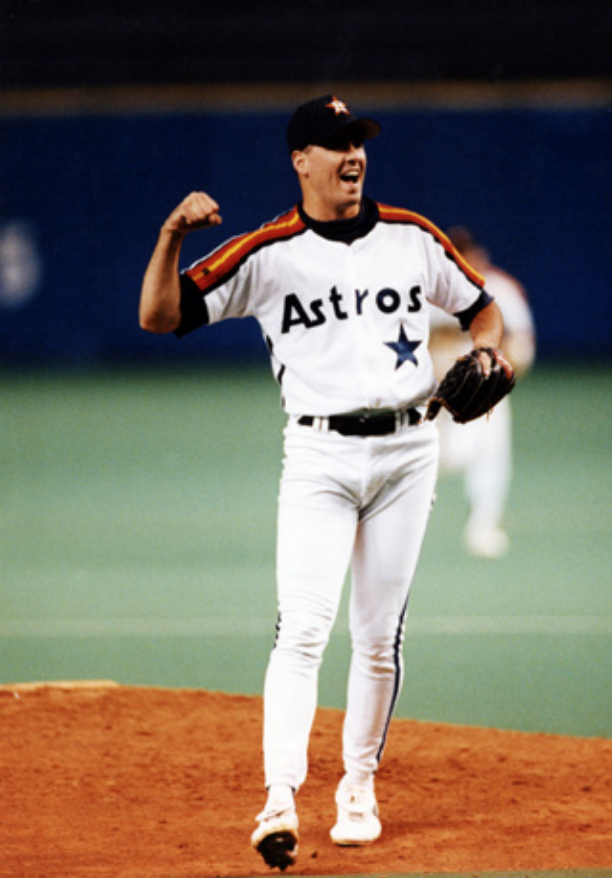 In 1992 the Houston Astros finished fourth in the National League Western Division, with an 81-81 record. Determined to upgrade its starting pitching, the team made two major free-agent signings within a three-day span in December. First, on December 1, the Astros landed a former Cy Young award winner, right-hander Doug Drabek, for $4.25 million; then, on the 4th, for $3.75 million, left-hander Greg Swindell, who had won 72 games in his seven major-league seasons. Right away, the two were penciled in atop the Astros' starting rotation.
Joining the two newcomers as the third and fourth starters in the rotation were two holdovers, right-handers Mark Portugal, entering his fifth season with Houston, and Pete Harnisch, a 1991 All-Star who had contributed 21 wins in his two seasons with the Astros.
As for his fifth starter, Houston manager Art Howe anticipated a battle in the spring between two young right-handers, Brian Williams, a former first-round draft pick; and 24-year-old Darryl Kile who, in 44 starts over the past two seasons, had won just 12 of 34 decisions, yet had shown flashes of brilliance. The Astros liked the potential of their starting rotation.
In baseball, as in life, the best-laid plans often go awry, particularly when free agency is concerned. Certainly no one involved with shelling out $8 million for two top-of-the-line starters could have imagined that they would in 1993 produce a combined record of 21-31, and that the other three journeymen starters would pick up the slack in dramatic fashion, by combining for an impressive record of 49-21, to help lead the Astros to an 85-77, third-place season. Such, though, is why they play the games.
Rarely in baseball history has a team reaped the performances that the Astros' third, fourth, and fifth starters produced in 1993. Portugal, who finished 18-4, and Harnisch, 16-9, each with sub-3.00 ERAs, fashioned what became the finest seasons of his career. But it was Kile (15-8, 3.51), a future 20-game winner, who that season enjoyed the trio's finest hour. It would have been hard to see it coming, as during the spring he wasn't even assured a spot in the starting rotation. Yet that season, Kile had perhaps a little extra motivation.
Throughout the year, Kile pitched with a heavy heart. His sorrow began on the first day of spring training. As camp got under way and he prepared to battle Brian Williams for a rotation spot, he learned that his father, David, had developed a blood clot in the brain. Kile left camp to be with his father. Then, on February 24 David Kile died of a heart attack.1
During his time away from the team, Kile played catch with his brother. When he returned to camp a week later, however, Kile understandably pitched poorly, and his chances to claim the fifth starter's spot seemed precarious. Psychologically, though, Kile maintained a strong frame of mind.
"I got to say goodbye to him," Kile reasoned during a training-camp interview. "That was the important thing. Now, I have to go back to work and try to win a job. I worked hard all winter, and it's time to make it pay off."2
Yet his father would never be far from his thoughts. "I don't think I'll ever get over it," Kile said, "because my father was my best friend. But in order to be a man, you've got to separate your personal life from your work life."3
After several shaky outings, Kile improved; during one spring performance, he threw five shutout innings and struck out nine. "It was the best I've ever seen him throw," manager Howe raved. "He didn't throw one pitch above the belt. I wish he could bottle the way he threw today."4
As training camp ended, Kile won a spot in the rotation. But with the Astros' limited need for a fifth starter over the first month, he began the year in the bullpen. Through his first 11 appearances, Kile made five starts and won four games (one in relief). Then, from the first of week of June through the remainder of the season, he pitched exclusively as a starter. He was on top of his game.
Although the Astros stood 20-13 by mid-June in games started by the bottom third of the rotation, their record in starts made by Drabek and Swindell was just 12-15. Told of the comparison and asked specifically about Kile's performance, Howe said, "That's interesting because you know the big guys are going to start winning some more games. Darryl's pitched very well in what probably is the toughest role [fifth starter] for a pitcher. He's got good stuff, period. When he throws strikes, he can be very tough."5
As the season progressed, Kile kept getting tougher, never more so than on the evening of July 3 at home versus the Cardinals. That night, as he ran his season's record to 9-1, Kile not only tossed his first major-league shutout, but he also hit his first career home run. By game's end, his consecutive scoreless innings streak had reached 23⅔ innings and his ERA dropped to 1.99. Kile endured a few bumpy starts after that but by early September his ledger stood at 14-6 with a 3.33 ERA. The stage was set for Wednesday night, September 8, at the Astrodome against the New York Mets.
Playing out the string toward an eventual 103-loss season, the Mets were an abysmal team. The previous night, in the second of this three-game series in Houston, New York had dropped its fifth consecutive game. This night, opposing Kile, the Mets sent to the mound 39-year-old left-hander Frank Tanana, whose record stood at 6-14 in what would be the final season of a 21-year career. The game proved to be no contest. In the second inning, the Astros' Ken Caminiti blasted his 12th home run of the season to put Houston on the board, 1-0; in the third inning, the Astros got two more runs on three hits off Tanana, including two doubles; in the fifth inning, Tanana's last, Houston's Andujar Cedeño connected for his seventh home run; and in the bottom of the eighth, the Astros capped their scoring when two errors by the Mets led to three unearned runs. In all, Houston scored seven runs in the game.
While his teammates generated plenty of offense, Kile mowed down the Mets, with the exception of one bizarre play. After he retired the first 10 Mets batters in order, Kile walked Jeff McKnight in the fourth inning. He retired Eddie Murray for the second out. On a pitch to the next batter, Joe Orsulak, the ball got away from catcher Scott Servais, and McKnight took off from first base. Servais, thinking the pitch had hit Orsulak, failed to chase the ball, so first baseman Jeff Bagwell charged, grabbed the ball, and attempted to throw out McKnight at third. Bagwell's throw sailed wide and McKnight, who never stopped running, scored. Kile was charged with a wild pitch and Bagwell's error made the run unearned.
That was it for the Mets. In each of the final five innings Kile retired New York in order, with the help of two outstanding defensive plays in the seventh by third baseman Caminiti and shortstop Cedeno. As Kile took the mound in the top of the ninth, the crowd of 15,684 stood as he retired Todd Hundley on a grounder, struck out pinch-hitter Tito Navarro, and then, with a 1-and-2 count, got pinch-hitter Chico Walker to swing and miss on a breaking ball. With his strikeout of Walker, his ninth of the game, Kile pumped his right fist and was mobbed on the mound by his teammates amid an embrace from Servais. Kile had thrown the ninth no-hitter in the Astros' history.
Afterward in the locker room, his hair matted from a postgame dousing, Kile reflected on his accomplishment. "The only thing I can think of that would be more exciting would be to win the seventh game of the World Series," he said. "I thought I'd be nervous in the ninth but I just wanted to make certain I kept doing the things that got me that far."6
There was, too, from reporters the obligatory question about Kile's father.
"It's something I wish he could have been here to see and be a part of, and who knows, maybe he did."7
Of that, there could be no doubt.
This article appears in "Dome Sweet Dome: History and Highlights from 35 Years of the Houston Astrodome" (SABR, 2017), edited by Gregory H. Wolf. To read more articles from this book at the SABR Games Project, click here.
Photo caption
Darryl Kile pitched the Astros' sixth no-hitter in the Astrodome – and ninth in franchise history – against the New York Mets on September 8, 1993. In 1997 he posted a 19-7 record with a 2.57 ERA. (Courtesy of Houston Astros Baseball Club).
Notes
1 Darryl Kile himself died at the age of 33 of a heart attack, caused by 90 percent blockage of two coronary arteries, on June 22, 2002, while pitching for the St. Louis Cardinals.
2 The Sporting News, March 8, 1993.
3 The Sporting News, March 29, 1993.
4 The Sporting News, March 8, 1993.
5 The Sporting News, June 21, 1993.
6 Associated Press, Sandusky (Ohio) Register, September 9, 1993.
7 Ibid.
Additional Stats
Houston Astros 7
New York Mets 1
---
Astrodome
Houston, TX
Box Score + PBP:
Corrections? Additions?
If you can help us improve this game story, contact us.
Tags
https://sabr.org/sites/default/files/Screen%20Shot%202018-09-25%20at%2012.28.14%20PM.png
600
800
admin
/wp-content/uploads/2020/02/sabr_logo.png
admin
2018-09-25 12:25:44
2020-04-17 10:23:55
September 8, 1993: Darryl Kile no-hits the Mets at Astrodome