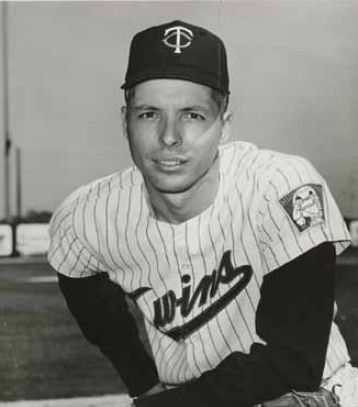 September 8-9, 1965: Chicago showdown: Twins take two at Comiskey Park
---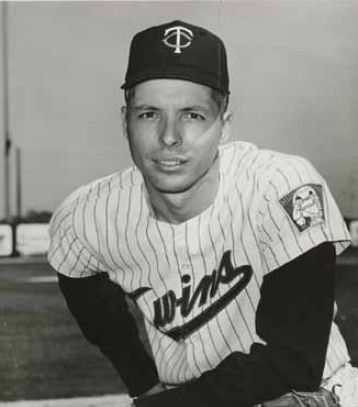 They called it the Chicago showdown. The Minnesota Twins, in first place in the American League since May 30, held a five-game lead over the Chicago White Sox, winners of 26 of 39 games leading up to a crucial two-game series between the two Midwestern contenders on September 8 and 9 at venerable Comiskey Park.
Minnesota had built a seemingly comfortable lead with a record of 61wins and 40 losses after Camilo Pascual blanked the Washington Senators, 6-0, on May 30. Throughout the campaign, the Twins picked up for each other when slumps or injuries required it. In critical series against their hottest pursuers, the White Sox and the Baltimore Orioles, they had a knack for winning by one run or in their last at-bat. They won three of four games against the Orioles July 30-August 2, each victory by one run. Jimmie Hall's August 2 walk-off homer off rookie Jim Palmer punctuated the series and occurred on the same day that Harmon Killebrew dislocated an elbow that kept him out of the lineup until September 21.
A major change from the previous years was a new approach that combined the Twins' traditional home-run slugging with sound fundamentals – hitting the cutoff man, taking the extra base and stealing bases to create more scoring chances. Shortstop Zoilo Versalles became a star and won the American League Most Valuable Player award, fulfilling manager Sam Mele's prediction after the showdown series.1 Pitcher Jim "Mudcat" Grant learned how to make his fastball and curveball spin and won 21 games. Southpaw Jim Kaat led the league with 42 starts, won 18 games, and beat the White Sox four times without a loss in 1965. Relief pitcher Al Worthington, a National League castoff with 10 seasons in the big leagues and a few minor league stops along the way, saved 21 games. Injuries to Killebrew, Pascual, right fielder Tony Oliva, catcher Earl Battey, and left fielder Bob Allison meant that youngsters had to step up, too. Rich Rollins took over at third base, Don Mincher started at first with Killebrew out, and left fielder Sandy Valdespino, signed in 1956 when the Twins were the Washington Senators, made some dazzling catches in the outfield and got key hits during the stretch drive. Twenty-year-old Dave Boswell and 21-year-old Jim Merritt combined to win11 games in their rookie seasons while Pascual nursed an injured back.
By September it was clear that the White Sox employed the same team-oriented formula that had worked for Minnesota. They won 26 of 39 games from July 29 to September 2, including a 10-game winning streak from August 14 to August 22 during which seven different pitchers got credit for victories and knuckleball relievers Hoyt Wilhelm and Eddie Fisher combined for five saves. On September 2 Chicago swept a doubleheader from Baltimore to pull within 6½ games of the leaders. "My pitching is right again, we've got the balance I like," said Chicago manager Al Lopez, who had three starters with 60 or more RBIs going into the showdown series and four others with between 40 and 52 RBIs. "Early-season injuries killed us," general manager Ed Short said. "I'm amazed we still have a shot but we do have a shot. The thing I like best is the balance. It's not a one-man deal. … Everybody is taking a turn at picking somebody else up." The "ex-cripples, zombies, and also-rans" who once trailed by 11½ games were breathing down the Twins' necks.2
The White Sox had invaded Metropolitan Stadium on Labor Day weekend and beat the league leaders two games out of three. The Twins won the Friday night opener, 6-4. On Saturday, September 4, journeyman John Buzhardt – having his best season (13-8, 3.01) – beat Grant, 5-4, before 27,078 fans. The next day, Joe Horlen pitched a three-hit shutout to beat Jim Perry with 39,136 fans on hand. "The Twins have been out in front too long," said White Sox relief specialist Eddie Fisher, who made 82 appearances in 1965, winning 15 and saving 24 with his signature knuckleball. "Nobody has really challenged them. Now that we're closing in, let's see if they can take it."3
They took it. On Wednesday night, September 8, Mudcat Grant again took the mound against Buzhardt and struggled from the start. Don Buford walked and Floyd Robinson reached on second baseman Jerry Kindall's error. Buford moved to third on Earl Battey's errant pickoff throw and then scored when John Romano lofted a deep fly ball to Sandy Valdespino in left, with Robinson taking second. The Sox led, 1-0. Pete Ward's single to center scored Robinson with an unearned second run before Moose Skowron, the White Sox' RBI leader at the time, bounced into a 6-4-3 double play to end the inning. The Twins trailed, 2-0.
Minnesota's first scoring threat came when Rich Rollins, starting at third base with Killebrew still nursing a dislocated elbow, opened the third inning with a single to center. Kindall's poke to left put the tying runs aboard for Grant, who batted .155 that season but had five extra-base hits and would stroke a homer in the World Series. Grant whiffed but Zoilo Versalles brought Rollins home from third with a fly ball to left fielder Tommy McCraw to slice the White Sox' edge to 2-1.
In the fourth Grant pitched his first perfect inning and kept the White Sox off the scoreboard for the rest of the night, though he had to retire Ron Hansen on a comebacker with Skowron and McCraw on base in the sixth. Minnesota failed to provide any offensive help through the sixth inning. It would take another come-from-behind victory. So far, the Twins had won 20 games in the seventh inning or later, not including an 11-5 record in extra-inning games.
Mincher led off the seventh. A large, bespectacled man (6-feet-3, 205 pounds) with deadly left-handed power who originally signed with the White Sox in 1956, he had one thought in mind: Tie the game. Instead, he bounced easily to Skowron at first base. But Battey singled to center. Jimmie Hall, who had portside power similar to Mincher's and had hit 76 home runs for the Twins in nearly three seasons, drove a hanging curve from Buzhardt over the wall for his 19th home run and 75th and 76th RBIs – his first round-tripper since August 2. It gave the Twins a 3-2 lead. For nearly a month, Hall had complained of a "tired bat," with 21 hits in 77 at-bats during one stretch but no home runs. Flirting with .300 for much of the season, Hall said, "I don't really care about the average. I just want to bat in some runs and help the club. That's what we need right now – runs."4
With one out in the bottom of the seventh, Grant faced pinch-hitter Smoky Burgess, a master at the craft who in 1965 led the majors with 20 pinch hits in 65 at-bats, a .308 average. He had been in baseball since 1944, when Grant was 9 years old. Burgess "whirled like a merry-go-round in fishing for the first pitch," Chicago Tribune columnist Dave Condon reported. Eventually Smoky met the ball and it carried to the opposite field but right into the glove of Valdespino for the second out. Lopez's decision to use Burgess was all about Grant. "Well, if I didn't use him at that opportunity, I might not have had the chance to use him at all," the skipper said.5 Next, Buford – a former football player at the University of Southern California and the White Sox leadoff hitter – bounced to Kindall and Grant got ready to lead off the eighth inning.
Hoyt Wilhelm, on in relief of Buzhardt, struck out Grant, who took a dazzling knuckler for a third strike. The V&V Boys – Versalles and Valdespino – went down easily and Grant took the hill for the eighth with a 3-2 lead. Romano walked with one out, and with two out, Grant faced Skowron with pinch-runner Al Weis on second. A .205 lifetime hitter against Grant with 3 home runs and 7 RBIs, Skowron flied out to Oliva to bring yet another one-run game into the ninth inning, fertile ground for late-season Twins victories.
Oliva and Mincher both popped out on Wilhelm's fingertip specialties. Battey singled to left but Hall grounded out to Buford, leaving it up to Grant and the defense to give the Twins a six-game lead. McCraw bounced to Kindall and Hansen flied out to Valdespino. With one out left, Lopez sent Danny Cater up to hit for Ken Berry, despite the light-hitting center fielder's recent tear of four home runs in seven games. Cater popped to Kindall, who squeezed the baseball with his glove to preserve the 3-2 victory. Minnesota led by six games.
"We were lucky to get even two runs," Lopez lamented. "That Grant can sure turn over the ball."6 Grant had learned from pitching coach Johnny Sain to add spin to his pitches. On the occasion of his 18th victory of the season, Grant said, "I don't throw the fastball any harder but the spin does something for it."7
Joe Horlen, who had shut out the Twins just four days earlier, got the starting call the next day for the White Sox against Jim Kaat, who had beaten Chicago three times in '65 and was seeking his 15th win. A small Thursday afternoon gathering of 5,786 would witness perhaps the most important game of the pennant race.
The Twins "cannonaded their pursuers with a 10-4 drubbing," wrote Condon.8 Oliva delivered a sacrifice fly to center field in the first inning for a 1-0 lead. Versalles had singled, moved to second on Valdespino's sacrifice bunt, gone to third on a wild pitch, and scored on Oliva's drive. Maximum efficiency; whatever it took to win. Kaat set Buford, Robinson, and Danny Cater down in order.
In the second inning the Twins broke the game open against a beleaguered Horlen. Battey and Hall singled to center and Rollins – a .249 hitter for the season – singled to left, scoring Battey and sending Hall to third. Kindall went the other way on Horlen and his sacrifice fly to Floyd Robinson in right field was his sixth and final one of the season to make it 3-0. Kaat grounded out to shortstop Hansen, sending Rollins to second, and then Versalles delivered a single to center for a 4-0 lead. Valdespino's opposite-field single sent Horlen to the showers.
What was different from Horlen's shutout just four days before? Sam Mele observed that his hitters were pounding Horlen's low curves into easy outs in the first encounter. "I told my players to move up to the front of the plate on him," Mele said. "His ball was higher down here in Chicago."9
The White Sox finally scored on Kaat in the bottom of the fifth. Romano walked and Skowron singled to right. Ward forced Skowron at second. On Hansen's bouncer to the mound, Kaat's Gold Glove flicked the ball to Kindall, who nailed Hansen at first. Romano scored Chicago's first run and Ward reached second. With a chance to cut the Twins' lead in half, Berry popped out to Rollins.
Typical of that season, Minnesota responded with two more runs in the sixth. With two down, Rollins singled, Kindall walked, and Kaat helped himself with his second hit of the game, off Buford's glove. The runners scored when Buford made a wild throw. It was 6-1 when White Sox pinch-hitter Jim Hicks led off the White Sox sixth with a double to right field and scored on Robinson's sacrifice fly after Buford beat out a dribbler to the mound. Kaat bore down, retired Cater on a fly to right and caught Romano looking at strike three.
The cannonading continued in the seventh inning. Valdespino and Oliva hit back-to-back doubles off Fisher. The slugging cleanup hitter Mincher then shocked the baseball world with a sacrifice bunt. Oliva moved to third and, yes, scored on Battey's single, an opposite-field hit to right. Hall's single sent Battey to third. With second base open, Hall stole. Rollins got fooled on a knuckler and Kindall flied out. It was now 8-2.
When Hansen and Berry singled to put runners on the corners with two outs in the bottom of the seventh, Mele summoned Al Worthington to wrap up the sweep. Gene Freese, purchased to platoon with Ward at third base, was due to pinch-hit against Kaat but Burgess, a lifetime .455 hitter against Worthington, got the call instead. Lopez must have known about his veteran catcher's track record against the Twins' closer. Burgess smoked a double to center field, scoring Hansen, making it 8-3, and sending Berry to third. Worthington took it as another day against Smoky Burgess and calmly struck out Don Buford, leaving Burgess at second. The White Sox threatened again in the bottom of the eighth when Floyd Robinson pulled a single to right and Skowron singled to left two outs later. Now Worthington had to face Pete Ward, tough in the clutch despite a .249 average and a 2-for-10 career record against the Twins closer. Ward smacked a line drive toward right but Kindall speared it for the third out.
Greg Bollo, who made his major-league debut on May 9 against the Twins, retired five batters in a row before backup catcher Jerry Zimmerman walked and Hall hit his second home run of the series, his 20th (and last) of the season, and the lowest total of his three-year career.
Closing out the game continued to be a struggle for Worthington, Minnesota's gray-flecked redhead who had pitched briefly for the White Sox in 1960. Versalles booted a grounder to start the ninth but Worthington recovered and struck out Berry. Marv Staehle, called up in September and with one official major-league at-bat, singled to right field as Hansen went to third. Buford's fly ball to center field scored Hansen to make it 10-4. Robinson hit a line drive right at Worthington, who gloved it for the final out. The Twins led by seven with 19 games to play.
"We're not in," said Mele. "We're still in it," said Lopez.10
Mele enjoyed the attention the Chicago showdown received and hoped to reach his first World Series after missing his opportunity as a player for the 1948 Boston Red Sox, who lost a one-game playoff to the eventual world champion Cleveland Indians. "It's different when you're a winner," he said. "You walk down the main streets and they call you Mister."11 Mele not only dealt with injuries and the repeated question of whether the Twins would win the pennant. His wife, Connie, was expecting her fifth child. "She's got more on her mind than I have," Mele said from the shower in Comiskey Park's visiting locker room. "They'd better reserve a bed for me at a Minnesota hospital," a confident Connie said from the couple's nine-room home in Quincy, Massachusetts, "because I'm not going to miss [the World Series] for anything."12
The two victories at Chicago started a seven-game winning streak and the Twins clinched the pennant on September 25. They won two of three games at Baltimore on September 28-30 that no longer mattered. The White Sox dropped their next two games but won 11 of their last 13, including an anticipated three-game sweep of the Kansas City Athletics that some thought would give Chicago a pennant. As it was, they finished seven games out and failed to gain any ground in the standings after those back-to-back losses to Minnesota.
The Chicago showdown was a culmination of the Twins' consistent play throughout the season. They had a winning record every month and winning records in extra-inning games, one-run games, and against both right-handed and left-handed pitchers. They also did not care where they played: The Twins won 51 games at home and 51 games on the road, and had winning records against seven of nine teams while outscoring their opponents more on the road than at home. The home-run total dropped from 221 in 1964 to 150 but the Twins scored 37 more runs and allowed 78 fewer runs than in 1964 while stealing 92 bases in 125 attempts (.736). The 1965 pitching staff had 12 shutouts to 3 for opponents, compared with 1964 when the Twins were blanked 14 times and recorded only 4 shutouts. The 1965 team did whatever it took and took everything it could get. And it gave the Twins and their fans, who led the league in attendance, their first pennant.
The night of Kaat's victory in Chicago, the Dodgers' Sandy Koufax pitched a perfect game against the Chicago Cubs. The Twins, focused on winning the franchise's first pennant in 32 years, probably paid little attention but they would witness the same pitching dominance a month later with a World Series championship on the line.
Sources
The Sporting News
Baseball-Reference.com
ProQuest Historical Newspapers
Notes
Additional Stats
Minnesota Twins 3
Chicago White Sox 2
Minnesota Twins 10
Chicago White Sox 4
---
Comiskey Park
Chicago, IL
Box Score + PBP:
September 8:
September 9:

Corrections? Additions?
If you can help us improve this game story, contact us.
Tags
http://sabr.org/sites/default/files/JimmieHall.JPG
600
800
admin
/wp-content/uploads/2020/02/sabr_logo.png
admin
2016-07-30 17:00:00
2020-04-17 10:26:03
September 8-9, 1965: Chicago showdown: Twins take two at Comiskey Park