1951 Giants: Foreword by Monte Irvin
This article was written by No items found
This article was published in 1951 New York Giants essays
---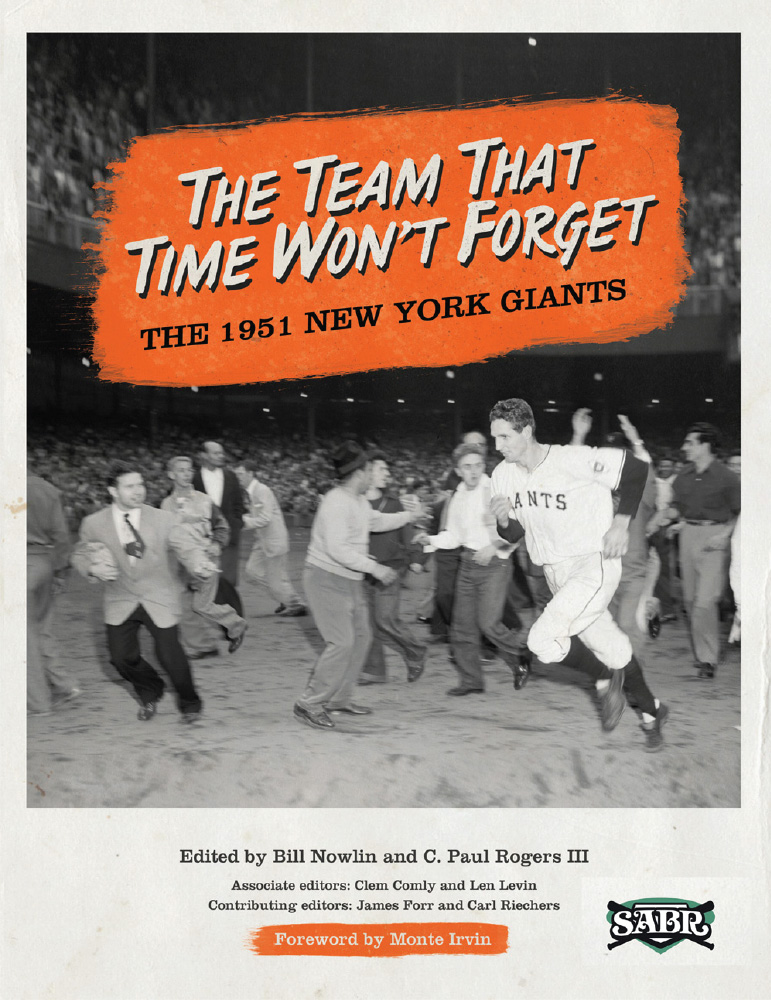 In 1951 I was 32 years old, but because of segregation I was only entering my second full major-league season. We'd finished third in 1951, just five games behind Philadelphia's Whiz Kids, and now most of us had been together for a year and had developed into a cohesive team. Going into the season, we knew we were a good club and believed we'd contend for the pennant. We had pretty high expectations, fueled, of course, by our fiery manager, Leo Durocher.
Along with the Brooklyn Dodgers, we were one of the first truly integrated teams in baseball.
We started the season with three black players, Hank Thompson, Ray Noble, a black Cuban, and me, and by late May we had four when Willie Mays joined us from the Minneapolis Millers. Negro Leagues legend Artie Wilson was also with us briefly early in the season. But we got along like a big happy family. When I first joined the Giants in July 1949, Bobby Thomson and Whitey Lockman were particularly welcoming and friendly. But all of the white players were high-class guys and we had lot of respect for each other. We'd kid each other and generally had a lot of fun together. After Mays settled in, he really added to the looseness of our clubhouse with his infectious humor and pranks.
People tend to forget that in spite of our lofty goals, the '51 Giants got off to a miserable start. After winning two of our first three games, we managed to lose 10 games in a row. Thus, on April 29 we had a 2-12 record and were in last place, already 7 1/2 games out of the lead. This is where having a manager like Durocher really made a difference. He could always make a bad situation better and was upbeat when we lost, saying we'd get them tomorrow. If we won, he'd say, okay, let's get them again tomorrow. He had a wonderful way with words and would always say something to pick us up.
By the way, I always got along well with Durocher. He was the manager and I was a player, so I just did what he told me to do on the ball field and he expected no less.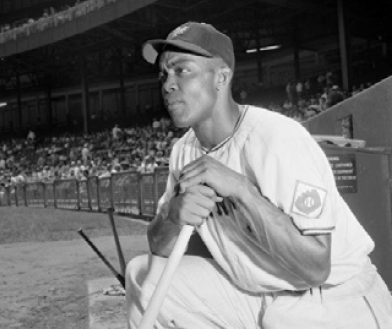 Leo asked me to room with Willie Mays when he was called up in late May, and of course I was happy to do so. I was supposed to show Willie the ropes and we spent a lot of time together off the field. We got along very well and have never said an unkind word to each other then or in all the years since.
Although Willie had a little trouble adjusting to major-league pitching at first, he caught everything in sight and could throw runners out from about anywhere in the outfield. In fact, when Willie joined us Durocher took the other outfielders, Don Mueller and me, aside and told us to let Willie have any ball he could get to since he had tremendous range and such a rifle arm. It got to the point that it was a treat to come to the ballpark each day to see what great catch or throw Willie would make.
To tell the truth, when we were 13 games behind in the middle of August, I was not thinking about winning the pennant. I was just hoping we could start winning more games and draw some more fans. After we ran off a 16-game winning streak, Durocher was careful not to put too much pressure on us. He was always upbeat and positive. But he knew we played better when we were relaxed, so he would say, "Let's see how close we can come to the Dodgers," not "Let's catch them."
Durocher was also great at making changes on the field and using his pitching staff well. For example, about the time Mays joined us he had Whitey Lockman and I switch positions, with Whitey going to play first base and me going to left field from first base. I was much more comfortable in the outfield and had my best season in the majors while Lockman turned out to be a natural at first. Leo also moved Bobby Thomson to third base later in the season and we all know how that turned out.
Of course, we did catch the Dodgers on the last day of the regular season and then split the first two games of the best two-out-of-three playoff that led to Bobby Thomson's "Shot Heard Round the World." I was the third hitter in the bottom of the ninth in the third game and came to bat with Alvin Dark perched on third and Don Mueller on first with no outs. We were down 4-1 and maybe I was trying too hard to tie score, but I hit a foul pop up to Gil Hodges for the first out. I was very disappointed in myself, but today I'm just glad that I didn't hit into a double play to kill the rally. By the time Thomson came to the plate the score was 4-2 thanks to a double by Lockman that drove in Dark and sent Mueller to third, where he broke his ankle sliding into the base.
Willie Mays would have been the next hitter and I remember looking over to the on-deck circle and wondering how the 20-year-old phenom would respond to this kind of pressure. We never did find out. After Thomson took the first pitch for a strike, Durocher, who was coaching third, came halfway down the line and shouted, "If you ever hit one, hit one now." And two pitches later, that is exactly what Thomson did.
After our incredible stretch run and dramatic playoff victory, the World Series against the Yankees was a little anticlimactic. Still, I was disappointed when we lost in six games. I've often thought that losing Don Mueller to a broken ankle in the last playoff game really hurt our chances because Don had been our hottest hitter the last month or so of the season. I managed to have an outstanding Series, batting .458 in 24 at-bats. And even though we lost, I had my biggest individual thrill in baseball in the first inning of the first game when I stole home against Allie Reynolds to put us into the lead of a game we won 5-1. But it was still very disappointing when we lost the Series.
Although a lot has been written about the 1951 season and the so-called "Miracle of Coogan's Bluff," nothing has covered the '51 Giants with the depth and breadth of this SABR project. It not only contains detailed biographies of every player that appeared in even a single game for us that year, but has articles on all the coaches as well as the sportswriters and broadcasters who covered us. It also captures the high and low points of the season and certainly will be the definitive work on that magical year.
As for me, I've always wished that I could have gotten to the big leagues earlier in my career, but I'll be forever grateful that I made it in time to play for the New York Giants in that historic 1951 season.
MONTE IRVIN was the starting left-fielder and leading hitter for the 1951 New York Giants. He was for many years a star in the Negro Leagues before breaking into the major leagues with the Giants in 1949 at 30 years of age. He played in the big leagues for eight years before retiring in 1956 after a season with the Chicago Cubs. He was elected to Baseball's Hall of Fame in 1973. A SABR member since 2000, Monte's memoirs titled "Nice Guys Finish First—The Autobiography of Monte Irvin" (with James A. Riley) were published in 1996.
https://sabr.org/wp-content/uploads/2020/03/research-collection4_350x300.jpg
300
350
admin
/wp-content/uploads/2020/02/sabr_logo.png
admin
2017-06-13 19:01:44
2021-10-12 01:03:29
1951 Giants: Foreword by Monte Irvin