1967 Red Sox: Scouting the opposition with Frank Malzone
This article was written by Bill Nowlin
This article was published in 1967 Boston Red Sox essays
---
Before the Boston Red Sox faced the St. Louis Cardinals in the World Series, they sent Frank Malzone, a former All-Star infielder, to scout the opposition.
---
"It was a great thing the club did in assigning Malzone to scout the Cardinals. He knows just what to look for, and for me it was just great. He tells me what I want to know — how a guy pitches in certain situations, where he likes to pitch." — Carl Yastrzemski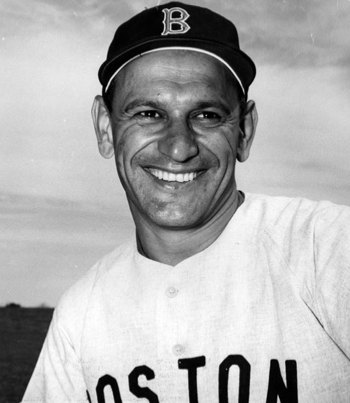 Bob Gibson told reporters that he expected to do better against the Boston Red Sox than against National League opponents simply because "the Red Sox don't know me as well." Yaz admitted as much before the Series began. "I don't know much about the Cardinals, except for a few exhibitions, but I do know they are a solid team," he told the Boston Record American's Larry Claflin, adding that Frank Malzone had been scouting St. Louis and the team was convening a meeting the day before the Series to discuss their players.
Malzone had played with the Red Sox for 11 years, then closed out his career with the California Angels in 1966. When Boston let him go after the 1965 season, Dick O'Connell told him to call after he finished his playing days. "We'll have something for you," O'Connell told their eight-time All-Star third baseman. Malzone wanted to stay in the game and when he came back to Boston after the '66 season, he called and spoke to Farm Director Neil Mahoney. Malzone worked all year, scouting around New England with area scout Jack Burns, learning the ropes. "He taught me a lot about scouting," Malzone said.
With the Red Sox still very much in the race, he spent most of September working as an advance scout following the Minnesota Twins. He was on his own. "They needed somebody to go in and watch Minnesota before we played them at the end of the year. I watched them for about 10 days. I was new to scouting and didn't really know what to expect when I came back. Next thing I know I'm going upstairs to a big meeting with all the wheels — Dick O'Connell, Haywood Sullivan, Dick Williams, Kasko…
"I was sitting at the big table and I just told them what I saw with that Minnesota ballclub, coming off being a player. It was a little different from what scouting is today. There was no computer involved. No numbers involved. It was just flat out: What can a guy do to hurt us? Basically, what it was — just some information that you'd spot, little things that can help you win a ballgame. A scout's not going to win a ballgame, but he can help win a ballgame. The players are going to win it.
"The way I approached it anyway, I just told them what I saw and the guys I wouldn't let beat us. There were a couple of guys on the ballclub that were struggling. The big thing was not let the big guy beat you — Harmon Killebrew. I just flat out said it: 'If I was coaching, I wouldn't let this guy beat me. He's done it before. He loves hitting in this ballpark. I wouldn't let him beat us. If you have to, I would just walk him and pitch to the next guy.' "
Jim Lonborg took in the advice. The crucial October 1 game was the first time in his career he had beaten the Twins. "I followed my game plan," he told Fred Ciampa of the Boston Record American after the game. "I kept the ball low, pitched around Killebrew and went to sliders and sinkers when things got rough."
While he was on the road, there were no phone conversations back to Fenway Park every night. Just the meeting upstairs before the series began, both the final games with the Twins and the World Series with the Cardinals. Malzone was perceptive and he made a good impression on ownership. "Everybody was there. Mr. Yawkey was there. For some unknown reason, he liked what I said. Later on, I heard when I said don't let Harmon Killebrew beat us, he liked that a lot. He told Dick O'Connell, 'He's doing advance work next year.'"
The Sox then sent Malzone to scout St. Louis, working as a team with area scout Don Lenhardt and Toronto manager Eddie Kasko, available now that his season was over. "They were covering the Cardinals and when I got through with Minnesota, I joined them. It was an assignment I had never done before. When you're by yourself, and you don't know what to expect … nobody had really said anything like 'This is what we want….' You weren't going to get that out of Dick Williams, anyway." It was better working with other scouts, though. Scout Tommy Thomas joined the evaluation process as well. "You could kind of sit down at night and talk about what you saw. We got together in the room and Kasko did the written report."
Dick Williams was pleased. "Malzone gave us a terrific scouting report on the Twins for the weekend games," Williams said. "We have a pretty good 'book' on St. Louis."1
The look Malzone had of the Cardinals' Joe Hoerner helped Yaz. "Pretty good left-hand reliever but everything was sidearm. He had some kind of heart condition and he had trouble raising his arm. I saw he didn't throw curveballs. All he did was throw two different speeds of his fastball. In and out, move it around, and that's all he'd do — but he'd get people out. His ball must move pretty good — you can't see it from the stands. He was their out guy and I followed him every time he came in, in relief. Never threw a breaking ball the whole time. The whole time. When I got back, I told Yastrzemski, he's not going to throw any breaking balls. Carl always wanted to know every bit of information he could get.
[Hoerner came in to pitch to Yaz in the seventh inning of Game Two. The score was 2-0 and Lonborg had a no-hitter going through six innings. The Red Sox had two runners on base and nobody out. Not having to worry about the curveball gave Yaz an advantage. Bang! Three-run homer, which put the game out of sight, 5-0.]
"I talked to Yaz to tell him all about the different pitchers. 'What do you think they're going to throw to me?' 'Two guys are not afraid to use their fastball against anybody. Take it from there.' 'You're sure about Joe?' 'Yeah, I'm sure about Joe. I have yet to see him throw a breaking ball.' 'Well…then I get hit.' I said, 'Yaz, come on. You can get out of the way anyway.' So he did hit a home run off him. He always appreciated what I did."
After Game Two, Yaz told reporters, "Frank told me exactly how Gibson and Hughes and Hoerner would pitch to me. Malzone could do this because he and I played together for five years and he knew my capabilities. Frank knows, too, how those guys pitch. On the basis of what he told me about the St. Louis pitchers, I have been able to guess with them all the way. That makes it a lot easier when you're facing a strange pitcher."
Scouting was, as always, an art — perhaps more so at the time than today. Just as the '67 Series was coming to a close, Orioles executive Frank Lane warned that asking players to follow scouting reports too closely could backfire. "Scouting reports should be used as a guide. Situations change, and batters often vary their styles during games. Catchers and pitchers should be allowed to think for themselves at times." Lane wondered if pitchers Gary Bell and Jose Santiago had tried to adhere too closely to scouting reports in Games Three and Four respectively. "Maybe they're trying to get things down too fine, and they're not pitching naturally." At the same time, veteran catcher Elston Howard revealed that he had been urging rookie right-handed reliever Gary Waslewski not to over-anticipate. "I'm trying to caution Gary not to think about the game. I told him not to worry himself about how he should pitch to Orlando Cepeda, or what he should throw to Lou Brock. I told him to just get the ball over the plate, and let me worry about what to throw. I'm not right all the time. I realize that. But I've been in nine of these things and Gary's just a rookie."2
For the next 28 years, Frank worked in advance scouting for the Red Sox. He's seen a lot of changes, and wishes he'd had some of the tools players have today. Although Dick Williams just began to use video that spring for instructional purposes, it was not used anywhere near the way it is today, when some clubs are beginning to dispense with scouts in favor of video. "They've got videos. They've got everything else. I'd love to have had the videos they have today, when I'm playing. We had to keep it in our head. How'd this guy pitch the last time I faced him. Now all they have to do is walk into the other room and look it up. The pitchers can go out and have dinner and not worry about the next game. They can look at an out-take the next day, and they've got a guy in the room that picks it right up, the guy in the room there is good at it — Billy Broadbent [Red Sox Video/Advance Scouting Coordinator] — he's good at picking up the things, and he shows them, OK, two strikes and he tries to throw a fastball by him. Little things like that. Billy's good at it. Those are things I would like today if I were playing."
BILL NOWLIN was one of the first fans to the mound when Jim Lonborg induced the final out and the Red Sox won the 1967 pennant. He was elected as SABR's Vice President in 2004 and re-elected for five more terms before stepping down in 2016, when he was elected as a Director. He is also the author of dozens of books on the Red Sox or Red Sox players, including "Ted Williams At War" and "Love That Dirty Water: The Standells and the Improbable Victory Anthem of the Boston Red Sox" (both from Rounder Books.) He has written Johnny Pesky's biography (Mr. Red Sox) and co-edited a series of Red Sox "team books" written by numerous SABR authors that focus on different years when the Red Sox fielded exceptional teams, including: '"75: The Red Sox Team that Saved Baseball" (2005); "The 1967 Impossible Dream Red Sox" (2007); "When Boston Had The Babe: The 1918 Red Sox" (2008); and "Lefty, Double-X, and The Kid: The 1939 Red Sox, a Team in Transition" (2009). He is also co-founder of Rounder Records of Cambridge, Massachusetts. He's traveled to more than 100 countries, but says there's no place like Fenway Park.
Sources
Interviews with Frank Malzone on October 4 and 15, 2006 by Bill Nowlin.
Notes
1 Boston Record American, October 4, 1967.
2 Boston Record American, October 11, 1967
https://sabr.org/wp-content/uploads/2020/03/research-collection4_350x300.jpg
300
350
admin
/wp-content/uploads/2020/02/sabr_logo.png
admin
2017-09-07 13:28:55
2017-09-07 13:28:55
1967 Red Sox: Scouting the opposition with Frank Malzone