1967 Red Sox: The Cardiac Kids
This article was written by Harvey Soolman
This article was published in 1967 Boston Red Sox essays
---
The odds on the Boston Red Sox winning the 1967 American League pennant were 100-1 at the beginning of the season. But when they completed the Impossible Dream, it was "Pandemonium on the field!"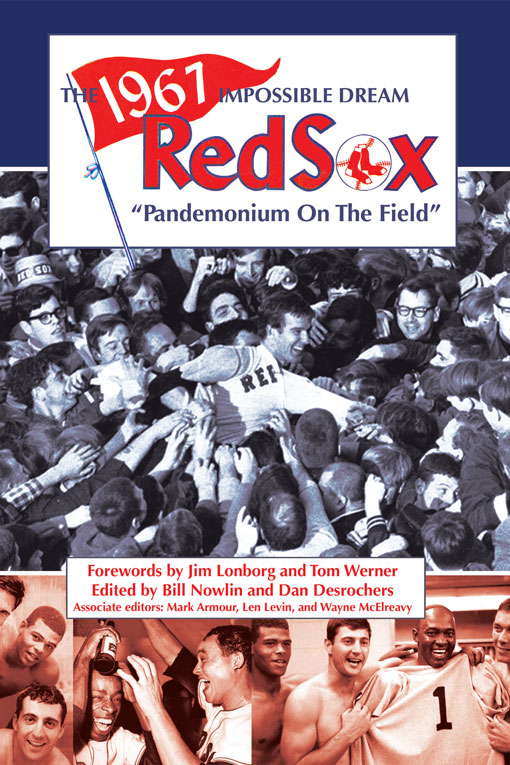 The Boston Red Sox embarked on their 1967 season with a five-man rotation that had collectively won only 25 major league games in 1966 and with a starting lineup that averaged less than 24 years of age.
Baseball Digest declared the Red Sox might be "respectable if they got a little pitching." Most everyone else expected very little, and in Las Vegas oddsmakers booked them at up to 100-1 odds to win the pennant.
In a poll of writers, The Sporting News pegged the Bosox for a third consecutive ninth-place finish, Til Ferdenzi in Street & Smith's Yearbook predicted likewise, Baseball Yearbook moved them up to seventh, but Baseball Guidebook saw the Sox dead last.
Locally, the Boston Globe had the club finishing sixth and openly conceded their generosity. And though the team's only two proven stars, Carl Yastrzemski and Tony Conigliaro, predicted a fifth-place first division finish, there was a generation of dwindling Red Sox fans growing up that was becoming all too accustomed to rooting for a second division team.
Most pundits counted on the World Series champion Baltimore Orioles to repeat atop the American League. Others picked the Minnesota Twins, winners of the 1965 A.L. flag, while some predicted it would be the Detroit Tigers making their move to take the pennant.
The Red Sox? Only Yastrzemski and Conigliaro among their starting position players had at least three seasons in the big leagues. Shortstop Rico Petrocelli had two full seasons under his belt; infielders Joe Foy and George Scott were coming off rather successful 1966 rookie seasons; catcher Mike Ryan had appeared in 150 major-league games over parts of three seasons; and rookies Reggie Smith and Mike Andrews had each made but brief appearances at the end of the previous campaign.
The eight position starters combined for merely 14 full major-league seasons and no starter other than Yaz or Tony had hit over .262 in the majors. Likewise, their projected starting pitchers (Jim Lonborg, Darrell Brandon, rookie Billy Rohr, and Dennis Bennett) brought a total of eight years of major-league experience along with a 65-73 cumulative record. The 1967 Boston Red Sox were, according to Dell Sports magazine's March 1967 issue "a cast of juveniles unmatched in the majors."
Thirty-seven-year-old rookie manager Dick Williams vowed throughout spring camp that his team would win more than they lose. While that seemed overly optimistic to some, that's just what the 1966 Red Sox had done over their final 83 games, compiling a 44-39 record but still managing only to climb out of an early summer cellar to finish ninth. And surprisingly, with fortunes on the rise, manager Billy Herman was released with 16 games left on the schedule.
No Red Sox team had finished above .500 since 1958, the last time a Boston team finished in the first division.
When Lonborg and John Wyatt combined on a July 9 shutout on the final game before the All-Star Break, the Red Sox record was 41-39. As Williams had predicted, they won more than they lost — at least to the season's midpoint – and were sitting unexpectedly in fifth place only six games off the lead. Not that playing .500 ball through the first half of the season had been boring. The Red Sox had made the American League stand up and take notice, and the excitement had begun to build, the losses often being as heart-stopping as many of the victories.
The standings at the All-Star break:
| Team | W-L | GB |
| --- | --- | --- |
| Chicago | 47-33 | — |
| Detroit | 45-35 | 2 |
| Minnesota | 45-36 | 2½ |
| California | 45-40 | 4½ |
| Boston | 41-39 | 6 |
Manager Williams said that for the first two months he wasn't managing a team, he was making a point. The Red Sox were playing exciting baseball, and they were playing as a team. No one was above a sacrifice bunt, and in one double switch Williams even removed Yastrzemski from the game.
The Red Sox returned to action following the break and split a doubleheader at home against the Orioles. Lee Stange won the first game with a save from Wyatt, and The Kids won despite getting only four hits. Petrocelli had a two-run single. Gary Bell got lit up in the nightcap with eight hits and six runs in 4 1/3, and Baltimore thumped their hosts, 10-0.
Despite being stomped on in that second game, Williams left his entire starting lineup in for two full games. Ryan caught all 18 innings.
On July 14, Lonborg won his 12th game and Yaz hit his 20th home run. The next afternoon, Gary Waslewski walked the first two Orioles and went 2-0 on the next hitter, Paul Blair. Williams pulled the trigger right then and brought in José Santiago. Blair ripped a line drive to Foy's left. The Sox third baseman lunged, snared it, and turned a 5-4-3 triple play to get out of the inning. Santiago hurled six, and Bell came on in relief to finish with three scoreless frames, while Boston scored four in its half of the inning on four singles and an error. Foy (3-for-4) singled, tripled, and doubled in his first three trips to the plate.
Boston took the next two from the Tigers, and with four straight wins in the bag, the Sox took to the road, beating the Orioles twice in Baltimore, thanks to a couple of five-run frames.
Boston was now in third place, only 1 ½ games out. They had picked up 4½ games in the standings in just the eight games since the All-Star Break.
On to Cleveland for a four-game weekend set. Darrell Brandon threw a seven-hit complete game. Stange threw a stunning three-hit shutout on Saturday, facing only 30 batters.
The Sox took two on Sunday, with Conigliaro homering once in each game, and Joe Foy hitting his second grand slam of the year. The summer's hit by Sonny and Cher seemed to say it all: "The Beat Goes On." Gary Bell beat his old mates a second time, 5-1, with a nifty five-hit complete game.
Ten wins in a row — the final six on the road. With the exception of Petrocelli starting in the first game of the streak, neither the starting lineup nor the batting order had changed. Ryan caught all 10 games, including his third twinbill of the season. The Red Sox had outscored their opposition 67-26 and 37-5 in the first three innings. The Sox had only trailed for three innings in the entire 10-game stretch — the first three innings, 1-0, of the 10th game.
Conigliaro had batted .424 with four home runs and 12 RBIs. Smith hit .395 with hits in nine games. Yastrzemski was .371 with five home runs and 11 RBIs. In one eight-game stretch, Foy sizzled at 15-for-33 (.455) with 10 RBIs. Lonborg won three games.
More importantly, Boston climbed from fifth place, six games back, to second place just a half a game behind Chicago. California was two back, Detroit three, Minnesota three-and-a-half, and defending champion Baltimore, victimized four times in the Sox rampage, was in eighth place, 10 ½ out, and never again to be seen in the fray.
It was July 23. Boston was in a pennant race. And The Kids were coming home.
Their charter touched down at Boston's Logan Airport in the early morning hours of July 24, a Monday morning. It was greeted by an estimated 10,000 excited baseball fans — more fans than had been in the stands for nine of the club's first 15 home dates.
California won one, but lost the next two — Boston winning the rubber game after scoring three runs to tie it in the bottom of the ninth. Reggie Smith tripled and Jerry Adair spanked a grounder through the legs of Paul Schaal, who had come on defensively that half inning. And the ballgame was over.
The euphoria took a little beating after that. Minnesota came to town, five games out and in fifth place, and proceeded to take three of the first four games in a five-game set.
The Twins had now moved up a notch to fourth, four games out and two games behind second-place Boston, with one more game to play in Beantown. Stange came up huge and shut the Twins out on just three singles, 4-0. The right-hander walked none and dispensed of the powerful Twins in two hours and 15 minutes. The Red Sox had only four hits themselves, but one was Yastzremski's 26th round-tripper, a three-run job in the third. Stange himself knocked in the fourth run with a sacrifice fly.
When the Red Sox went back on the road, they were still clinging to second place, two games behind Chicago. They took with them a newly-acquired catcher, the Yankees veteran of several World Series, Elston Howard.
The trip took Boston into Minnesota, where the Twins took three straight and allowed the Sox but one run. Merritt threw a shutout, Boswell threw a three-hit complete game to defeat Stange, 3-1, and Chance capped off the miserable visit with a rain-shortened perfect game to get the better of Lonborg for the second time in 10 days. For the series, Boston got eight hits to go along with their solitary run. By the time the Red Sox left the Twin Cities, Cal Ermer's bunch had vaulted past them in the standings and into second place by a percentage point, 2 ½ games back.
It was a dismal 2-7 road trip and no thousands of fans waited for the club at Logan Airport. The Red Sox, by virtue of being swept by both Minnesota and California, returned home to face the Tigers on August 15 having sunk to fifth place:
| Team | W-L | GB |
| --- | --- | --- |
| Minnesota | 63-50 | — |
| Chicago | 61-50 | 1 |
| Detroit | 62-52 | 1½ |
| California | 62-54 | 2½ |
| Boston | 60-53 | 3 |
There were 49 games left, and the Sox would play 29 of them at home.
Smith and Scott jump-started the homestand with first-inning home runs. Dave Morehead spread out six hits and blanked Detroit, 4-0. In the second game of the set, Scott and Smith again homered in the first. The Boomer added his second two-runner in the third as Boston defeated Detroit's Denny McLain for the third time this season. Brandon pitched seven innings of relief to finish the game and pick up the win.
Boston had cooled off, going just 10-14 since their 10-game winning streak. They were now 62-54 and in fourth place, but still in striking distance, 3 ½ behind Minnesota, whose starting pitching had allowed eight runs over seven straight wins — a streak that was 2/3 inning short of seven straight complete games and a streak that swept three-game sets from both Chicago and California. Minnesota was now at their high mark of the season to date: 65-50, a game-and-a-half up on Chicago.
California came to town on Friday night, August 18. The Red Sox won the ball game, 3-2. Gary Bell threw a complete game and limited the Angels to four hits — none for 6 1/3 until Jimmie Hall's first of two home runs. Bell himself had a double and an RBI single. But this game would always be remembered as the game that a fastball from Jack Hamilton ran in on Tony Conigliaro and crushed his face, almost killing him and most certainly ruining his career and changing the course of his life.
Conigliaro was only 22 years old but already in his fourth full major-league season. He hung in close to the plate and got hit by his share of pitches. In the second inning he had singled off Hamilton. Some joker threw a smoke bomb into the left-field corner just before he came to bat in the fourth with two out and nobody on. After a brief delay, Tony stepped into the box to face Hamilton, who would hit only two batters over 150 innings for the Mets and Angels in 1967.
Conigliaro's good friend Petrocelli was the first to reach him as he lay face down in the dirt and in agony. Blood filled his nose and mouth and made breathing difficult. His left eye was already closing. It was a horrible sight not made any easier when they carried him from the field on a stretcher. José Tartabull ran for Tony, and Petrocelli stepped up and hit a triple, scoring when Fregosi made an error on the play.
The Sox took the ball game and advanced to third place. A pall hung over the season, though. The initial hopes were that Conigliaro might return in September, reports by the following afternoon were beginning to say that he was probably lost for the season. Tony C had been the team's cleanup hitter for three months. Despite missing 22 of the club's 117 games for injury or military duty, he was among the league leaders with a .287 average, 20 home runs, and 67 runs batted in.
The on-field concern was Conigliaro's immediate replacement. On the bench, the Sox had Tartabull and George Thomas. Jim Landis, a five-time Gold Glove winner (though one who hadn't hit over .250 since 1961), was released by the Tigers on the very day Tony was beaned; he was signed by the Sox on August 23.
August 18 became the launching pad for another Red Sox hot-streak. They proceeded to win seven in a row without their young slugger and nine out of ten. Whereas the 10-game winning streak in July got folks' attention, propelled the Sox into serious contention, and attracted a mob scene at the airport, this less-celebrated skein carried them into first place as September arrived. And though Boston would still suffer their lumps to the finish line, after this winning streak they would never again be more than one game out of first place — 42 games and 42 days — miraculously even though they would sink to third place on four different occasions.
By the time they left Boston, California was effectively out of the race. The Red Sox then took four out of five from Washington — all taut, one- or two-run ball games — and it was off to Chicago for a five-game set with the White Sox, who with a 7-3 run against non-contending teams, had moved back into first.
The standings as the square-off in Chicago began:
| Team | W-L | GB |
| --- | --- | --- |
| Chicago | 69-54 | — |
| Boston | 70-55 | — |
| Minnesota | 69-55 | ½ |
| Detroit | 69-57 | 1½ |
The second-place Red Sox came into Chicago trailing the White Sox by .001 and took three out of five. They nonetheless left town still trailing by .001 because Minnesota had taken three out of four in Cleveland and overtaken both Sox teams.
Nothing was coming easy at this point. In New York, the Red Sox won three of four, but then returned home and lost three out of four to the visiting White Sox.
By September 7, though, the standings were beyond belief:
| Team | W-L | Pct |
| --- | --- | --- |
| Chicago | 78-61 | .561151 |
| Minnesota | 78-61 | .561151 |
| Boston | 79-62 | .560284 |
| Detroit | 79-62 | .560284 |
Yes, .000867 separated the four teams.
Boston won three of four from New York at home, but lost ground — even dropping to third for two days, though only half a game out — as Minnesota took four of five in Baltimore.
Lonborg downed Kansas City at home for his 20th win, 3-1, on September 12. Boston swept the two-game set, 4-2, on the 13th while Minnesota won two of three in Washington, which left them tied for the top.
Chicago slipped to fourth, three games back, but then swept a three-game set from Minnesota back home. When the Red Sox lost at home to Baltimore on September 15, there was three-way tie for first:
| Team | W-L | GB |
| --- | --- | --- |
| Boston | 84-64 | — |
| Detroit | 84-64 | — |
| Minnesota | 84-64 | — |
| Chicago | 83-66 | ½ |
But after Baltimore was through taking three in Boston, Chicago dispensed with Minnesota and Detroit was taking two of three from Washington there was a new leader on September 17:
| Team | W-L | GB |
| --- | --- | --- |
| Detroit | 85-65 | — |
| Chicago | 85-66 | ½ |
| Boston | 84-66 | 1 |
| Minnesota | 84-66 | 1 |
With only 12 games left to play, Boston headed to Detroit for a two-game showdown. The Sox chased McLain in the third inning. Norm Cash hit two solo home runs, though, and Jim Northrup's double in the eighth gave Detroit a 5-4 advantage. Then with one out in the ninth, Yastrzemski (3-for-4, two RBIs) drilled one into the upper deck in right field to tie the game; and Dalton Jones, who hadn't started a game since September 7 (he was 4-for-5 with two RBIs), led off the 10th with a homer likewise to the upper deck for the 6-5 win and a tie for first place — well, a three-way tie for first since Jim Kaat shut out Kansas City on six hits, 2-0, in 10 innings. And the White Sox lost a squeaker, 3-2, in California to remain just a half-game out.
On September 19, Mickey Lolich fanned 13 Red Sox and held a 2-1 lead as he entered the ninth. Adair opened with a single. Tartabull ran for him. Yaz walked, and Scott singled to knot the score. Earl Wilson came in for Lolich, and a wild pitch and Gibson sacrifice fly later, the Sox took a one-game lead on the Tigers — but not before two fine defensive plays by Yastrzemski and Smith in the ninth and Bill Landis coming on to strike out Eddie Mathews locked it up. The Twins beat Kansas City to keep pace with Boston, and Joel Horlen shut out California to keep the White Sox a half-game off.
In Cleveland on September 20, the Red Sox were leading, 4-2, when Tony Horton and Max Alvis homered for the Tribe in the seventh to tie it. With two outs in the ninth, Yastrzemski (4-for-5, 41st HR) singled and moved up on a wild pitch; then was knocked in by Smith's single. Alvis singled with one out in the Indians' ninth, but a snappy Petrocelli-to-Andrews-to-Scott double play all around ended the game.
There were no changes in the standings. Chance won his 19th at home against the A's, Detroit crushed New York, 10-1, and Chicago beat California, 6-4.
On September 21, the St. Louis Cardinals announced that Bob Gibson would start the World Series. It was far from determined who he would face. Bell prevailed for a third time over Cleveland, 6-5, as the teams waited out an hour rain delay in the top of the ninth, and Merritt shut out Kansas City for Minnesota, 4-0, on two hits. The Red Sox and Twins were still deadlocked. Idle Chicago was one back and Detroit one-and-a-half.
On the next to the last weekend of the season, Boston played a twi-nighter on Friday, got trounced, 10-0, in the opener, and then with Foy (three hits, two RBIs), Ken Harrelson (three hits, two RBIs) and Howard coming off the bench to start game two, Santiago hurled a complete game and won, 10-3. On the same night, Detroit took two in Washington on Wilson's major-league-leading 22nd win and Lolich's four-hit shutout; Tony Horton led off the 13th with a home run to defeat Chicago, 2-1; and Minnesota grabbed possession of the top spot with an 8-2 win at home Friday afternoon over New York.
The next morning, the Twins were right back at it — a morning start so fans could also attend the University of Minnesota football game versus Utah. But New York rookie Tom Shopay connected for his first big-league home run, a three-runner, and Pepitone hit a two-run homer to snap Minnesota's five-game winning streak, 6-2. Horlen threw another shutout, his league-leading sixth, and defeated Cleveland, 8-0. Manager Mayo Smith, whose Tigers were inexplicably idle on a Saturday following two games on Friday, complained about scheduling doubleheaders this late in the season. He also said Wilson and Lolich would go on two days rest on Monday and Tuesday.
The Red Sox lost in Baltimore on Brooks Robinson's two-run home run and dropped to third place, one-half game behind Minnesota and the familiar .001 behind Detroit.
On Sunday, the Red Sox final road game of the year, they pounded out a season-high 18 base hits. Dalton Jones, who had gone 10-for-21 with 10 RBIs on the trip, went 4-for-6 and knocked in five. Adair and Scott also had four hits each. Boston had jumped out to a 7-0 lead, and manager Williams pulled Lonborg after six innings to rest him for the final week.
Boston had gone 6-2 on the trip. Chance won his 20th against the Yankees, 9-4, and gone the route despite being up, 9-2, after seven. Chicago defeated Cleveland, 3-1, on five solid innings of relief by Don McMahon; and Detroit coughed up a 4-2 lead in the ninth at Washington and lost, 5-4.
It was coming down to the wire. Boston had four games left. Williams was planning on going with a rotation of Bell-Lonborg-Bell-Lonborg. Jones was going to be at third base. Brandon tore a muscle on Sunday was lost for the season. Sparky Lyle was hurting, Bill Landis was in the military. Rohr and recent call-up 19-year-old Ken Brett were the team's only lefties.
The standings after Sunday, September 24:
| Team | W-L | GB |
| --- | --- | --- |
| Minnesota | 90-67 | — |
| Boston | 90-68 | ½ |
| Chicago | 89-68 | 1 |
| Detroit | 88-68 | 1½ |
Chicago, though hardly in the driver's seat, would play their final five games against second-division clubs, including two with Kansas City, who had won only once in their last 12 outings and were 5-19 for September and plummeting fast. Minnesota had three to play at home against California before coming to Boston for the final two, and Detroit had two in New York and four to play at home against the Angels.
On Monday, September 25, California belted around Jim Merritt and the Twins for 15 hits and a 9-2 win. This dropped Minnesota into a first place tie with Boston. Al Downing beat Wilson and the Tigers in New York, 2-0, on four hits.
Boston, home for two with Cleveland and two with Minnesota, had their fortune in their own hands. Chicago was only a half-game out and tied in the loss column, but had the decidedly easier schedule.
On Tuesday, Fenway Park was, as Cleveland catcher Joe Azcue said, "like a church funeral all day [except for Yastrzemski's 43rd home run]." Luis Tiant finally defeated Boston after three losses, and Bell finally lost to Cleveland after three victories. In New York, Lolich four-hit the Yankees, 1-0, on Eddie Mathews' sacrifice fly. And in Minnesota, Kaat won his seventh consecutive game of the month, 7-3, as Harmon Killebrew hit homers #42 and 43. The White Sox were rained out in Kansas City and would play a doubleheader on Wednesday.
Wednesday wasn't much better for the Red Sox. Lonborg, on two days' rest, lost to Sonny Siebert and the Indians, 6-0. The Globe's Harold Kaese lamented, "The two games against the Indians were about as cheerful as weddings for which the bridegrooms failed to appear." The Sox left the bases loaded twice and managed only five hits.
However, Dean Chance, also pitching on two days' rest, lost to the Angels, 5-1. Detroit was idle, and the shock of the day was that the A's took two from Chicago, 5-2 and 4-0. Chicago went from the opportunity to leapfrog into first to now facing elimination and having to sweep the Senators in their three-game weekend series to have any chance (since either Boston or Minnesota would be winning at least once).
Later in the week, Globe columnist Jerry Nason would write, "Who would have wagered an embalmed sweat sock on last place Kansas City panicking pitchers like Joel Horlen and Gary Peters at both ends of a White Sox doubleheader?"
The Boston Herald ran a cartoon depicting the four teams backing toward the championship door. Yaz thought the Sox were, "gone, dead — not only dead but buried" after the second Cleveland loss. But the fact of the matter was that they only had to win both games at home against the Twins and hope that California could split four with Detroit. Their first of four got rained out on Thursday and they were scheduled to play two on Friday. The standings through September 28:
| Team | W-L | GB |
| --- | --- | --- |
| Minnesota | 91-69 | — |
| Detroit | 89-69 | 1 |
| Boston | 90-70 | 1 |
| Chicago | 89-70 | 1½ |
On Friday night, September 29, Chicago lost to Washington, 1-0, on an unearned run in the first inning, and the team which had led the league most of the summer was eliminated. With temperatures in the low 40s and a drizzle, Detroit and California were postponed for a second straight night and would play two games on both Saturday and Sunday. At least a three-way tie was no longer possible. In a scheduling quirk, both Minnesota and Boston were idle Thursday and Friday. Boston was in third, one game out and .00079 behind second place Detroit.
Kaese wrote, "The turning point of the season probably will come in the ninth inning Sunday when a ground ball hits second base and some team has a collective faint on finding itself first and no games to play."
Dalton Jones was quoted: "A couple of months ago all of us were saying this thing will go right down to those last two games. Now that it's really happened it's even harder to believe." Yaz took batting practice on Friday and found the mood at Fenway much better than when he last left it on Wednesday.
Manager Williams announced he was going to start Santiago on Saturday (Lonborg thought he might get the call again with the team facing elimination) and would have Harrelson, Mike Andrews, and Russ Gibson back in the lineup. The Twins would open up with Kaat, who had begun his 1967 campaign 1-7 and turned it around winning 15 of his last 21 decisions and his last seven in a row. Kaat had a 14-6 lifetime record versus Boston and was 1-0 this year.
Minnesota scored one in the first on Tony Oliva's single, but left the bases loaded when Carew lined out to third and Santiago got Ted Uhlaender to ground out to second on a 3-1 pitch. Kaat was on a roll, striking out four of the first nine Sox and looking sharp. But something popped in his left elbow as he fanned Santiago, and after throwing two balls to Andrews he was forced to leave the game. Jim Perry came on to pitch.
Boston broke through for two in the fifth. Smith doubled leading off. Jones pinch-hit for Gibson and hit a weak grounder to second, which took a bad hop for an infield hit. Santiago and Andrews struck out, but Adair dumped a single and the game was tied. Yastrzemski hit a ground ball wide of first. Killebrew couldn't reach it, but Rod Carew did; and when he looked to throw to first Perry had not covered the bag. Yaz had an infield hit, and the Red Sox had the lead.
Minnesota came right back in the sixth and tied the game on Rich Reese's two-out pinch single. But for the second time they left the bases full against Santiago. Scott led off the bottom of the sixth and greeted Ron Kline, depositing his first pitch into the center field bleachers. In the seventh with one out, Andrews reached on a check-swing single to the mound. Adair hit one back to Kline, who threw to second — but Twins shortstop Zoilo Versalles dropped the potential double play throw and both runners were safe. The lefty Merritt was brought in to face Yastrzemski, and Yaz crunched a high, 3-1 fastball and left it in the visitor's bullpen. Boston led, 6-2.
Killebrew hit a ninth-inning, two-run homer off Bell, but Boston had taken the weekend's first crucial game, 6-4. They were tied for first place. Well, not quite yet. In Detroit, Lolich shutout California in the first game, 5-0 — the lefthander's third straight blanking. Temporarily, the Tigers at 90-69 were .001 up on both their rivals. Detroit led game two, 6-2, through seven innings with Wilson having gone five-plus. Jim Fregosi led off the Angels eighth with a single. He would also finish it with a two-run single that capped off a six-run outburst against four Tiger pitchers. Detroit had let one get away, and now they were sitting in third place needing to sweep their Sunday doubleheader.
The season's largest crowd, 35,770, packed Fenway on the final Sunday. The two aces took the mound. Dean Chance, owner of the rain-shortened perfect game and a 4-1 season record against Boston, and Jim Lonborg, whose record was a discouraging 0-3 this year against the Twins and 0-6 lifetime.
In the first, Scott took the relay throw on Oliva's double and threw wide of the plate, allowing Killebrew to score. In the third, Killebrew singled to left, and as the ball got past Yastrzemski Cesar Tovar scored from first base. The Twins were up, 2-0.
The Boston sixth would be etched in Red Sox lore forever. Lonborg — consistent with other occasions was allowed to bat – dropped a bunt single down third base. Tovar had no play. Adair singled him to second. Jones stroked a single to left and loaded the bases off Chance. Yastrzemski ripped a single up the middle, and the game was tied.
Boston had first and third, nobody out, and then the Twins unraveled. Harrelson hit a high bouncer toward the second base bag. Versalles had no play at the plate but threw home just the same. Jones was safe, and Boston led. Worthington relieved Chance and threw a wild pitch advancing Yaz to third and the pinch-runner Tartabull to second. Al Worthington then uncorked a second wild pitch and Yastrzemski scored. Smith banged a grounder off Killebrew's knee, and Tartabull scored. Boston left second and third but had taken a 5-2 lead.
Boston loaded the base with nobody out in the seventh but came up empty. Yaz had his fourth hit of the game, a single off the lefty Jim Roland. He went 7 for 8 in the two games with six runs batted in.
Minnesota got lead-off singles in both the eighth and ninth. Both runners were erased on groundballs to second, the runner tagged out and the relay made to first — in the eighth by Adair, who left after being spiked on the play, and in the ninth by Andrews. But in the eighth, Killebrew and Oliva followed with singles, and Bob Allison also singled to left scoring Killebrew. Yastrzemski threw Allison out at second base, though, and that threat was stifled.
Rich Rollins pinch-hit with Minnesota's last gasp in the ninth and lifted a lazy, soft liner to Petrocelli. And it was over. Well, again, not quite.
In a burst of emotion, the Fenway fans poured out onto the field. Lonborg was swept away on their shoulders down toward the right-field corner. With his shirt torn open it would be a full 10 minutes before he could reach the Sox clubhouse. It was as Sox announcer Ned Martin described, "Pandemonium on the field!"
And it still wasn't over. Detroit held on and took the first game from California, 6-4. A Tiger win the second game would mean a two out of three playoff for the pennant. The Tigers took a 3-1 lead early in game two. Then the Angels struck back at McLain and the Tiger bullpen and took an 8-3 lead. While the Red Sox in their clubhouse listened to the game into the early evening, the Tigers put the first two men on in the ninth, trailing, 8-5. Shortstop Dick McAuliffe, who had singled home a pair in the seventh, grounded into a season-ending 4-6-3 double play, and the Red Sox clubhouse went wild.
Now it was over. The 100-1 Boston Red Sox had won the American League pennant.
HARVEY SOOLMAN was whimsically left "A Pennant" by his Brookline (Mass.) High School graduating Class Will & Testament in 1967. But by the time he was able to collect, after four years of razzing over Red Sox failures, the class had dispersed to colleges across the country. Deprived of his "last laugh" he nonetheless managed to survive to see more pennants and a World Series Championship and to play in an all-star game in Fenway Park at the age of 53. He manages Towne Club in the Boston Park League, still gets a hit or two against hurlers in their twenties and umpires in the Boston area. He tells all the younger guys the 1967 pennant race is still the biggest sports thrill.
https://sabr.org/wp-content/uploads/2020/03/research-collection4_350x300.jpg
300
350
admin
/wp-content/uploads/2020/02/sabr_logo.png
admin
2017-08-28 17:20:18
2017-08-28 17:20:18
1967 Red Sox: The Cardiac Kids