1967 Red Sox: With A Little Help From The Coaches
This article was written by No items found
This article was published in 1967 Boston Red Sox essays
---
One aspect of the 1967 Boston Red Sox often overlooked is the contribution of the coaching staff.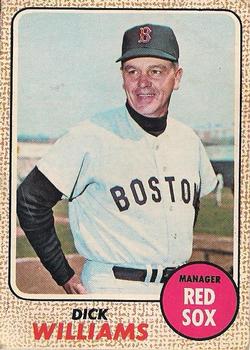 One aspect of the 1967 Boston Red Sox often overlooked is the contribution of the coaching staff. From his hiring, manager Dick Williams made it clear that he would rely heavily on his coaches for the day-to-day administration of his overall managerial duties. Beside the charter given them by Williams, the coaches also took on particular importance because of the very personality of the manager. His no-nonsense, iron-willed, even acerbic approach to managing — which would tolerate no wasted effort and which heavily emphasized fundamentals — created the need for a buffer zone between him and his players. This was recognized, consciously or otherwise, when the coaches were selected. Williams' selections constituted a masterful display of team psychology that would have made Freud proud. The buffers were to take some of the edge off of Williams' dictates, especially among the younger and more sensitive players. The two men who contributed the most to this effort were third base coach Eddie Popowski and first base coach (and hitting instructor) Bobby Doerr.
Popwoski assumed the role of chief buffer. Pop came to the parent club after thirty years in the organization as player, scout, and manager. He managed most of the homegrown Red Sox in the minors, for example, George Scott and Reggie Smith just two years earlier in Double-A at Pittsfield. Pop did an outstanding job with the players and served as a pressure valve, a sounding board, and equal parts father confessor, psychiatrist, guidance counselor, and guru. He was especially helpful to Scott, Smith, and Rico Petrocelli. He knew these guys, knew how to get them off the floor, when they were in the dumps — especially Scott, who would have been lost without Eddie.
Pop could also ride players when they needed it — for example, he got on Tony Horton for not practicing his fielding around first base — but he could do so without Williams' cutting edge. His guidance and temperament counterbalanced the manager's perfectly and provided a balanced chemistry that served the Sox so well that year.
It's no doubt that Pop was highly responsible for the success of many players: Scott's .303 average and fielding; Smith's winning the Sox' rookie-of-the-year award; Petrocelli's being named the American League starting shortstop in the All-Star Game.
The other major contribution to the buffer role was made by Doerr. The Red Sox all-time great second baseman used his soft-spoken manner, incisive baseball smarts, and stable presence to great effect. He was very well liked by the players, knew all those who came up through the farm system (having worked for ten years as a special scout), and helped out a great deal with his hitting instructions.
https://sabr.org/wp-content/uploads/2020/03/research-collection4_350x300.jpg
300
350
admin
/wp-content/uploads/2020/02/sabr_logo.png
admin
2017-09-07 13:17:53
2017-09-07 13:17:53
1967 Red Sox: With A Little Help From The Coaches