1967 Red Sox: World Series recap
This article was written by Dan Desrochers
This article was published in 1967 Boston Red Sox essays
---
A recap of the 1967 World Series between the St. Louis Cardinals and Boston Red Sox.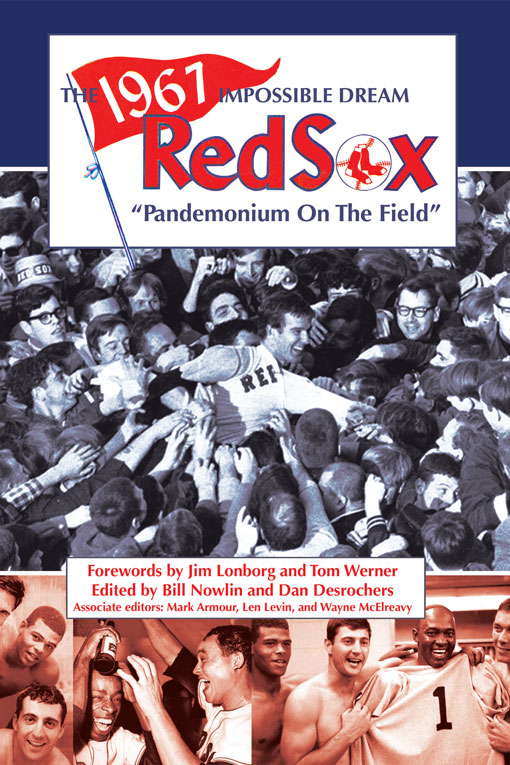 The Boston Red Sox were in the World Series for the first time since 1946, matched against the same team that beat them in seven games 21 years earlier.
The 1967 Cardinals clinched early, surprising most observers as Red Schoendienst led an up-and-coming team to the pennant in a bit of a breeze, finishing 10½ games ahead of the second-place Giants.
St. Louis won 101 regular season games while the Red Sox won their pennant with 92 victories, recording the then-lowest percentage (.568) for a first-place finisher in the American League.
The Redbirds boasted speed, power to all fields, and pitching against a Red Sox team strong on defense, guts, and determination, and deemed "clutch."
The Cards were stacked. St. Louis featured All-Star players like outfielder Lou Brock, catcher Tim McCarver, NL MVP first baseman Orlando Cepeda, 1964 World Series MVP pitcher Bob Gibson, as well as stellar outfielders Curt Flood and Roger Maris, and nifty infielder Julian Javier. The Cards were quick and aggressive with their hit-and-run style with base-stealing threats Brock and Flood.
Starting lineup matchups clearly favored St. Louis, with only Boston's Carl Yastrzemski in left field and Rico Petrocelli at shortstop prevailing on paper.
St. Louis's pitching seemed equally dominating, with a strong bullpen and key starters like Gibson who won 13 games despite suffering a broken leg in July, rookie Dick Hughes with 16 wins, and Nelson Briles and Steve Carlton each recording 14 wins.

The seasoned Cards were given the edge in power and speed, and they hit higher than the Red Sox. Boston skipper Dick Williams had an unflinching retort: "Experience. Napoleon had experience. But he didn't always win."1
The Red Sox led the American League in batting, homers, RBIs, runs scored, and in some priceless intangibles.
"Our scouts have been following all the American League contenders since the All-Star break," said Schoendienst, "and every time we got a report on Boston, the word 'clutch' was always underlined. The information we got always pointed that the Red Sox would not quit and would always fight back."2
The Cards were 3-2 favorites, with bookmakers setting 6-5 odds for them to win Game One.
Despite battling to the final day, the Red Sox appeared relaxed and confident. Dick Williams, who had grown up in St. Louis and was looking forward to playing the Cardinals, posed the simple question: "After what we've been through, how can anything else be tougher?"3
The Boston Record American trumpeted, "IT'S IN THE CARDS. WE'LL WIN IN SIX! The greatest underdogs of all baseball times, the Boston Red Sox, will take the World Series in six games, so predicted Carl Yastrzemski as he called the shots while working out at Boston's Fenway Park Tuesday."4
Dick Williams felt that Boston's defense would be better than the Cards and also picked the Sox to win, impishly repeating his spring training prediction: "Like I said all year, I think we'll win more than we'll lose."5
Managers Williams and Schoendienst initially planned to use just three starters: Jose Santiago, Jim Lonborg, and Gary Bell for the Sox; Bob Gibson, Dick Hughes, and Nelson Briles for the Cards. Forced to use star pitcher Jim Lonborg in the pennant-clincher just three days prior to Game One, Williams was unable to set up his ideal rotation — Lonborg facing Gibson in Games One, Three, and Seven. So 12-game winner Jose Santiago was slated to face the dominating Gibson in Game One.
For the Red Sox, after a grueling, energy-filled, ninth-place-to-first-place "Impossible Dream" season, reporter Harold Kaese's World Series sendoff line in the October 2 Boston Globe seemed fitting:
"And now for the great anti-climax — the World Series."6
DAN DESROCHERS' ventures to Fenway Park began in 1967 as a 12-year-old who had a passionate desire to attend a Red Sox game. Unbeknownst to his parents, he schemed and plotted his "Impossible Dream" Maine-to-Boston venture that combined, bicycling, hiking, and bus and train rides to catch his first Red Sox game. He successfully completed the 200-mile trip and managed to get home before dark. He now lives in Rollinsford, New Hampshire though he still considers himself a Mainer — and he continues to organize trips to Red Sox games today without his mom's permission. He was in St. Louis when the Red Sox won it all in 2004.
Notes
https://sabr.org/wp-content/uploads/2020/03/research-collection4_350x300.jpg
300
350
admin
/wp-content/uploads/2020/02/sabr_logo.png
admin
2017-09-07 16:30:14
2017-09-07 16:30:14
1967 Red Sox: World Series recap