A Hall of Fame Cup of Coffee in New York
This article was written by Steven Glassman
This article was published in The National Pastime: Baseball in the Big Apple (New York, 2017)
---
I was inspired to write this article by Jonah Gardner's Sports-Reference.com post "Remembering Mike Piazza's 8 Amazing Days with the Florida Marlins," about Hall-of-Famer Piazza's short 1998 Florida Marlins stint before getting traded to the New York Mets.[fn]Jonah Gardner, "Remembering Mike Piazza's 8 Amazing Days with the Florida Marlins," Sports Reference Blog, July 21, 2016, accessed December, 2016, http://www.sports-reference.com/blog/2016/07/remembering-mike-piazzas-8-amazing-days-with-the-florida-marlins.[/fn] New York City's major-league teams have a storied history but I was curious: how many Hall-of-Famers had "cups of coffee" of this type with them? For purposes of this article I defined a "cup of coffee" as a single-digit number of games for a player. The names I found give an interesting glimpse into New York big-league baseball in the twentieth century. For each I will provide position, year, and method of induction to the National Baseball Hall of Fame in Cooperstown, as well as the year and positions played for the "cup of coffee" team.
Yogi Berra, C (1972 BBWAA)
New York Mets (1965), C-PH: Four Games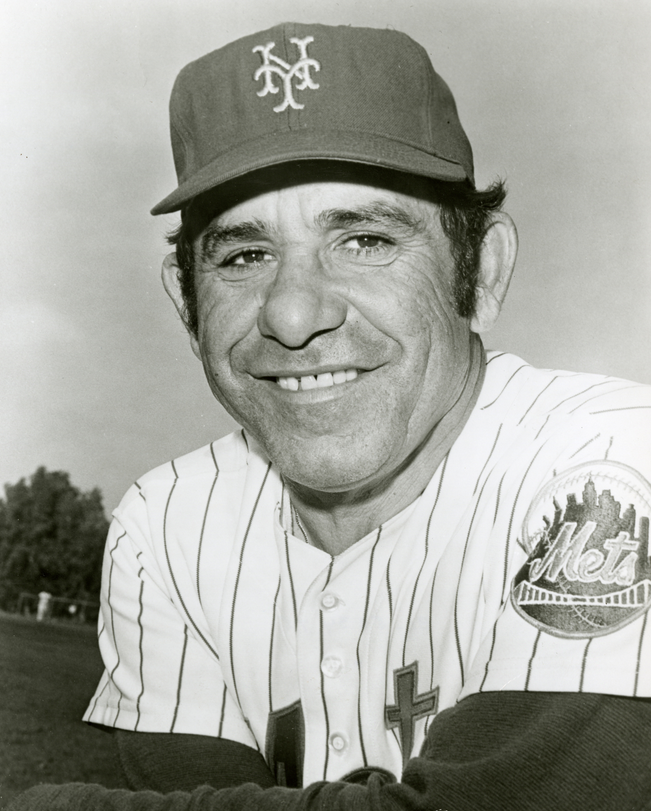 I chose to start this list with no less a fixture of New York sports than Yogi Berra, who of course is best known as a Yankee, but had a brief playing stint with the Mets. Berra was fired as Yankees manager on October 16, 1964.[fn]The Yankees hired Johnny Keane on October 20, 1964. Keane managed the Cardinals to the 1964 WS title versus the Yankees, their first since 1946.[/fn] Less than a week later, he spoke to Casey Stengel about joining the Mets. He "signed a two-year [deal] with the Mets at a reported $35,000 per year" as a player-coach on November 17 at Shea Stadium's Diamond Club.[fn]Barney Kremenko wrote in a November 28, 1964, article in The Sporting News ("Lure of Uniform Prompted Yogi To Accept $35,000 Mets' Post") that "Berra already had signed a two-year pact with the club [Yankees] to serve as General Manager Ralph Houk's helper ['special field consultant'] at $25,000 per annum. However, it had an escape clause in it, permitting him to go elsewhere whenever he so pleased. It had another clause which gave Yogi $25,000 'severance pay' outright, no questions asked."[/fn] Berra notified the Yankees he was signing with the Mets the day of the news conference, during which he told the press he had received offers from "several clubs including the Senators and Cardinals. He refused to name any of the others."[fn]Ibid.[/fn] The Sporting News reported that in addition to coaching, "he will also take a shot at coming back as a player. His physical condition after spring training will determine that. Stengel would like to have him as a pinch-hitter and spot player for catching and outfielding."[fn]Ibid.[/fn], [fn]Berra entered the 1965 season with 1,697 games caught, 260 in the outfield (149 in left and 116 in right field), and 216 games as a pinch-hitter.[/fn] Even though now with the Mets, Yogi kept uniform number eight.[fn]Cannizzarro originally wore number eight with the Mets and switched to five.[/fn]
Berra was thirty-nine years old and had not played in a game since October 5, 1963. He was concerned about getting his timing back. He went hitless as a pinch-hitter in his first Mets spring training game versus the St. Louis Cardinals in St. Petersburg on March 13, 1965. He caught Warren Spahn the next day versus the Cardinals.[fn]Spahn was sold to the Mets by the Braves on November 23, 1964, six days after Berra signed with the Mets. Berra and Spahn were batterymates for the first three innings of this spring training game. It was the only game they worked together.[/fn] Spahn said, "I don't know if we're the oldest battery, but we sure are the ugliest."[fn]David Pietrusza, Matthew Silverman, and Michael Gershman. "Yogi Berra." In The Biographical Encyclopedia of Baseball (Kingston: Total Sports Publishing, 2000), 85.[/fn]
Berra said he would still catch but not as a regular. "Maybe 20–30 games would be okay.…My legs would never stand it."[fn]Barney Kremenko, "Yogi Can't Bear Duty as Mets' Mittman," The Sporting News, March 27, 1965, 8.[/fn] Berra was "strictly listed as a coach, and when he's put on the playing roster, it won't happen until the last possible moment before the start of the regular season."[fn]Ibid.[/fn]
Even though Berra got off to a slow spring training start, Stengel was not worried: "It's too early now. You've got to give Yogi a chance to keep swinging. In batting practice, I've seen him get off some long shots. Once he gets his eye on the ball, he'll probably do the same thing in a game."[fn]Ibid.[/fn] Stengel added about Berra's catching workload, "All I would want of this fella would be to work in some spot games. I don't expect him to be my regular catcher. That job belongs to Cazonara [Chris Cannizzarro]."[fn]Ibid.[/fn], [fn]Cannizzaro caught 112 games for the 1965 Mets. [/fn] Altogether, Berra went hitless in eight spring training at-bats in six games played (one start).[fn]Berra also caught an exhibition game versus the Mets' AAA minor league affiliate Buffalo Bisons (IL) on March 27, 1965. He went hitless in two at-bats.[/fn]
Cardinals manager Red Schoendienst believed that Berra could contribute: "You're darned right he'll help the Mets. It's hard to find a real good pinch-hitter. He's aggressive with that bat and he's been around. He'll win some ball games over there."[fn]Dick Young, "Young Ideas," The Sporting News, March 27, 1965, 18.[/fn] Sports Illustrated reported that "Yogi will not catch many full games, but it seems likely that when Casey needs a left-handed bat late in the game the ex-Yankee manager will be the one."[fn]William Leggett, "New York Mets," Sports Illustrated, April 19, 1965, 58.[/fn] SI also noted Berra's other use—draw at the box office: "[They] will go on filling Shea Stadium—especially when the battery of Spahn and Berra is announced—and if Spahn pitches back to his form the Mets may nudge the Astros out of ninth place."[fn]Ibid.[/fn], [fn]The Mets finished the season 10th for the fourth straight season, the Astros finished ninth for the third consecutive campaign.[/fn]
Yogi was activated to play on April 27 when Kevin Collins went on the disabled list. Berra's reaction: "'Sure, I'm glad. It's like a shot in the arm.'"[fn]Barney Kremenko. "Player Again—Yogi Hails News As 'Shot in Arm,'" The Sporting News, May 8, 1965, 29.[/fn] About his slow spring: "When you've laid off for a year, you gotta come back slowly. But I've been taking a lotta batting practice and I've also been throwing and my arm is pretty good. Sure, I didn't throw too good in Florida, but I wasn't gonna cut loose until my arm was strong. Now it's strong."[fn]Barney Kremenko. "Weiss Sizes Up Mets As 'Too Righthanded,'" The Sporting News, May 15, 1965, 22.[/fn] Stengel also viewed Berra as another left-handed pinch-hitter and late-inning catcher. Until then, first baseman Ed Kranepool and outfielder Johnny Lewis were the Mets' only left-handed hitting options. "It wasn't written in my contract to play, too," Yogi told the press, "but, [Weiss and I] talked about it when I signed."[fn]Ibid.[/fn] Weiss hoped that adding Berra would help. "Sure I had that in mind when I put Yogi on the playing roster. He could be a big help if he's anything like his old self."[fn]Ibid.[/fn]
Berra made his Mets debut on May 1 versus the Cincinnati Reds. Down 8–2 in the top of the eighth and pinch-hitting for relief pitcher Jim Bethke, Berra grounded out to first baseman Gordy Coleman to end the inning. On May 4, Berra singled twice and scored a needed run in a 2–1 home win versus the Philadelphia Phillies. Berra led off the bottom of the seventh with a single and scored two batters later on Roy McMillan's single.
He also caught Al Jackson who set a career-high and a then-team single-game record, striking out 11 Phillies.[fn]Jackson broke the record of 10 previously held by the following: Jay Hook versus the Pittsburgh Pirates on July 19, 1962 (game two) and May 8, 1963 versus the Philadelphia Phillies, Dennis Ribant versus the Pirates on August 17, 1964, and Tracy Stallard at the San Francisco Giants on September 16, 1964.[/fn] On May 5, pinch-hitting for Cannizzarro in the bottom of the eighth, Berra grounded out to Dick Stuart, who threw it to Jim Bunning to end the inning and left Ron Swoboda at second base. He and Jackson did not fare well together on May 9 at home versus the Milwaukee Braves. Berra struck out three times in four at-bats versus Tony Cloninger while Jackson lasted only 21⁄3 innings, allowed five runs on nine hits (including two home runs), committed a balk, and hit a batter in the 8–2 loss.
Two weeks after being activated, on May 11, Berra announced his retirement as a player. The Mets were making a series of moves and they needed to meet the 25-player roster limit on May 12. It was also the day before his fortieth birthday. "After each game, I was aching," Yogi said. "It got me in the back more than in the legs. The worst of it was that I could not follow the ball at bat. My reflexes were slow."[fn]Barney Kremenko. "Bitter Blow to Met Hopes: Hunt Likely Out for Season," The Sporting News, May 22, 1965, 17.[/fn] He reflected about his comeback attempt when he was voted into the Hall of Fame in 1972. "It was a mistake. … Tony Cloninger threw the fastball right by me and I knew I'd had it. I was always a fastball hitter. I told Casey Stengel right after the game I was through."[fn]Jack Lang, "Sandy, Yogi, Early Make the Grade," The Sporting News, February 5, 1972, 31.[/fn]
Dan Brouthers, 1B (1945 Old-Timers)
New York Giants (1904), 1B-PH: Two Games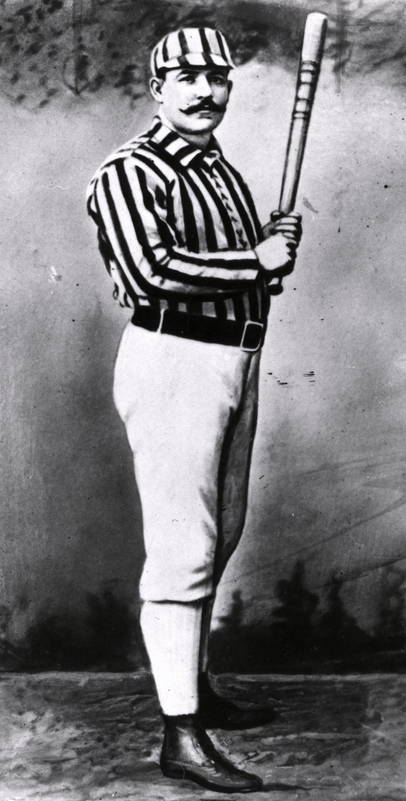 Playing in his first full professional season since 1897, Brouthers won the 1904 Hudson Valley batting title (.373) at the age of 46 for Poughkeepsie, and was also the team's captain. After Poughkeepsie's season was over, Brouthers was reunited with his former teammate and manager at the time, John McGraw.[fn]Brouthers and McGraw were teammates for the 1894–95 National League Baltimore Orioles.[/fn] McGraw "sent out invitations to two retired [sic] veterans to suit up and play one more big league game in front of the home crowd at the Polo Grounds."[fn]Roy Kerr, Big Dan Brouthers (Jefferson: McFarland and Company, 2013), 146.[/fn] He sent out invitations to Orator Jim O'Rourke (1885–89, 1891–92 Giants) and Brouthers, who did not previously play for the Giants. Brouthers got his opportunity on October 3 versus the Cardinals. He went hitless in four at-bats and fielded six chances successfully while playing first base at the age of 46 in the 3–1 victory. Brouthers went hitless in a pinch-hitting appearance on October 4 in a 7–3 loss to the Cardinals in game one of a doubleheader, and started in the second game, which was forfeited by the Giants in the fourth inning. After the season ended, McGraw organized an exhibition game between the 1889 champion Giants and their 1904 counterparts, and Brouthers again donned a Giants uniform, substituting for an absent member of the 1889 squad.[fn]Ibid.[/fn]
Mordecai Brown, RHP (1949 Old-Timers)
Brooklyn Tip-Tops (1914): Nine Games
Brown started the season as playing manager of the Federal League's St. Louis Terriers but was replaced by Fielder Jones on August 22, 1914, after a 50–63–1 (.442) start. By that point they were in seventh place, 12½ games behind the Indianapolis Hoosiers.[fn]Jones was originally hired on August 14, but, could not officially take over as the manager until he resigned as the Northwestern League president.[/fn] Brown said that he was not notified that he would be fired by St. Louis management and he would not play for the new manager. He added that he also might retire from baseball.
Brown's $10,000 contract was bought by the Brooklyn Tip-Tops from the Terriers on September 1. Miner Brown was given a warm reception by the Brookfeds on his arrival at Buffalo.[fn]"Brooklyn Feds Lose and Tie," The Brooklyn Daily Eagle, September 3, 1914, 12.[/fn] He made his first appearance in relief on September 2 in the second game of a doubleheader versus Buffalo. Manager Bill Bradley summoned Brown in the bottom of the eighth inning with the Tip-Tops leading, 5–4. He pitched five innings, struck out six, and allowed three hits; however, he allowed the tying run in the bottom of the ninth and the two teams finished tied at five after 12 innings.
Brown made his Tip-Top home debut—and first start—versus the Pittsburgh Rebels in game two of a doubleheader on September 7. Brown received an ovation by the fans at Washington Park. However, after retiring Pittsburgh in order in the first inning, the Rebels knocked him out of the game, scoring five runs on five hits and a walk.[fn]Despite Brown's shortest start of the season, the Tip-Tops came back and won, 12–11.[/fn] The September 12 Brooklyn Daily Eagle noted that he "is suffering from a boil on his leg, and it gives him no little pain, so that his recent work must not be taken as a sample of what may be expected of him when he is right."[fn]"Federal League Notes," The Brooklyn Daily Eagle, September 12, 1914, 18.[/fn] Brown went deeper in his next start—versus his former team, St. Louis—but took a loss, allowing six runs (two earned) on five hits in seven innings. Altogether, the Tip-Tops lost four straight starts by Brown. He finally won his first Brooklyn start on October 2, allowing an unearned run in the ninth inning in a 3–1 win over the Baltimore Terrapins. Brown helped himself with a single and a run scored in a three-run fifth inning. He struck out Jimmy Walsh with the bases loaded in the ninth inning to end the game.
Brown won his second straight start, striking out five in eight innings, in a 10–4 road rout at Buffalo on October 7, then made his final Tip-Top appearance on October 10 in game two of a doubleheader at Baltimore. Brown pitched his fifth complete game in six starts, but lost 1–0 on an eighth-inning run. Walsh singled, stole second, and reached third on catcher Yip Owens's second error of the game. Harry Swacina's "sacrifice fly" scored the only run.[fn]The article mentioned sacrifice fly—40 years before it became a statistic separate from the sacrifice bunt.[/fn] Brown won two games and completed five of his eight starts (nine games) for Brooklyn. Meanwhile, during a restructuring of the Brooklyn Federals, Mordecai's contract was put on the trading block.[fn]Cindy Thomson and Scott Brown, Three Finger: The Mordecai Brown Story (Lincoln: University of Nebraska Press, 2006), 142.[/fn] On March 4, Mordecai returned to Chicago as a player after a two-year absence.[fn]Ibid.[/fn]
Joe Garagiola, C
(1991 Ford C. Frick and 2014 Buck O'Neil Awards)
New York Giants (1954), C-PH: Five Games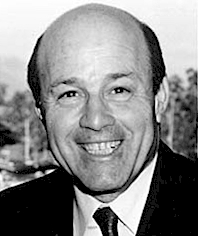 Although technically not a Hall of Famer (he is a recipient of the Ford C. Frick Award for broadcasters), Joe Garagiola's cup of coffee in New York is a tale worth telling. Garagiola informed the Chicago Cubs during the season that he would retire after the 1954 season and join the Cardinals as a broadcaster. He was acquired on waivers by the Giants on September 8, 1954. After having been promised by the Cubs that he wouldn't be traded, Garagiola was shocked by the move.[fn]W.G. Nicholson, "Garagiola Downplays Diamond Career." Baseball Research Journal, Vol. 15, No. 1 (Society for American Baseball Research, 1986), 15.[/fn] Giants manager Leo Durocher said that no one from the Cubs organization notified them about Garagiola's impending retirement plans. Garagiola submitted his case to Commissioner Ford Frick, who made the Cubs take him back for the waiver price [$10,000] at the end of the season.[fn]Ibid. [/fn] Until then, though, Garagiola was a Giant. He joined a catching corps that already included veteran Wes Westrum and rookie Ray Katt.
In his first start, in game two of a doubleheader versus those same Cubs on September 9, he singled in the ninth inning.[fn]Garagiola caught John Antonelli who struck out 10 in a 3–0 loss at the Polo Grounds.[/fn] He fouled out in pinch-hitting appearances (September 10 and 17 versus Cincinnati and Philadelphia, respectively). His final major league start came in game one of a doubleheader at Philadelphia on September 24. Garagiola walked once in four plate appearances in the 1–0 win. Two days later came his rather thrilling final game. On September 26 at Philadelphia, he pinch-hit for Jim Hearn in the seventh inning and tied the game at two on a sacrifice fly off Robin Roberts. Garagiola remained in the game and doubled and scored the winning run in the 11th for a 3–2 victory.
Ineligible to play in the World Series because he was acquired after September 1, Garagiola received a $1,000 share after the Giants swept Cleveland. He described being there as "like a contest winner who has written in 25 words or less 'Why Henry Thompson Is My Favorite Player' and got an all-expenses paid trip to the World's Series."[fn]Bob Broeg, "Joe Garagiola: From Mask to Mike," The Sporting News, November 24, 1954, 14.[/fn] He officially announced his retirement on October 18 and embarked on his broadcasting career.
Tommy Lasorda, LHP (1997 Veterans as a Manager)
Brooklyn Dodgers (1954–55): Eight Games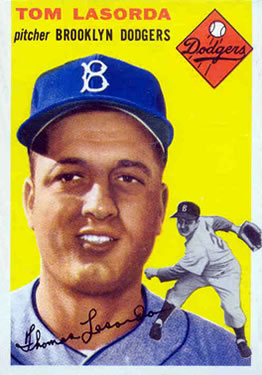 Lasorda was selected by the Dodgers' Nashua farm team from Schenectady in the Minor League Phase of the Rule Five draft on November 22, 1948. He was promoted to the Dodgers' top minor league affiliate in Montreal (International League) for the 1950 season. Lasorda spent four seasons there and was added to the Dodgers' 1954 spring training roster after winning 17 games and posting a 2.81 ERA and an appearance in the 1953 Junior World Series.[fn]Lasorda was purchased by the Browns on February 21, 1953, but sent back to the Dodgers on March 26. [/fn] He did not make the opening day roster but won 14 games for Montreal, including his last nine straight. The Dodgers called Lasorda up on August 1. He warmed up in the bullpen the following night versus the Braves but was not used in the 2–1, 13-inning victory.
Lasorda did not have an auspicious debut versus the Cardinals on August 5.[fn]In his autobiography, The Artful Dodger, Lasorda and co-author David Fisher incorrectly wrote that his debut was versus the Reds. He faced the Reds in his third major league game on September 16 in a blowout loss, but not in the sequence described in the book.[/fn] He started the fifth inning in relief of Erv Palica with the Dodgers losing, 8–2. Altogether he allowed three runs, a walk, and six hits, in three innings pitched.[fn]His debut was his longest outing in his Dodger career.[/fn] He finished the season with four relief appearances.[fn]Lasorda's only ejection as a major league player was in a game he did not play. On September 19 at Pittsburgh, he was ejected by home plate umpire Frank Secroy with one out in the bottom of the eighth for bench jockeying.[/fn]
Lasorda made the opening day roster in 1955. He left his only start—versus the Cardinals on May 5—after one inning due to an injury. Although Lasorda struck out two, he walked two, threw three wild pitches, and allowed a run. He was spiked by Wally Moon on his knee while covering home plate on his third wild pitch.[fn]Lasorda and Fisher incorrectly wrote that Ken Boyer was at bat during his third wild pitch. Boyer's first at-bat was in the second inning and did not face Lasorda in this game.[/fn] Lasorda also did not fare well in his first game back from injury on the road versus the Pirates on May 24. He entered the game in the bottom of the sixth with the Pirates leading, 10–1. Lasorda allowed five runs, four hits, two walks, and a hit batter.[fn]Lasorda and Fisher incorrectly wrote that Tom Saffell hit a home run off of him. Saffell singled off of Lasorda. [/fn] He pitched scoreless outings on June 5 and 6 versus the Cardinals. Lasorda was sent back to Montreal on June 8 to make room on the roster for Sandy Koufax. "'They never gave me a chance to pitch. I knew I could win in the big leagues,' Lasorda said. 'I never reached a level of success as a pitcher, but, I felt that maybe I would be a success some other way.'"[fn]Joe Resnick, "Lasorda remembers being replaced by Koufax," Associated Press, June 7, 2005.[/fn]
Ray Schalk, C (1955 Veterans)
New York Giants (1929), C: Five Games
Schalk spent the first fifteen years of his career as the White Sox catcher (1912–26) and the next two as playing manager (1927–28).[fn]He was forced to resign as White Sox manager in July 1928. [/fn] He was signed by the Giants to a one-year contract on November 12, 1928, as player and assistant head coach to manager John McGraw.[fn]Bert Niehoff was also hired. He played seven games for McGraw in 1918.[/fn] Schalk was also responsible for handling the catchers and pitchers.[fn]Schalk replaced Roger Bresnahan who was on the coaching staff from 1925 to 1928.[/fn] His first game and only Giant start was on "Ray Schalk Day" at Wrigley Field on June 3. The Cubs gave him a golf bag and traveling bag. He caught Carl Hubbell for three innings and went hitless in his only plate appearance in an 8–1 Giants victory.[fn]It was his first game at catcher since July 4, 1928, which was also the last day he managed for the White Sox.[/fn] Schalk appeared in both ends of a road doubleheader versus the Phillies on June 30 and struck out in his final at-bat versus Claude Willoughby in game two. He was a defensive replacement for Bob O'Farrell in a 14–8 home win versus the Pirates in game one of a doubleheader on August 24. Schalk made his final appearance on the road catching the bottom of the eighth with Jack Scott in a 6–4 loss at the Cardinals on September 15. He and Bert Niehoff did not work well together. Their contracts were not renewed on November 1 and they were replaced by Dave Bancroft and Emil Meusel, respectively.[fn]Even though their ERA increased from 1928 (3.67), the Giants led the NL in ERA (3.97) for the first time 1922.[/fn] Schalk coached with the Cubs for the 1930 and 1931 seasons.
STEVEN GLASSMAN has been a SABR member since 1994 and regularly makes presentations for the Connie Mack Chapter. "A Hall of Fame Cup of Coffee in New York" will be his fourth article in SABR's convention journal, "The National Pastime." The Temple University graduate in Sport and Recreation Management is currently the Manor College Volunteer Director of Sports Information in Jenkintown, Pennsylvania. He has attended Phillies games since the 1970s. Steven serves as first base coach/scorekeeper for his summer league softball team. He currently resides in Warminster, Pennsylvania.
Additional sources
Books
Cooper, Brian E. Ray Schalk: A Baseball Biography (Jefferson: McFarland and Company, 2009), 253–56.
Lasorda, Tommy and David Fisher. The Artful Dodger (New York: Arbor House), 1985), 50–56.
Overfield, Joseph M. "Dennis Joseph (Big Dan) Brouthers." Baseball's First Stars, edited by Frederick Ivor-Campbell, Robert L. Tiemann, and Mark Rucker. (Cleveland: The Society for American Baseball Research, 1996), 11–12.
Periodicals
"Brooklyn Feds Win And Lose," The Brooklyn Daily Eagle, September 4, 1914, 20.
"Chicagos Take Lead in Fed Race Through Johnson's Great Pitching," The Brooklyn Daily Eagle, September 26, 1914, 18.
Daniel, Daniel M., "Cubs Must Refund $10,000 If Garagiola Retires in '55," The Sporting News, September 29, 1954, 27.
Davids, L. Robert. "Altrock, at 57 Oldest to Play in Major Game," The Sporting News, August 25, 1962, 1.
Drebsinger, John, "Giants Get Schalk To Assist McGraw," The New York Times, November 13, 1928, 40.
"Feds End Season With Even Break," The Brooklyn Daily Eagle, October 11, 1914, 33.
"Garagiola Hangs Up Mask and Pad to Pitch Quips Over Microphone," The Sporting News, October 27, 1954, 11.
"Great Rally By The Brooklyn Feds Puts Them In Third Place Again," The Brooklyn Daily Eagle, September 8, 1914, 20.
Holmes, Tommy, "Dodger Hill Staff Totters," The Brooklyn Daily Eagle, August 1, 1954, 37.
"Hoosiers Make It Five In A Row And Quit Brooklyn In First Place," The Brooklyn Daily Eagle, September 19, 1914.
"John McGraw Signs Bancroft As Coach," The Sporting News, November 7, 1929, 1.
"Miner Brown Joins The Brooklyn Feds," The Brooklyn Daily Eagle, September 1, 1914, 7.
"Miner Brown Near A Shut-Out Game," The Brooklyn Daily Eagle, October 3, 1914, 18.
"Record $11,147 Series Paycheck for Every Giant," The Sporting News, October 13, 1954, 10.
"Shifts Uniforms After 16 Seasons," The Sporting News, November 22, 1928, 4.
"Superbas 20 Points Better Than At End Of Last Season," The Brooklyn Daily Eagle, September 21, 1914, 18.
Internet
http://www.baseball-reference.com/players/b/berrayo01.shtml
http://www.baseball-reference.com/players/b/broutda01.shtml
http://www.baseball-reference.com/players/b/brownmo01.shtml
http://www.baseball-reference.com/players/g/garagjo01.shtml
http://www.baseball-reference.com/players/l/lasorto01-pitch.shtml
http://www.baseball-reference.com/players/s/schalra01.shtml
http://www.baseball-reference.com/teams/BTT/
http://www.baseball-reference.com/teams/LAD/
http://www.baseball-reference.com/teams/NYM/
http://www.baseball-reference.com/teams/NYY/
http://www.baseball-reference.com/teams/SFG/
http://www.retrosheet.org/boxesetc/B/Pberry101.htm
http://www.retrosheet.org/boxesetc/B/Pbroud101.htm
http://www.retrosheet.org/boxesetc/B/Pbrowm102.htm
http://www.retrosheet.org/boxesetc/G/Pgaraj101.htm
http://www.retrosheet.org/boxesetc/L/Plasot101.htm
http://www.retrosheet.org/boxesetc/S/Pschar103.htm
Other
A. Bartlett Giamatti Research Center Clipping Files:
Lawrence Peter (Yogi) Berra
Dennis Joseph (Dan) Brouthers
Mordecai Peter Centennial Brown
Joseph Henry (Joe) Garagiola
Thomas Charles (Tom) Lasorda
Ray William Schalk
https://sabr.org/wp-content/uploads/2020/03/research-collection4_350x300.jpg
300
350
admin
/wp-content/uploads/2020/02/sabr_logo.png
admin
2017-07-19 16:14:33
2021-12-09 01:00:17
A Hall of Fame Cup of Coffee in New York