This article was written by Matthew Clifford
This article was published in The National Pastime: From Swampoodle to South Philly (Philadelphia, 2013)
---
A profile of Syl Johnson, who pitched for 19 years with the Cardinals, Phillies, Tigers and Reds.

The famous city of Philadelphia totes the title the City of Brotherly Love for many reasons. One intention might refer to a friendship between a pitcher and a catcher that would last for 19 years. The catcher was Jimmie "Ace" Wilson, a backstop born and bred in the great state of Pennsylvania. In the fateful year of 1928, Ace found himself crouched behind home plate at St. Louis' Sportsman's Park, a place where his mitt would feel peppered twirls from a quiet, skinny hurler named Sylvester Johnson. The batterymates would occupy the St. Louis Cardinals roster for six years. During that time, Sylvester and Jimmie developed a bond that was solidified with skillful communication, talent, and good humor.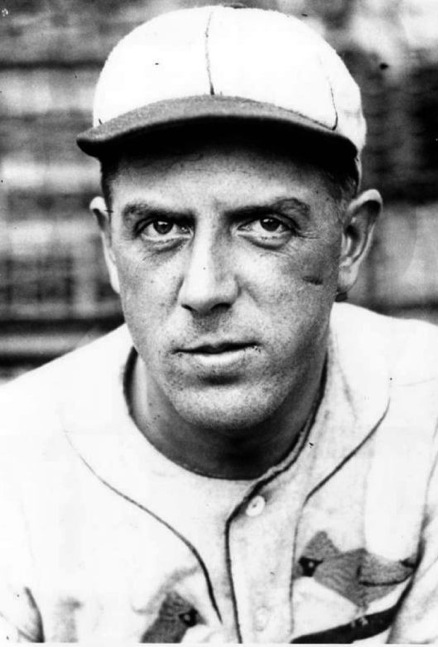 Sylvester "Syl" Johnson was born in Portland, Oregon on December 31, 1900. By the time Syl was eight years old, he and his younger brother Norman were regular players at the local sandlots. At that time, Sylvester preferred the duties as the team's catcher, but his choice of position changed dramatically after a hot pitch smashed him in the mouth, knocking his teeth loose and his awareness out cold. Johnson quickly realized that he would be safer on the other side of home plate, as a pitcher. Syl's father worked as a sawyer at a lumber mill near Portland's Willamette River, and the father would soon receive his son's assistance.
Sylvester contributed to the Johnson family till by dropping out of high school and working at a paper mill adjacent to his father's. Moments after the bell rang at the end of his work day, Syl brushed the sawdust from his shoes and pedaled his bicycle back to the sandlots. He soon found himself playing semi-pro baseball for Portland's financially powerful United Artisans. Johnson was immediately recognized for his side-armed fastball while he worked with the Advanced Junior Artisan team. Portland's newspaper, The Oregonian, took notice of Syl's skills on the mound and the youngster's name appeared in press ink that would soon change his life forever. Throughout the AJA's 1918 and 1919 seasons, young Syl cut every article from the newspapers and created a personal scrapbook resume of his baseball talents. In 1920, Johnson's bicycle wheels crossed a bridge over the Willamette River to the Vaughn Street Park, the home of the minor-league Portland Beavers. With his scrapbook in hand, Johnson pleaded with Beavers boss Walter "Judge" McCredie for a chance to attend spring training with the club.
McCredie ordered his star pitcher, Harvey "Suds" Sutherland, to catch Johnson's twirls during the short audition. After several fastballs were fired into Sutherland's mitt, McCredie gave Johnson the invite he was hoping for.
Syl's inexperience and lack of control soon forced the Judge to send the youngster away for some Canadian seasoning with the Vancouver Beavers shortly after the 1920 schedule began. Sylvester worked under the command of Vancouver skipper Bob Brown who taught Syl to control his wild right arm. McCredie reviewed Johnson's progress and invited the skinny kid back to the Portland roster in 1921. The Portland pilot let Sylvester handle 304 innings in the '21 season, and Johnson earned 12 wins and 26 losses.
Although his won-loss record worked against him, the skinny kid wasn't completely at fault. Regardless of Johnson's well-controlled golden righty, the Portland Beavers had difficulty scoring in 1921. Similar to 1920, the Beavers finished dead last. The McCredie family finally gave in to their bad luck, and booing Portland crowds, by selling the team to a former president of the Seattle Rainiers, William "Billy" Klepper.
Before making his permanent exit in November, Judge McCredie told The Sporting News: "I look for Johnson to be one of the best pitchers in the Pacific Coast League next season. Within five years he will be one of the greatest pitchers in the country. Just paste that prediction on the wall and see if I'm not right."[fn]Kennedy, Lou. "Portland Will Lose Neither McCredies". The Sporting News. Volume 72, no. 7, October 20, 1921: 8.[/fn] New boss Billy Klepper saw things differently when the topic of Syl was discussed. Prior to the sale of the Portland club, Detroit talent scout Eddie Herr took notice of Sylvester and another Portland twirler, Herman Pillette.
Herr contacted Detroit president Frank Navin and insisted that Johnson and Pillette were the finest hurlers on the West Coast. Bird dog Eddie attempted to sway McCredie in October, but Mack adamantly refused to give up Johnson. Navin met with Klepper in early December and acquired Johnson and Pillette for $40,000 in cash and eight players from the Detroit ballclub—Boss Klepper had pocketed a third of his Portland investment and an octet of Motor City players before the 1922 season began. Sylvester's name made headlines around the country, getting top billing in the most famous baseball transaction of 1921, "The Johnson-Pillette Deal." Sylvester's first order of Detroit business involved a lengthy barnstorming tour with the Rochester Tribe from New York. Early into the trip, Johnson's life changed forever.
During an exhibition game against the Tribe, Syl tossed a side-arm bullet to a Rochester batter who hit a line-drive boomerang back to the mound. The fateful ball slammed against Johnson's right arm, crushing the bones joining his wrist and hand. Poor Syl believed that Ty Cobb would send him and his useless appendage back to Portland once the barnstorming tour was completed, but he didn't. It seemed that Cobb agreed with Walter McCredie's fervent faith in Syl Johnson. The Peach decided to keep the crippled kid on Detroit's 1922 roster.
In July, Sylvester spent more time on the bench after part of his tonsils were removed. Weeks after he was given medical clearance to return to the game, Syl got cracked on the elbow after a fellow Tiger sent the boomerang ball back to the mound during batting practice. After he pitched the last game of the season, Johnson was credited with a 7–3 record. Days after returning to his hometown of Portland, Syl married his sweetheart, Ruth Heitsman. Johnson was invited back to the Tigers in 1923.
About a week before the season began, Syl accidentally let go of a bat during routine batting practice. It spun erratically from Johnson's grip and landed on the leg of a fellow teammate: Detroit's famous center fielder and Syl's faithful boss, Ty Cobb.
On September 19, 1923, Syl experienced a bittersweet game against the Philadelphia Athletics. That day he smacked his first major-league home run. His luck ran out a few innings later while he took the mound and pulled ligaments in his golden righty. Johnson took the bench again. Sylvester finished the 1923 season with the Cobbmen, earning a 12–7 pitching record. Detroit then kept him on the roster in 1924 and 1925.
In June of 1924, Johnson threw the pitch that resulted in Babe Ruth's 253rd career home run. The Peach's faith in Johnson faded completely after another jinx found the pitcher in May of 1925. Johnson appeared in five games and earned himself a 0–2 record before his last game in Detroit stripes. Bad luck arrived in Comiskey Park's batter's box in the form of Bibb Falk while Syl was on the mound. Falk, who took "Shoeless" Joe Jackson's leftfield position in 1921, slammed a line drive directly into Sylvester's left eye.
Sylvester mentioned his catastrophic injury in a 1978 interview: "We had a big lead going in the ninth inning. Bibb Falk hit a line drive; hit me right there. Fractured eight bones. The ball rolled over to first base, … picked the ball up. Knocked me down. Just a line drive. A flash. So I got up. Fred Haney was on third base and he come over … and he got a hold of me. Blood was just pouring out. After that happened they thought I was through."[fn]Eugene Converse Murdock Audio Interviews. Recorded 1978 in Portland, OR. Mears-Murdock Exhibit. Cleveland Public Library, Cleveland, OH.[/fn]
Falk's liner knocked Syl back into the minor leagues in late June. After three weeks to heal in the Windy City, Johnson was shipped to California to play for the Vernon Tigers and answer to his new boss, Bill Essick. Syl suffered on the mound as the vision in his left eye adjusted. With his recovery and a scarred cheekbone, Sylvester turned in an atrocious 3–17 record in the PCL minors. At the end of the 1925 season, St. Louis Cardinals scout Charlie Barrett saw something interesting in Sylvester Johnson and he convinced Cardinal bosses Sam Breadon, Branch Rickey, and manager Rogers Hornsby to give the unlucky pitcher a chance on the 1926 roster. Barrett's persistence worked, but Syl's good luck turned sour in May after Cincinnati's new first baseman, Wally Pipp, smacked one of Johnson's bullets back to the mound. Sylvester sustained a broken toe on his right foot.
Unlucky Johnson took his familiar place on the bench while the rest of the Cardinals fought their way to the 1926 World Series. Just as Syl's toe finished healing, more bad luck appeared after his teammate Bob O'Farrell hit another liner to Johnson during batting practice. Bob's liner smashed several bones in Syl's hand. Moments before the Cardinals clinched the NL pennant, Hornsby sent Syl back to Portland with a promise. Johnson recalled the details of Hornsby's pledge in an interview recorded in 1978: "Rogers Hornsby said if you can't do anything more for the rest of the year, you might as well go home. He said I guarantee you if we win the pennant, anything that anybody gets you get, too. I got the World Series check."[fn]Ibid.[/fn]
Hornsby and his Cards defeated the New York Yankees and Johnson got his first World Series ring, although he was missing from the St. Louis lineup. Sylvester had limited time on the major-league heap thanks to Lady Luck's absence and two unforgiving line drives. The 1926 season produced an 0–3 record for Johnson in only 19 appearances. Two months after Syl slipped on his first World Series ring, Ruth Johnson gave birth to their first child, Beverly. Unwilling to gamble with Johnson in 1927, the Cardinals farmed Syl to their International League associates in Syracuse, New York.
Sylvester stepped into a Syracuse Stars uniform with hopes of better luck in the minors. With manager Burt Shotton at the helm, Syl quickly came back into his original form. In June, the Portland hurler threw a no-hitter against the neighboring Buffalo Bisons. When the season wrapped up, Johnson had an 18–13 record with the Stars. In 1928, the Cardinals noticed Syl's improvement and invited him back to the St. Louis roster. Rehired Johnson worked closely with St. Louis' new manager, Bill McKechnie. Syl was soon befriended by the Cards' new catcher, Jimmie Wilson. With the undeniable talents of Johnson, Wilson, and the other stars on the roster, the Missouri club won the NL pennant in 1928. Johnson had finally earned a chance to pitch in a World Series, albeit briefly, as he threw two innings and allowed one earned run.
Syl finished 1928 with an 8–4 record in 34 mound appearances. Sylvester and Jimmie Wilson stayed in the Cardinals' birdcage in 1929. At the age of 28, Johnson was noted as a reliable relief pitcher. That season, he pitched in more games than any other Cardinal., and after 42 appearances, he was credited with 13 wins and seven losses. His 1929 performance was the best season of his career, so St. Louis manager Gabby Street decided to make Johnson a starting pitcher rather than a reliever in 1930. The Cardinals cinched the pennant and another ticket to the World Series.
With Gabby steady at the helm of the St. Louis ballclub in 1931, Sylvester Johnson was designated as one of the team's dependable starting pitchers. With the assistance of Syl and the other stellar twirlers on the St. Louis roster, the Cards captured another NL pennant. Syl cleaned up the last two innings during the first game of the World Series at Sportsman's Park in St. Louis but his relief came too late as the A's won, 6–2.
Four days later, on October 5, a homicide took place at a Brooklyn speakeasy. The victim, Gustave Johnson, was killed in a World Series brawl while defending his namesake and favorite Swedish pitcher, Sylvester Johnson. A fellow patron, John Leonard, took a swing at Gustave for bragging about Syl. Gustave fell and hit his head on a marble table, which led to his death. Leonard was charged with murder while the proprietor of the speakeasy was pinched for violating the Volstead Act. In 2010, Syl Johnson's offspring learned about the horrific incident that involved a man defending their father's name and talents. All were shocked to hear the news for the first time, as each child explained that their father never mentioned any details or knowledge of the Brooklyn homicide linked to his title. Perhaps Syl himself never knew that his name was connected with one of the most violent World Series arguments in history.
With credit to Sylvester Johnson, Jimmie Wilson, and the intense talent that filled the Cardinals lineup, St. Louis beat the Athletics in seven games for the 1931 championship. Sylvester picked up a sharp pitching record of 11 wins and nine losses in 1931 and he looked forward to improving his low 3.00 ERA in 1932. But a few changes were waiting for him. In addition to his first assigned uniform number in the majors (23), Johnson shared the St. Louis mound with a new pitcher named Dizzy Dean in 1932. Unlike their successful season the year before, the Cards landed in sixth place with a 72–82 record. Johnson's performance also reflected a dismal pitching record of five wins and 14 losses.
In January 1933, the Cardinals sold the 32-year-old Syl and left-fielder Ray Blades to their minor-league team, the Columbus Redbirds in the American Association. The deal became tainted after Cincinnati Reds president Sidney Weil noticed that Syl's name was not included on St. Louis' waiver list. In February, the Cardinals informed Johnson of the botched sale and he was instructed to report to spring training in Florida. Johnson's majorleague service was far from over.
Cards manager Gabby Street assigned Johnson a substantial amount of relief work, while Dizzy Dean handled the brunt of the team's pitching duties in 1933 season. After appearing in 84 innings, Johnson pulled an even 3–3 record. The calendar year of 1934 brought several changes for Johnson and his Portland family. In January, St. Louis sold him and veteran catcher Bob O'Farrell to the Cincinnati Reds. Syl would now be answering to O'Farrell as the Reds' player-manager. Soon after the sale was completed, Cincinnati Syl got an interesting call from a trusted ally, Jimmie Wilson, who had been traded to the Phillies after the 1933 season.
Wilson, now the Phillies manager, insisted that Syl would be accompanying him to Philly. "He said I'm gonna take you back to Philadelphia with me," said Johnson in a 1978 interview. "And I said oh, get outta here. Sure enough, series was over, I got called by Cincinnati. You're traded to Philadelphia."[fn]Ibid.[/fn] After appearing in just two games with Cincinnati, Jimmie Wilson handed his pal Syl a Philadelphia uniform as promised.
Wilson decided to put Johnson to work as a relief pitcher, even though Syl was one of the oldest hurlers on the squad. Old Jimmie would share the Philadelphia clubhouse with Sylvester for the next four years, using Syl primarily in relief. Syl welcomed the birth of his second child, Sylvester Jr., in 1935. Syl Sr. looked forward to spending time with his growing family once the '35 season closed. Less than a month after the pitcher handed out cigars to his Philadelphia teammates, Johnson had another visit from Old Man Jinx in the Baker Bowl clubhouse: A hemorrhaging ulcer forced him off the schedule and the Portlander returned to Oregon.
Johnson reunited with the Phillies in 1936 and was later noted as one of the most profound relief hurlers on the squad. Fellow teammates nicknamed Johnson "The Fireman" after the twirler pulled seven doomed contests out of the flames. Regardless of Syl's saving grace, the Phillies slipped into the cellar. The club turned in a frightful 54–100 record in '36, sending them to last place. The following season barely brightened, as the team took one step out of the darkness, claiming seventh place in the NL. Sylvester stayed busy in 1937 as his manager and trusted comrade Ace Wilson assigned him the additional task of coaching first base.
Months before Philadelphia closed the '37 season with a frown, Sylvester Johnson began a public crusade to create a pension plan for retired baseball players who devoted a decade of their lives to the game. The 36-yearold veteran justified his notable proposal by explaining the active pension plan exercised by retired major-league umpires. "Umpires are entitled to a pension after 15 years of service," explained Johnson to the sportswriters. "Why shouldn't a player receive the same reward? I'd like to see each ten year man become eligible for a pension of seventy-five dollars a month, with five dollars for each additional year of service. There are not many players with that length of service in the majors."[fn]"Syl Johnson Campaigns For Pensions". The New York Evening Post, November 17, 1937.[/fn]
Old Syl tried to pitch his idea to Baseball Commissioner Judge Kenesaw Mountain Landis and the league bosses during the winter meetings of 1938, but his request fell on deaf ears. Nine years later, in April of 1947, Johnson's bright idea found justice after Commissioner Albert "Happy" Chandler and Yankees boss Larry MacPhail created a pension plan for retired baseball players that were active as of 1947.
During the last hour of 1937, Sylvester celebrated his 37th birthday and was one of the oldest players on the 1938 Phillies roster, and the ninth-oldest player in the National League. Jimmie Wilson (born six months before Syl) shared the distinction as the other "old man" on the Phillies brigade. Though his age was against him, Johnson stayed active as a reliever for the Phillies in 1938 and 1939. Sylvester returned to Philadelphia to complete the 1939 season under the supervision of newly assigned manager James "Doc" Prothro. The Doc was unable to save the Phillies from a losing season as the club took last place in the NL with a 45–106 record. Johnson stayed consistent with an even 8–8 record in 22 appearances. Phillies president Gerry Nugent and pilot Prothro decided to keep old Syl with them in 1940. Not only was he the eldest player on the squad, he was noted as the fourth-oldest player in the majors. (Charlie Root, Jimmie Wilson, and Gabby Hartnett were the only players older than Sylvester.) 1940 was a bittersweet year for Syl for two important reasons: In January his third child, Judith, was born, and in April he suffered an internal hemorrhage in the Phillies clubhouse and was immediately admitted to Temple University Hospital. After he was released, Sylvester spent minimal time on the mound. Prior to his medical ailment, Doc named Sylvester team coach and his light duties as club instructor kept him busy until his final performance.
On September 14, 1940, Sylvester Johnson made his last major-league appearance, pitching the full nine against the Chicago Cubs at Shibe Park in Philadelphia. His grand finale produced the last recorded win on his pitching resume as the Phils took the game, 5–3. In his 19 years in both leagues, Sylvester handled 2,165 innings, appeared in 542 games, and struck out 920 batters. Since his efforts to create a pension plan were dashed in 1938, he had no choice but to look for work to support his Portland family, which continued to multiply.
During the month of December 1940, Syl's wife announced that another child would be added to the Johnson roster. Three months after Johnson got the good news, the Phillies handed him his unconditional release. Rumors of other major-league clubs having their telescopes fixed on the old hurler trickled throughout the sports pages, but Sylvester had made up his mind to stay close to his family in Portland. Things worked out perfectly when Seattle Rainiers boss Emil Sick and new manager Bill Skiff presented Syl a contract to pitch in the Pacific Coast League. Sylvester happily bit the line since Seattle was close to home. In August 1941, Ruth Johnson gave birth to her fourth child, David, who was born with Down syndrome. The following month, Syl broke his elbow twirling pepper to a Hollywood Stars batter.
Before he took the rest of the season off, Johnson recorded 13 wins and seven losses. After the season ended, Japan attacked Pearl Harbor and the United States entered World War II. As fate would decide, 40-year-old Sylvester (with a wife and four children) was not eligible to participate in the war.
In 1944, Skiff promoted Johnson to the combination position of pitcher-coach. The Rainiers skipper made another adjustment to staff by adding an eight-yearold to Seattle's payroll. With references provided by the new recruit's father, Sylvester Johnson Junior took the assignment of team batboy for the Rainiers. Not long after the season began, Ruth Johnson was expecting another child. Syl Sr. actively coached Seattle's pitching staff in 1944 and took the mound 13 times himself. During the last week of November, the Johnson clan welcomed a visit from the Portland stork who delivered baby number five, Sharyn.
In 1945, Johnson was named assistant manager to pilot Skiff 's squad and earned a 6–3 pitching record after appearing in 23 games. After the 1945 schedule was completed, old man Johnson got a job offer from an old friend. In December 1945, Seattle sold Sylvester to the Vancouver Capilanos from the Western International League after Bob Brown (Syl's old Beaver boss) came calling for the Portlander personally; he hired Syl to manage Canada's Caps jointly with Eddie Carnett and Bill Brenner. Since Carnett and Brenner were 20 years younger than Johnson, old Syl felt out of place. The Capilanos' disgraceful lineup matched their unsuccessful May record.
In June 1946, unhappy Syl took an interesting telephone call from Bill Skiff, who was recently dropped by the Rainiers and rehired by the New York Yankees as a chief scout (he had once managed in their farm system). By the end of June, Johnson decided to resign from Vancouver. It would be the last time that he would wear a minor-league uniform. Including his early years playing for the Portland and Vancouver Beavers, the Vernon Tigers, and the Seattle Rainers, Sylvester threw 1,336 innings over 248 minor-league contests. Skiff 's contact with Syl continued and soon enough the old pitcher was hired as a New York Yankees scout working under Joe Devine in August 1946.
During his time off from the season, Sylvester stayed busy in 1947 bird-dogging on the West Coast for young players. He frequently visited Oregon and Washington colleges, snatching athletes worthy to play for the Yankees farm teams. In 1948, Johnson remained with the Yanks scouting team, scouring the local diamonds for new talent. In this era, there was a football team in New York also called the Yankees and owned by Dan Topping. During 1949, the he assisted the football Yankees, scouting to sign athletes for both teams. Johnson spent his time visiting fraternity houses, baseball diamonds, and football fields throughout the Coast.
Early in his scouting years, Syl purchased some property with his in-laws and started a berry farm in Gresham, Oregon. In 1954, he bid farewell to the Yankees and was hired as a talent scout for the Brooklyn Dodgers. Sylvester was designated to his familiar territory of the western division (Washington and Oregon) and answered to division scouting boss Bill Brenzel. Syl remained a Dodger talent spy for eight years. The Dodgers moved to Los Angeles in 1958, but Johnson stayed busy on the Coast. As the years progressed, Sylvester was invited to several old-timer games to meet with old teammates from the Portland Beavers and the St. Louis Cardinals.
In 1961, Sylvester finished his last year with the Dodgers and said goodbye to baseball. With 10 years earned in the minors, 19 years in the majors, and 15 years as a bird dog, Johnson had acquired a 42-year resume devoted to organized baseball. In 1981, a committee from the Oregon Sports Hall of Fame added Sylvester Johnson to their historic roster. Just after his 84th birthday, Syl Johnson passed away in Portland on February 20, 1985. Mrs. Ruth Johnson passed away in 2001, preceded by her son David W. Johnson in 1995.
MATTHEW M. CLIFFORD is a freelance writer from the suburbs of Chicago, Illinois. He joined SABR in 2011 with intentions to enhance his research abilities and literary talents to help preserve the accurate facts of baseball history. Clifford has a background in law enforcement and is certified in a variety of forensic investigative techniques, all of which currently aid him with historical research and data collection. He has discovered and reported several baseball card errors and inaccuracies of player history to SABR, Baseball Almanac.com, Baseball-Reference.com and the research department of the National Baseball Hall of Fame. His literary contributions have been added to the SABR Biography Project.
https://sabr.org/wp-content/uploads/2020/03/research-collection4_350x300.jpg
300
350
admin
/wp-content/uploads/2020/02/sabr_logo.png
admin
2013-08-28 16:40:36
2013-08-28 16:40:36
A Phil Named Syl