Did MLB Exist Before the Year 2000?
This article was written by Bill Nowlin
This article was published in Fall 2019 Baseball Research Journal
---
Writers often refer to "MLB" as though it were something that has existed as long as there has been major-league baseball. It has not. I decided to ask the question: Did MLB exist before 2000? Or maybe late 1999?
Some background on why I decided to delve into this question. Several odd words or constructions recur in submissions to the books I've edited for SABR over the past several years. One is the mysterious "homerun." Where did the idea that home run is a single, compound word come from? Apparently there is a "post-apocalyptic role-playing" computer game named Fallout 4, which users began to play on Xbox or PlayStation at the end of 2015. Fallout 4 contains an "achievement/trophy" called a "homerun." It was indeed around that time (2015) that I noticed "homerun" cropping up in player biographies and game accounts sent in for SABR books. But were that many SABR members embracing computer gaming as well as baseball? Had they somehow forgotten the venerable history of the home run in baseball? It's almost like the misspelling was contagious. Once rare, now maybe 5% of the articles I see have this "homerun" in it.
"MLB" crops up even more often than "homerun" in articles submitted for editing. It's not uncommon to receive a manuscript with a sentence such as "In 1942, Ted Williams led MLB with 36 homers, 137 RBIs, a .356 batting average, and won the first of his two Triple Crowns."
Obviously, using "MLB" in that context is a shorthand way of referring to "major-league baseball." Using the capital letters makes it appear that there was an entity known as Major League Baseball in 1942, and that "MLB" was just an abbreviated way of referring to it. As far as I've been able to determine, there was no such thing as Major League Baseball in 1942.
What was there? There were really three entities: Prior to the year 2000, American League teams were members of an unincorporated association officially called The American League of Professional Baseball Clubs, and the National League teams were members of an unincorporated association called The National League of Professional Baseball Clubs. The third entity was the Office of the Commissioner of Baseball.
Prior to 1984, the two leagues even operated out of different buildings before they were brought into the same building by Commissioner Peter Ueberroth. Each league hired its own umpires, and of course operated under different rules once the American League introduced the designated hitter. Regular in-season play did not take place between teams from separate leagues — only spring training, exhibition games, and the World Series.
Official in-season interleague play began in 1997. In September 1999 the announcement came that as of 2000 the two leagues would be consolidated into a single entity under the office of the commissioner. This is why, for instance, an umpire such as Joe West is listed on Retrosheet as a National League umpire from his debut in 1976 through the 1999 season, but beginning in 2002 he has been a "Major League" umpire.1
On September 10, 1999, National League president Leonard Coleman resigned, as he was seeing the consolidation of the leagues proceed under Commissioner Bud Selig. The first three functions Selig began to combine after the 1999 season were the creating of schedules, oversight of on-field discipline, and unifying the umpiring staff.
On September 15, a unanimous vote of club owners at Cooperstown's Otesaga Hotel centralized and united the two leagues into one entity.2 They consented to redraft the Major League Agreement.
A November 11, 1999, article in the Los Angeles Sentinel referred to Major League Baseball as MLB and the Major League Baseball Players Association as MLBPA. In December, the Associated Press story announcing the settlement of a lawsuit between ESPN and major league baseball did not capitalize the words "major league baseball."3 A review of reporter Richard Sandomir's coverage of the business of baseball for the New York Times shows him consistently capitalizing the National Football League and the National Hockey League but only occasionally capitalizing Major League Baseball, until the middle 1990s.4 From January 2000 forward, however, he commonly began to refer to the organization as Major League Baseball.
Does this mean that MLB was only born in 1999/2000? It's more complicated than that.
Earlier History
This isn't the place to go into the entire history of the transformation of baseball from an amateur sport to a professional, organized business, but most students of baseball history know that when the American League breached the National Agreement before the 1901 season, there was resistance from the already-established National League. There were plenty of other leagues around the country, as well, representing various levels of talent.
John Thorn reminds me of the "peace agreement in 1903 that stopped the AL from poaching NL player contracts and behaving disagreeably otherwise. This followed upon the 1902 National Agreement governing the minor league clubs, thus forming Organized Baseball. The National Commission, a three-man body that was de facto controlled by the American League (because of Garry Herrmann's friendship with Ban Johnson) was somewhat ineffective and gave way to the Commissioner system."5
Though there was some degree of cooperation, such as agreeing (beginning in 1905 on a regular, annual basis) to have the top team from each league play each other in a World Series, it was not until 20 years after the American League became a major league that a true compromise was reached between the leagues and on January 12, 1921, "the position of Baseball Commissioner was created with the ratification of the new Major League Agreement."6
Judge Kenesaw Mountain Landis was the first Commissioner. He insisted on a wide array of powers, but after his death some of those powers were diluted. There was a period of some 40 years or so during which under one Commissioner or the next, the degree of powers of the office waxed and waned. When it came to 1984, however, there was a mutual desire among the club owners of both leagues — impressed as they were with his leadership of the 1984 Summer Olympic Games — to hire Peter Ueberroth. "To entice Ueberroth, the clubs again expanded the Commissioner's powers by amending the Major League Agreement so that the two league presidents were required to answer to the Commissioner with respect to administrative matters."7 Before this time, each league had been fairly free to go its own way. That's one of the reasons we have a designated hitter in the AL but for the past 46 years not in the NL. In 1984, there was truly no such thing as a unified Major League Baseball.
This is not to say, however, that all administrative functions were left only to the separate leagues; the individual clubs had mutually acceded certain powers — notably through the "best interests of baseball" clause — to the Office of the Commissioner. That Office had already overseen agreements regarding network broadcasting, marketing, intellectual property, and other administrative areas.
As Commissioner Kuhn was succeeded by Commissioner Ueberroth, the Major League Agreement was amended to give the incoming Commissioner more centralized power, to become the "chief executive officer" of Major League Baseball.
Change Came Slowly to the Nominally United Leagues
In the years that followed 1984, there continued to be a number of changes to the game — exemplified, for instance, by the uneven pace of expansion — which show a lack of true centralized authority. In that very year, for instance, the National League had 12 teams and the American League had 14. It wasn't until 1993 that the NL expanded to have the same number of teams: 14.
Starting in 1994, both leagues changed from two divisions to three. But in 1998, the National League added two more teams and so had 16 to the AL's 14. This sort of thing just wouldn't happen if there was one unitary body governing the two separate leagues.
Major-league ballclubs became worth hundreds of millions of dollars each. Owners understandably don't like changes that might undercut the value of their assets. Even once the two leagues were consolidated in the year 2000, it took more than a dozen years to finally — in 2013 — come to an agreement where both leagues were composed of 15 teams and each division had the same number of teams in it.
Uses of the Name "Major League Baseball"
A former attorney who worked in the Office of the Commissioner wrote me, "Although it was often called 'Major League Baseball,' you are right that that was not the Commissioner's Office's official name." He added: "However, the Commissioner's Office's switchboard operator began answering the phone 'Major League Baseball' (a change from 'Baseball Commissioner's Office') early in Peter Ueberroth's term and at his instruction in order to increase the use and augment the marketing of that name."
Even though there was no legal entity by that name, there were bank accounts established, payroll taxes were filed, and there were legal proceedings of one sort or another. The name used for these was the Office of the Commissioner of Baseball, and not Major League Baseball.8
Legally, "Major League Baseball" is known as an unincorporated association, with each of its clubs as members. Various courts have recognized this over the years, most notably the Southern District of Ohio in the 1989 Rose v. Giamatti decision.9
As for the media, for most of the twentieth century, though writers and others often referred to "major league baseball," it was generally a descriptive term (distinguishing it from minor league baseball), rather than to identify a specific organization.
Other Entities Using "MAJOR LEAGUE BASEBALL" As Part of Their Names
Were there times that "Major League Baseball" was used as more or less something of a d/b/a (doing business as)? The most definitive response would need to come from the main office in New York, but they presumably have more important things to do than answer pesky questions about legal minutiae. There are, however, several noteworthy entities which have used those three words as part of their names since 1966.
That year the Major League Baseball Players Association was founded and, with the leadership of Marvin Miller, grew to become one of the most powerful unions in the United States. Miller served as the MLBPA's executive director 1966–83. In 1967, the 30 clubs created a Major League Baseball Player Relations Committee to negotiate with Miller and the MLBPA. Of course, the MLBPA was the name adopted by the union, not by an entity known as Major League Baseball. The Player Relations Committee was the name given to a committee; such naming was adjectival and did not necessarily reflect the existence of Major League Baseball as an actual entity.
But also in 1966, the "Major League Baseball Promotion Corporation" was incorporated. The outside attorney who incorporated it was Bowie Kuhn, later himself Commissioner of Baseball (1969–84). In March 1989 its name was changed to "Major League Baseball Properties, Inc."10 This body handled certain licensing functions, among other things, and is a wholly-owned subsidiary of Major League Baseball Enterprises, Inc. Eleven separate entities have filed for incorporation in New York State using names that begin with "Major League Baseball." The aforementioned MLBPA, Major League Baseball Properties Inc., and Major League Baseball Enterprises, Inc. are among them. Table 1 lists all eleven and their dates of filing and whether the name/entity is still active. 11 Six of them pre-date the 1999/2000 unification.12
Table 1: Other entities using the name Major League Baseball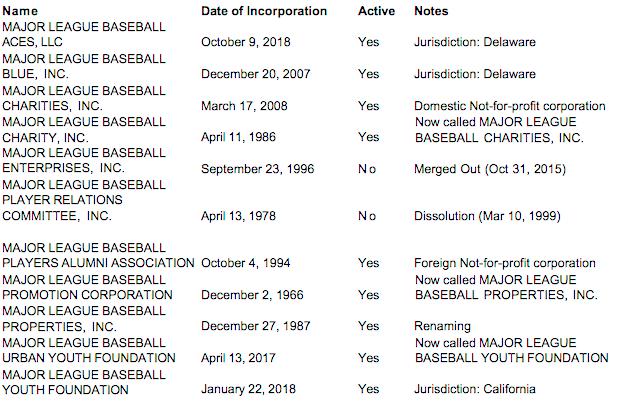 (Click image to enlarge)
Trademark Filings
Major League Baseball's logo has been used for some years as a long-time trademark (in particular, a "service mark"). Application #0955967 was filed on December 3, 1968, by Major League Baseball Promotion Corporation. The service mark showed the batter silhouette logo with the words MAJOR LEAGUE BASEBALL spelled out underneath it, all in capital letters.13
The registration was accompanied by this disclaimer:  
THE TERM "MAJOR LEAGUE BASEBALL" IS DISCLAIMED APART FROM THE MARK AS SHOWN AND BY SUCH DISCLAIMER THE APPLICANT DOES NOT WAIVE ANY COMMON-LAW OR OTHER RIGHTS WHICH IT MAY HAVE IN THE DISCLAIMED PORTION OF THE MARK.
It appears, then, that the logo is a registered service mark, but that the registration only attempted to register the logo and not the name. That does not mean, however, that they were waiving any interest they legitimately had (and have) in the name.
On its MLB.com website, Major League Baseball also posts legal notices asserting ownership of a number of trademarks or service marks including the three words "Major League Baseball," the three letters in combination ("MLB"), and even just the two words "Major League."14 In articles on MLB.com, MLB staff writers even use the capital letters when they refer to Major League players. Here at SABR, though, we will continue to use lowercase when referring to major-league players and the major leagues, except when we're specifically talking about the post-1999 entity known as Major League Baseball, a.k.a. MLB.15
BILL NOWLIN has served on SABR's Board of Directors since 2004. He has kept busy writing and helping edit biographies for BioProject, and is particularly active helping edit books for SABR's publications program. He lives in Cambridge, Massachusetts, and spends a great deal of time at Fenway Park.
Acknowledgements
Thanks to both Mike McCullough and John Thorn for multiple readings of this article, and suggestions for improvement.
Notes
1 Following a mass resignation as a form of protest which backfired on them, 22 umpires lost their jobs on September 1, 1999. See for instance, Murray Chass, "Umpires Accept Deal but Resignations Stand," New York Times, September 2, 1999: D1. The article itself referred to Major League Baseball as though it was an entity. Though also using the words "Major League Baseball" at one point in the article, the next day's Times referred correctly to the actual entity in discussing another legal action, a lawsuit ESPN v. Office of the Commissioner of Baseball. See Richard Sandomir, "ESPN Expects to Win Baseball Suit," New York Times, September 3, 1999: D3.
2 Murray Chass, "Leagues President Out As Baseball Centralizes," New York Times, September 16, 1999: D3.
3 See, for instance, "Baseball has new contract with ESPN," Chicago Daily Herald, December 7, 1999: 7.
4 See, for instance, his mention of "major league baseball" in "Networks Back Out of TV Deal with Baseball," New York Times, December 7, 1999: 7.
5 Email from John Thorn on January 25, 2019.
6 "The Commissioner: A Historical Perspective," MLB.com, accessed September 8, 2019. http://mlb.mlb.com/mlb/history/mlb_history_people.jsp?story=com
7 "The Commissioner: A Historical Perspective."
8 Though correspondence from earlier Commissioners such as Eckert and Kuhn contained simple letterheads designating they are from the "Office of the Commissioner," Ueberroth's also added "Major League Baseball" underneath. In a March 31, 1989 letter to Jim Murray of the Los Angeles Times, Ueberroth also observed: "I consider myself fortunate to have been associated with two of sports' finest institutions — Major League Baseball and the Olympic Games — and hope it is the view of most that I have served those institutions well." For a copy of this letter, see www.cooperstownexpert.com/player/peter-ueberroth/
9 721 F. Supp. 906, 917-20 (S.D. Ohio 1989). In that case, the court recognized that Major League Baseball was a "unique organization" and that Rose's dispute was properly against Commissioner Giamatti insofar as Major League Baseball had no control over Giamatti's disciplinary proceedings.
10 Its name was changed to Major League Baseball Properties, Inc. in March 1989. See https://www.bloomberg.com/research/stocks/private/snapshot.asp?privcapId=7960445
11 New York State incorporation filings searched online via https://www.dos.ny.gov/corps/bus_entity_search.html.
12  And these 11 don't include the various entities that MLB has brought into being since 1999, including cable television station MLB Network (launched January 1, 2009), nor Major League Baseball Advanced Media (MLBAM), the limited partnership launched in June 2000 and jointly owned by all 30 MLB teams. MLBAM not only runs MLB.com (and all 30 team websites), they have spun off into providing web and mobile streaming services to other major sports leagues like the NHL, as well as WWE and HBO. See for example Eric Fisher, "Deal with MLBAM a game changer for League's approach to digital," Sports Business Daily, January 23, 2017, https://www.sportsbusinessdaily.com/Journal/Issues/2017/01/23/Media/MLBAM.aspx
13   In addition, there were two applications filed on August 31, 1973 depicting the silhouette batter logo with the letters MLB. The earlier one of the two was registered on December 18, 1976, but both are currently showing as "dead."
14   "Legal Notices," MLB.com, accessed September 8, 2019, https://www.mlb.com/official-information/legal-notices
15  And please note, no "the" before MLB.
https://sabr.org/wp-content/uploads/2020/03/research-collection4_350x300.jpg
300
350
admin
/wp-content/uploads/2020/02/sabr_logo.png
admin
2019-11-12 12:13:36
2021-05-04 00:47:20
Did MLB Exist Before the Year 2000?