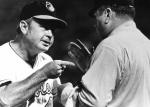 Earl Weaver: Strategy, Innovation, and Ninety-Four Meltdowns
This article was written by Jeff Burd
This article was published in Summer 2010 Baseball Research Journal
---
Two seasons ago, I witnessed the Florida Marlins attempt to execute a classic Earl Weaver maneuver. It was the fifth inning of a game in Milwaukee. The Marlins, down 1–0, had runners on first and third with two outs. As the pitcher was winding up for the next batter, I nudged my buddy in the seat next to me and drew his attention to the situation. I'd heard the former Baltimore manager detail the play on a radio show some years before. He'd have the guy on first get himself caught in a rundown; meanwhile, the guy on third steals home. Weaver said they practiced the play only once a year, in spring training, but everybody was expected to know it and be ready for the situation any time throughout the season. 
The brief discussion may have been lost on my buddy, at least the part about Earl Weaver. He asked if that was the same guy who had been kicked out of all those games way back when; he thought he had seen a few YouTube clips that he described as "hilarious."
My buddy's knowledge of Weaver, who retired from managing twenty-four years ago, probably ends with the video clips. In that respect, he's probably no different from the people who have tuned in to YouTube nearly half a million times to witness the hilarity. One clip isn't a video so much as a series of still photos strung together to go along with an old recording of Weaver's radio show, The Manager's Corner. That particular episode might as well have been scripted by David Mamet for the way Weaver spews profanity. He tears apart the idea of having speed on the basepaths, digs at Terry Crowley and how lucky he is to be in baseball, and finally gives Alice from Norfolk some rather pointed advice about her love life when all she was looking for was some pointers about growing tomatoes. 
The other clip is of an infamous fit Weaver threw on September 17, 1980, at Baltimore's Memorial Stadium. What unfolds is all too familiar regarding Weaver's onfield reputation: He storms out of the dugout and erupts in umpire Bill Haller's face: "You and your crew are here for one reason only—to fuck us!" That happens within the first 30 seconds of the three-minute clip, and it's enough for Haller to run Weaver for the fourth time. Haller was purportedly featured in a documentary being filmed at the time and so was wearing a microphone that captured nearly every word of the obscenity-soaked tirade. What had Haller done to incur Weaver's wrath? He'd called a balk on Mike Flanagan. There was one out in the top of the first inning.  
Some would say the YouTube clips are a fitting legacy for Weaver. The audio clip, though, to accompany the montage of still photos is not to be believed. Baltimore sportswriter Rick Maese wrote about it in the Baltimore Sun on May 23, 2008. He found that it was a prank set up by Weaver and Orioles broadcaster Tom Marr. It was inadvertently leaked at one point and continues to fool casual Internet surfers, fueled no doubt by Weaver's reputation as, to quote Maese, an "ornery cuss." The question about gardening, that was a reference to the tomatoes Weaver and groundskeeper Pat Santarone grew beyond the outfield fences at Memorial Stadium. 
The Haller clip is a different story. It is but one example of the 94 ejections Weaver accumulated throughout his 18-year managerial career. The total still stands as the American League record. (Bobby Cox holds the MLB record at 151 and counting, at the end of the 2009 season.) The number can't be ignored in any discussion of the combative manager, especially in light of some of the circumstances under which the ejections occurred. Weaver began to earn notoriety in the mid-1960s when he was thrown out of each game in a three-game series while managing at double-A Elmira. (That was enough for Orioles owner Jerry Hoffberger to ask, when he was considering hiring Weaver as manager, how Weaver could manage his team when he couldn't manage to stay in the dugout long enough.) In 1969, Weaver argued balls and strikes with umpire Shag Crawford and became the first manager in more than sixty years to be ejected from a World Series game. Ron Luciano ran Weaver early in game one of a doubleheader in 1975, and then ran him again during the lineup meeting prior to the start of game two. Weaver then got ejected the next day, thus giving the manager an unofficial record for the most ejections over the shortest amount of time. (Weaver scored two more ejections that year to set his personal season record of ten.)[fn]For the list of his ejections in 1975, see Earl Weaver with Terry Pluto, Weaver on Strategy (New York: Collier Books, 1984), 135. But according to Retrosheet the number of Weaver's ejections in 1975 is nine.[/fn] Perhaps fearing that he wasn't getting enough international exposure, Weaver was once thrown out of an exhibition game in Japan. 
But it wasn't just the ejections that built Weaver's reputation—many times it was the antics that followed. He kicked enough dirt to start another Dust Bowl, but that was the least of his histrionics. He once shredded a rule book on the pitcher's mound and even went as far as twice striking umpire Terry Cooney in the face in 1982. The latter action earned Weaver a one-week suspension and $2,000 fine. It was the fourth suspension of his career. Weaver referred to it as a "vacation" granted by AL president Lee MacPhail. The scope of Weaver's carryings on was so great that it's probably hard for at least one other manager not to have duplicated any one thing he did on being ejected. Some might argue that former Pirates skipper Lloyd McClendon outdid Weaver when he pulled a base out of the ground and took it with him after he was tossed from a game in 2001. Not so; Weaver did the same thing in 1963.  
Given the weight the ejections and antics lend to his legacy, it's easy to forget that Weaver has humble roots—he came to baseball as a working-class boy from the streets of St. Louis. As a child in the 1930s, he worked hauling uniforms back and forth between his father's dry-cleaning business and the clubhouses of the St. Louis Browns and the Cardinals. He fell in love with the Gashouse Gang at a young age and dreamed of nothing but becoming a professional ballplayer. Weaver eventually became a standout player at Beaumont High School in St. Louis and played second base in the minor leagues for almost a decade before realizing, as he said, "I wasn't going to make the majors as a player."[fn]Weaver, Weaver on Strategy, 176.[/fn] He went on to manage at every level in the Orioles organization before finally being brought in to manage Baltimore, replacing Hank Bauer midway through the 1968 season. 
Baltimoreans know all this, though, and will forget neither how hard Weaver worked to get to the Orioles dugout nor all he accomplished once he got there. They were the ones who saw Weaver as their guy, as the literal small guy sweating his way through life with an unwavering work ethic and who rarely worked with more than a one-year contract. They dubbed the diminutive dynamo The Earl of Baltimore. It was those same fans who cheered wildly and almost brought Weaver to tears when he delivered his Hall of Fame acceptance speech in August 1996. Standing behind the podium, speaking in front of his boyhood idols Enos Slaughter and Stan Musial, Weaver implored the fans, "Please don't make me cry, now. I don't want to cry."[fn]Michael Olesker, "The Earl of Baltimore Becomes King for a Day," Baltimore Sun, 5 August 1996.[/fn] The Oriole faithful knew that Weaver was right where he belonged, and it wasn't just his 1,480 wins that got him there. They knew that, over the course of his career, Weaver developed a system that not only defined Orioles baseball but had a significant impact on how the game was managed. 
Weaver was one of the first managers to make extensive use of statistics; he pored over them endlessly as he tried to find anything that would give him an advantage over an opponent. Sometimes those advantages came at the cost of a player's ego, but Weaver made no apologies. An excellent example: Substituting a hitter like Chico Salmon for MVP Boog Powell when the Orioles faced Mickey Lolich. To Weaver, who described the odd substitution in his book Weaver on Strategy, it was a no-brainer. Salmon's .300 batting average, .349 on-base percentage, and .400 slugging percentage against Lolich towered over Powell's paltry .178/.211 /.278. The same applied to slugger Lee May. When Weaver "went to the books" (as the Oriole players used to say), he saw that May hit a sickly .095 against Luis Tiant. To hear Weaver tell it, "No way he's going to be in the lineup against Tiant when I got [another] guy who hits his junk for about .420."[fn]"Sport: Baltimore's Soft-Shelled Crab," Time, 23 July 1979.[/fn] In a similar regard, Weaver would move Mark Belanger higher up in the batting order when facing Jim Kern. Belanger hit .625/.684 /.625 against Kern; he was otherwise (that is, after subtracting his 10-for-16 against Kern) a .226 lifetime batter. Weaver tolerated Belanger's low average in the first place because Belanger was an outstanding defender who won eight Gold Gloves at shortstop.[fn]Earl Weaver with Terry Pluto, Weaver on Strategy: The Classic Work on the Art of Managing a Baseball Team (New York: Brassey's, 2002).[/fn]
Weaver was also a renowned judge of baseball talent. Frank Robinson, one of six Hall of Famers Weaver managed, said in Time magazine article that Weaver's talent went far beyond realizing who the best athlete was or what combinations made the best starting lineup.[fn]"Sport: Baltimore's Soft-Shelled Crab," Time, 23 July 1979.[/fn] He delved deep into the question of who was the best man to get a hit after sitting on the bench for a week, what pinch-runner could steal a base in the late innings, and who could play more than one position if there was an injury. "Nobody in baseball can put all those elements together better than Earl Weaver," Robinson concluded. "Because nobody can judge baseball talent as well as he can." Robinson may as well have said the name Terry Crowley, the same player Weaver ripped on his fake radio broadcast. Part of what Weaver said wasn't fake at all—he kept the journeyman around because he knew Crowley could sit on the bench and then break something open late in a game with his clutch hitting. But it wasn't just Crowley that cemented Weaver's reputation. He was but one of a boatload of no-names and castoffs from other teams whom Weaver used once he dug through his files to see who could do what in whatever situation. Weaver credits his ability to evaluate talent with the epiphany he experienced when he realized he would never play in the majors. In the same Time article, he said, "Right then I started becoming a good baseball person, because when I came to recognize, and more important, accept my own deficiencies, then I could recognize other players' inabilities and learn to accept them, not for what they can't do, but for what they can do." 
Adding to this, Weaver also had a knack for exploiting loopholes he found in the rules. Whether it was a survival skill that carried over from the Depression or something that developed in his mind as he scrambled to find any way to compensate for his size on the field, Weaver's conniving became one of his best-known characteristics. In 1975, he adjusted for Mark Belanger's weak bat during late-season division races by listing Royle Stillman to hit leadoff and play shortstop on the road. Stillman, who was called up from the minors once rosters expanded, hit .500 (3-for-6) in those situations, so he usually gave the team an immediate advantage. When the Orioles took the field in the bottom of the first, Belanger would trot out to short and hit leadoff the rest of the game. The league never stopped Weaver from using that particular ploy (he did it again in 1979), but it did pull the plug on another one of his strategies. In 1980, he fell into the habit of listing Steve Stone as his designated hitter.[fn]See Rich Marazzi, "Baseball Rules Corner," Baseball Digest 58, no. 11 (November 1999): 86. Weaver in Weaver on Strategy, though, gives the year as 1981: "In 1981, I wrote Steve Stone into my lineup every day as the designated hitter" (56).[/fn] The motivation was simple: If the opposing pitcher was knocked out of the game early, Weaver wouldn't lose a position player if he wanted to change the DH to match up better with the reliever. It was perfectly legal, but the league passed a rule against it, citing that the stunt distorted hitting statistics.
Of the three books to his credit, it's Weaver on Strategy that has left the greatest impression on baseball minds since its publication in 1984. It's packed with insights and observations from Weaver's career, but there are also ten laws that delineate his managerial philosophy. Two of them prove his preference for big plays and big innings: The easiest way around the bases is with one swing of the bat; and, If you play for one run, that's all you'll get. He has two laws for pitching, one of which justifies his use of the four-man rotation; the other designates long relief as the best place for a rookie pitcher. He addresses defense by noting that the key step for an infielder is the first one—to the left or right, before the ball is hit. Weaver even has a law for dealing with his constant nemeses: The job of arguing with the umpire belongs to the manager, because it won't hurt the team if he gets thrown out of the game. 
Though his laws are sound, Weaver was best known for his succinct managerial philosophy: Pitching, defense, and the three-run homer. The catch phrase was as short as the man himself and packed every bit as much punch thanks to his ability to stack the Orioles year after year with players to supplement the threepronged attack. Weaver's pitchers won 20 games on 22 occasions (six went on to win the Cy Young Award), his fielders won 34 Gold Gloves, and his clubs were in the top five in home runs in the American League 11 times. All told, it was enough for him to pile up a .583 winning percentage, six division titles, four pennants, and the 1970 World Series championship. 
If you watch the Haller clip on YouTube long enough, you'll hear the assailed umpire make a comment that cuts deep beneath Weaver's bristly façade. It comes after Weaver, once again in Haller's face, promises that it is he who will be remembered when all is said and done; it is he who will be in the Hall of Fame. Haller smugly inquires, "What are they gonna put you in the Hall for? Fuckin' up World Series'?" 
Haller is most likely referring to Game 2 of the 1979 Series when Baltimore and Pittsburgh were tied 2–2 in the bottom of the eighth. The O's had runners on first and second base; John Lowenstein was at bat. If Weaver had called for a bunt, the Orioles would have been in excellent position to plate one or more runs to keep the pressure on the Pirates. Instead, Lowenstein hit into a double play and erased both baserunners. The next batter grounded out. Pittsburgh scored a run in the top of the ninth and then held on to win 3–2 and tie the series at a game apiece. The victory gave the Pirates a much needed toehold in the Series before they eventually overcame a 3-games-to-1 deficit to claim the championship. If ever there was a time for Weaver to stray from his "pitching, defense, and three-run homer" philosophy, it was probably then. I doubt the lesson was lost on the astute Weaver. Perhaps it was the genesis for his sixth law: Don't play for one run unless you know that run will win a ballgame. 
Unfortunately for Weaver, that wasn't the only World Series gaffe to which Haller could be referring. Weaver took criticism for having Boog Powell play throughout the '71 Series despite suffering an injury that caused obvious pain every time he was at bat. Powell was a crucial part of the O's slugging attack, but he hit an anemic .111 for the Series, going 0-for-4 and striking out twice in Game 7, when Baltimore fell to Pittsburgh 2–1.
Though Haller ejected Weaver five times, the two were merely enemies. There was another umpire who was easily Weaver's archenemy: Ron Luciano. Their feud went as far back as the minor leagues. (It was Luciano who had tossed Weaver three games in a row in Elmira.) Weaver couldn't stand Luciano's flamboyant style, and at one time even threatened to fine any Oriole player who talked to Luciano during a game. Luciano once described Weaver's approach to the game as religious; his outrageous behaviors, then, were a reaction to an umpire's sacrilegious actions. Weaver never could convert Luciano. Instead, Luciano exorcised Weaver from games on seven different occasions once they both reached the major-league level. Luciano's description was neither his final word on Weaver nor his most acerbic. In a sports-themed book published shortly after his retirement in 1980, Luciano was asked to rank the five toughest managers he had to deal with.[fn]Phil Pepe and Zander Hollander, Book of Sports Lists, No. 3 (Pinnacle Books, 1981).[/fn] He listed Weaver in the first four spots (the fifth spot was Frank Robinson, though Luciano noted that Robinson was Weaver's protégé). Later in the same book, Luciano commented that Weaver never forgets and held grudges that made him even more difficult to deal with. He cited a controversial call he made at the plate late in his career, recalling, "Earl charged out of the dugout, screaming that that was the same call I'd blown at Elmira in '66."[fn]Ibid., 45.[/fn]
Many players, including Robinson and Weaver's long-time staff ace Jim Palmer, insisted that Weaver never held grudges, so perhaps it was only with umpires.[fn]"Sport: Baltimore's Soft-Shelled Crab," Time, 23 July 1979.[/fn] Those same players, especially Palmer, commented that heated confrontations, blow-ups, and even the hurling of equipment were not uncommon in the Orioles dugout as Weaver and his players dealt with each other but that, once it was over, it was over. Weaver never continued to stir the pot. Weaver even claimed in Weaver on Strategy that he didn't believe in grudges. "They're stupid," he wrote, "and nothing good comes from them."[fn]Weaver, Weaver on Strategy, 106.[/fn] 
One pitch after I had brought the Earl Weaver situation to my buddy's attention, Florida manager Fredi Gonzalez called for the play. Dan Uggla baited lefty Manny Parra, but Hanley Ramirez was too late breaking for home and was gunned down 1-3-2. Given Weaver's reputation, I had a feeling about what he might have said to Gonzalez for playing for one run, much less doing it so early in the game. 
Of course, there's a chance Weaver would have said nothing. On the same radio show when he described his patented first-and-third double steal, he said he doesn't watch much baseball nowadays (and only a few innings at a time when he does) because he can't stand to see the way the game is coached and played. He finds greater satisfaction with his weekly (and highly competitive) golf game and in growing tomatoes where he has retired in south Florida. So perhaps Weaver doesn't mind so much what's on YouTube. His position in the Hall of Fame is just as permanent as the notorious clips in orbit around cyberspace, and, if nothing else, they reinforce how the man himself suggested he be remembered when his time comes—as The Sorest Loser Who Ever Lived.
JEFF BURD, an Orioles fan since May 27, 1979, works as a high-school reading specialist. His blog is at http://seeker70.wordpress.com.
https://sabr.org/wp-content/uploads/2011/02/brj-2010-summer-041.large-thumbnail.jpg
107
150
admin
/wp-content/uploads/2020/02/sabr_logo.png
admin
2011-02-03 11:16:33
2021-05-04 12:49:12
Earl Weaver: Strategy, Innovation, and Ninety-Four Meltdowns