Henry Chadwick Award: Daniel R. Levitt
This article was written by Mark Armour
This article was published in Spring 2017 Baseball Research Journal
---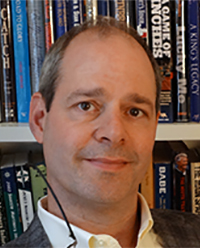 Most of baseball's great researchers have been specialists — they are historians, or statistical analysts, or biographers, or business enthusiasts, or record keepers, or something. Dan Levitt is harder to pigeonhole. His contributions to baseball research over the past two decades have been both broad and deep.
Dan has lived nearly all of his life in Minneapolis. He was playing baseball by the second grade and kept at it through high school. Along the way, he spent many an afternoon at old Metropolitan Stadium, watching Rod Carew and his hometown Twins.
Dan departed home long enough to earn a BS in Industrial Engineering and an MS in business, both from the University of Wisconsin in Madison. He returned to Minneapolis to forge a career in commercial real estate (he is currently a Senior Vice President at Ryan Companies, where he has worked for 25 years). More importantly, he married Suzanne in 1995, and they have raised two sons: Charlie, and Joey.
Dan's love and appreciation for baseball, already strong, grew considerably in 1982 when he read the first mass-marketed Bill James Baseball Abstract. A devoted reader of baseball history, Dan began to think more about how teams should value players and create rosters and organizations. He joined SABR in 1983, while still in college, and continued to read and learn.
Around 1995 Dan came across an entry in a decades-old sports encyclopedia claiming that Ferdie Schupp held the all-time record for lowest season ERA, with his 0.90 in 1916. Most record books showed Dutch Leonard's 0.96 in 1914 as the record (since the modern pitching distance). After some digging, Dan wrote an article for the Baseball Research Journal advocating for Schupp as the record holder based on his meeting the contemporary criterion for innings pitched. This was Dan's first published research paper, and he has hardly stopped in the 22 years since.
Dan's research contributions have been remarkably diverse. He has done work in statistical analysis, publishing papers on such topics as clutch hitting and the relationship of team speed and opposition errors. He has written several biographies for SABR's Biography Project, edited a journal on Minnesota baseball history for the 2012 SABR convention, wrote an article on the changing criteria for qualifying for the ERA title, and more.
In 2003, Dan and Mark Armour published their first book, Paths to Glory, which won the Sporting News-SABR Research Award. Largely a survey of 14 teams from history, focusing on how they were built, the book also included Dan's original metrics on Win Probability Added and Wins Above Replacement, both concepts that were just entering the research community at the time.
Dan's business background strengthens his interest in the financial history of the game. His research into the finances of Harry Frazee led to a SABR cover story (co-written with Mark Armour and Matthew Levitt) on Frazee's finances, debunking recent attempts to revise his controversial tenure owning the Red Sox. Dan's financial research into the business history of baseball has contributed to each of his books.
In 2008 Dan published Ed Barrow: The Bulldog Who Built the Yankees' First Dynasty, a finalist for the Seymour Medal, the first serious biography on one of history's team-building giants. In 2012 he followed up with The Battle that Forged Modern Baseball: The Federal League Challenge and Its Legacy, which won the Larry Ritter Award for the best book on the Deadball Era. Both books will long serve as definitive works on their subjects.
Dan's fourth book, also written with Mark Armour, came in 2015: In Pursuit of Pennants — Baseball Operations from Deadball to Moneyball. Conceived as a follow-up to their first book, In Pursuit of Pennants went much further, exploring the full history of baseball operations, all of the major rules changes that have affected team building, and presented common threads that run through the successful teams of history. A finalist for the Seymour Medal, the book introduced new research on the origins of the farm system, the integration of the game, free agency, and more.
In 2015 Dan and Mark teamed up again to research the history of the Major League Baseball Players Association, an effort funded by the MLBPA for their fiftieth anniversary publication and its revamped website.
Besides his own lengthy resume, Dan has been a valued member of the SABR family for more than 30 years, contributing to many research committees and serving several times on the board of his local chapter. He is a frequent presenter at local and national meetings, and a good friend to many people in the society. His contributions were recognized in 2015 when he won the Bob Davids Award.
Dan's contributions to baseball biography, records, business, statistical analysis, and history have been vast, and we all look forward to finding out what he is going to tackle next.
https://sabr.org/wp-content/uploads/2020/03/research-collection4_350x300.jpg
300
350
admin
/wp-content/uploads/2020/02/sabr_logo.png
admin
2017-04-05 13:01:17
2021-03-02 11:03:03
Henry Chadwick Award: Daniel R. Levitt