Henry Chadwick Award: Lyle Spatz
This article was written by Mark Armour
This article was published in Spring 2017 Baseball Research Journal
---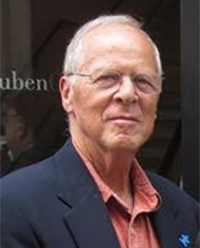 Lyle Spatz was a devoted fan of baseball and his hometown Dodgers by 1946, which was just in time to bear witness to one of history's most storied teams. Jackie Robinson came to Brooklyn the next season, and Lyle attended his first game at Ebbets Field on July 5, 1947. Though his team lost that day, the Dodgers recovered to win the pennant, and Lyle's passion for the game was further cemented.
After a stint in the US Navy and four years at Brooklyn College, Lyle moved to Maryland in 1961 and forged a career as an economist for the US Department of Commerce. He married Marilyn in 1960, and they raised two sons (Dana and Glenn) who have given them four grandchildren. Lyle's devotion to the Dodgers ended with the team's move west, but he adopted the Orioles in Maryland and has stuck with them through thick and thin.
An avid reader of baseball history, Lyle joined SABR in 1973, just two years after its founding. SABR was a smaller and tighter organization in those days, and Lyle became friends with many of its best researchers, including Bob Davids. In the early 1980s, Davids asked Lyle to conduct a survey of SABR members to select "retroactive" Rookies of the Year from 1900 through 1946, before the writers' award began, and for '47 and '48 when there was only one award for both leagues. Over a period of several years, the SABR newsletter contained a ballot for a group of seasons along with Lyle's candidates. Finally, SABR's choices were unveiled in 1986. Flush off this success, a few years later Lyle conducted the same exercise for the Cy Young Award.
Arguably Lyle's greatest contribution to baseball research began in 1991 with his 26-year run as chairman of SABR's Records Committee. While baseball records can be a contentious matter, often involving competing advocates and commercial interests, Lyle and his committee earned a reputation as dogged seekers of the truth. At no time was Lyle's philosophy more on display than when voices suggested adjusting the record books for players who used performance-enhancing drugs. The Records Committee's role, Lyle maintained, was to record what happened on the field. Others were free to interpret the facts as they wished.
In 1993, Lyle edited Baseball Records Update — 1993, which offered corrections to numerous baseball records, including those of some of the greats of the game — Walter Johnson, Lou Gehrig, and many others. Changing baseball records is never without its opponents. "As Aristotle said of his mentor, 'Plato is dear to me, but dearer still is truth,'" Lyle says. The Records Committee has continued on this path ever since. "He did an excellent job of making everyone on the committee feel valued," adds Retrosheet founder David Smith, "and as a result the committee's decisions on record changes are widely respected."
Trent McCotter replaced Lyle as Chairman in 2016. "It's impossible to please everyone," says Trent, "especially in the context of baseball records, which have incredible significance to baseball history and its allure as a numbers game. But Lyle's integrity and commitment to remaining level-headed have helped maintain the Committee's reputation across the stats world for the last quarter century."
In the meantime, Lyle carved out his own path as a top-rank baseball researcher and historian. He began contributing articles to SABR publications in the 1980s, and has been a prolific author ever since. He long had an interest in baseball's Opening Days, and he devoted his first book to a study of New York Yankee Openers through 1996. He has regularly tackled biography, penning numerous biographical articles and full-length biographies on four Dodgers: Bill Dahlen, Willie Keeler, Hugh Casey, and his childhood hero Dixie Walker. He has edited two books of biographies covering the 1947 Dodgers and the 1947 Yankees. A book on baseball's All-Star Game, co-written by Lyle, David Smith, and David Vincent, won the Sporting News-SABR Research Award. He edited The SABR Baseball List and Record Book, a delightful compendium of baseball facts, in 2007.
In recent years Lyle has partnered with Steve Steinberg on two award-winning books: 1921: The Yankees, the Giants and Battle for Baseball Supremacy in New York; and The Colonel and Hug: The Partnership That Transformed the New York Yankees. The former won the prestigious Seymour Medal.
Beyond his impressive accomplishments, Lyle is one of SABR's best-liked and respected people. He has been a regular at local meetings since the 1970s and national meetings since the 1980s. He has made dozens of friends in the baseball research community, and he has helped many a younger SABR member feel welcome and valued. It surprised no one when Lyle won the Bob Davids Award in 2000, just as it surprised no one when he won the Chadwick Award in 2017. The baseball community looks forward to what he will work on next.
Click here to learn more about the Henry Chadwick Award.
https://sabr.org/wp-content/uploads/2020/03/research-collection4_350x300.jpg
300
350
admin
/wp-content/uploads/2020/02/sabr_logo.png
admin
2017-04-05 13:35:25
2021-03-02 11:01:28
Henry Chadwick Award: Lyle Spatz