'I Thought We Had A Roof': Marlins All Wet After Opening Day Rain Delay Gaffe
This article was written by Chad Osborne
This article was published in Spring 2018 Baseball Research Journal
---
On Opening Day of the 2015 season, Miami Marlins players and fans had to scurry for cover as Marlins Park was soaked with rain — despite the retractable roof installed on the facility. Dee Gordon slipped as he accelerated out of the batter's box.
The speedy Miami Marlins second baseman had just laid down a bunt in an effort to spark a late rally. His team trailed the Atlanta Braves 2-1 in the eighth inning on Opening Day of the 2015 season.
Gordon, slowed by the slip, was thrown out at first by Atlanta pitcher Jim Johnson.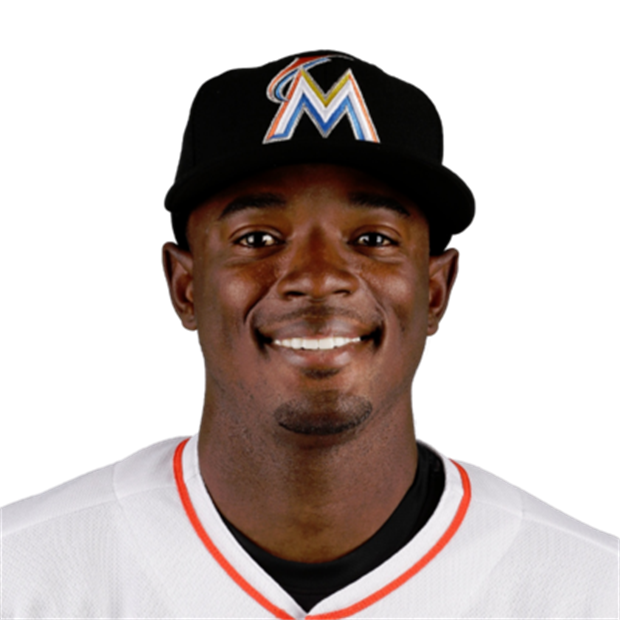 In the second inning, a surprise rain shower had drummed the ballpark and forced a brief delay, leaving players and fans scurrying for cover as Marlins Park got a soaking.
Blame Gordon's slip on the rain, right?
"Revisionist history would tell you that it's because it rained, that he slipped because it rained," said then-Marlins President David Samson in a telephone interview on May 25, 2016. "I would tell you that it's possible he could have slipped on a sunny day. But, because it was a rain delay, it enabled people to draw that conclusion, including myself."
It seems unlikely the area in front of home plate was still wet from the second inning shower. However, the field crew was not prepared for such an event. There was no accessible tarp to cover the infield.
Why should there be? Marlins Park had a retractable roof.
***
Marlins Park opened in April 2012. It features a sophisticated retractable roof designed to protect fans and players from Miami's sweltering summer heat and the pesky thunderstorms that often barrel through the city.
An announced crowd of 36,969 fans packed the park Opening Day, hopeful to see the genesis of a winning season. It was 80 degrees at first pitch and mostly cloudy. Yet the forecast — it called only for a 20 percent chance of rain — looked promising for a beautiful day of baseball.1
The Marlins kept the roof open.
In making such day-to-day decisions, Samson said he and others involved "look at temperature. We look at wind speed. We look at wind direction. We look at humidity, relative humidity and rain chance."
All of this information was found on a weather app.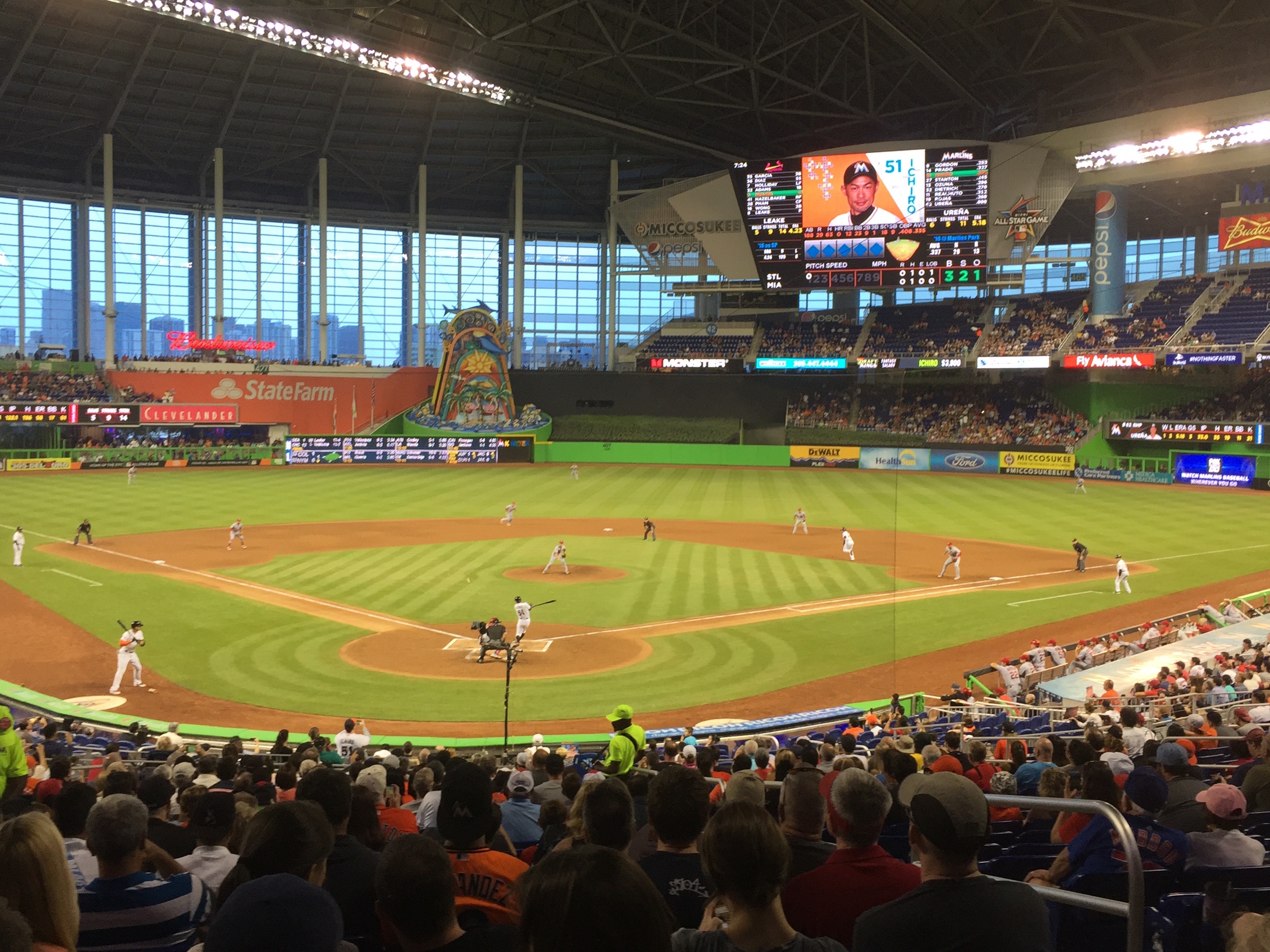 Ichiro Suzuki of the Miami Marlins bats during the SABR 46 convention game on Friday, July 29, 2016, at Marlins Park in Miami.
***
Six former Marlins All-Stars — Luis Castillo, Jeff Conine, Alex Gonzalez, Charles Johnson, Mike Lowell, and Carl Pavano — gathered on the field to throw the ceremonial first pitches. Minutes later, at 4:22 p.m., Miami starting pitcher Henderson Alvarez ignited a cheer from the hometown crowd — those who arrived to the ballpark on time — when he forced Atlanta outfielder Eric Young to ground to second for the first out of the new season.2
Up next, Jace Peterson smacked the second pitch he saw from Alvarez to center field for a single. On his first pitch to Nick Markakis, Alvarez balked Peterson to second, moving the second baseman into scoring position.
Markakis, facing a 1-1 count, then singled to center, scoring Peterson for a 1–0 Atlanta lead.
Alvarez, perhaps feeling some Opening Day jitters, settled down to retire the next two batters, escaping further damage.
The Marlins failed to produce a baserunner in the bottom of the first, and Alvarez sailed through the top of the second.
In the bottom half of the inning, Atlanta starter Julio Teheran struck out Michael Morse swinging.
Marlins third baseman Martin Prado then came to the plate.
With the count even at 1–1, spectators suddenly began to scramble as a dark, gray storm cloud above unleashed a steady rain onto the uncovered ballpark.
"It started raining and then raining harder, and I just remember thinking it's not going to rain harder, but then it rained even harder," Samson said. "And then I remember the umpires getting together and realizing that we were about to have a rain delay."
Home plate umpire Jeff Nelson confirmed Samson's fear.
"As the umpires waved the players off the field for what would be a 16-minute weather delay, the roof began its west-to-east slide," columnist Greg Cody wrote the next day in the Miami Herald. "You can't hurry love or a retractable roof, apparently, so the grounds crew scrambled to spread bags of glorified cat litter across a puddling infield as by agonizing degrees the motorized roof began leisurely to cover the field and sodden fans."3
***
The Marlins Park roof structure weighs 19 million pounds and closes in "between 11 and 15 minutes, depending on the wind," according to Samson, as it travels about 39 feet per minute.4
"It was extremely surreal when I realized we were going to have a rain delay in a retractable roof facility, and I was the one responsible," Samson said. "And it was Opening Day. I knew that the roof was open, and I didn't think the rain was coming."
Samson, as was critically noted in many media reports, used weather apps on his phone to track a storm moving toward the Marlins Park vicinity. At the time, the team did not consult with meteorologists or weather services.
"I looked at three different weather apps, and I didn't think we were going to be impacted and neither did the people around me," he said in the phone interview. "And all of the sudden it started raining and then raining harder."
Meteorologist John Morales is "not a big fan of weather apps," he said, particularly when used to make decisions that can have an impact on so many people. One reason for his aversion, Morales explained, is those apps gather information from computer models and generally have little to no input from weather-predicting professionals.
"Here you are, trying to predict what the weather is going to be at Marlins Park, a specific point in Miami, and you're going to the [computer] cloud to retrieve a forecast from a global model," Morales said in a phone interview on January 18, 2017. "That [forecast] is looking at the entire planet and having it retrieve this one bit of information as to what the weather might be, whether it be tomorrow or the next hour, for that specific point in Miami. And more often than not you're going to be disappointed with what the app is going to give you."
Provided Miami's geographic location — just outside the tropical belt — "There is a lot of moisture and there tends to be a lot of instability in the atmosphere," Morales said.
"The air is often charged and ready to produce rain showers, not necessarily in April for Opening Day," said the meteorologist, who consulted with the Marlins about game-day weather "a couple of ownerships ago," he noted, and years before the team built a ballpark with a retractable roof. "But go a month forward into May, and showers, and thunderstorms too, can pop up almost out of nowhere."
Examining radar can show where a rain shower is located. "Radar is what's really out there," Morales said.
"Unfortunately, when you have a lack of expertise in the area, and unless you're a meteorologist . . . most people don't have the expertise in being able to interpret radar imagery. There's always that chance that you're going to miss or misinterpret which way a shower is moving.
"Sometimes you have to be in the know to really figure out how things are behaving," Morales continued. A "meteorologist would be looking at weather radar and be able to give them, at a minimum, the 15 minutes they need to close the roof."
On picturesque days that appear perfect for baseball, "There might be some isolated showers out there which might clip the park," Morales said. "And even though they're isolated, covering 10 or 20 percent of the area, which is not a lot, but if it happened to be in that 10 to 20 percent, then you're up the creek."
***
As soon as Samson realized the game was going into a weather delay, he called team owner Jeffrey Loria: "And it was a horrific phone call to make. I was sitting up in a suite, and he was sitting next to the dugout . . . in the rain."
Samson had been accustomed to making those calls when the Marlins played in an open-air stadium.
"That was an everyday thing," he recalled. "But in the new ballpark, it didn't even occur to us — that was year four in the new ballpark — and it had just never, ever occurred to either me or him that I would ever be making those calls again."
When Samson dialed the phone to Loria on that day, he recalled the owner saying, 'I thought we had a roof.'"
"I said, 'I'm sorry,'" Samson said. "He hung up, and I hung up. And that was it.
"And I was very careful to avoid him for the next 24 to 48 hours," Samson said, laughing.
***
Once the roof closed and the field was prepped, play resumed. Prado stepped back into the batter's box and grounded out to the pitcher.
The Marlins pulled even in the bottom of the third when Gordon slapped a two-out single to left, scoring Alvarez, who had doubled on a line drive to deep left field. The Braves ended the inning, and further threats, when catcher Christian Bethancourt threw out Gordon attempting to steal second.
Miami again ran itself out of an inning in the fourth when Giancarlo Stanton, rounding second on a two-out Prado single, noticed no Atlanta player was covering third. And off he went. Left fielder Kelly Johnson took note and fired the ball to shortstop Andrelton Simmons, who adroitly moved to catch the ball and tag out Stanton.
"They were late to cover, so it had to be the perfect throw," Stanton said. "It was right on there, and he still grabbed it and dove. So that can't happen."5
Leading off the top of the sixth, Young punched an Alvarez pitch up the middle and raced to second for a double. Peterson next placed a sacrifice bunt in front of the plate, and Young advanced to third. Continuing to play small ball, Markakis grounded to Gordon. The second baseman threw home in an attempt to nab Young, but the speedy runner beat the throw, giving the Braves a 2-1 advantage.
The Marlins roared back in their half of the seventh. Morse led off with a single to right. Prado followed with another single, and then another came from center fielder Marcell Ozuna. Three batters into the half inning, the bases were loaded with Marlins.
The situation led Braves manager Fredi Gonzalez to remove Teheran in favor of lefty Luis Avilan. The move proved to be a smart choice by the Atlanta skipper.
On a 1–1 count, Avilan forced catcher Jarrod Saltalamacchia to ground weakly to third. Alberto Callaspo picked up the grounder and threw home to force out Morse. Bethancourt, the Braves catcher, then threw to first to nab Saltalamacchia for the double play.
Miami still had two base runners — Prado stood at third and Ozuna had moved to second — but the Braves could breathe a bit easier now with two outs.
Complete relief came when Jim Johnson induced Marlins shortstop Adeiny Hechavarria to pop up a 1–2 pitch foul down the first base line. Atlanta's Freddie Freeman parked under the ball and made the catch to record the third out.
The bottom of the seventh turned out to be the last gasp for the Marlins and their fans, who now sat in drier, more comfortable seats.
Gordon's attempt for a bunt single in the bottom of the eighth failed, partially because the speedster slipped on his first steps toward first base.
Blame it on the rain?
"We had some chances, had some opportunities," Miami manager Mike Redmond said. "We just didn't get that one big hit. But we ran into a couple of outs as well. But, that's baseball. We'll come back tomorrow and be ready to go."6
In the ninth, Stanton struck out swinging. So did Morse. Atlanta closer Jason Grilli threw two strikes past Prado before the third baseman lined out to second to end the game.
Final score: Braves 2, Marlins 1.
***
As a joke, some fans brought umbrellas or wore raincoats for game two of the series on Tuesday night, Samson recalled. "Whenever I was out in a restaurant or giving a speech somewhere, people would walk up to me and tell me about their rain shoes that they now wear to the ballpark," he said.
In the postgame press conference, Samson kept the moment light. He was quoted in the Sun-Sentinelsaying: "The roof closed as quickly as I could get it closed, short of me pushing it. No. 1 in the manual we wrote is no matter what happens, don't have a rain delay. So I sort of skipped to part 5, which is 'predict the weather at your own peril.'"7
He also mentioned that rain had previously fallen on Marlins Park, but never enough to cause a delay. Still, it brings up the question: Why was there no tarp?
"We did have a tarp, but it was in a place not readily accessible. It's near the field, but not on the field," Samson said in the phone interview. "So, it would have been a difficult process to get the tarp put over the infield. And the reason I approved having the tarp in an out-of-the-way storage place is, I said there will never be an issue with rain because we have a roof."
CHAD OSBORNE is a public relations writer at Radford University in Virginia, and has worked in higher education for 20 years. In 2006, he created "The Rainout Blog," where he writes about baseball and inclement weather. Chad regularly attends Bristol Pirates (Appalachian League) games with his wife, Tina; daughter, Gracie; and son, Ty. They live in Marion, Virginia, two miles from the site of Nolan Ryan's first professional pitch.
Sources
In addition to sources cited in the Notes, the author used the Baseball-Reference.com and Retrosheet websites and telephone interviews with former Miami Marlins President David Samson and Meteorologist John Morales of NBC 6 South Florida.
Notes
1 "Weather History for KMIA – April, 2015," Weather Underground, https://www.wunderground.com/history/airport/KMIA/2015/4/6/DailyHistory.html, accessed January 14, 2017.
2 Greg Cote, "Future may be bright, but Marlins stumble on Opening Day," Miami Herald, April 6, 2015.
3 Cote, "Future may be bright."
4 "Marlins Park Roof," MLB.com, https://www.mlb.com/marlins/ballpark/roof, accessed December 7, 2016.
5 Joe Frisaro, "Sloppy play hurts Marlins in close loss," MLB.com, April 6, 2015.
6 Mark Bowman and Joe Frisaro, "Teheran, Braves rain on Marlins' Opening Day," MLB.com, April 6, 2015.
7 Craig Davis, "Downpour with roof open creates rain delay at Marlins Park," Sun Sentinel, April 6, 2015, http://www.sun-sentinel.com/sports/miami-marlins/sfl-downpour-rain-delay-at-marlins-park-20150406-story.html, accessed December 3, 2016.
https://sabr.org/wp-content/uploads/2020/03/research-collection4_350x300.jpg
300
350
admin
/wp-content/uploads/2020/02/sabr_logo.png
admin
2018-05-15 17:24:37
2018-05-15 17:24:37
'I Thought We Had A Roof': Marlins All Wet After Opening Day Rain Delay Gaffe