Not an Easy Tale to Tell: Jackie Robinson on Stage and Screen
This article was written by Ralph Carhart
This article was published in Jackie Robinson: Perspectives on 42
---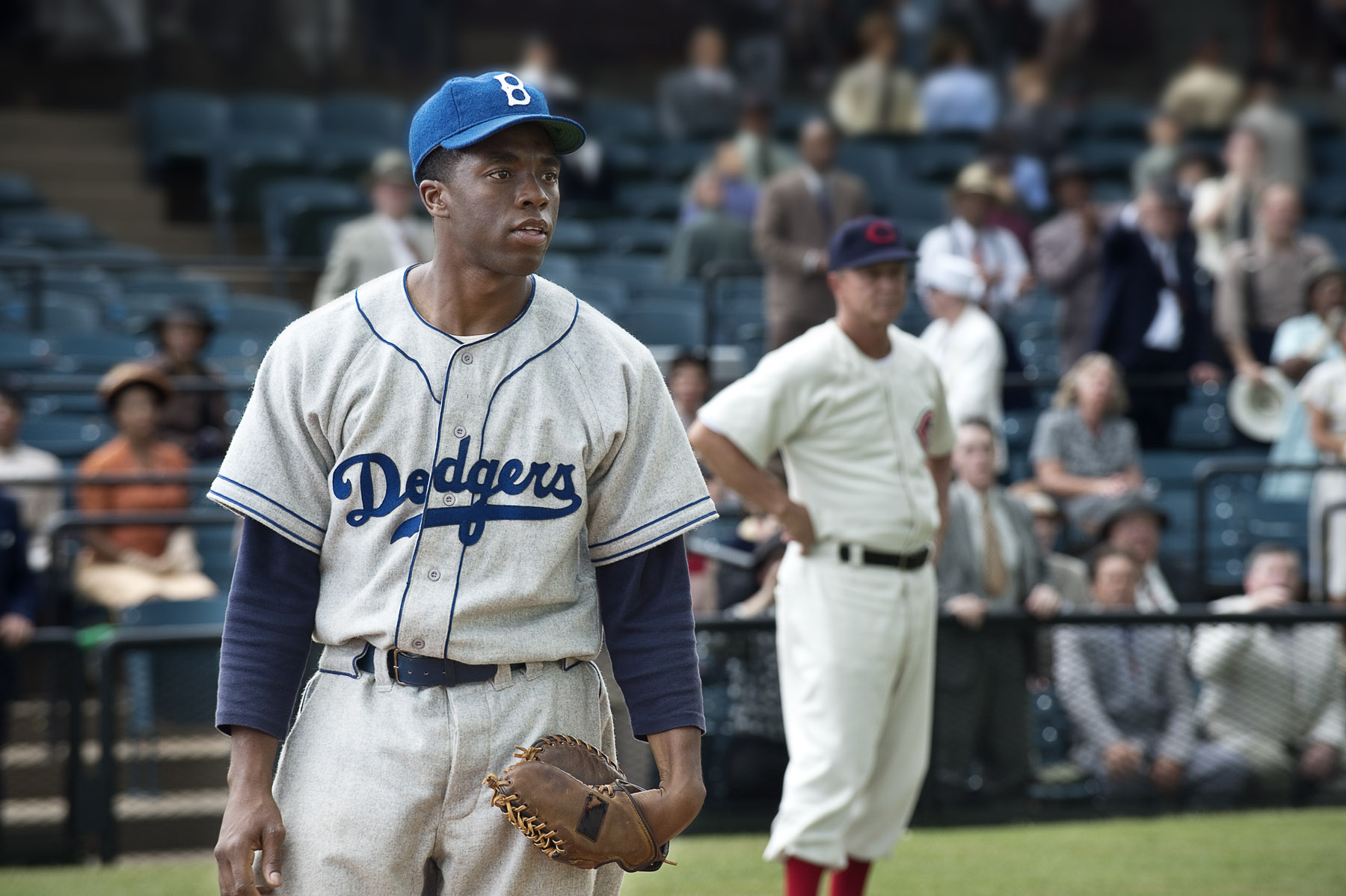 Actor Chadwick Boseman portrayed Jackie Robinson in "42: The True Story of An American Legend," released in 2013.
Jackie Robinson was one of the most complicated men to ever play the game, and so it is no surprise that fictional representations of him largely fail to fully capture this nuanced hero. His is a story that defies a simplistic three-act structure. Still, this has not stopped many from attempting to do so. It is possible that no single figure from baseball history has commanded as much screen (and stage) time as he. The "character" of Robinson can be found everywhere, from made-for-TV fare to big-screen blockbusters; from a Broadway musical to one-man shows touring local schools. His integration of the Dodgers is a historic moment that is not limited to the opus of baseball, but has extended into the whole American mythos. One could say that the quiet narrator of this tale is the woman to whom he entrusted his heart and legacy, his wife, Rachel Robinson.
The first attempt to produce a film that told the story of Robinson's rookie season was in the works before his historic freshman campaign was even over. In October 1947, Robinson signed a contract with producer Jack Goldberg for $14,500 for a picture called Courage, with Robinson tapped to play himself. The movie was never made and Robinson sued the wayward producer, creating a protracted legal battle that was decided in Jackie's favor by the Brooklyn Supreme Court in 1954.1
Having learned his lesson, Robinson knew he needed someone with more experience than himself to represent his business interests. He enlisted the services of lawyer Martin Stone. Understanding the tremendous potential value of a Hollywood deal, Stone immediately secured the rights to the book My Own Story, which Jackie had written with the considerable assistance of Pittsburgh Courier sportswriter Wendell Smith. By releasing Jackie from that deal, which was heavily lopsided in favor of the publisher, he now had the freedom to shop the story around to whomever he pleased.2
Stone, with screenwriter Lawrence Taylor, spent two nearly-fruitless years looking for a producer. The biggest obstacle to finding a buyer was a predictable one. The major studios were hesitant to release a motion picture in which the hero was a Black man. They didn't think it would sell in the "heartland." One studio proposed a doctored version of the story, rewritten to make it more palatable to White America. This incarnation had a blatantly pandering subplot, which claimed that Jackie owed all his athletic prowess to a fictional White coach who taught him everything he knew. They passed on this insulting adaptation and continued to look for takers.3
When UK-based Eagle-Lion Films approached Stone with the intent to purchase the rights to the Robinson story, he knew he would be working with a smaller company than the picture deserved. However, producer William J. Heineman's enthusiasm for the project, after so much ambivalence and tinkering from the big studios, convinced Stone and Robinson to give Eagle-Lion a chance. Jackie was promised $30,000 (nearly $10,000 more than his 1949 Dodgers salary), paid in two equal amounts before and after filming, as well as 15 percent of the profits from the film. Additionally, another 5 percent of the box office was to be donated to the National League players' fund.4
What neither Stone nor Robinson knew was just how bleak Eagle-Lion's financial situation was. The company was nearly bankrupt, and struggling to find anyone who was willing to give them money to make a film. Heineman's solution was novel. Rather than locating a small number of large-scale investors, he approached the very employees of Eagle-Lion and asked them to become backers of the project. The outpouring was instantaneous and effusive, and not just from the wealthier men who sat in the boardroom. Secretaries, switchboard operators, publicists, and assistants all gave money to the cause, ranging in amounts from $50 to several thousand dollars. By the time he was done, Heineman had collected $300,000. Certainly not an exorbitant amount to make a film, modest even by the standards of the day, but it was enough.5
Director Alfred E. Green was tapped to steer the film. Saddled with an inexperienced lead actor, a shoestring budget, and a razor-thin shooting schedule, Green started out with a number of challenges. He mitigated these, in part, by making a film that was at least visually captivating. He chose close-up angles that put the viewer in the thick of the action. He modeled much of the pace on the popular newsreel-style that movie-goers were used to seeing before the feature picture.6
Of the multitude of portrayals of Robinson, it is this very first that may have ultimately been the most evocative, a curiosity since, as was the plan for Courage, the star of the film was Jackie, himself. Part of the reason the movie was shooting on such a tight schedule was that Rachel was expecting, and Jackie refused to leave for California until the baby arrived. Sharon Robinson was born on January 13, 1950, and a month later Jackie and his son, Jackie Jr., flew to Hollywood.
It was a challenging situation for the normally unflappable Robinson. He had learned to ignore the outside distractions thrown at him on the diamond – he had been training for that his whole life. Being an actor was another matter entirely. Two weeks after he arrived in California, he called Rachel and asked her to join him for the remainder of the shoot. Rachel and their baby flew to Los Angeles, which offered her the rare treat of being picked up by a limousine every morning and taken to the film lot. There, she and newborn Sharon became favorites among the cast and crew.7
The actor who was most drawn to Sharon was, fittingly, Ruby Dee, who had been cast to play Rachel. Dee was a well-known name after her star turn in the title role of the American Negro Theater production of Anna Lucasta. Even before The Jackie Robinson Story, she was familiar with the particular challenges of working with a professional athlete. In 1948 she starred on the silver screen opposite another sports legend, Joe Louis, in The Fight Never Ends. Dee was pregnant herself while filming Story, and she got to know Rachel over the final days of shooting.
The early chemistry between Dee and Jackie had been lacking, in large part because Robinson felt awkward about the intimacy of the scenes between them. It wasn't until Rachel was on the set that he began to relax. Dee realized what a powerful presence Rachel was, and how much her famous husband needed the stability and approval she provided. This epiphany led to one of Dee's greatest regrets about the picture. She had listened to the advice of her director, Green, and had portrayed Rachel as a passive observer of the real-life Jackie Robinson story. In truth, she was one of the main motivators.8 Now, Rachel was providing Jackie the inspiration to approach his acting with the same vigor with which he approached the game.
Other than Robinson, Dee was the only "name" in The Jackie Robinson Story. Loaded with the responsibility of carrying the picture, Robinson does not disappoint. There are certainly moments that come across as stilted, though even those have the believability of a young, inexperienced ballplayer faced with an unimaginable journey. The script does fall into the predictable tropes of biopics – a simplistic view of its subject as well as the individuals who stand in his way. There is no mention of Robinson's troubled past as a youth, nor of the complicated reality of Rickey's signing Robinson away from the Kansas City Monarchs, who appear in the film as the fictional Black Panthers. Perhaps most egregiously, the Rachel character is not only passive but woefully underutilized. Still, it is Robinson's story, and he gives it to us with a believable truth.
A lobby card promoting The Jackie Robinson Story (1950).
The New York City premiere took place at the Astor Theatre, an old Broadway house on 45th Street that had been converted to a movie theater in 1925. The event was one of the most elaborate and costly of its kind, with elite seating for the film approaching $100. Guests included Cab Calloway, Adam Clayton Powell, Gil Hodges, Brooklyn Borough President John Cashmore and New York City Mayor William O'Dwyer. A huge Brooklyn banner was raised over the theater, as Times Square became Flatbush for a day. Eagle-Lion pledged all proceeds from the night to Youth United, a charity dedicated to addressing juvenile delinquency.9
The Jackie Robinson Story opened to mixed, but mostly positive, criticism. Robinson received nearly universal praise for his heartfelt portrayal, and there were many who saw the film for the bigger picture it represented. As one critic succinctly put it, "Judged entirely on its merits as screen entertainment, it certainly cannot be rated among the best pictures of the year, but judged as a goodwill winner for our American way of life it deserves an Academy Award."10
The film turned out to be a modest commercial success. The fears that kept larger production companies away from the project, that middle America would not take to the film, proved to be unfounded.
The movie made history in the state of Utah when six different theaters in Salt Lake City had screenings at the same time, a first.11 It played to long lines in small towns and big cities across the country, although, curiously, it also struggled at the box office in cities like Baltimore, Boston, and even Brooklyn.12 In the end, the employees of Eagle-Lion Films made roughly five times their original investment.
Despite that success, The Jackie Robinson Story was the only fictionalization of Robinson ever filmed during his lifetime. While he made frequent television appearances both during and after his baseball career, Hollywood, and a big-budget telling of his tale, remained elusive. When he died on October 24, 1972, at the age of 53, the nation mourned the loss of a giant. Keenly aware that they were now responsible for shepherding his legacy, the Robinson family took a collective moratorium on the telling of his tale. It was not until 1981 that the next large-scale representation of Robinson was proposed, and this time it was a whole new medium.
It was announced in September 1980, that producers were negotiating with the Robinsons to bring his story to Broadway in the unlikely form of a musical. Director Martin Charnin had scored his first Broadway hit in 1977 with Annie, his homage to the comic strip Little Orphan Annie, which initially appeared in the New York Daily News in 1924. A longtime theatre veteran, Charnin made his Broadway acting debut as the character Big Deal in the original 1957 production of West Side Story. By the early 1960s he had shifted the focus of his career from being on stage to working behind the scenes, as a lyricist, where he toiled for two decades. After the overwhelming success of Annie, the genesis for his next directorial exercise happened in a New York minute. While sitting in the office of his business manager, David Cogan, Charnin struck up a conversation with another of Cogan's clients, famed film critic Joel Siegel. During the course of the chat, Siegel, a history buff, suggested that the Robinson story would make an interesting musical. Within a month, the two were at work, with Siegel writing the book and Charnin the lyrics. Robert Brush was hired to do the music.13 The three men called their Robinson script The First.
The team persuaded producer Michael Harvey to back the project. Harvey, a relative lightweight who had never produced a Broadway show that had run for more than a month, enlisted the additional help of Zev Bufman, a theatre legend, and Neil Bogart, the founder of Casablanca Records. Bufman had just come off a hugely successful string of revivals, including updated productions of Peter Pan, West Side Story, Oklahoma, and Brigadoon. As the Robinson project was being developed, he was actively mounting a production of Lillian Hellman's The Little Foxes, starring his creative partner of many years, Elizabeth Taylor, in her Broadway debut.14
The initially announced production team for The First was impressive, with David Mitchell designing sets, Theoni Aldredge on costumes, and Peter Gennaro serving as choreographer, each of them Tony Award winners. The original ambitious timeline was delayed by a theatre shortage. The First was on the waiting list for two different venues, the Lunt-Fontanne and the Martin Beck, but the first had an unexpected hit on its hands in the Duke Ellington-based revue Sophisticated Ladies, while the latter was still hosting Bufman's The Little Foxes.15 The entire project was put in a holding pattern while they waited for an appropriate house to become available. The delay cost them their original design team.
When it was announced in August that The Little Foxes was closing after the Labor Day weekend, the entire production went into overdrive. With the exception of costume designer Carrie Robbins, a two-time Tony nominee, the new design team was not nearly as accomplished as its predecessors. Still, they set to work creating the world of Ebbets Field on the stage of the Martin Beck in short order. Rachel Robinson, who had given her permission for the re-creation of Jackie's story, joined the team under the title of creative consultant, immediately lending gravitas to the project.
Many names had been suggested to play the coveted role of Robinson, including, briefly, Michael Jackson.16 The producers decided the better (cheaper) route was to go with an unknown, and they considered many during the extended delay. With only two weeks remaining before rehearsals were scheduled to begin, they ultimately cast a newly minted Yale graduate who had never appeared in a professional play in his life, David Alan Grier. A decade after The First, Grier gained fame as a cast member of the television show In Living Color. In 1981 he was still a green, recent grad who was suddenly thrust into the spotlight of Broadway.
His castmates included Lonette McKee as Rachel and Darren McGavin as Branch Rickey.17 McKee had come to the public consciousness just five years earlier with her harrowing portrayal of the drug-addicted Sister Williams in the film Sparkle. McGavin was a longtime fixture of stage and screen. He had made his Broadway debut in 1953, and is best known as the profanity-slinging father in the now iconic holiday film, A Christmas Story. Curiously, both would also later appear in baseball movies. McKee starred as the love interest of Richard Pryor in Brewster's Millionsand McGavin played gambler Gus Sands in The Natural.
When the cast assembled for the first rehearsal on August 26, Rachel was in attendance. She told the gathered press that she didn't consider the play to be a "baseball show," as the themes were larger than just a game. "The show will carry the message that where there's opportunity, there's hope." Also present was Red Barber, whose gentle Southern cadence served as the voice of the Dodgers during the early days of Jackie's career. With the story of The First concentrating on the years 1946 and '47, Barber would be "appearing in the musical, in the form of a prerecorded voiceover. He also recorded television ads promoting the show.18
Rehearsals were going smoothly until mid-October, when McGavin withdrew from the show right before previews were scheduled to begin. As the script evolved in the rehearsal room, a frequent occurrence with new productions, it became clear to the writers that the real heart of the story was the relationship between Jackie and Rachel. The casualty of this realization was the importance of Rickey. As he witnessed his role trimmed from a starring to a supporting one, McGavin bowed out of the production19 and was replaced by David Huddleston, a veteran actor who would ultimately perform in over 150 films and television shows, but whose Broadway résumé was relatively thin at the time.
After 33 preview performances, the show opened on November 17, 1981. There was plenty of baseball royalty on hand for the premiere, including Rachel, Barber, Duke Snider, Larry Doby, Ralph Branca, and Leo Durocher (a characterization of whom appeared in the show). Audience reaction was reported as enthusiastic, a perception that was likely aided by how friendly a large percentage of them were to the subject. The critics were not as kind. Jay Sharbutt reported that the show had "about as much passion, fire and complexity as your average TV movie."20 In the New York Times, Frank Rich opined that the show was "written with all the flavor of a civics class chalk talk."21 Sports columnist Dick Young was particularly aggrieved by the end of the first act, in which the Brooklyn faithful, who in reality had been largely supportive of Jackie, rained racial epithets down on Robinson, right down to a watermelon being hurled on to the stage.22
There were some bright spots. Grier was almost universally lauded for his characterization of Robinson. Rich claimed that Grier gave audiences an "impassioned, strong-voiced and tough-minded Jackie Robinson – not an impression, but a real performance." The portrayal earned Grier a Theatre World Award, as well as a Tony nomination. The production elements of the show were also praised, with both Marc B. Weiss and David Chapman earning Drama Desk nominations for their designs of lights and sets, respectively. Despite the harsh criticism, Siegel (for the book) and Charnin (for direction) also got Tony nominations, though the show ultimately won none of Broadway's biggest prizes. The First closed on December 13, less than a month after it opened, after only 31 performances.23
Purveyors of theatre remained undaunted by the financial failure of The First. It was not long before an onslaught of Robinson-themed scripts started making their way to stages. However, the difference in these subsequent attempts to cram Robinson's complicated, nuanced tale onto the confines of a stage was a calculated shift in the intended audience. Beginning with New York City-based Theatreworks/USA's 1984 production of Play to Win, another musical, producers realized that the simplified moral message of baseball's integration, that good can overcome evil with perseverance and bravery, was perfect fodder for children's theatre. Where Broadway critics lambasted the one-dimensional aspect of The First's portrayals of the likes of Leo Durocher and Branch Rickey, archetypes are standard fare for school-age drama.
Play to Win was particularly memorable, making it all the way to Off-Broadway's Promenade Theatre in a 1989 production that the New York Times called a "joyous and very smart celebration."24 With book and lyrics by Carles Cleveland & James de Jongh, and music by Jimi Foster, the show had the advantage of being created by Black artists, as opposed to the entirely White design team that was responsible The First. This more personal understanding of race led to some clever and thoughtful choices with the show. While Robinson was portrayed by a Black actor, the remaining four actors (who all played multiple roles, including the narrator character of Satchel Paige), were both Black and White. The race of their characters changed throughout the play, signaled by a black or white baseball cap, which the actors would switch depending on whom they were playing.25 The show won the 1984 AUDELCO Award for best writing of a new show by Black authors for the noncommercial theater.
Since Play to Win, the Robinson story has proved to be a reliable one for the educational theatre circuit, and continues to be so to this day. Additional titles include Jackie Robinson Steals Home by Peter Manos; another musical, developed by Mad River Theater Works, entitled Everybody's Hero; and Jackie and Me, based on the book by Dan Gutman, in which a kid discovers he can travel through time via his baseball card collection. Just before a global pandemic closed down theatres in 2020, Toby's Dinner & Show in Columbia, Maryland, presented Most Valuable Player: The Jackie Robinson Story.
One other "adult" playscript of note is the curious Mr. Rickey Calls a Meeting, written by Edward Schmidt and originally produced in 1989. The story is driven by the titular character bringing together Jackie, Joe Louis, "Bojangles" Robinson, and Paul Robeson for a conversation about how to get the Black community behind the coming announcement of Jackie's signing. Meeting is singular in that it does not shy away from how Jackie's arrival doomed the Negro Leagues, a topic largely ignored in other fictionalizations of the integration story. Variety gave the Old Globe production in San Diego high marks in 1992. The New York Times panned the 1994 version at the George Street Playhouse, lamenting that "[a] catalogue of conflicts is uncorked, integration versus elitism, the practical versus the principled, the divisiveness of those with a common cause. … All that ought to add up to more than just words."26
Jackie Robinson (the fictional character) made his small-screen debut in the form of a story that, for the first time, was not centered on baseball. The Court Martial of Jackie Robinson instead chose to focus on the circumstances that brought Jackie to serve in the US Army, and the events that led to his honorable discharge in 1944. While Jackie's most celebrated accomplishment is given mention in an intertitle epilogue, the whole of the action takes place before Robinson ever sets foot in Branch Rickey's Brooklyn office. The made-for-TV movie was directed by television veteran Larry Peerce from a script written by four different scribes. It premiered on October 15, 1990, on TNT, the cable network controlled by Ted Turner, then the owner of the Atlanta Braves.
The cast featured Andre Braugher as Jackie and Kasi Lemmons as Rachel. Daniel Stern appeared in the film as Capt. William Cline, the defense attorney assigned to the case. Additional historical figures included veteran character actor J.A. Preston as scribe Wendell Smith and Stan Shaw as Joe Louis. The heavyweight champion, who was stationed alongside Robinson at Fort Riley in Kansas, had played an active role in Robinson attending Officer Candidate School,27 still a rarity at the time despite that particular color line having been broken four decades earlier. Shaw had previously appeared as a character very loosely based on Robinson (in that he was the first to make the majors) in the 1976 comedy about the Negro Leagues, The Bingo Long Traveling All-Stars and Motor Kings.
Perhaps the most touching, and meaningful, performance in the film came from Ruby Dee. After portraying Rachel in The Jackie Robinson Story 40 years earlier, Dee returned in The Court Martial, this time as Jackie's mother, Mallie. This clever bit of casting gave Dee an opportunity to address her greatest regret from the first picture, her timid performance of Rachel. In a pivotal scene, as Jackie laments his separation from his beloved, Mallie delivers a fiery speech in which she berates her son for his antiquated thinking, declaring, "Oh, I understand, all right. You're being a man, and you're saying, oh Rae, you can't do this, and don't do that. Well, Rae's not the sort of woman that'll take that." Her vindication is palpable.
The Court Martial attempted to avoid the seemingly eternal fate of the Robinson story, a simplistic division between good and evil, in the fictional character of Brooklyn scout Ed Higgins, played by noted actor Bruce Dern. Higgins spends the picture spouting racial epithets before ultimately being the willing bird dog sent by the Dodgers to enlist Robinson. Still, the villains in the film, enlisted racists who targeted Robinson because he refused to move to the back of a desegregated military bus, suffered from "an element of exaggeration [that] is almost unavoidable, but certainly in this instance, unnecessary," in the words of New York Times critic John O'Connor. Despite this flaw, critics roundly agreed that The Court Martial had an effective message, one that "the film captures [in] the heart of the story: the emotional lynching of black men in America. Here is an unblinking indictment."28
The next screenplay to feature Robinson was a work that would have marked an unprecedented collection of talent for a Jackie biopic, including writer/ director Spike Lee and Hollywood superstar Denzel Washington. After the two worked together on the 1992 picture Malcolm X, Lee wrote a screenplay based on Robinson's autobiography I Never Had it Made. His intention was for Washington to play the title role, but the 42-year-old actor begged off from the project, stating he was too old for the part. Absent Washington, Lee was unable to find the necessary financing to make the picture, despite the enthusiastic support of Rachel. After years of trying, the project was eventually shelved.29
Lee's script was, in many ways, similar to the earlier incarnations, with quite a few of the iconic moments from his story replayed. Lee, however, seemed to recognize the obstacles to giving us a new perspective, using the clever device of framing the film with a late-night viewing of The Jackie Robinson Story in the Robinsons' home in Stamford in 1972.30 With that largely sanitized and simplified version of the story as a preface, Lee tells his tale.
Lee's film, simply named Jackie Robinson, would have diverged from Story in the way it portrays a much more holistic view of Jackie's life. Previous fictionalizations idealized Robinson by highlighting the solitary nature of his struggle. Lee's film would have been the first to show that after Jackie opened the door, others walked through. Don Newcombe and Joe Black are both characters, and both have significant moments. Satchel Paige has a tragic scene, drunkenly opining that it should have been he, "the greatest pitcher who ever lived," who had broken the color line.31 Most powerful is the representation of Roy Campanella, whose noncombative personality became a source of frustration for Jackie. Their famous rift, as well as their reconciliation, are dramatized.32
The film also would have been the first to explore Jackie's post-playing career, including his business ventures and his political activism. It is in this final point that Jackie Robinson would have humanized its subject in a way that had previously never been portrayed. Despite the deserved social canonization of Robinson, he was not perfect. His support of Richard Nixon in the 1960 presidential campaign, as well as his fall from grace with the more "militant" (Lee's word)33 arm of the civil-rights movement, are both put under the microscope in the script. Also given prominent attention is his complicated relationship with his son Jackie Jr., whose stirring speech in front of Congress about drug use in the military is re-created near the conclusion of the film.34 The scene is a fascinating callback to Jackie's HUAC testimony, the dramatization of which served as the final moment in the deeply anti-Communist Story. Alas, Lee's multilayered vision was never realized.
It would once again be the small screen that would serve as the venue for the next representation of Jackie, in the HBO film Soul of the Game. Released in 1996, the movie was the first of its kind in that it made Robinson a supporting character. Set during a highly fictionalized version of the Kansas City Monarchs' 1945 season, the film's main character is really Satchel Paige, portrayed by Delroy Lindo. In Soul of the Game, Lindo's Paige is a multifaceted version of the Ageless One, vying for the attention of the scouts sent by the Dodgers in his last gasp attempt to make the major leagues.
Much of the action of Soul centers on the relationship between Paige, his longtime foil Josh Gibson (Mykelti Williamson) and a rookie Robinson, this time embodied by Blair Underwood, at the time a fast-rising star of television's L.A. Law. Virtually all of the interactions between the three men are fictionalized for the sake of creating the ultimate, predictable, dramatic tension when it is Robinson who is selected by Rickey (portrayed by Edward Herrmann). Lindo's arrogant but fragile Paige is shattered when the serious, argumentative Robinson is promoted over himself.
Unfortunately, Paige may be the only multidimensional character in the film. Gibson is reduced to a caricature, devouring all within his reach and battling imaginary demons sans clothing. Robinson is portrayed with such a rigid moral code that he is nearly unlikable. In an early scene, a serious Jackie refuses to clear the diamond so that Paige can re-create his famous routine of striking out the batter with no fielders behind him. Later, Robinson comes to blows with fellow Monarch Jesse Williams, after Williams called the college-educated, former Army officer a house "servant" (my adaptation of the actual term) to team owner J.L. Wilkinson. Rachel Robinson was not pleased with the liberties taken with Jackie's story.35
Historical inaccuracies such as Paige and Gibson starring in the 1945 East-West All-Star Game (neither even appeared; Paige refused to play because of a salary dispute and Gibson had been suspended from the league because of his erratic behavior), and the claim that Gibson hit 972 home runs can almost be forgiven. After all, director Kevin Rodney Sullivan was not tasked with making a documentary. Still, the fact that the relationship between these three iconic figures, the story at the supposed heart of the film, is a complete fabrication makes the entire effort ring hollow.
There are a few aspects of the movie that should be commended. Not many films have a cast that includes characterizations of Happy Chandler, Willie Mays, Cum Posey, Gus Greenlee, Ella Fitzgerald, Fiorello La Guardia, and "Bojangles" Robinson. True, this would have been a stronger point in the picture's favor had any of them been more fully realized, but it's still a fun bunch to see appearing on screen together. Much more culturally significant, however, is the fact that Soul marked the first time a Black auteur had helmed a Robinson film. It is perhaps the insight provided by Sullivan's own experiences that account for this largely fictional film's greatest factual contributions to the dramatization of Jackie's story.
Soul is the first movie to address two of the oft-ignored truths about integration, neither of which is particularly flattering to Rickey. The first is the raiding of the Monarchs roster without compensation by the Dodgers. In a few effective lines, both Rickey's contempt for the ownership of the Negro Leagues, as well as Wilkinson's (portrayed by R. Lee Ermy) indignation at the eventual ruination of his business, are conveyed. The other usually ignored kernel is the fact that ultimately Rickey's hand was forced by progressive New York Mayor LaGuardia, who was prepared to announce that the local major-league teams were going to be required to integrate. Not wanting LaGuardia to steal his thunder, Rickey quickly pulled the trigger on signing Robinson.
Undeterred by the disappointing critical response to Soul, others, including Robert Redford (who longed to portray Rickey), tried to mount a big-screen version of the Robinson story but all were blocked by the familiar refrain of funding issues. It took until 2013 for a big-budget (in this case, $40 million) major-motion-picture biopic of Jackie Robinson to hit movie theaters. 42: The True Story of An American Legend, produced by Legendary Pictures and distributed by behemoth Warner Bros., marked the first time Tinsel Town finally pulled out all the stops to tell the Robinson tale.
Rachel was again brought on to consult, and Redford was swapped out for the equally estimable Harrison Ford, who turned in one of his finest performances as the complex Rickey. A mixture of laconic charm, occasional bluster, and a fair amount of eyebrows, Ford does a brilliant job of embodying the Mahatma. Jackie was portrayed by relative newcomer Chadwick Boseman, who went on to superstardom as T'Challa, the Black Panther, in the eponymous blockbuster Marvel Studios hit. In addition to his superhero persona, Jackie would mark the first of three true-life American groundbreakers that Boseman played in a five-year span, including James Brown in Get on Up (2014) and Thurgood Marshall in Marshall (2017).
After so many failed attempts to get a film made, Rachel initially looked at 42 with apprehension. She arranged a meeting with the film's star at which she asked him, in Boseman's words, "Who are you, and why do you get to play my husband?" His answer satisfied her, and the two quickly became close. She remained a presence on set throughout filming, as was former Dodgers pitcher Ralph Branca. Both lent their experiences with Robinson to the studious actor, who worked hard to please Jackie's most ardent admirer.36 Boseman's performance was almost universally appreciated by critics, if seen as occasionally lacking Jackie's fire.37 When Boseman tragically died of colon cancer in 2020, at the age of 43, it was his performances in Black Panther and 42 that were most often cited in his memorials.
Written and directed by Brian Helgeland, 42 is beautifully presented, with lush sepia tone camera filters aiding in the nostalgic presentation of the story. Like Lee's script, Helgeland leans heavily on I Never Had it Made. However, rather than taking a complete look at Robinson's career, 42 mirrors the The Jackie Robinson Story. The focus is on the narrow window between his recruitment by the Dodgers and the completion of his rookie year. As such, the script feels like a collection of familiar tales about Robinson that do little to further our appreciation of the man as a whole. Still, the film would gross nearly $97 million, and had the distinction of the highest opening-weekend box office for a baseball picture in history.38
42 was released to coincide with Jackie Robinson day, April 15, when the major leagues celebrate his historic achievement, including all players donning his now universally retired number 42, for one game only. Warner Bros. was sure to cross-promote their picture with the assistance of the Los Angeles Dodgers, who brought the production company on as a sponsor for their Robinson festivities. Harrison Ford was on hand, as was Kelley Jakle, great-granddaughter of Branch Rickey, who had a small role in the film.39 Also in attendance was Rachel Robinson, who had been a part of more Jackie fictionalizations than anyone else. She was complimentary of the film, satisfied that it gave a realistic portrayal of the culture that she and Jackie had to face. She privately told director Helgeland that her favorite parts were when her character, played by Nicole Beharie, and Robinson kissed.40
It is with that simple, sweet critique that one understands that the many fictionalizations of Robinson have served an important role in ways both public and, for Rachel, very personal. They have kept the myth of Jackie at the forefront of the American consciousness, even as they have largely sanitized some of the more complex racial and social issues that are integral to his tale. Perhaps it is a story that is simply too big to be told by the constraints of fiction. This premise led to Jackie's return to television in 2016 with the four-hour documentary by acclaimed filmmaker Ken Burns, arguably the most exhaustive look at his life ever captured on film.
But it is the fictional representations that have afforded Rachel, who served as an adviser and inspiration for so many of them, a rare opportunity. Perhaps that is why, among the numerous other accomplishments of her life, she has shepherded Jackie's tale with such devotion. Each new portrayal is not only an opportunity to spread his story to a wider audience, it also offers her the chance to have her husband's spirit revived in the flesh and blood, alive again on stages and screens, ready to make history and to give her one more kiss.
*****
This treatise barely skims the surface of the pop culture phenomenon of Jackie Robinson on stage and screen. It quickly became apparent in the writing that it was too much for a single chapter to contain.
SABR plans a full volume on the subject, with the working title Not an Easy Tale to Tell: Jackie Robinson on Page, Stage, and Screen. This book will add written fiction to the mix, including children's books, a pair of espionage thrillers, and a comic book series. We take a much deeper look at the artistic desire to explore Jackie's tale, and what he has come to mean as a symbol in American culture. Not an Easy Tale to Tell is due to be published in Spring 2022, just in time to celebrate the 75th anniversary of Jackie's integration of the Dodgers.
RALPH CARHART is the head of SABR's 19th Century Baseball Grave Marker Project. He is the recipient of the SABR Nineteenth Century Committee's 2015 Chairman's Award and the Baseball Reliquary's 2019 Hilda Award. His historical interests include baseball's pioneer days, the Negro Leagues, the Hall of Fame, Brooklyn, and Cuba. He is the creator of The Hall Ball, an epic photo essay featuring pictures of (almost) all of the members of the Hall of Fame, living and deceased. His story was featured in the New York Times and on the CBS Evening News. His book The Hall Ball: One Fan's Journey to Unite Cooperstown Immortals with a Single Baseball, was published by McFarland & Company in June 2020. Inspired by working on this volume in your hands, he is currently editing a new book for SABR on Jackie Robinson on page, stage, and screen, tentatively titled Not an Easy Tale to Tell. www.thehallball.com.
Notes
1 "Jackie Wins Law Suit For Sum of $14,500." Alabama Tribune (Montgomery), January 15, 1954: 7.
2 Ron Briley, The Baseball Film in Postwar America: A Critical Study, 1948-1962 (Jefferson, North Carolina: McFarland, 2011), 62.
3 Arnold Rampersad, Jackie Robinson: A Biography. (New York: Ballantine Books, 1997), 224.
4 Hal Erickson, The Baseball Filmography, 1915-2001 (Jefferson, North Carolina: McFarland, 2002), 244.
5 "Robinson Film to Hit Screen," Spokesman-Review (Spokane, Washington), May 14, 1950: 63.
6 Erickson. The Baseball Filmography, 244.
7 Rachel Robinson, Jackie Robinson: An Intimate Portrait (New York: Abrams), 113.
8 Rampersad, Jackie Robinson: A Biography, 225.
9 Jane Corby, "Screenings," Brooklyn Daily Eagle, May 14, 1950: 29.
10 Jimmie Fidler, "News & Views of Hollywood," Valley Times (Hollywood, California), May 30, 1950: 5.
11 "'Jackie Robinson Story' Set in Six S.L. Theaters," Desert News (Salt Lake City, Utah), August 23, 1950: 22.
12 Rampersad, Jackie Robinson: A Biography, 226.
13 Carol Lawson, "Charnin's Idea for Broadway's 'The First' Came in Seconds," Star Tribune (Minneapolis), February 8, 1981: 120.
14 Christine Arnold, "Bufman's Biggest Production: The Whole World is his Stage," Miami Herald, June 14, 1981: 209.
15 Liz Smith, "Moving, Shaking and Tucking In," New York Daily News, March 15, 1981: 107.
16 "Jackie Robinson Story to B'way?" New York Daily News, September 10, 1980: 414.
17 Harry Huan, "Broadway Melody," New York Daily News, August 14, 1981: 454.
18 "Show to Rekindle Spirit of Jackie Robinson," Millville (New Jersey) Daily, August 29, 1981: 8.
19 Liz Smith, "Springfield Making New Album," Fort Worth-Star Telegram, October 17, 1981: 23.
20 Jay Sharbutt (Associated Press), "Jackie Robinson Show on Broadway: 'No Hit,'" Santa Cruz (California) Sentinel, November 18, 1981: 25.
21 "Detroiter Scores Broadway Points," Detroit Free Press, November 19, 1981: 41.
22 Dick Young, "Opening Night Audience Likes 'The First,'" Gettysburg Times, November 20, 1981: 13.
23 Internet Broadway Database page for The First. https://www.ibdb.com/broadway-production/the-first-4145#People. Accessed July 19, 2020.
24 D.J.R. Bruckner, "'Play to Win,' a Musical About the Integration of Baseball," New York Times, July 21, 1989: C3.
25 Bruckner, "Play to Win": C3.
26 Alvin Klein, "The Stuff of Legends," New York Times, December 11, 1994: 13.
27 T. Anthony Bell, "Soldier-Champ: Joe Louis Sacrificed Much for His Country." US Army website, February 28, 2014. https://www.army.mil/article/121005/soldier_champ_joe_louis_sacrificed_much_for_his_country.
28 John O'Connor, "2 Cable Movies of Substance," New York Times, October 15, 1990: C17.
29 Marshall Fine and Georgette Gouveia, "Rediscovering Jackie," Journal News (White Plains, New York), March 2, 1997: 2C.
30 Spike Lee, Jackie Robinson (Unpublished film script, 5th Draft, 1996), 2.
31 Lee, Jackie Robinson, 39.
32 Lee, Jackie Robinson, 129.
33 Lee, Jackie Robinson, 136.
34 Lee, Jackie Robinson, 143.
35 Lee, Jackie Robinson, 143.
36 Steven Zeitchik, "Rachel Robinson, Jackie's Widow, Says '42' Hits Home," Times (Streator, Illinois), April 10, 2013: 19.
37 Richard Roeper, "Admirable, Overdue '42' Doesn't Quite Knock It Out of the Park," Herald-Palladium (St. Joseph, Michigan), April 12, 2013: B4.
38 Grady Smith, "Box Office Report: '42' Knocks It Out of the Park with $27.3 Million," Entertainment Weekly, April 14, 2013.
39 Daniel Miller, "Jackie Robinson Film '42' Promotes Ties with Dodgers." Los Angeles Times, April 9, 2013: 17.
40 Zeitchik, "Rachel Robinson, Jackie's Widow."
https://sabr.org/wp-content/uploads/2020/03/research-collection4_350x300.jpg
300
350
sabr
/wp-content/uploads/2020/02/sabr_logo.png
sabr
2021-12-21 12:52:10
2021-12-21 12:52:10
Not an Easy Tale to Tell: Jackie Robinson on Stage and Screen