Filmmaker Brian Helgeland brings Jackie Robinson legend to life in "42"
By Jacob Pomrenke
When Brian Helgeland sat down to write "42," the new biographical film about Hall of Famer Jackie Robinson which premieres on Friday, April 12, he was determined to put audiences in the shoes of the Brooklyn Dodgers great during his rookie season in 1947.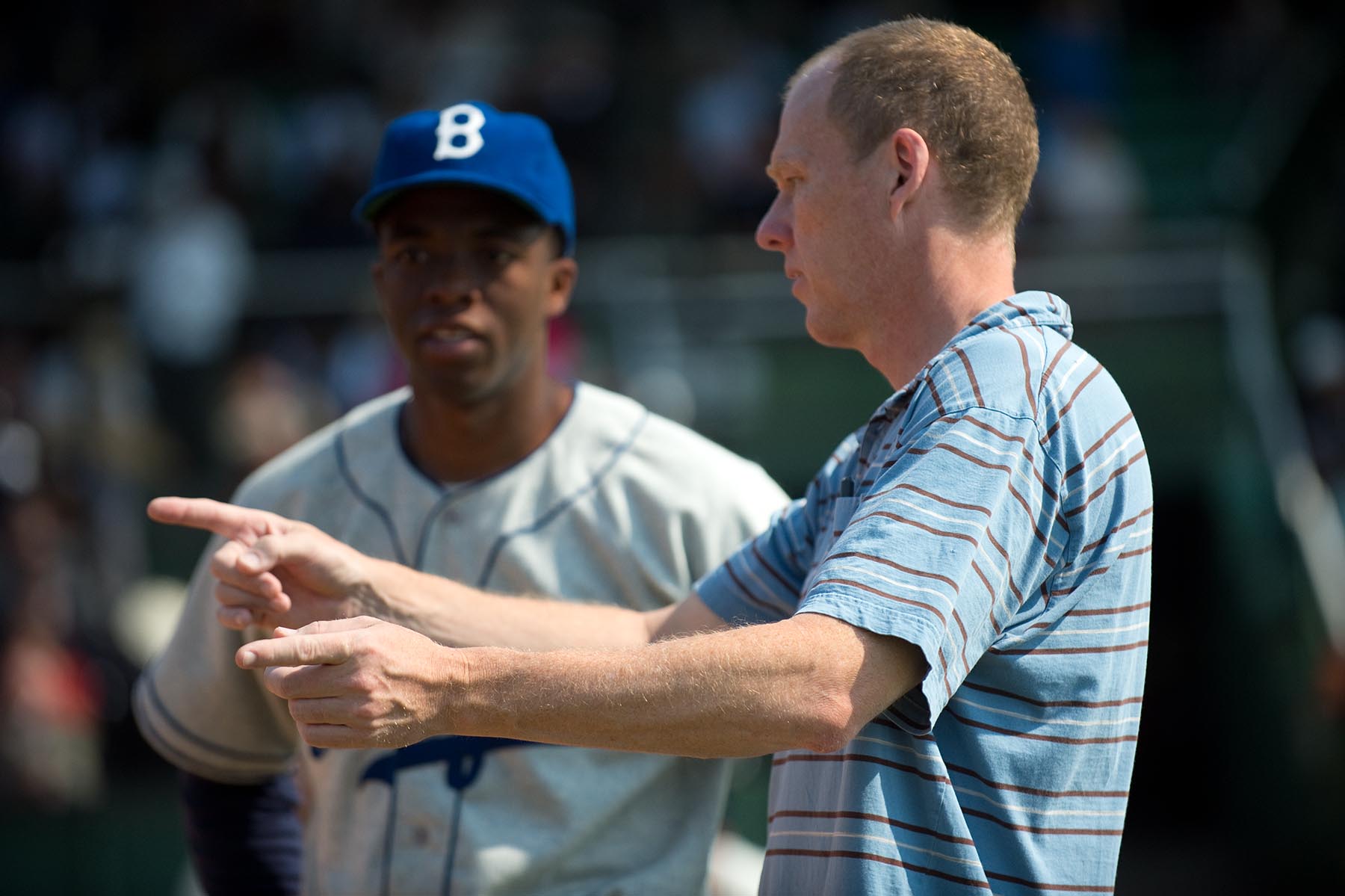 Robinson's debut with the Dodgers on April 15, 1947, ended the unwritten color ban in Major League Baseball that had been in place since the 1880s. The film, which focuses mostly on the story of Robinson's first season, stars Chadwick Boseman as Robinson and Harrison Ford as Dodgers executive Branch Rickey.
"If you made the story up, people wouldn't believe it," Helgeland said in a wide-ranging interview with SABR.org last week. "I was struck by his personal courage. He's a great American hero, a great baseball hero, which almost always go together.
"The fact that it's a true story makes you wonder how he did it. How was he able to get up there and hit almost .300 in his rookie season? How could he leave it all at his locker so he could go out and play baseball? The great thing about a movie is you feel it with him when he goes through his trials. He's a hero for everyone."
Helgeland, the Academy Award-winning screenwriter of "L.A. Confidential" and "Mystic River," said he utilized a number of research sources in his screenplay.
"I spoke to (former Dodgers pitcher) Ralph Branca a lot; he's the only surviving member of the 1947 Dodgers and was very helpful in explaining what it was like in spring training in Panama," Helgeland said. "I read (SABR member) Lee Lowenfish's biography of Branch Rickey. I read Jackie's own autobiography (I Never Had It Made.) Red Barber wrote a book called 1947: When All Hell Broke Loose in Baseball, so that was good to have. Clyde Sukeforth, the Dodgers' bench coach, was interviewed countless times. I got all of Wendell Smith's columns he wrote that year from the Hall of Fame.
Helgeland said SABR member Bill Francis at the National Baseball Hall of Fame Library in Cooperstown, New York, was particularly helpful in his research.
"I thought it would make for a great scene if a pitcher hit Robinson and then he hit a home run later," Helgeland said. "But I didn't want to invent any games or box scores. So I sent a request in to the Hall of Fame and crossed my fingers: Can you give me a list of every pitcher who hit him in 1947 and every pitcher he hit a home run off of? And I learned that the Pirates pitcher Fritz Ostermuller hit him with a pitch in May, and then Robinson hit a homer off him in September (editor's note: Robinson also homered off Ostermuller in June.) So we were able to work in that element of his revenge, so to speak, to the film."
Helgeland said the limitations of a two-hour film forced him to "cheat a little bit" on some aspects of historical accuracy. For instance, recent research suggests that the famous Pee Wee Reese on-field embrace with Robinson likely did not happen in Cincinnati in 1947, and little attention was paid in the film to Tom Greenwade's extensive role in scouting Robinson or Robinson's secret 1945 tryouts in Boston or San Diego. But Helgeland said getting the details right was important to him, especially the re-creation of historic ballparks such as Ebbets Field and the Polo Grounds.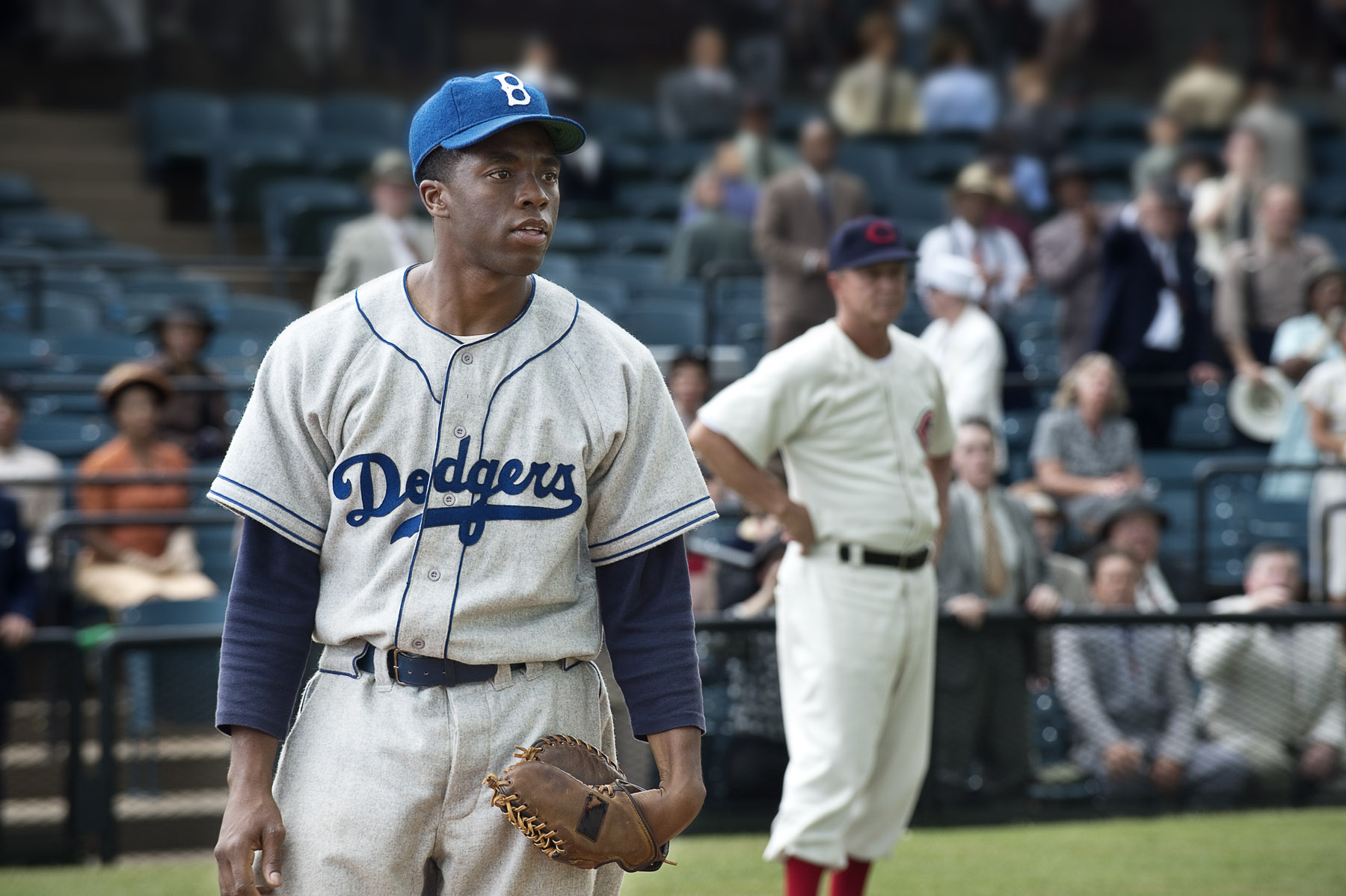 "We really wanted to nail that," he said. "We didn't make it perfect, but we got a lot of things right. Production designer Richard Hoover did exhaustive research and got blueprints of all the stadiums so we could build our computer models. We tried to get the vendors' uniforms right and we got copies of the old scorecards to get those right. Not that they're featured heavily in the movie, but if you can get all those details, you're probably getting the big stuff right, too."
Helgeland praised Ebbets Field Flannels, a vintage sports apparel company based in Seattle, for designing historically accurate minor league uniforms (Montreal Royals, St. Paul Saints, Jersey City Giants and Indianapolis Indians) and Negro Leagues uniforms (Kansas City Monarchs, Birmingham Black Barons.) The Brooklyn Dodgers uniforms, designed by Sports Studio, were based on authentic 1947 uniforms found at the private Sports Museum of Los Angeles.
"Our costume designer, Caroline Harris, went on quite a search to find the right wool," Helgeland said. "It's hard to find that wool, with the right thickness and texture."
While Helgeland frequently used the word "hero" to describe Robinson's impact on baseball and American society, he noted there were many heroes in the story. For instance, black sportswriter Wendell Smith of the Pittsburgh Courier, played by Andre Holland, had an integral role in helping ease Jackie Robinson's transition to the major leagues. Smith had been calling on Branch Rickey and other baseball executives to integrate for many years, although Smith's pioneering efforts fell outside the scope of this film. He also traveled with Robinson on the road in 1947 and helped him find meals and lodging when white restaurants and businesses would not serve him.
"Wendell Smith was Jackie's constant companion through that season," Helgeland said. "And that made it difficult. It put a strain on their relationship because in a weird sort of way, it was a reminder that things weren't normal for Jackie, a reminder that he needed this extra assistance."
One of the most emotionally powerful scenes in the movie is when Philadelphia Phillies manager Ben Chapman, played by Alan Tudyk, unleashes a barrage of racial insults on Robinson from the opposing dugout, a real-life episode that Robinson later called his worst experience of the season. Helgeland said it's important for audiences to see what Robinson went through "in its worst form."
"On one hand, I don't know if (modern audiences) will believe it happened," he said. "There are more subtle ways of showing (the discrimination), but if you don't have that sledgehammer, I don't think you can really appreciate what he went through. I hope that scene helps people appreciate him, how strong he was."
For more information on "42" or to view a trailer of the movie, visit 42movie.warnerbros.com.
Related links:
---
Originally published: April 11, 2013. Last Updated: April 11, 2013.
https://h2j7w4j4.stackpathcdn.com/wp-content/uploads/2013/04/42D-00833.jpg
1199
1800
jpomrenke
/wp-content/uploads/2020/02/sabr_logo.png
jpomrenke
2013-04-11 07:00:00
2013-04-11 07:00:00
Filmmaker Brian Helgeland brings Jackie Robinson legend to life in "42"