This article was written by Tom Hufford
This article was published in 1976 Baseball Research Journal
---
New Cathedral Cemetery in southwest Baltimore is of some interest to baseball historians because it is the final resting place for six prominent baseball personages.
Baseball greats are enshrined at Cooperstown, N.Y., but they do not live there, or die there, or are buried there. Their memorial stones are scattered throughout the nation. Therefore, it is unusual that six should be found in a Catholic cemetery in Baltimore, a city which went a half century without major league ball.
In one of the older sections of New Cathedral Cemetery there is a stone marker for Robert T. Mathews. Yes, this is little Bobby Mathews, who won the first game played in the National Association in 1871. He died in 1898, still in his 40s.
The Baltimore Orioles of the 1 890s were an aggressive club under the leadership of Ned Hanlon, who also had a 13-year playing career, 1880-92. Hanlon passed on his leadership qualities to third baseman John McGraw, catcher Wilbert Robinson, and outfielder Joe Kelley. McGraw and Robinson were great players who became famous as skippers. Kelley managed for 5 years at the close of a successful playing career.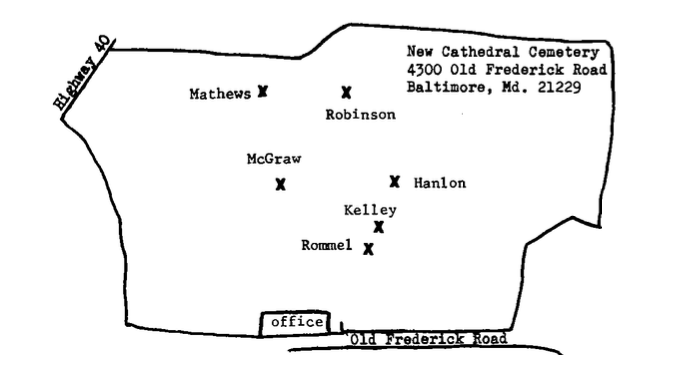 Popular writers have said these Old Orioles are buried close together, but it is more than a strong throw from the outfield which separates them. McGraw, who died in New York, is interred in a stately mausoleum shared by his wife's side of the family. There are sizeable stone markers for Hanlon and Robinson. Kelley's marker is in a more modern section and is just a short distance from the grave of Eddie Rommel, long-service pitcher and umpire, who died in 1970. The latter has a flat surface marker which is not easily visible.
There are other former major league players buried here, but none of prominence like the six mentioned. Their playing, managing and umpiring careers essentially spanned the history of major league baseball. It has been reported that Walter "Steve" Brodie, another Oriole of the 1890s, is resting near his former teammates, but this is not correct. Brodie is buried in Woodlawn Cemetery, which is in the same general area of town.
Here is a brief run-down on the six baseball greats buried in New Cathedral Cemetery.
Born Career Span Died
Bobby Mathews 1851 1871-1881 1898
Ned Hanlon 1857 1880-1907 1937
Wilbert Robinson 1863 1886-1931 1934
Joe Kelley 1871 1891-1926 1943
John McGraw 1873 1891-1932 1934
Eddie Rommel 1897 1920-1959 1970
https://sabr.org/wp-content/uploads/2020/03/research-collection4_350x300.jpg
300
350
admin
/wp-content/uploads/2020/02/sabr_logo.png
admin
1976-11-25 13:02:27
2021-05-25 18:45:33
Old Orioles Reunited