Preface: Insider's Baseball
This article was written by L. Robert Davids
This article was published in Insider's Baseball
---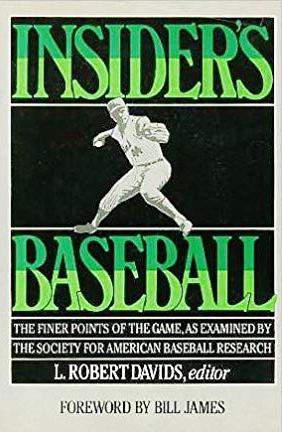 The Society for American Baseball Research (SABR) was established at Cooperstown, New York, August 10, 1971, with sixteen baseball historians, statisticians, and fans participating in the organization meet­ing. The society grew steadily from that humble beginning and gathered into its midst such authorities on the national pastime as Fred Lieb, John Tattersall, Leonard Gettelson, Harold Seymour, David Voigt, Bob Broeg, Seymour Siwoff, and Allan Roth. Today most of the leading sportswriters and broadcasters are members. In early 1983, SABR membership was more than 2,500, including about 100 members in Canada and 25 others spread around the world.
One of the objectives in organizing SABR was to provide a forum for the exchange of historical and statistical information among mem­bers, as well as to disseminate this information to the public. The primary vehicle for the latter is the Baseball Research Journal, which has been published annually by the society since 1972. The journal has carried articles by the members on a wide range of subjects and much research that has not been previously published. Most of this material was generated in the various SABR research committees: biographical research, minor leagues, Negro Leagues, statistical analysis, baseball records, collegiate baseball, and ballparks.
What new information has the society uncovered and published in the past ten years? Here are some examples:
The dates and circumstances of Ty Cobb's 35 steals of home
All the pitchers who struck out Joe Sewell in his career
The game ambidextrous Tony Mullane pitched with both hands
A black player who pitched in the Pacific Coast League in 1916
The list of Lou Gehrig's 15 career steals of home versus Lou Brock's one
The fact that Sam Crawford hit 50 of his 97 home runs inside the park
A 17-game streak of runs batted in by an obscure player with the 1922 Chicago Cubs
Willie Mays' record of 22 home runs in extra innings and the fact that Elroy Face gave up 21 in overtime
Regulation major league games played since 1900 in such places as Grand Rapids, Michigan; Fort Wayne, Indiana; Dayton, Ohio; and Providence, Rhode Island.
Some fans may consider this type of information to be baseball trivia. Members of the society look upon it more as significant historical information that bolsters the concept of baseball as the national game.
Nearly fifty articles from SABR publications of the past ten years have been selected for inclusion in this anthology, Insider's Baseball. The society appreciates the opportunity provided by Scribner's to publish this volume for a broader segment of the American sports-loving public. We hope you find the articles interesting enlightening.
https://sabr.org/wp-content/uploads/2020/03/research-collection4_350x300.jpg
300
350
admin
/wp-content/uploads/2020/02/sabr_logo.png
admin
1983-02-20 18:52:14
2021-05-25 18:56:40
Preface: Insider's Baseball