Remembering Earl—Not George—Toolson: The Plaintiff Who Took the New York Yankees to the US Supreme Court
This article was written by Ed Edmonds
This article was published in The National Pastime: Baseball in the Big Apple (New York, 2017)
---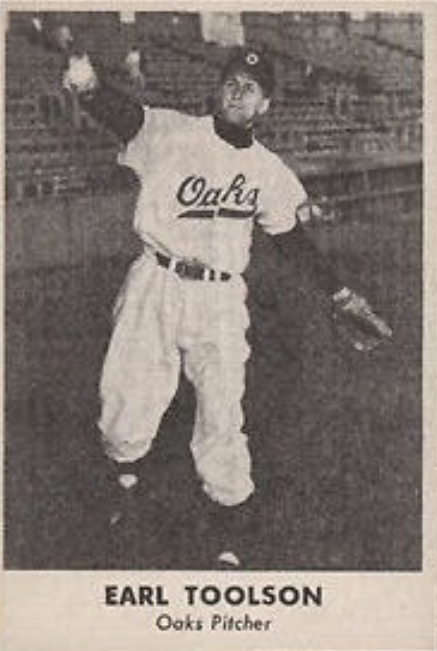 On November 9, 1953, the United States Supreme Court issued a one paragraph opinion in Toolson v. New York Yankees, Inc.1 The decision affirmed three lower federal court decisions that turned aside lawsuits challenging the Court's 1922 ruling regarding the application of the nation's antitrust laws to Organized Baseball.2 The concluding sentence succinctly declared that "without re-examination of the underlying issues, the judgments below are affirmed on the authority of Federal Baseball Club of Baltimore v. National League of Professional Baseball Clubs … so far as that decision determines that Congress had no intention of including the business of baseball within the scope of the federal antitrust laws."3 Although the majority opinion was challenged by a much lengthier and strenuously argued dissent by Justices Harold H. Burton and Stanley Reed, the Toolson decision reinforced baseball's exemption from antitrust challenge.
Nearly two decades later in Flood v. Kuhn, the Court revisited the question again, ultimately determining that "with its reserve system enjoying exemption from the federal antitrust laws, baseball is, in a very distinct sense, an exception and an anomaly. Federal Baseball and Toolson have become an aberration confined to baseball. … Accordingly, we adhere once again to Federal Baseball and Toolson and to their application to professional baseball."4 The decisions in all three cases are frequently criticized, but they are still legally important. In the past few years, the reach of baseball's antitrust exemption was a critical factor in two cases reaching conflicting conclusions in cases dealing with broadcast blackout restrictions and franchise relocation.5
The life and baseball career of the plaintiff at the heart of the 1953 Toolson case is largely unknown. In fact, he is almost always identified as George Toolson, his given first and last names, or his complete name, George Earl Toolson, used in the legal documents surrounding the case. Because George Earl Toolson's father was also named George, the son was known by family and teammates by his middle name Earl. This article will address the life of the very real man behind one of baseball's major legal challenges against its business practices. Rather than focus on the federal court decisions, this article will review Earl's early years in Burley, Idaho, his college years at Willamette, his military service during World War II, his minor league career, and the reasons behind his decision to file a lawsuit against the New York Yankees.
EARL'S EARLY LIFE
Earl Toolson was born in Burley, Idaho, on September 30, 1922, the second son of George H. and Ella Matthews Toolson. Burley is primarily located on the southern side of the Snake River in Cassia County in the south central part of the state adjacent to the path of the Oregon Trail. The town was founded in 1905, just 15 years after Idaho gained statehood, incorporated in 1909, and named for Oregon Short Line Railroad Company passenger agent David E. Burley.6
Earl's parents were married in Salt Lake City on February 24, 1920. George, Earl's father, was a dentist. The family first lived on Miller Avenue where Earl's older brother Tom was born on January 27, 1921. Earl's sister Margaret arrived in 1925, and William ("Bill") followed a little over two years later. The burgeoning family moved to Conant Avenue, and Earl's youngest brother James Richard ("Dick") was born in 1934.7 George displayed an early interest in baseball, helping to organize games and teams in the young city. He later managed American Legion teams that included Tom and Earl. Earl's prowess emerged at an early age; as a 15-year-old he pitched for the Burley team in the Northwest Regional Legion Junior Baseball Championship on August 13, 1938. Unfortunately, he was "erratic" on the mound and his team's six errors contributed to a 14–2 loss to the Postoffice Pharmacy team from Portland, Oregon.8 The following year, Earl pitched and led his Burley team to a 16–15 victory over Twin Falls to take the Idaho south-central district championship by striking out 18 and batting 3-for-4 with a three-run homer.9 During the summer of 1940, Earl also pitched for the Idaho Falls Tigers in the Idaho semi-pro tourney.10 Earl starred in baseball, basketball, and track at Burley High School.
WILLIAMETTE UNIVERSITY
After graduating from high school, Earl enrolled at Willamette University in Salem, Oregon, where he starred in both baseball and basketball for the Bearcats.11 He also participated in track and earned letters in all three sports.12 As a freshman, Earl started Willamette's initial game of the 1941 baseball season, a 10–0 victory over the Greys, a team comprised of inmates at the state penitentiary. Described as "the widely heralded Idaho youngster," Toolson hurled "smoothly despite nervousness, striking out six, walking three, and allowing but two hits."13 On April 12, 1941, "Big" Earl tossed a 6–0 shutout, scattering nine hits while striking out 11 to defeat the University of Oregon Ducks.14 Earl, a right-handed pitcher, was often described as big. He was variously listed during his career at either six feet or 6-foot-1 and weighing 195-208 pounds (with an excellent curve ball).
Earl pitched the first game of the Northwest Conference championship series against Whitman College on May 22, 1941. Despite Toolson recording 11 strikeouts, Whitman defeated Willamette 8–3 at the Blues diamond in Walla Walla, Washington.15 Whitman relied on six errors in the first two games to capture the championship.16 Earl led the Silverton Red Sox semi-pro team to the Oregon state championship during the summer of 1941.17 During the 1942 Willamette season, Toolson dropped a "well pitched ball game" to the Oregon State Beavers 4-3, when the Corvallis nine scored twice in the ninth to earn a come-from-behind triumph.18 The Oregon Ducks prevailed over Toolson in the second game of a doubleheader on April 4, pushing across three unearned runs in the eighth inning for a 5–2 win.19 The following year the Bearcats avenged their 1941 loss to Whitman by capturing the Northwest Conference title on May 23, by winning the first game 6–0 while Earl lost the second game, 2–1, a 7-inning decision to the Blues despite giving up only two hits.20 With fellow pitchers Bill Hanauska and Jack Richards, Earl formed Willamette coach Spec Keene's "The Big Three." In 1942, all three signed minor league deals.21
1942
Soon after the completion of Willamette's season, Earl signed with Boston Red Sox scout Ernie Johnson for a $2,500 signing bonus. He was assigned to Boston's Greensboro, North Carolina, franchise to begin his minor league career.22 The B-level Greensboro Red Sox won the Piedmont League crown during the playoffs after finishing the year functionally tied for first place, mere percentage points ahead of the Portsmouth Cubs with a 78–53 record.23 Hall of Famer Heinie Manush was the Red Sox manager. Earl posted a 2–5 record with a 4.86 ERA in 11 games. In 63 innings, Toolson surrendered 58 hits and 46 runs with 34 of those runs earned. Earl displayed a career-long issue by issuing 48 walks for the Red Sox. In an era before WHIP was an acknowledged statistic, Earl checked in at 1.683 for the season. In the fall, Earl returned to Willamette, where he noted in an interview with Statesman Journal columnist Al Lightner that many of his appearances were in relief because Manush "didn't want to take any chances with the rookies" while the team battled Portsmouth for the league crown.24
1943
In 1943, Earl was promoted to the Double-A American Association Louisville Colonels. He appeared in the Colonels' May 5 opening day 7–4 loss to Columbus, entering the game in the fourth inning with Louisville trailing, 5–3. Louisville Courier-Journal writer Tommy Fitzgerald described Earl as "a boy from Idaho who can throw the potato" and noted that in 3 2/3 innings, the young hurler surrendered only one hit to Emil Verban.25 Four days later he won a complete game 1-0 shutout against the Toledo Mud Hens when Columbus scored in the bottom of the ninth inning. Fitzgerald noted, "Toolson's control was perfect. He didn't issue a walk and turned back six batters on strikes."26
On May 15, Toolson's control deserted him as he issued three walks, threw two wild pitches, and balked once in a 5–2 loss to the Milwaukee Brewers.27 In his next outing against the Kansas City Blues on May 20, Earl, "a rookie whose previous efforts had merited the plaudits of the mob, didn't have his stuff and was rapped rather vigorously" for four runs and six hits in 1 2/3 innings.28 Four days later, Toolson was tagged with another loss when three of the four batters that he walked scored in a 4–2 Minneapolis victory.29 Earl's next starting assignment was on June 12, and "for five innings … [he] had the Millers feeding from the palm of his pitching hand. He shut them out with only two hits." However, in the sixth inning a two-run, pinch-hit home run by Joe Vosmik produced a 5-1 Minneapolis win.30 A few days later Toolson suffered a knee injury, and he would not return to action until July.31 Earl was ineffective in his relief efforts in August and September. For the season Earl appeared in 24 games winning three of his eight decisions with a 5.33 ERA.
1944-45: MILITARY SERVICE
After the 1943 season, Earl was granted a medical discharge from the Marines where he had served in the reserves. He subsequently joined the Army Air Corps, where he arrived for enlistment on February 14, 1944, on crutches due to knee surgery, and he was assigned to Williams Field in Higley, Arizona.32 While serving as a cadet, his athletic prowess was recognized, and he served most of his military time as a physical training (PT) instructor while playing basketball and baseball for the Williams Field team. While serving in the military, Toolson married Pasadena native Lucile Chisholm on March 17, 1945.33 Earl spent many years working offseasons in the Hollywood film industry. Toolson completed his military service on November 2, 1945.
1946
Earl returned to the Louisville Colonels for the 1946 season, and he helped his team capture the American Association pennant. The Colonels had moved up to the AAA level, and Earl won five and lost three while posting a 3.88 ERA in 58 innings. After being used infrequently early in the season, Toolson notched his first win on May 17, a three-hit, five-walk, 6–5 complete game effort over the Milwaukee Brewers. In early July, the hurler was sidelined by a cyst on his hip that ultimately required surgery.34 He returned to the mound on August 23, picking up the loss in an 8–6 Toledo victory.35
1947
In 1947, Toolson posted some of the top numbers of his career with 11 wins against six losses, a 3.19 ERA, and 125 hits in 127 innings. Toolson's ERA ranked eighth amongst American Association pitchers who logged 45 or more innings.36 Prior to the season, Earl was fearful that he would not be able to pitch because of the pain in his left leg and hip near the area where the cyst had been removed.37 Although Earl did not pitch during the month of March, Colonels manager Harry Leibold still felt that Toolson would be able to contribute to the team's efforts and named him as one of the 12 pitchers for his staff coming out of spring training.38
On May 5, Earl entered a 5–5 game against Minneapolis and won the game despite loading the bases with walks, including two intentional passes. Jim Gleeson's "brisk grounder" went through the Miller shortstop's legs to tally the winning run in the ninth.39 On May 12, Toolson surrendered a bases-loaded single in the tenth inning of a wild 12–11 loss to Kansas City.40 On May 25, Toolson was granted a win in a 1–0 victory over Toledo when he relieved "hard luck" Jim Wilson—who suffered a broken leg when struck by a blast off of his left shin, putting Wilson "out of commission … for possibly two months."41 In the second game of a May 30 Memorial Day doubleheader in Indianapolis, Toolson was locked in a scoreless pitching duel with Indians starter Ken Gables before the home team erupted for four seventh-inning runs, paving the way to a 4–0 loss for Earl and his Colonels teammates.42 On June 23, Earl, pitching "probably his best ball of the season" against the Columbus Red Birds, threw eight strong innings before giving way to Al Widmar in a 2–1, 14-inning Columbus win.43
Earl surrendered two runs in the first inning against Kansas City on July 18, but he settled down to strike out ten Blues before running into trouble in the bottom of the ninth after his teammates scored four times in the top half of the inning. Reliever Clem Dreisewerd locked down the 6–4 win, but only after the two runners that he inherited from Toolson scored to narrow the Colonel lead.44 On July 24, "Toolson turned the Brewers into complete submission" with a 6–1 complete game victory, and he "would have had a shutout but for Chuck Koney's error in the ninth."45 On August 3, Earl captured a 4–2, seven-inning win against Milwaukee in the second game of a doubleheader when he was aided by a sixth inning three-run rally.46
One week later, Earl pushed his season log to 9–5 with "distinctive seven-hit ball" in a 4-2, complete-game win over the Minneapolis Millers in the second game of a doubleheader.47 During the playoffs on September 11, Colonels shortstop Billy Goodman unleashed two throwing errors that propelled the Minneapolis Millers to a 13-8 win that hung a loss on Earl.48 At the end of the 1947 season, Toolson's record demonstrated his persistent battle with wildness, and his 67 walks pushed his season WHIP to 1.512. The Colonels finished the season in second place.
1948
The Louisville Colonels dropped to last place in the American Association in 1948, and Earl's career took a step backwards as well. He won only four of his 14 decisions despite turning in a career high with 140 innings pitched. However, he allowed 160 hits, 64 walks, with a 5.21 ERA.
During spring training Earl pitched in a 12-6 exhibition game loss to Kansas City in Bradenton, Florida, on April 6 with Baseball Commissioner Happy Chandler in attendance. Tommy Fitzgerald quipped in the Louisville Courier-Journal, that the executive "refused to nullify the victory on the ground the conduct of the Blues was detrimental to baseball in Louisville."49
On April 27, "Toolson's lack of control got the Colonels off to a disadvantage. Three passes and a couple of singles … spotted the home team [Minneapolis Millers] a pair of runs." In three innings, Earl was responsible for five Miller runs in a 9–5 loss; Bill Elbert relieved him.50 On May 4, "Toolson gave a reasonably good account of himself for five periods and then weakened in the sixth for three extra base wallops and as many runs" in a 6-4 loss to the Milwaukee Brewers.51
Earl picked up one of his four wins in relief against the Saint Paul Saints on August 1. The Colonels scored seven runs in the seventh and eighth innings to pull out an 8–4 decision.52 On August 8, Earl nearly caused a bench-clearing brawl in the second game of a doubleheader with Kansas City. Blues outfielder Bill Sinton, a former Louisville player, broke Colonels catcher Russ Rolandson's nose in a collision at home plate while tying the score at 3–3 in the seventh inning. When Toolson's first pitch to Sinton in the eighth was inside, the Kansas City player headed "toward the mound with bat in hand." Earl ultimately lost a 5–4, 8-inning decision.53
The Colonels spent much of the year trading players in search of a winning formula. Earl and fellow pitcher Bill Elbert had been strong contributors in 1947 only to slip badly during the 1948 campaign. Although they lasted the entire 1948 season with the Colonels, that situation was remedied in early October when the pair was traded to Kansas City—the New York Yankees farm team in the American Association—for pitcher Bob Alexander and "an unstipulated amount of cash."54
1949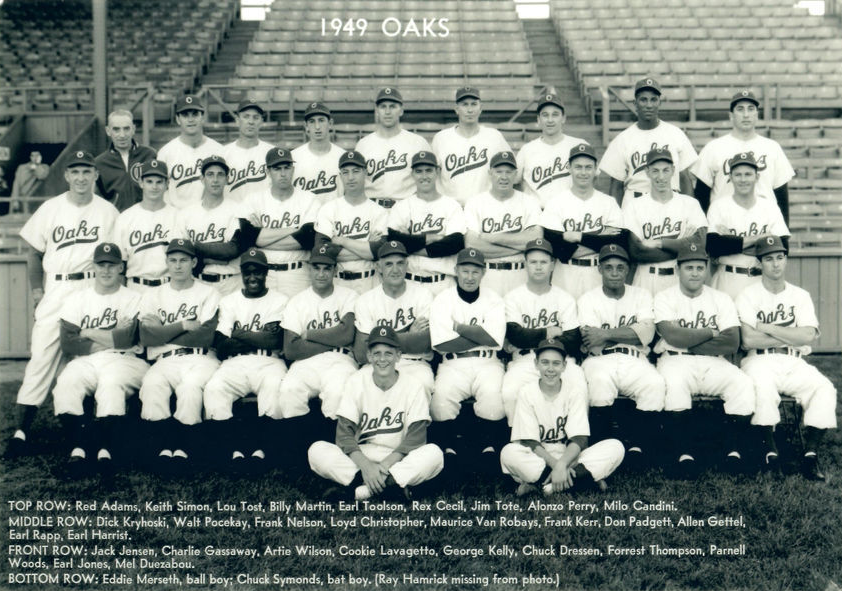 In mid-April 1949, before Earl could pitch a single game for the Blues, the Yankees engineered a swap from Kansas City to their other Triple-A affiliate, the Newark Bears.55 Toolson started 11 of his 12 games for the woeful Bears, a club destined to finish the season in last place. He won one-half of his ten decisions with a 4.74 ERA. On July 22, the Yankees, attempting to bolster their big league relief corps, shipped Earl and cash to the Oakland Oaks of the Pacific Coast League for 38-year-old veteran Ralph Buxton.56
On July 24, Earl pitched in his first game for the Oaks against the San Francisco Seals, giving up two hits and one earned run in three innings of relief in a 5–2 Oaks loss.57 Emmons Byrne, a writer for the Oakland Tribune, wrote that the Oaks "did introduce an effective new pitcher in the sixth when Earl Toolson, who reported two days ago from Newark … A right hander, he's big and he's strong. His curve ball certainly baffled the Seals."58
Earl Toolson notched his first PCL victory on July 29 in a 6–3 Oaks win over Seattle, helping himself at the plate with two RBIs.59 However, Earl soon became ineffective due to a recurrence of his hip ailment and a sore back. The Oaks placed him on the disabled list in August and the Yankees were later forced to assign pitcher Ernie Groth as additional compensation for Buxton's acquisition.60
1950
On February 8, 1950, The Statesman (Salem, OR) reported that general manager Bill Mulligan of the Portland Beavers had purchased Earl's contract from the Oakland Oaks on a 30-day conditional basis.61 Toolson never pitched for the Beavers. As he recovered from his injuries, the Yankees decided in May to outright his contract to the Class-A Binghamton Triplets in the Eastern League. When Earl refused the assignment, he was placed on the ineligible list. While his status was being considered, he was actually allowed to accept a conditional assignment from Binghamton to the San Francisco Seals, where Seals manager Lefty O'Doul, "needing pitching help," took a chance that Earl's "sore arm has been cured."62 Unfortunately, Earl pitched very ineffectively in three games for the Seals, giving up 10 earned runs, 15 hits, and seven walks in six innings. After the season ended, the Seals returned Toolson's contract to Binghamton.
1951
After the 1950 season, Earl sought advice from boyhood friend Howard Parke, now an attorney in Santa Barbara, California.63 Working with Parke's colleagues Gene Harris and Harry Ross, the group decided to file a lawsuit in the Southern District Court of California on May 1, 1951, challenging the continued viability of the Supreme Court's 1922 Federal Baseball decision.64 On November 6, Judge Ben Harrison rendered his opinion based upon his determination that "the simple issue of this case is whether the game of baseball is 'trade or commerce' within the meaning of the Anti-Trust Acts, and whether the structure known as 'Organized Baseball' is engaged in such trade or commerce."65 Laying out a traditional view of the role of a federal court judge, Harrison turned aside Toolson's claim:
Plaintiff seeks to have this court disregard an adjudication made thirty years ago by the Supreme Court. I am bound by the decision of the Supreme Court. It is not my function to disregard such a decision because it is old. If the Supreme Court was in error in its former opinion or changed conditions warrant a different approach, it should be the court to correct the error.66
The case was appealed to the Ninth Circuit Court of Appeals.67 On December 12, 1952, that court affirmed Judge Harrison's decision in a one sentence per curiam opinion.68 Toolson's legal team appealed their case to the United States Supreme Court.
MOTIVATION FOR THE LAWSUIT
On February 19, 1970, during the Curt Flood litigation, Rube Samuelsen, the long-time Pasadena Star-News sports writer and editor, published an article based on an interview between Earl and Eddie West. Toolson, at that time the president of Mortgage Correspondent, Inc., provided one answer to his motivation in bringing his lawsuit: "I had suffered a spinal injury, a ruptured disc, much like Charley Keller's. It was a baseball injury, no question of that. The Yankees refused to assume any responsibility for my injury. They wanted me to go to Binghampton (sic), a minor league affiliate, and work my way back to the big club. I refused. They put me on their suspended list. For that matter I'm still on it."69 During a 2007 interview with Earl's brother Bill and son Pete, they noted that Earl was also upset that they wanted to cut his salary due to his demotion from Triple-A to an A-level team. Earl felt that the Yankees should honor the salary in his contract.70
Earl was first stricken with cancer in 1982 and had his kidney removed. He died on November 27, 1987.71 Orange County Register writer Keith Sharon noted that "for the most part, Toolson was far removed from his baseball past. He spent much of his time in pain. Mrs. Toolson said her husband underwent 17 surgeries since his playing days."72
ED EDMONDS is Professor Emeritus of Law at the University of Notre Dame. He is the former law library director at William & Mary, Loyola New Orleans, St. Thomas (MN), and Notre Dame. He is a frequent speaker at the NINE Spring Training Conference and the Cooperstown Symposium. With Frank Houdek, he is the co-author of "Baseball Meets the Law " (McFarland, 2007). He has taught a seminar on sports law for over 30 years and written numerous law review articles on the legal aspects of labor and antitrust law and baseball.
Notes
https://h2j7w4j4.stackpathcdn.com/wp-content/uploads/2020/03/research-collection4_350x300.jpg
300
350
admin
/wp-content/uploads/2020/02/sabr_logo.png
admin
2017-07-20 13:18:27
2021-12-09 00:58:38
Remembering Earl—Not George—Toolson: The Plaintiff Who Took the New York Yankees to the US Supreme Court