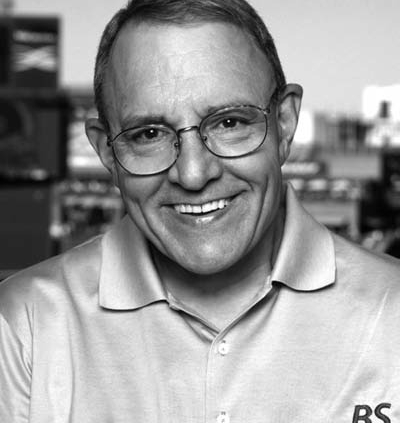 This article was written by Pete Van Wieren
This article was published in The National Pastime: Baseball in the Peach State (Atlanta, 2010)
---
"Skip and Pete" — Caray and Van Wieren — broadcast Atlanta Braves games together for 33 years.I first met Skip Caray on a December day in 1975, when he and I were introduced as the new members of the Atlanta Braves broadcast team. Little did we know that it was the beginning of a 33-year partnership that ended only with his untimely death in August 2008. While numerous broadcasters have had longer major-league careers than ours, only four broadcasting tandems have worked for the same team, at the same time, for a longer stretch of years. 
Vin Scully began broadcasting Dodgers games in 1950, and Jaime Jarrin became the team's Spanish play-by-play broadcaster in 1959. They have been together as the bilingual voices of the Dodgers for 51 years and are still going strong. Bob Murphy and Ralph Kiner were Mets broadcasters together for 42 years, beginning in 1962. Murphy retired after the 2003 season. In 1960, Ernie Harwell and George Kell began a string of 36 years together as broadcasters for the Detroit Tigers. Harwell was primarily the radio voice; Kell worked the television side. And the radio team of Marty Brennaman and Joe Nuxhall had a 32-year run as the voices of the Cincinnati Reds before Nuxhall retired. 
I didn't know much about Skip when I first met him besides that he was Harry Caray's son and the play-by-play voice of the Atlanta Hawks. But over the years, we got to know each other like brothers. So let me begin this remembrance with a brief biography. 
Skip grew up in suburban St. Louis and was a high school football star—an all-city lineman for Webster Groves High School. A torn-up knee forced him to forgo football when he entered the University of Missouri as a journalism major in the mid-1950s. He wanted to follow in his father's footsteps and become a sportscaster. 
He had done some broadcast work while still in high school, hosting a weekly radio show about high-school sports on KMOX in St. Louis. At Missouri, he worked part-time for a local Columbia station and helped his father on Missouri football broadcasts. After graduating from college, he took minor league baseball broadcasting jobs with the Tulsa Oilers and the Atlanta Crackers. His first opportunity to broadcast for a major-league team came in the mid-1960s,when he was named the play-by-play announcer for the NBA's St. Louis Hawks. 
When the Hawks moved to Atlanta in 1968, Skip moved with them. He told me that he made that move partly to get out from under his father's shadow. "St. Louis was always going to be 'Dad's town,'" he said. "I needed to go somewhere to establish my own identity." That's how Skip landed in Atlanta, and millions of Braves fans nationwide are glad he did. 
Skip's irreverent style and sarcastic wit quickly became a trademark of the Braves broadcasts beginning in 1976. There was really no other broadcast style quite like it. When we received an audition tape from an aspiring broadcaster, we would often note how the announcer seemed to be trying to sound like Vin Scully or Al Michaels. But we never received a tape from someone trying to sound like Skip. No one could. Skip's philosophy of broadcasting was short and simple. "Tell the truth . . . have some fun." And that's exactly how Skip proceeded. He was brutally honest. If he didn't think an umpire got a call right, he'd say so. If he didn't like it that the start of a game was being delayed to accommodate a television network, he'd let you know. When the Braves were playing poorly, he wouldn't sugarcoat it. His honesty even extended to sponsors. 
One year, the Coca-Cola Company decided to unveil a new product, Vanilla Coke, on one of our telecasts. During the game, a sample of the new beverage was brought into the broadcast booth. Skip and Joe Simpson were supposed to try it and then pass along their recommendation to the viewer. After they had each taken a sip, Joe asked, "Well, Skip, what do you think?" "I don't like it," Skip replied, "too sweet." After that exchange, few sponsors dared risk introducing a new product on our telecasts ever again. 
Skip had one of the quickest wits I've ever been around. Some of his lines became legendary to Braves followers: 
Late in a blowout game: "If you promise to patronize our sponsors, you have my permission to walk the dog." 
Almost every game: "We go to the top of another fifth." 
If the situation warranted: "The bases are loaded and I sorta wish I was too." 
And we can't forget: "That foul ball was caught by a fan from Hahira, Georgia." It was amazing how many times he was asked how he knew where every fan was from. 
He also loved to stir things up. In the late 1970s, the Atlanta Constitution ran a story about the lack of fan interest in the Braves. No one was attending the games, they said: no one was listening, no one was watching, and nobody cared. Skip took exception to the story and several times during the broadcast invited viewers and listeners to call the newspaper and tell them, "I'm watching the Braves." He then gave out the newspaper's telephone number. The response overloaded the Constitution's switchboard. It took nearly a day to get it back to normal. Skip loved it. 
Sometimes his mischief extended beyond the ballpark. One night after a game, we were having a drink at our hotel in Houston. The bartender was an attractive girl from Czechoslovakia who told us she was going to take her U.S.-citizenship test the next day. "What sort of questions do they ask on a test like that?" Skip asked. She handed him a booklet covering the test's subject matter, and Skip began quizzing her on some of the information she was supposed to know. How many states? How many senators? When he got to "Name the first five presidents of the United States," she hit a roadblock. She knew Washington, Adams, and Jefferson, but she couldn't think of the fourth. Skip gave her the name. "Are you sure?" she asked. "Says so right here," Skip answered, holding up the booklet. 
For the rest of the night, Skip continued to go back to that question to make sure the young lady had it right. As we were about to leave, he asked her one final time. And she had the list down perfectly, just as Skip had taught her: "George Washington, John Adams, Thomas Jefferson, ERNIE JOHNSON, and James Monroe." "Always glad to help," Skip said to me as we walked out. 
But behind this playful side of Skip was a dedicated broadcaster—although he would never have been a SABR member. While he understood the importance of the records, the numbers, and the history of the game, these were not his main areas of interest. All of that research was best left for someone else. 
What mattered to Skip was the game being played that day. What strategies would the managers use? How was the defense positioned? Who was playing well? And who wasn't? Who was left on the bench? Each game was a story in itself, but he always remembered to connect it to the bigger picture as well. 
The game was always the important part of the day. All of the pre- and postgame shows that we broadcasters are obligated to do were a nuisance to him. 
We broadcast more than 5,000 games together, and every day was a new adventure. Whether the team was winning or losing, we always found something to laugh about. Our wives got to know each other. Our families became close. Our grandchildren began arriving just one day apart in 1997. We had a friendship that extended well beyond the broadcast booth.
It was tough watching this fun-loving partner of mine suffer from the myriad of health problems that came along in the last few years of his life. He reduced his travel schedule in 2007 and quit traveling with the team altogether in 2008. Fans noticed nights when he was a little slow or his speech was a little slurry, but that was primarily because of all the medications he was taking. Skip's mind stayed sharp, but sometimes his body wasn't willing to cooperate. 
When he died on August 3, 2008, it was like I'd lost a brother. And every Braves fan felt like they had lost a good friend. Skip was a tremendous broadcaster, one who eschewed the need for a signature call. "You can't call every play the same way," he would tell you, "and you can't end every game with the same words. Every home run is different. Every game is different." 
So Skip never had a trademark home-run call like Mel Allen's "Going, going, gone!" And you never heard him end a game with a catchphrase like Marty Brennaman's "This one belongs to the Reds" or Jack Buck's "That's a winner." All you ever heard was Skip being Skip. Honest, witty, sometimes grumpy, always entertaining Skip.
And when those rare, unforgettable moments arose, he always delivered. Remember October 14, 1992, Game 7 of the NLCS versus Pittsburgh: 
"BRAVES WIN, BRAVES WIN, BRAVES WIN, BRAVES WIN . . . BRAVES WIN!" 
Who needs a catchphrase when those simple words, delivered by Skip, said it all?
PETE VAN WIEREN served 33 years as a sportscaster for the Atlanta Braves. He is author of "Of Mikes and Men: A Lifetime of Braves Baseball" (Triumph Books, 2010) and coauthor, with Bob Klapisch, of "The Braves: An Illustrated History of America's Team" (Turner, 1995).
https://sabr.org/wp-content/uploads/2011/02/np-2010-001.jpg
537
400
admin
/wp-content/uploads/2020/02/sabr_logo.png
admin
2011-02-03 11:16:33
2021-08-31 15:30:17
Remembering Skip