"Shorty," "Brother Lou," and the Dodgers' Sym-phony
This article was written by Rob Edelman
This article was published in Fall 2018 Baseball Research Journal
---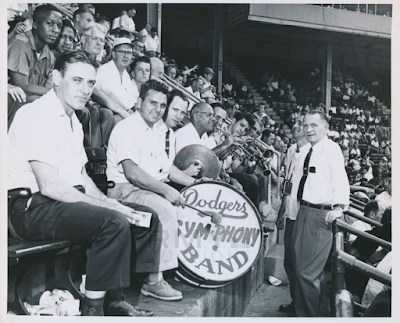 If Bob Sheppard, longtime public address announcer for the New York Yankees, was class personified, Tex Rickards, who held a similar slot with Dem Bums, reflected the spirit of the "woiking" class Brooklynite.1 And while Robert Merrill, the classy Metropolitan Opera baritone, often sang "The Star Spangled Banner" at Yankee Stadium, at Ebbets Field the fans themselves were the artistes. They included Hilda Chester and her cowbell, Eddie Bettan and his police whistle, and the Dodgers Symphony (or, Sym-phony and Sym-phoney): a five, six, or seven-man unit of comically wacky amateur instrumentalists.
Away from Ebbets Field, the Sym-phony members, who changed across the years, toiled as truck drivers, clerks, and city workers of various stripes, and they hailed from such blue-collar communities as Williamsburg and Greenpoint. Their instruments included everything from snare drums, bass drums, and metal containers posing as drums to cymbals, bugles, trumpets, trombones, and washboards employed as noisemakers. "Sometimes the band sounds like a herd of elephants with whooping cough," wrote the New York Times' Murray Schumach in 1947, when the Sym-phony was at its zenith.2 Dodger devotee Aaron Elkins, Brooklyn's Thomas Jefferson High School Class of 1952, added seven decades later: "For me, they were a given, so natural I never really thought about them… [I] just laughed and enjoyed them… I remember them all with much affection and nostalgia now…"3
The Sym-phony was founded in 1937 by Carmine "Shorty" Laurice, also known as "Jack" Laurice: a diminutive long-time Dodgers fan who toiled as a welder in the New York subway system. Laurice's verbiage was of the toidy-toid-and-toid variety. "Shorty is softspoken and even-tempered," observed Schumach, "and his speech is true Brooklynese. He favors the present tense and has a tendency to ignore grammatical links between verbs and nouns." Laurice explained his version of how the Sym-phony came into being: "Back in '37 I'm sittin' in my seat at Ebbets Field — the same seat I got for twenty-eight years, Section 8, Row 12, on the aisle — and I'm whistling, through my megaphone like always, when I run into this guy, a drummer. And that's the beginning of the band. It don't take much to start things in that Section 8 at the ball park, you know. Pretty soon I get myself a band. No, we don't get paid, just free ducats to the ball games."4 Originally, the Sym-phony called itself the Dodgers' Bums band. Legend has it that, in 1939, broadcaster Red Barber re-named it the Sym-phony to emphasize that their members were non-professionals.
Laurice was the star attraction in Section 8. "He is extremely visible, in the area behind the Brooklyn dugout, because he usually wears a silk hat, frock coat and orange pantaloons, and is perpetually in prancing motion," Schumach observed. His baton was a cane, until an uncle fashioned a real one from the branch of a tree in upstate New York. "Shorty thinks it elegant," Schumach added, "but he would have preferred a baton from a Brooklyn tree." Early on, Laurice's primary companion was forever-jitterbugging Jo Jo Delio, a little person who weighed only forty pounds. "Shorty would toss Jojo (sic) over his head, under his legs, make him cakewalk the guard rail. All this was done with consummate ease as his musicians wrestled with rhythm." However, by 1947, Jo Jo's weight had ballooned to 120 pounds: just five pounds less than Shorty. So their acrobatic act was history.5 Laurice and company also regularly left the environs of Section 8 to parade through the stands during games and could be found atop the dugouts responding to on-field happenings.
The Sym-phony is best-recalled for serenading baseball's men in blue with a rendition of "Three Blind Mice." Predictably, the umps were not amused. "The Brooklyn Sym-Phony used to be the worst for us — they would always play 'The Three Blind Mice' when we'd walk out on the field," explained umpire Beans Reardon in 1949. "And that would eat up a feller like (umpire) Babe Pinelli. I said to the Babe, just ignore 'em, and he did and they stopped after a while. Fans like you to growl back at 'em."6
Opposing players also were subjected to the Sym-phony's taunts; "After all," Shorty claimed, "it's my job to rattle the other team."7 If a Giant or Cub or Cardinal grounded out, the band comically imitated his gait as he returned to the dugout. If one sipped water from a drinking fountain, the Sym-phony lampooned him with "How Dry I Am." If one too-slowly returned to his dugout seat, he was loudly accompanied by the drums and cymbals. If one struck out, or if a pitcher entered or was taken out of a game, he was saluted with "The Worms Crawl In, The Worms Crawl Out," also known as "The Hearse Song," a ditty that exists in various incantations. A typical verse:
The worms crawl in, the worms crawl out,
The worms play pinochle on your snout.
A big black bug with two red eyes,
crawls up through your stomach and out through your eyes.
Your liver turns to a slimy green,
And looks and tastes like whipped cream. 8
Shorty and his Sym-phony were nationally-known. In 1947, The New York Times dubbed him "the Toscanini of Ebbets Field."9 By all accounts, he was beloved and respected off the field. "Shorty would bring Jackie Robinson and Ralph Branca over to St. Lucy's Church," recalled his brother, Joe Laurice, "and he also managed a ball club at the Navy Yard. He'd do anything for anybody. He'd play basketball after the game was over on Friday nights, buy the kids sodas…"10
Shorty also was endlessly, unashamedly vocal in his support of the Dodgers. Six days before the start of the 1947 campaign, Commissioner Happy Chandler handed out a one-year suspension to Leo Durocher, the Dodger skipper, and Shorty brandished a sign in which he informed one and all: "Open the door, Chandler, and let our Leo in."
Occasionally, Shorty and the Sym-phony trekked outside the boundaries of Ebbets Field. In 1941 and 1947, they were front-and-center in parades starting at Prospect Park, heading along Flatbush Avenue, and ending downtown, at Borough Hall, in celebration of the Bums copping National League pennants. In September 1946, they appeared at Sanford's, a Sheepshead Bay restaurant, to fête Pee Wee Reese and Eddie Stanky, and performed at an impromptu 36th birthday party for Dixie Walker. 11 Its members were invited to stroll the aisles of the 1948 Republican National Convention in Philadelphia. Thomas Dewey, New York governor and presidential nominee, promised to have them perform at the White House. (But Dewey lost to Democrat Harry Truman.)12
On August 21, 1948, Laurice was honored with a special "Shorty Laurice Day" at Ebbets Field. Tragically, however, the Sym-phony superstar died suddenly that November after undergoing ulcer surgery. Laurice was just 43 years old, and some of the money given him on his "Day" helped pay for his funeral. "Just as Shorty would have wished it, every member of the Dodger outfit who possibly could come was at the mass [at St. Ann's Roman Catholic Church], together with hundreds of Dodger fans, including several members of his impromptu band," reported the Brooklyn Eagle. Branch Rickey, Walter O'Malley, Jackie Robinson, and Roy Campanella were among those in attendance.13
Most poignantly, Shorty's cortege circled his beloved ballyard. It is not without irony that he had been felled by ulcers between the 1946 and 1947 seasons. "That ulcers, it's all in the head," Laurice told Murray Schumach. "Give me plenty of baseball and I don't never get ulcers."14
Laurice was not quickly forgotten. The following summer, he was honored at Ebbets Field on Opening Day. A plaque dedicated to his memory was erected on his favorite Section 8 seat and a memorial fund was instituted in his honor to help support underprivileged children. Five years later, the Brooklyn Eagle described Laurice as the "Brooklyn fan who 'cared' more deeply than anyone else" and a "wonderful little fellow," adding that a "gentle touch to the story of Shorty Laurice is that his memory is perpetuated by the association he formed and that his friends hold dances and parties to raise money to take orphans to Brooklyn games."15
Upon Laurice's death, snare drummer Lou Soriano became the Sym-phony's leader and director. Occasionally, "Brother Lou" (as he was called) accepted credit for founding the band; he just may have been the unnamed drummer that Laurice mixed with at Ebbets Field in 1937. As Soriano explained in a 1981 interview: "We were coming home from a picnic with our families… and it was so nice a day when we passed the park we went in. Instruments and all. People said: 'Give us a tune!' So we gave 'em a tune."16
Members of the Brooklyn Dodgers Sym-phony gave a stirring performance (if you can call it that) at the 1991 SABR convention in New York City.
In 1949, six musicians comprised the Sym-phony: Soriano (who worked as a civilian driver for the US military on Governors Island); trumpeter Phil Mason (a truck driver); clarinetist Bob Sharkey (a subway maintenance man); bass drummer Patsy Palma (a beer distributor); trombonist Pete Norman (a paper cutter); and, of course, Jo Jo Delio (a grocer) who manned the cymbals. Their day jobs allowed them to play at Ebbets for approximately 35 games each season, on Sundays and holidays and during night games. Plus, they earned a write-up in the venerable New Yorker magazine. Here, Soriano (rather than Laurice) was cited as the band's founder. The Sym-phony "was started by Soriano," claimed the magazine. "He brought a trombone player [with him] one day [and] when the Dodgers had a man on base, he blew a few notes. Soriano kept adding instruments till they got what they have now. The band has a thematic music for nearly every Dodger player. It also plays 'Hearts and Flowers' when a visiting team is hollering about something to the ump."17
A minor flap occurred in July 1951, when Local 802 of the American Federation of Musicians demanded that the Sym-phony members be paid for their work and imposed a ban on their performances. It was lifted with one proviso: No union member could play with the band. Then on August 13, the Dodgers staged a "Music Depreciation Night." Of the 24,560 fans in attendance, 2,426 showed up with banjos, bongo drums, trombones, flutes, saxophones… All were admitted for free, and joined the Sym-phony in their music-making. Additionally, the band was honored that same month in a pre-game Ebbets Field ceremony. Fans were encouraged to donate $1 each for the purchase of new musical instruments and costumes.
On the rare occasion that the Sym-phony did cross the Brooklyn Bridge into Manhattan, it was usually to represent Brooklyn in some manner. They might show up at Penn Station to welcome Dem Bums after a successful road trip. In September 1951, they entertained the crowd at Times Square's Globe Theater during a screening of Rhubarb, a newly-released Brooklyn-set baseball film.
In 1956, the band included seven musicians: Soriano and Palma plus trumpeter Ziggy Rullo (a lithographer); clarinetist Frank Ambro (a Parks Department worker); cymbalist Louis Dallojacono (a bank clerk); trombonist Pete Dellaiacono (a tree pruner); and tenor saxophonist William "Cally" Califano (a high school student). The Sym-phony's act also had changed. When asked if they still serenaded umpires, Soriano responded: "Na. When they had three umpires we used to play 'Three Blind Mice.' But now they got four. And, what! — we can't come up with the fourth mouse! We leave 'em alone. If we don't, they holler at us."18
Even after the Dodgers left Brooklyn, the Sym-phony remained intact; they marched in parades and appeared at everything from store openings to old-timers' games. In 1958, they accompanied a busload of Brooklyn diehards to Philadelphia, where the then-Los Angeles Dodgers were to battle the Phillies. On their way out of town, the Sym-phony performed "St. Louis Blues" and "Who's Sorry Now." Upon their arrival in the City of Brotherly Love, it was announced that the game had been rained out.19
As the years passed, Sym-phony members aged and died — and in 1989, Lou Soriano's passing merited a brief obituary in The New York Times. Unlike many of his brethren who by then had abandoned the city for the suburbs, at age 84 Soriano still resided in Greenpoint. "Mr. Soriano's most cherished possession," noted the Times, "was a plaque presented to him by the Brooklyn Dodgers organization… He was offered as much as $7,000 for the keepsake, but turned it down. Asked if he held on to it for sentimental reasons, he explained, `Nah, I'm holding out for $10,000.'" 20
In October 1995 — the fortieth anniversary of the team's lone World Series triumph — the Sym-phony appeared at the Brooklyn Historical Society in an event accompanying a special Ebbets Field exhibit. The following year, they were found at a 92nd Street Y shindig honoring living Brooklyn Dodgers from Cal Abrams to Pee Wee Reese. In June 2001, they showed up at the KeySpan (now MCU) Park debut of the Brooklyn Cyclones, the Class A New York Mets farm team: the first professional baseball game in the borough since the departure of the Dodgers 44 years earlier. At one point, according to The New York Times, the Sym-phony members "huddled by a concession stand. The musicians were supposed to get prime seats, said Dan Wilson, a 79-year-old trumpeter, `but somebody goofed; at our age, this we don't need.'"21
The Sym-phony performed several numbers — including "Three Blind Mice" — at the 2005 unveiling of a Jackie Robinson-Pee Wee Reese statue outside KeySpan Park. At a KeySpan gathering two years later, Rachel Robinson, Jackie's widow, saw and acknowledged Dan Wilson, whom The New York Times described as "the longest-tenured active member of the Dodgers Sym-phony — as in phony symphony…" On that occasion, the Sym-phony included Arnie Mig, also 85, playing cymbals; Lou Mento, 82, on bass drum; saxophonist Rex Sita, 77; and trombonist Nick Fiore, also 77.
Wilson admitted that he was not an official Sym-phony original. He was just 17 years old in 1939, and was enlisted as a fill-in musician. "… (the) Dodgers management did not want us at the ballpark," he recalled. "They felt we were a nuisance, but the players and the fans loved us, so we had to sneak into the ballpark. One guy paid the admission fee and lowered a rope over the side of the stadium, and we tied our instruments to the rope and had them hoisted up. Then we ran into the stands and started playing."
Wilson noted that, in 2007, he and Jo Jo Delio were the sole remaining living links to the original Sym-phony. Delio, then 87, resided in a Massapequa, Long Island nursing home. 22 He was 94 — or, over twice the age of Shorty Laurice — when he passed away in January 2011. One year later, a Newsday tribute cited him as the "last member of the Brooklyn Dodgers Sym-Phony Band. Your legend will never be forgotten! From your loving family and friends from the Northside Williamsburg, Brooklyn, and Parkview Nursing Home."23 Then in 2015, Newsday reported that the Sym-phony "has lost (one more) last surviving member" upon the passing of 87-year-old Armand Soriano, Lou Soriano's son. A cymbal-player, Armand had been recruited by Lou right after World War II, when he was 18. Armand's life was typical of most Sym-phony musicians. Brooklyn-born, he dropped out of school after completing eighth grade to support his family. He eventually worked in the stockroom at the Steuben Glass company, where he remained for three decades.24
"Over the years, as the original guys disappeared, we took their places," explained Nick Fiore in 2007. He reported that he had joined the Sym-Phony in 1977, adding: "Danny and the rest of us are all trained musicians who performed with big bands, but we're still proud to keep this great tradition alive." And Rachel Robinson observed, "The Sym-Phony was one of the things people loved about Ebbets Field. They provided a kind a special character and loving warmth that few other ballparks had, so I'd recognize them anywhere."25
ROB EDELMAN teaches film history courses at the University at Albany. He is the author of "Great Baseball Films" and "Baseball on the Web," and is co-author (with his wife, Audrey Kupferberg) of "Meet the Mertzes," a double biography of I Love Lucy's Vivian Vance and famed baseball fan William Frawley, and "Matthau: A Life." He is a frequent contributor to "Base Ball: A Journal of the Early Game" and has written for "Baseball and American Culture: Across the Diamond," "Total Baseball," "Baseball in the Classroom," "Memories and Dreams," and "NINE."
Photo credit
Brooklyn Dodgers Sym-phony photo is courtesy of RMY Auctions.

Notes
1 Most famously, after a cluster of fans had placed their coats over the grandstand railing at Ebbets Field, Rickards requested that "the fans in the first row along the railing please remove their clothes." (One of a number of variations: "Will the ladies sitting along the first-base line please take off their clothes….") So as not to confuse anyone in the stands, Rickards — not to be mistaken for the legendary boxing promoter and founder of the New York Rangers, who passed away in 1929 — appeared on the field garbed in a white wool sweater with the words "Dodgers Announcer" stitched on its front. It may have been 100 degrees in the shade, but Rickards always wore the wool. He inexplicably conjured up incorrect names in his announcements, referring to pitchers Ernie Johnson and Eddie Erautt as, respectively, "Cy" and "Herman," and infielder Gene Freese as "Augie" — which became Freese's nickname.
2 Murray Schumach, "Dodgers' Maestro," The New York Times, September 28, 1947; SM28.
3 Email from Aaron Elkins, March 10, 2017.
4 Schumach; SM28.
5 Schumach; SM28.
6 Adam K. Raymond, "How To Get Ejected From a Baseball Game," Slate, September 18, 2012.
7 Schumach; SM28.
8 "The Hearse Song," Wikipedia, https://en.wikipedia.org/wiki/The_Hearse_Song
9 Schumach; SM28.
10 Bob McGee, The Greatest Ballpark Ever: Ebbets Field and the Story of the Brooklyn Dodgers (New Brunswick, New Jersey and London: Rivergate Books. 2005); 211.
11 "Dodgers' Party Followed by Fete For Dixie Walker," Brooklyn Eagle, September 25, 1946; 4.
12 McGee; 211.
13 "Dodger Leaders Attend Rites For Carmine (Shorty) Laurice," Brooklyn Eagle, November 29, 1948; 11.
14 Schumach; SM28.
15 Tommy Holmes, "Dazes and Knights," Brooklyn Eagle, July 8, 1953; 17.
16 Ken Denlinger, "Only Memories At Ebbets Field," Washington Post, October 28, 1981.
17 Frank Grisaitis and Rex Lardner, "Incidental Music," The New Yorker, September 3, 1949; 17.
18 William R. Conklin, "Dodgers' Music Score? Off-Pitch Sym-phoney Band Is Base," The New York Times, August 12, 1956; 161.
19 Gay Talese, "Like Old Times in Brooklyn: Safari All Awry," The New York Times, May 26, 1958; 34.
20 "Louis Soriano, 84, Dies; Led Dodger Band," The New York Times, April 12, 1989; B5.
21 Andy Newman, "It's Summer: The Boys Are Back in Town," The New York Times, June 26, 2001; D3.
22 Vincent M. Mallozzi, "Sour Notes Are Sweet for Sym-Phony of Brooklyn," The New York Times, August 14, 2007; B2.
23 "In Memoriam," Newsday, January 23, 2012.
24 Joan Gralla, "Armand Soriano dies; last of the Brooklyn Dodgers' razzing Sym-Phony was 87," Newsday, June 13, 2015.

25 Mallozzi; B2.
https://sabr.org/wp-content/uploads/2020/03/research-collection4_350x300.jpg
300
350
admin
/wp-content/uploads/2020/02/sabr_logo.png
admin
2018-11-27 15:31:02
2022-01-25 16:47:44
"Shorty," "Brother Lou," and the Dodgers' Sym-phony