Surprise Swings at Intentional Balls
This article was written by Bill Deane
This article was published in Spring 2011 Baseball Research Journal
---
In 2009, on SABR-L (SABR's online listserv), Trent McCotter cited two instances of a player taking a swing while being walked intentionally and wondered if anyone knew about other instances of a batter hitting a deliberate ball. I responded with two such incidents I had happened on during my research. Several other SABR members, including Brian McMillan, Stew Thornley, Bob Timmermann, and Michael Hoban, contributed more instances. Later, having found notes I had made about three more surprise swings, I thought it was time to collect all these occurrences together.
I decided to eliminate instances of players taking half-hearted, empty swings at intentional balls. For example, it has been written that pitcher Jack Coombs once deliberately struck out while the opposition was trying to walk him, because it was a hot day and he didn't want to run the bases. In May 1976, Rod Carew took a couple of insincere swings at deliberate balls, hoping to encourage the pitcher to pitch to him with two strikes, but wound up walking anyway. A similar thing reportedly happened to Mel Ott on the last day of the 1929 season, as Phillies pitchers denied him the opportunity to catch their teammate, Chuck Klein, in the NL home run race.
To date, we have uncovered only eleven instances in which a batter, in the process of being intentionally walked, swung and actually put the ball in play:
On August 8, 1907, Detroit's Ty Cobb tripled against the Athletics' Eddie Plank to cap a four-run third inning, leading the Tigers to a 5–3 win. Cobb came up with one out and runners on second and third when Plank tried to put him on, but the third pitch was close enough for Cobb to whale down the right field line, scoring both runners.
On September 20, 1908, Philadelphia's Eddie Plank (again!) lost to the White Sox, 1–0 (Chicago's Frank Smith threw a no-hitter) on a freak ninth-inning run. With runners at first and third and one out, Plank was trying to walk Freddy Parent intentionally. Parent crossed things up by reaching out at the third pitch and swatting a grounder to second baseman Scotty Barr, who threw home too late to get Frank Isbell.
On May 28, 1937, according to The Sporting News, "Instead of accepting an intentional pass to first base, Second Baseman Odell Hale of the Indians rifled the fourth ball to [White Sox'] Center Fielder Mike Kreevich in the ninth inning … With Hal Trosky on second and the score tied, Vernon Kennedy, Chicago right-hander, was trying to walk Hale to take a chance on a double play with Frankie Pytlak at the bat." Cleveland wound up losing 3–2 in ten innings.
On May 1, 1955 in the 16th inning, with the Giants' Whitey Lockman on second base, one out, and a 3–0 count, Don Mueller singled off the Reds' Bob Hooper. Lockman moved to third and scored moments later to give the Giants a 2–1 victory.
On May 7, 1959, with runners on second and third and one out in the eighth inning, the Dodgers' Stan Williams tried to walk the Giants' Willie Mays intentionally. Mays, perhaps inspired by the memory of his former teammate, took a cut at the 3–0 pitch. But unlike Mueller, Mays fouled out to the catcher and the Giants lost, 2–1.
Just 22 days later, on May 29, 1959, Milwaukee's Joe Adcock came up in the bottom of the ninth of a tie game with one out and runners on second and third. The Phillies' Gene Conley tried to put Adcock on, but Joe swung at the first pitch, grounding the ball up the middle. Second baseman Sparky Anderson, stationed far behind the bag in case of an errant pickoff attempt, fielded the ball but threw home too late to get Hank Aaron, who scored to give the Braves a 6–5 win.
As Reds' manager, Sparky probably enjoyed this one a lot more. In the first game of a May 16, 1972 twin bill, with one out in the eighth and Dave Concepcion on second, Pete Rose swung at a deliberate ball thrown by the Giants' Ron Bryant. Third baseman Jim Ray Hart "was caught by surprise and fumbled [the] ball, allowing Concepcion to score," according to The Sporting News. It proved to be the winning run for the Reds, making the score 4–2 en route to a 4–3 victory.
On September 27, 1973, the Phillies' Bob Boone came up against the Pirates' Chris Zachary in the 13th inning with one out and Greg Luzinski on second. Zachary tried to put Boone on, but Bob slapped the first pitch for a single, moving Luzinski to third. The Bull promptly scored on a wild pitch to give the Phils a 3–2 win.
On August 25, 1980, the Dodgers led the Phillies 6–4 in the ninth. Joe Ferguson came up with runners on second and third and one out. Ferguson swung at Tug McGraw's second intentional pitch and got a two-run single out of it. McGraw drilled the next batter in retribution, starting a bench-clearing brawl. The Dodgers won, 8–4. Interestingly, that day's Phillies lineup included the two most recent perpetrators of the surprise swing.
On September 2, 1996, Colorado's Andres Galarraga came up in the eighth inning with a runner on third, one out, and a 4–3 lead. Pittsburgh's Matt Ruebel tried to pass Galarraga intentionally, but the Big Cat swung and reached on an error by second baseman Jeff King, bringing in a run. This ignited a four-run inning and an 8–3 win for the Rockies.
On June 22, 2006, Miguel Cabrera was being walked intentionally by the Orioles' Todd Williams when he took a surprise swing at the first pitch and came through with an RBI single, knocking in the go-ahead run and sparking the Marlins to an 8–5, ten-inning victory.
One thing I have noticed is that walks described as "intentional" yesteryear were often what we would today call "pitching around" a batter. For example, the Detroit Free Press account of Cobb's hit said that team captain Harry "Davis instructed Plank to pass Cobb, so that any field grounder by the next batter would be good for a double play. Plank apparently intended to follow instructions, but did not keep them away far enough. The third ball that he tried to waste went just inside the plate [Italics mine]. Ordinarily a batter would take a ball on it, but it was just the right hight (sic) and Cobb smashed it."
Click on the image below to view the original list in table form.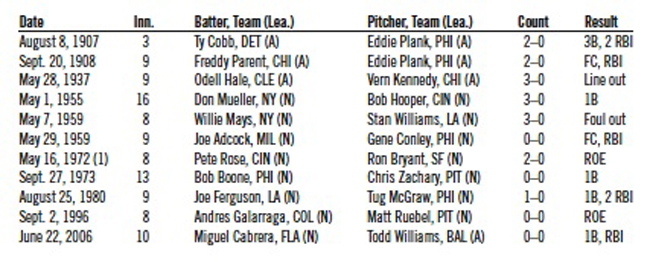 Interestingly, of the 11 documented instances, nine resulted in positive results: five in hits, two in errors by the caught-off-guard defense, and two in game-winning RBI. Of course, it could simply be that successful results are more likely to be reported.
Author's note
This is presented as a work in progress rather than a definitive list. Should anyone know other instances which belong on this list, please contact the author at billdeane14@gmail.com.
BILL DEANE is in his 30th year as a SABR member, and has been a frequent contributor to its publications and Listserv.
---
Postscript
By Bill Deane
February 5, 2012

In the Spring 2011 Baseball Research Journal, I presented a list and description of "Surprise Swings at Intentional Balls" — 11 documented instances in which a batter was being intentionally walked, but swung at a pitch and put it into play.
Since then, as hoped, I have been contacted by others with details about, or leads on, other such examples. Possible ones involving Ed Delahanty, Cap Anson (July 15, 1896), Nap Lajoie (September 24, 1901), Mel Ott (October 5, 1929), Clay Dalrymple (c. 1964), Ralph Garr (c. 1975), and Bo Jackson (c. 1987) lack documentation or evidence. But, thanks to Frank Vaccaro, Barry Sparks, Bob Brelsford, and Mike Cameron, I have added four more instances to the list:
In an NL game on July 11, 1892, Kid Nichols and Boston led Chicago, 3-2. According to THE SPORTING LIFE, "With two men on bases, in the ninth inning, and one hand out, [Chicago player-manager Cap] Anson refused to take a base on balls. Nichols lined the ball over the plate. Anson met it and shot it to [second baseman Joe] Quinn, who caught it, and, touching second base, completed a [game-ending] double play."
On June 10, 1912, the Cubs and Giants went into extra innings tied at seven. According to THE SPORTING LIFE, "Chicago won in the tenth, when, with [Joe] Tinker on third, [Giants' relief pitcher Doc] Crandall was ordered to pass Zimmerman. Zimmerman reached out of the batter's box and drove a wide pitch into the right-field wing of the grand stand for a home run." New York scored one in the bottom of the frame but lost, 9-8.
On April 17, 1918, the Senators and Yankees were tied at seven in the 12th inning. With runners on first and third, Nats' relief pitcher Walter Johnson tried to walk long-time nemesis Frank "Home Run" Baker intentionally. Baker lashed at the third pitch, sending it to deep center field to score the winning run.
On May 30, 1956 (second game), the Cubs' Harry Chiti reached out to poke an intentional ball from Milwaukee's Ray Crone, earning an RBI-triple. According to one baseball writer, "Chiti had a reputation for vastly overrating his abilities. In extreme contrast, Cubs fans had totally turned on him by '56. His last name was pronounced 'Cheety,' but Cubs fans had taken to calling him 'Shitty.' Even in his moment of glory — getting a surprise hit on a deliberately wide pitch and chugging all the way to third — a Cubs' fan stood and yelled: 'That was a really stupid thing to do, Shitty.'" The Cubs lost anyway, 11-9.
Postscript to the Postscript

On September 10, 2016, Gary Sanchez of the New York Yankees reached out and lined an "intentional ball" to the warning track for a sacrifice fly off Tampa Bay's Enny Romero in the eighth inning at Yankee Stadium. Click here to watch the play at MLB.com. New list through 2016 is below:
https://sabr.org/wp-content/uploads/2011/06/Plank-Eddie-307.74_Act_PD-scaled.jpg
2560
1685
admin
/wp-content/uploads/2020/02/sabr_logo.png
admin
2011-06-15 12:36:02
2021-08-13 18:27:28
Surprise Swings at Intentional Balls