The Asylum Base Ball Club: The Great Reunion Game, September 29, 1905
This article was written by Bob Mayer
This article was published in The National Pastime: Baseball in the Big Apple (New York, 2017)
---
The center of the baseball world had been New York City, but after the Civil War came a time of tremendous growth in the game. The National Association of Base Ball Players had been formed in 1858 and the number of member teams skyrocketed from 80 in 1860 to 202 in 1866, and more than 1000 by 1869. In New York State, teams were started all along the Hudson River during the 1850s and were evident in most inland towns by the 1860s. Orange County lies on the west side of the Hudson about 50 miles north of New York City. Along the river bank you will find West Point and Newburgh, and further west, Warwick, Goshen, and Middletown—where this story takes place.
Middletown's first reported baseball team was the Wallkills Base Ball Club. Founded in 1866 by many of the leading citizens, this amateur team played other towns and villages in the area as well as teams from northern New Jersey and New York City. Newspaper coverage of the Wallkills stops in the early 1870s, making it appear that the team had disbanded, but they resurfaced again with new personnel in 1880. In the interim, a team named the Lone Stars was formed and became the most prominent team in Middletown 1874–77. However, the resurgent Wallkills took back the local spotlight throughout the 1880s. During that decade the team won 79 games and lost 62, a fairly respectable showing. The team finally stopped playing shortly after a new Middletown powerhouse team came to life.
The rise of the Asylum Base Ball Club and its outstanding success is the story of an unlikely relationship between a hospital chartered to treat the mentally ill and a group of talented young men—some of whom would go on to careers in the major leagues, including Hall of Fame pitcher Jack Chesbro.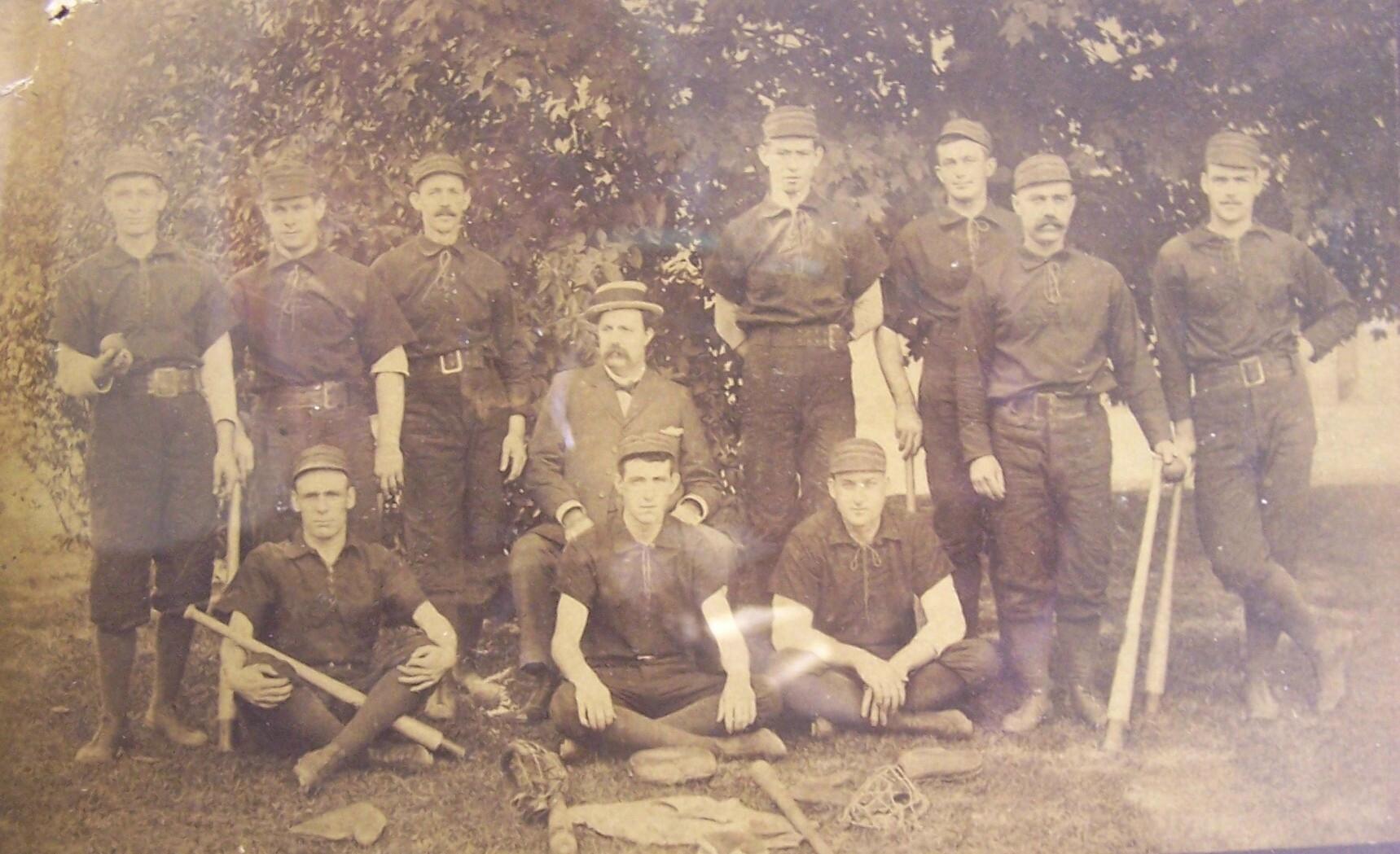 The Asylum Base Ball Club in 1891. Wilber Cook (manager) sitting in center.
THE ASYLUM BASE BALL CLUB
The Asylum Base Ball Club was formed in 1888 to represent the State Homeopathic Asylum for the Insane at Middletown, New York, and to provide amusement for the patients confined there. The State Homeopathic Asylum was the first of its kind in the United States, opening its doors in 1874. During its peak years in the late nineteenth and early twentieth century, it was the largest in the country. Baseball had been utilized in mental facilities as a recreational activity for patients for many years. However, Selden Talcott, the Superintendent of the Middletown SHA, believed that baseball could be therapeutic even for those patients unable to play the game, but who could be avid fans of a skilled team. He made it a priority to schedule games with the best teams in the region.
Between 1888 and 1894 the Asylum Base Ball Club was highly successful and posted an enviable record of 111 wins, 31 losses, and two ties against some of the top amateur, semi-pro, and professional teams in the New York area. In 1892 the team won 22 of 24 games played, and the only two losses were to the National League's New York Giants by scores of 2-1, and 6-5 in 10 innings.
Another indication of the team's strength was its record against two of the best professional Black Baseball clubs of the era, the Cuban Giants and the NY Gorhams. Between 1890 and 1894 the Asylum club won eleven of nineteen games against these fine teams.
THE CUBAN X GIANTS
In 1896, a rift between Cuban Giants owner John Bright and some of his players magnified. The players left the team and a new team, the Cuban X Giants, was formed under the management of E.B. Lamar. Bright sued Lamar over the use of the name but lost in court and renamed his own team the Genuine Cuban Giants. The Cuban X Giants took over the spotlight and became the Eastern Colored champions 1897–1903, and Colored champions in 1899. During 1896 and 1897, the Cuban X Giants opposed the Asylum Club four times, winning two (10-8 and 15-1), losing one (8-10), with one rainout.
In 2005, the National Baseball Hall of Fame in Cooperstown commissioned a group of baseball historians and other experts to investigate 36 ballplayers, managers, and executives who had been affiliated with the Negro Leagues or pre-Negro-Leagues teams. As a result, 16 men and 1 woman were enshrined in the Hall of Fame in 2006. Two black men who played periodically against the Asylum baseball teams were included in this group, Sol White and Frank Grant.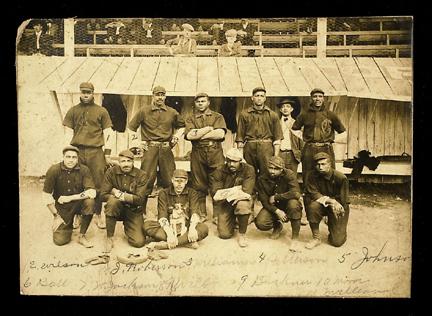 The Cuban X Giants circa 1902, E.B. Lamar standing in suit.
A PLAN UNFOLDS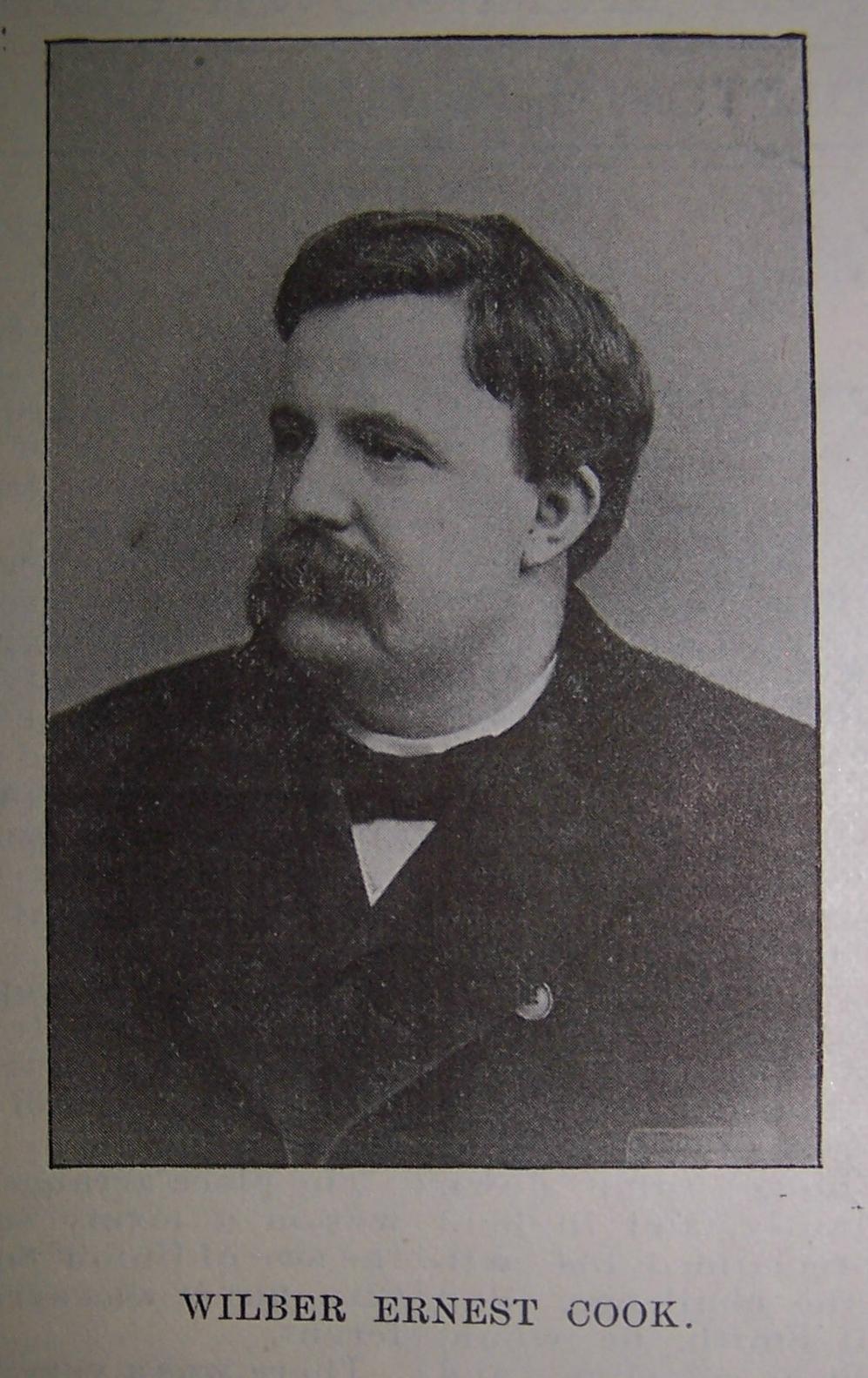 Wilbur E. Cook had been the manager of the Asylum team since its inception in 1888. By 1905, he had spent 31 years at the State Hospital, mostly as Patient Supervisor. Weighing well over 200 pounds, Cook was an impressive figure with his walrus mustache. Cook had come to work for Dr. Seldon Talcott after Talcott successfully treated him for a severe injury he had received on the baseball field. Over the course of his employment, he served several Superintendents, and his wife was also employed there for many years.
After many successful seasons, nine of the 1894 Asylum BBC starters left to join minor league clubs in 1895. The team was rebuilt, but over the ensuing years, baseball had slowly lost some of its local interest. Cook wanted to do something that would regenerate the previous level of interest in baseball at the hospital. He and former team captain John Degnan came up with what they thought was a great idea and as reported in the Middletown Daily Argus began corresponding with former Aslyum players by late summer 1905. They arranged for a "reunion" baseball game for the old Asylum players from the glory days to face the Cuban X Giants. Despite the years that had passed, Cook was still able to get many of the best players to commit to playing. Only one of the fan favorites—Pat McGreevy, the great Asylum catcher—had passed away in 1899 at age 32.
During the preceding decade, many of the former Asylum ballplayers had played with minor league clubs and a few had made it to the major leagues. When news of this reunion game broke, the old fans and rooters could hardly be contained. For weeks the game was anticipated with great interest by the baseball cranks (fans) of the city of Middletown and surrounding towns.
THE ASYLUM TEAM PLAYERS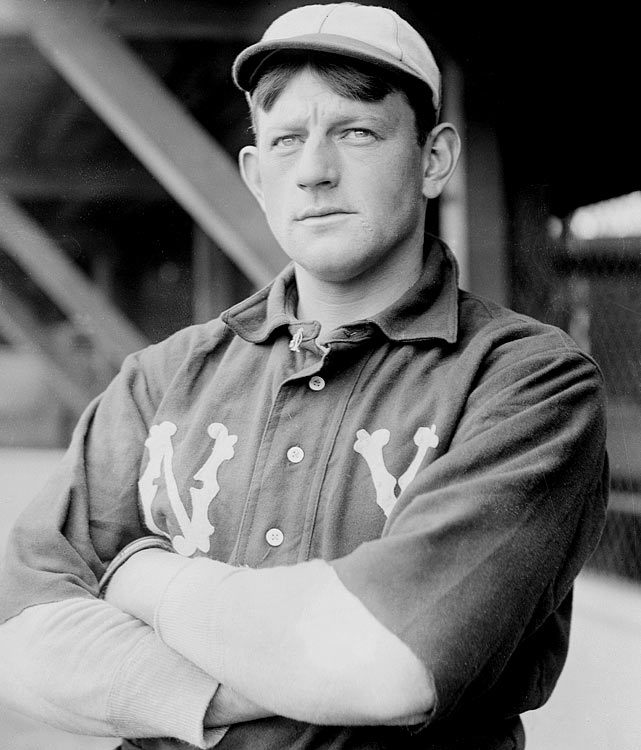 "Happy Jack" Chesbro: Jack was a starting pitcher for the New York American League franchise—a team variously nicknamed by the press as Highlanders, Hilltoppers, and even Yankees. In 1904 Jack won 41 games and pitched 48 complete games, still top totals for seasons after 1893. The team would eventually officially adopt the Yankees moniker, and in 1946 Chesbro would be voted into The National Baseball Hall of Fame. Chesbro had come to the State Hospital in Middletown from North Adams, Massachusetts, in 1894 at age 19 to pitch for the Asylums and work as a hospital attendant.
Art Madison: Art was then a minor league shortstop for the Utica Pent-Ups of the New York State League. A boyhood friend of Jack Chesbro from Clarksburg, Massachusetts, as a youth he had played on local sandlot teams with Jack. In 1894 he also worked and played ball with him at the hospital, and was instrumental in getting Jack a tryout with the Pittsburgh Pirates in 1899. Art played with the Asylum team in 1894 and 1897, and went on to play briefly for the Pirates and the Philadelphia Phillies.
John J. "Jack" Lawlor: At the time of the reunion, he was player/manager of the Utica Pent-Ups. Lawlor had been playing minor league ball since 1891 primarily in the Eastern and the New York State Leagues. Jack was known as "The Gloveless Wonder" as he was one of the last professional players to field without a glove. He worked at the State Hospital from 1891 through 1909 during the offseasons, and would later be manager of Middletown's entry into the NY/NJ League in 1913 and the Atlantic League in 1914. John was also named manager of the Asylum team in 1922, but passed away early in the season at age 53.
Pete Lamer (aka Pierre Lamers): Pete was with Dover in the Lackawanna League, and Pete's brother E. B. Lamar Jr., was owner/manager of the Cuban X Giants. He had played with the Asylum club in 1896 and 1897. In 1898 he had gone to the Connecticut State League with New London. Per MarkOkkonen, Lamer spent several years in the minors and also played with Poughkeepsie (NY) in the Hudson River League in 1903. He had a cup of coffee in the major leagues with the Chicago Cubs in 1902 and later with Cincinnati in 1907.
George "Tuck" Turner: Tuck played on the Asylum team 1892–93. He went on to play in the majors with the Phillies 1893–96 and the St. Louis Cardinals 1896–98. Tuck had batted .418 for the 1894 Phils, and was playing minor league ball in New Bedford, Massachusetts, at the time of the reunion game. Tuck was inducted into the Staten Island Sports Hall of Fame in 2011.
Chris Genegal: Chris worked at the State Hospital from 1889 until 1901. He played minor league ball in the New York State League for Gloversville in 1895, in the Penn State League in 1896, and then Canandaigua, leading the NY State League in hits in 1897. He turned down several offers from the New York Giants to play in the National League. Chris continued to play locally for several teams and appeared in games as late as 1911 when he was 47 years old. He and Jack Lawlor were on the Middletown Athletic Club team that defeated both the Brooklyn Dodgers and NY Giants in 1908. Chris also played for the Middletown entry in the short-lived Eastern Association of 1909.
Charlie Tierney: Charlie was playing in Perth Amboy, New Jersey. He was from Goshen and worked as a clerk at Equitable Insurance, but always found time for baseball. He roamed the outfield when not pitching and he had played against Middletown teams since the mid-1880s, pitching effectively for strong Goshen and Walden teams. He also played with the Asylums on and off over a ten-year period, and played minor league ball with Albany/Johnstown in 1896 and Easton in 1896 .
Tommy Murray: Tommy played with the Asylum team 1891–97 and had a brief stint in the minors for Albany/Johnstown of the NY State League in 1895. When Tommy left the semi-pro Allertons in 1891, Wee Willie Keeler took his place at second base on that team. Tommy previously worked for the railroad, but was now a liquor salesman in New York City.
Tom Morehead (Moorehead): Tom was captain of the Dover team in the Lackawanna League. Tom had played with the Asylums 1891–93 and 1896–97. He was a cloth cutter for Hackett-Carhart and became his union's president.
Chris Rhinecker (Reinacker): Chris was a member of the Asylum team 1896–97. He also played for many years in Hoboken, New Jersey. He was thought to be playing in Utica in 1905, and played for the New Rochelle (NY) Rough Riders, a semi-pro team in 1907.
Fisher Launt: Fish played for the Wallkills BBC of Middletown (1885–88) and became an initial member of the Asylum team in 1888. He played with the team through 1895, was a solid hitter to all fields, a great base runner, and the team's spark plug. Fish was most noted for his wild style of base coaching, which was a popular treat for the spectators and a terror for the opposition. He worked as a conductor for the Ontario & Western Railroad and lived in Sidney, New York.
John Degnan: Degnan, another original member, was the Asylum Captain 1889–96. He also captainedMiddletown's best amateur team, the Wallkills, 1883–90. On the three occasions when the Wallkills played the Asylum, Degnan and two other players, Launt and McGreevy, would have to choose which team to play for. John was the owner of one of Middletown's plumbing companies, and quite active in local civic associations and politics. No longer actively playing, John was on hand to perform the umpiring duties.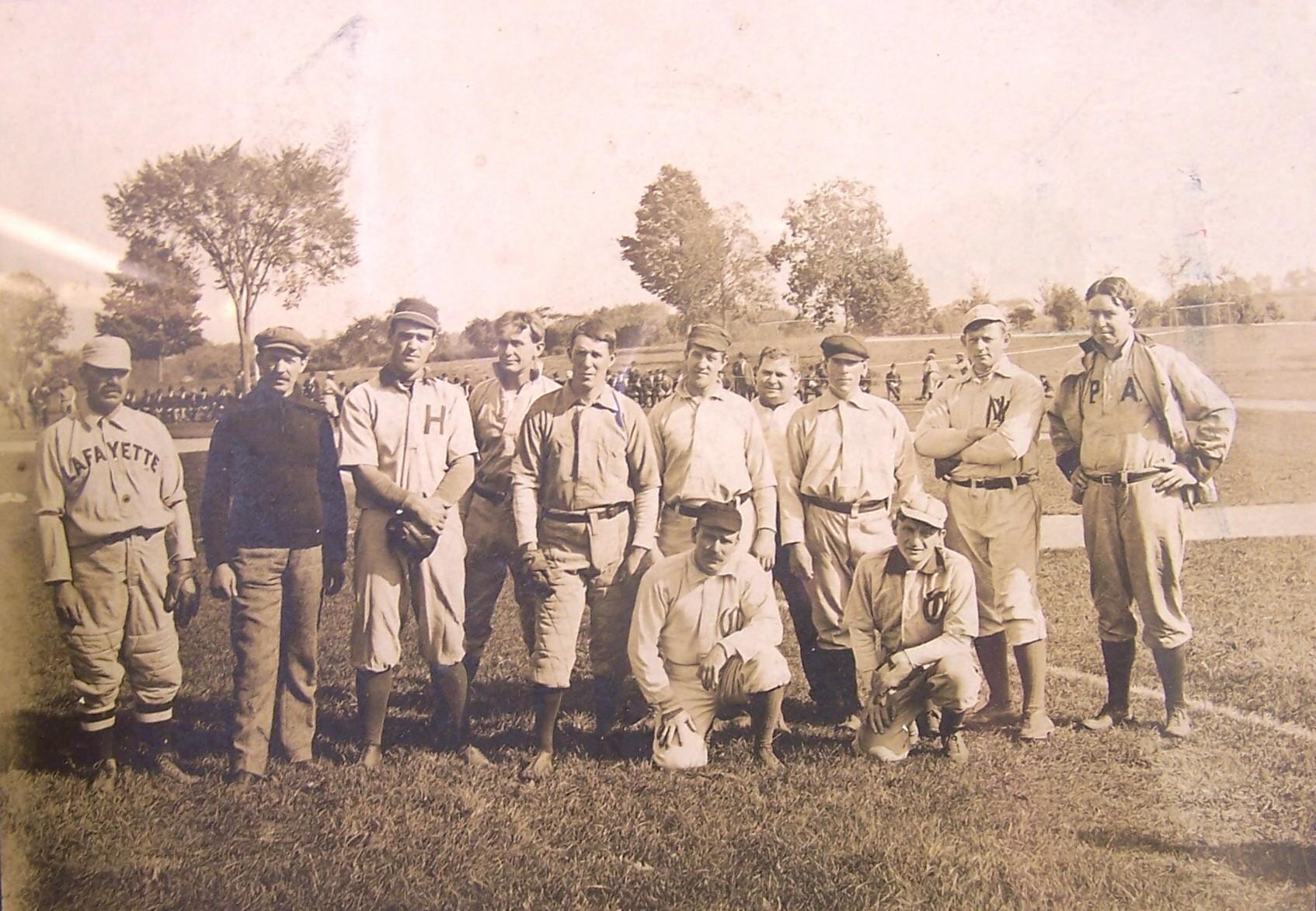 September 29, 1905 – Middletown State Homeopathic Hospital Base Ball Team vs. Cuban X Giants
THE BIG DAY ARRIVES
On the day of the game, the players were given a rousing reception upon arrival in Middletown via the Erie Railroad. The Giants emerged smiling from the train, and several of the Asylum team had accompanied them on the ride. Jack Chesbro and his wife, Tommy Murray, Tom Morehead, Tuck Turner, Charlie Tierney, Chris Rhinecker, and Pete Lamer had all taken the rails. From the station, a parade headed up to the State Hospital with the Cubans occupying a large side-seated wagon and the Asylum players seated in four automobiles driven by Charles Higham (Middletown's Chief Fire Engineer and former Wallkill BBC third baseman), and several other local businessmen.
Jack Chesbro had just come off his third year with the New York Americans winning 19 games and posting a 2.20 earned run average. It was a far cry from his 1904 season. In today's baseball world there are still exhibition games scheduled by team management, but these are rare, and there are contract restrictions that make it impossible for players to play on their own for another club. However, many of the early baseball teams allowed individual players to play for teams outside the major leagues if schedules permitted. This practice continued into the 1950s.
Everybody wanted to see Chesbro, who was now an $8000/year pitcher in the big city, and more than 3000 fans were on hand on the hospital grounds. Tommy Murray, who was originally expected to play, acted as the second umpire. It was rumored that he had gotten too fat for any of the uniforms, and he did not deny this.
THE CUBAN X GIANTS PLAYERS
This was billed as the Cuban X Giants, but the players were essentially a black all-star team put together for this reunion game. These men played for a variety of black professional teams, and not all were on the Cuban X Giants 1905 regular season team.
THE LINEUP
Leading off and playing left field for the visitors was Pat Patterson. Since 1890, Pat had played with the NY Gorhams, Cuban Giants, Philadelphia Giants, Brooklyn Royal Giants, Page Fence Giants, and several other teams.
Danger Talbert at third base was batting second. Talbert started pro ball in 1900 and played mostly with Frank Leland's Chicago teams, but joined the Cuban X Giants in 1905. He would play pro ball until 1911.
Bobby Winston was batting third and playing center field. Bobby was just finishing his first professional year, having moved from the Norfolk Red Stockings in August. He would go on to become a superior base stealer and star outfielder with several black teams through 1923.
Batting clean-up and playing first base was Ray Wilson. In his prime, Ray was considered the best first baseman in black baseball. He played with the Cuban X Giants from 1902–6, then switched to their rivals, the Philadelphia Giants, where he played until 1910.
Frank Grant followed at second base. Grant is considered by many to be the greatest black player of the nineteenth century. He played in the minor leagues 1886–91 until blacks were no longer allowed in the white leagues. He then played for the Cuban Giants, NY Gorhams, Page Fence Giants, Philadelphia Giants, and several other outgrowths from those teams including the Cuban X Giants. He was a consistent .300 hitter and a great fielder, and was elected to the Baseball Hall of Fame in 2006.
Harry Buckner was playing right field and batting sixth. Harry was a versatile player who pitched, caught, played outfield and infield for many teams in New York, Philadelphia, and Chicago between 1896 and 1918. Included in Harry's list were the Mohawk Giants of Schenectady and the Paterson Smart Set.
Clarence Williams was batting seventh and doing the catching. Clarence had been barnstorming through Middletown for 18 years, beginning with the original Cuban Giants with whom he played for 10 years, after joining in their first year 1885. Clarence played minor league ball in the Middle States League, the Connecticut State League and the Eastern Interstate League (with Frank Grant ) until the colored line was drawn, played briefly with the NY Gorhams and Philadelphia Giants, then several years with the Cuban X Giants. The Negro Baseball Encyclopedia indicates he played until 1912 as Player/Manager with the Paterson Smart Set, however he actually finished his career with them in 1913. Clarence should be seriously considered as a candidate for the Hall of Fame. SABR's Negro League Grave Marker Project placed a stone at Clarence's unmarked grave in 2016.
Batting eighth was shortstop John Hill. Hill played 1900–07 primarily at third base, and was the backup for Hall of Famer John Henry "Pop" Lloyd on the Philadelphia Giants in 1907.
Pitching and batting ninth was John Nelson. John started his professional career with the NY Gorhams in 1887 and played for 17 years with several top clubs including the Cuban Giants, Page Fence Giants, and Philadelphia Giants. This included play in predominately white leagues (Trenton & York in the Middle States League, Ansonia in the Connecticut State League). John had often pitched against the Asylum teams.
Also present as substitute was Robert Jordan, who played with both the Cuban Giants and Cuban X Giants on a regular basis 1896–1906.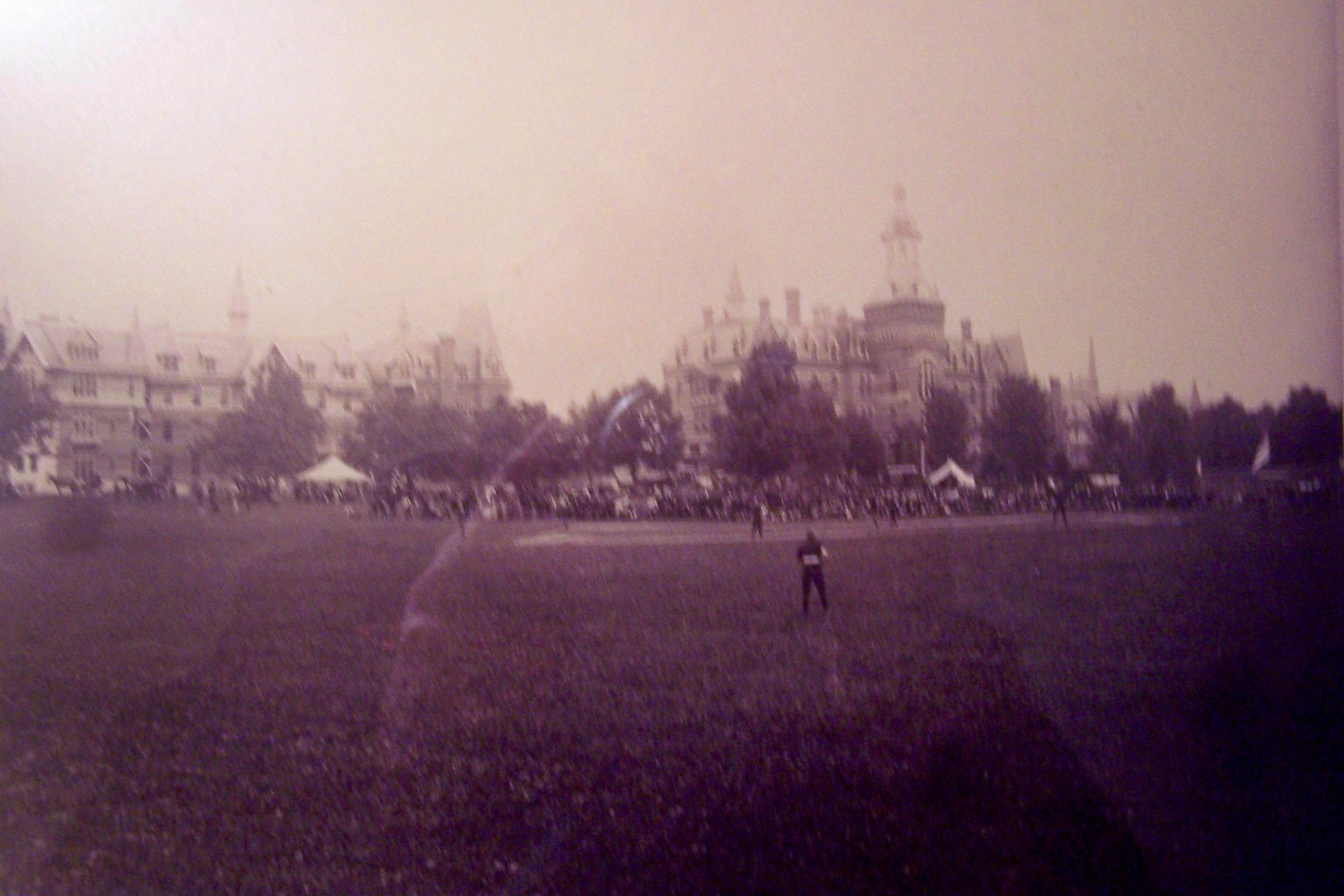 A game against the Cuban Giants on the Asylum Grounds in 1890.
THE GAME BY INNINGS
First inning: Patterson grounded to Reinacker who threw to Genegal at first. Talbert struck out. Winston hit safely, but Wilson struck out, retiring the side. For the Asylums, Morehead struck out, Madison hit a grounder to third and was put out at first. Genegal grounded to Nelson who threw to first; three out. No runs on either side.
Second inning: Grant pounded a hot grounder to Chesbro who gathered it in nicely and threw to Genegal. Buckner made a base hit over in the right outfield. Williams knocked a grounder to Reinacker who threw to Morehead at second and Genegal at first, catching Buckner and making a nice double play; no runs. For the Asylums, Turner flied out to Winston in center field. Lawler made a two-base hit. Launt followed with a base hit and Lawler scored. Reinacker grounded to third and was put out at first. Lamar made a base hit but was caught in attempting to go on to second. While he was making his run for second, Launt scored. Score: Asylums 2, Giants 0.
Third inning: Both Hill and Nelson grounded to Morehead who gathered them in easily and threw them over in Genegal's bushel basket. Patterson hit a high fly which was captured by Chesbro. In the Asylum's half, Chesbro grounded to Nelson who threw to first. Morehead was given his base on balls while Madison hit safely over second base. Genegal reached base while Madison was caught out at second. Turner made the third out leaving Morehead and Genegal on base.
Fourth inning: Talbot grounded out third to first. Winston flied out to Turner. Wilson fanned out. For the Asylums, Lawler made a ground hit to Nelson and was thrown out at first. Launt, who followed, did likewise only he hit to second base. Reinecker was passed to first. Lamar hit to Nelson and was thrown out at first. Neither side scored.
Fifth inning: Grant flied out to Chesbro and Buckner rapped a ground hit to Morehead which the latter fielded. Williams made a nice two-bagger, but Hill hit an easy grounder to Chesbro and was put out at first. When the Asylum's half came, Chesbro threw the fans into an ecstasy of delight when he pounded out a three-bagger and ran like a deer around the bases. The team of Eagle Chemical Engine Company was standing in the road back of left field and the ball hit a horse named "Major," rolling under his feet. Morehead was thrown out at first and Chesbro attempted to sneak home on the play: Williams was watching, however, and Chesbro was caught between third base and the home plate, Williams starting after him ball in hand. It looked to be all over with "Ches" but he made several twists, eluded Williams, and was back safely on third. Madison had a ground hit, but Chesbro was unable to score on the play. Genegal made a long hit to center which was caught and Chesbro tagged and scored from third. Turner hade a nice base hit which scored Madison from second base. Lawlor was thrown out at first on a grounder to Nelson. Two runs for the Asylums. The score was now Asylums 4, Cuban Giants 0.
Sixth inning: Tierney took Launt's place in right field. Nelson was first at bat and made a base hit. Patterson flied out to Reinacker and Talbert did likewise to Morehead, who was also able to double Nelson who had strayed off first base. In the Asylum's half, Tierney knocked a grounder to second and reached first on a muff, going right on to second safely when the ball bounced into right field. Neither Reinacker nor Lamer were successful as both made outs. Chesbro was next to bat. He batted out a hot foul up the right field line and nearly upset the umpiring Tommy Murray. The effort to stop laughing at Tommy was evidently taking his attention from looking at the ball as Chesbro fanned on the next ball thrown. Score still 4 to 0.
Seventh inning: Winston banged a hot liner over Madison's head and reached first. His triumph was short lived as he was doubled up on a neat play by Chesbro, Morehead, and Genegal on a grounder of Wilson's. Grant expired at first in the effort to knock a grounder past Madison. The last half of this inning was even shorter then the first half, as Morehead grounded out to Nelson, Madison flied out and Genegal grounded out to Hill. No change in score.
Eighth inning: Jordan took Buckner's place and grounded out to Chesbro. Williams did the same, and Hill struck out. For the Asylums, Turner soaked out a hot one between first and second and reached second safely. He was put out a moment later on a double play made off Lawler's fly to first base. Tierney flied out to second. No change in score.
Ninth inning: Nelson grounded out to Genegal. Patterson made a safe hit between short and third and ran on to second. Talbert flew out to Tierney and Winston grounded out to Chesbro. Final score Asylums 4, Giants 0.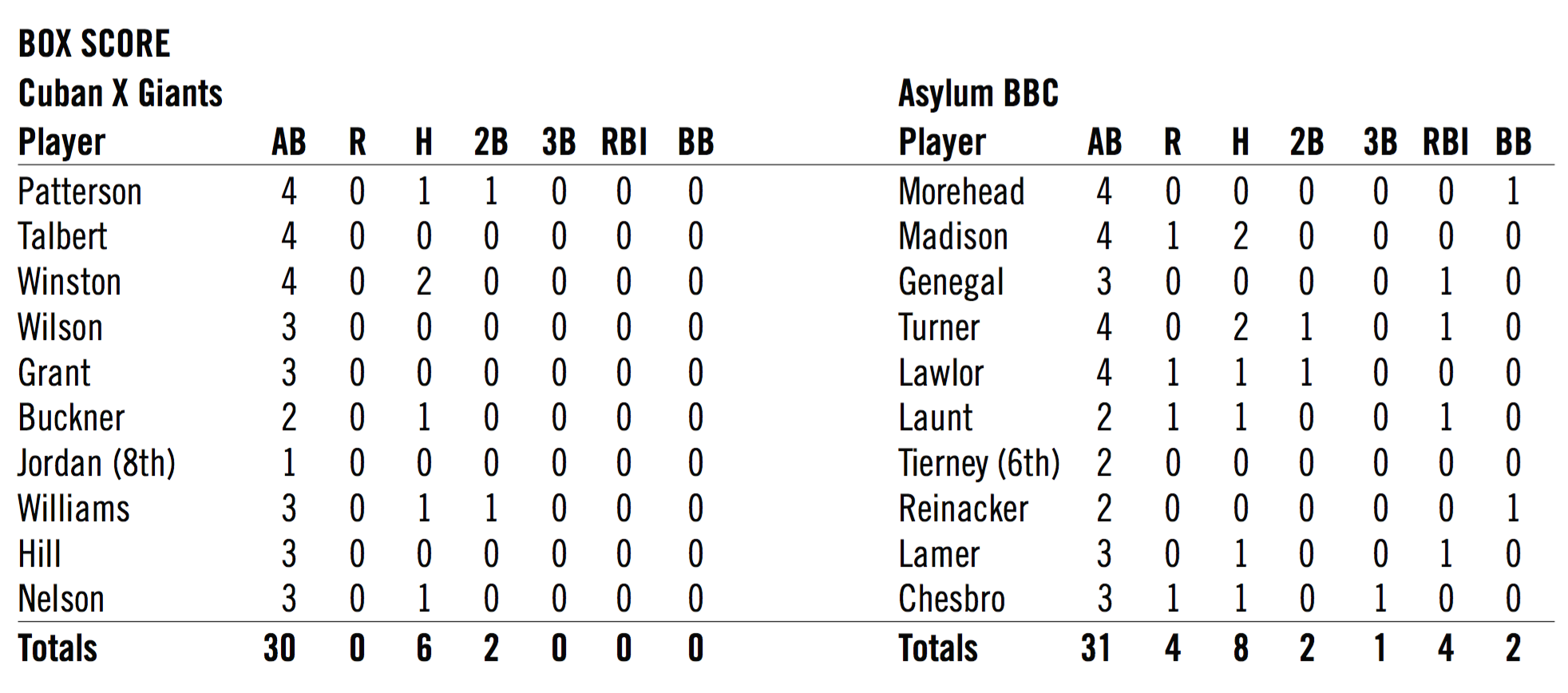 Box score for the September 29, 1905 game. Click image to enlarge.
EPILOGUE
As anticipated, Chesbro didn't disappoint the Asylum fans. His famous spit ball baffled the Giants throughout the game. The Cubans managed only five hits (the ninth inning hit may have been an error), four singles and a double, and Jack did not give any bases on balls. The Asylums didn't exactly knock Cuban pitcher John Nelson around, either. But with Madison and Turner each getting two singles, Lawlor's two-bagger, and Chesbro's three-bagger, the Asylums gained the victory with a shutout, 4–0. Launt, Lamer, Genegal, and Turner each had runs batted in for the winners.
Manager Cook was very pleased with the outcome and told the newspaper "…this…may be the starting of a new Asylum team for next year. We didn't think the people would take hold of it so strong and we're certainly pleasantly surprised."
At the conclusion of the game, there was another parade back to town where both teams took supper and headed back to New York City on the 7:35 pm train.
One of the papers that covered the event, The Daily Argus, mentioned that photographs of the game were taken and would be printed on souvenir postal cards. The following represent two of those photos.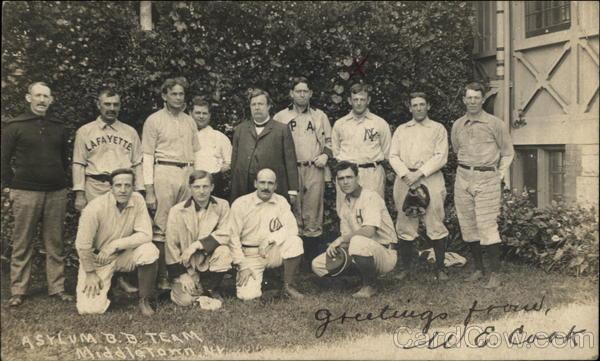 1905 Asylum BBC: Standing L to R: John Degnan, Fisher Launt, Chris Genegal, Tommy Murray, W. E. Cook Manager in suit, Charlie Tierney, Jack Chesbro, Art Madison, Tuck Turner. Kneeling L to R: Pete Lamer, Chris Rhinecker, Tommy Morehead, John Lawlor. Photo by Charles A. Ketcham.
When I first saw this photo, I had been researching the Wallkill Base Ball Club and I was aware that there had been an Asylum BBC in 1892. In the above photo, I recognized Jack Chesbro immediately and had to find out more about this Asylum team. I originally thought that Chesbro was just brought in for this 1905 game, and wanted to find out what his connection to the State Hospital was. It was several weeks of investigation before I learned that he had worked at the hospital eleven years earlier, and had pitched 27 games (winning 21) for the Asylum BBC in 1894.
Researching the Asylum teams and individual players was most rewarding, and on one of my frequent trips to Thrall Library in Middletown, a staff member mentioned that a gentleman had come to Middletown to leave a book of thumbnail photos with the Historical Society. The original photos had been taken by his grandfather, Charles A. Ketcham, at the turn of the last century. Since the Historical Society was closed, he left the book with the library. As I looked through the book, I noticed that there was a copy of a photo that seemed familiar. It was of the Cuban X Giants in 1905, and I was certain that the background was similar to one of the Asylum team taken September 29 that year. At home that night, I looked through "A Collectors Guide to Post Cards of Middletown NY" and found a reference to Real Photo Post Cards of both the Asylums and Cubans. The photographer was anonymous, but was possibly unsigned Charles Ketcham. As a result of additional interaction with the owner in Missouri, I was able to purchase the following photo.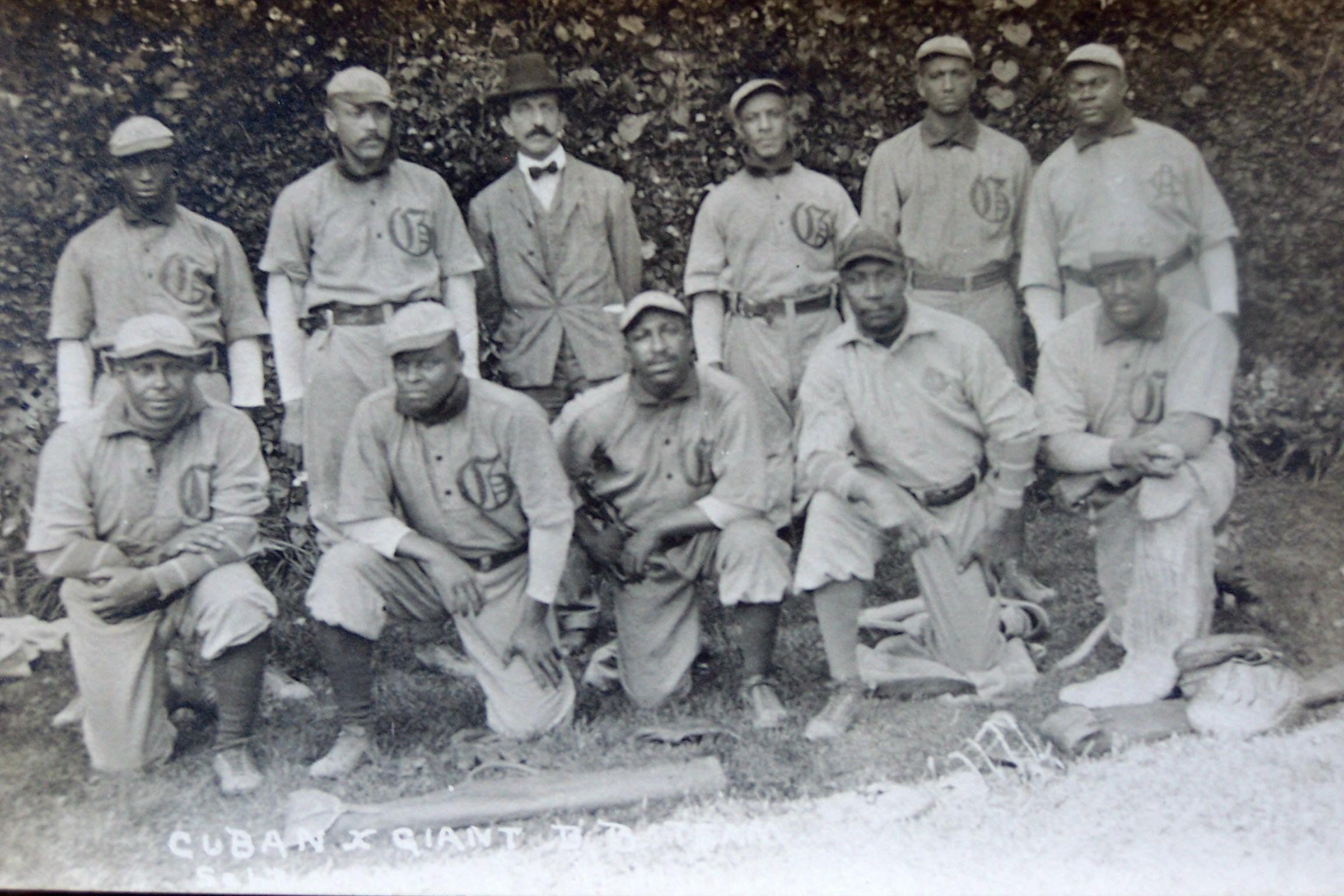 1905 Cuban X Giants: Manager E.B. Lamar Jr. in center. The author believes 1B Ray Wilson and C Clarence Williams are last two standing on right. 2B Frank Grant is kneeling on left with SS John Hill in the middle and P John Nelson kneeling 2nd from right. Other players: LF Pat Paterson, 3B Danger Talbert, CF Bobby Winston, RF Harry Buckner, RF Robert Jordan. Photo by Charles A. Ketcham.
The connection between Middletown and black barnstorming teams went beyond the field. The teams frequently shared banquets in town, and several of the players developed strong personal friendships. When Clarence Williams came back in 1913 with the Paterson Smart Set, it marked 26 years he had been barnstorming in Middletown. Over the years, he had become good friends with "Chick" Higham of the old Wallkill Base Ball Club who was now the Chief Fire Engineer and proprietor of the Commercial Hotel. Clarence expressed an interest in Chick's fancy white ceremonial fire helmet, and by the time Clarence made the trip back to New York City and Paterson, New Jersey, it was with the gift of Chick's helmet on his head.
With the exclusion of black players from white professional teams, barnstorming became the only stage for Americans to witness and appreciate the talented black players of the era. Middletown, New York, was extremely fortunate to have had this opportunity for so many years.
BOB MAYER is a retired bank executive from JPMorgan/Chase and Bankers Trust Co. A member of SABR since 2004, Bob collects vintage baseball artifacts and researches early baseball in the Westchester, Orange, Dutchess, Ulster and Putnam Counties in New York. He has spoken at many SABR and baseball historical conferences, produced the Old Timers Baseball Celebration in Peekskill (July 2012), and serves on the Board of Directors of the Middletown Historical Society. He is a trustee and former president of the Peekskill Museum.
Acknowledgments
The bulk of my source data came from old newspapers. However, my research brought me in contact with so many wonderful people who were willing to either share information or point me in directions that led to many things that would have been overlooked. The staff at the Thrall Library, in particular the research and local history librarians were very helpful and supportive. The Historical Society of Middletown & Wallkill Precinct granted me access to their files and hard copy newspapers that were over a hundred years old. Curator Marvin Cohen and his team of volunteers were especially helpful, often finding articles and other tidbits for me.
The folks that worked at the Middletown Psychiatric Center made me feel like one of the family during the year I spent there. I had the privilege of working closely with Judy McGrath, the former librarian at MPC, and cannot say enough about the assistance she provided. Jim Bopp, Director of MPC, was also a big supporter, and attending the Center's formal closing dinner was an event I will never forget.
I also can't forget the minor league research, support and encouragement that were afforded to me by my friend and SABR mentor John Pardon. John was one of the original 16 men who founded SABR in 1971. Sadly we lost John in October 2008 and he is greatly missed.
Sources
Newspapers
Middletown Daily Argus
Middletown Daily Press
Middletown Daily Times
Orange County Press
The Conglomerate: Volumes 1 – 7 (published by the patients at the Middletown State Homeopathic Hospital) June 1890 – May 1897
Books
Annual Reports of the Middletown State Homeopathic Hospital
City Directories – City of Middletown, New York
Gamwell, Lynn & Tomes, Nancy, Madness in America: cultural and medical perceptions of mental illness before 1914, Cornell University Press 1995
Hopper, DeWolf with Wesley Stout, Once A Clown, Always A Clown: Reminiscences of DeWolf Hopper, Little, Brown, and Company 1927
Kuntz, Jerry, Lawson's Progress (unpublished manuscript) [now "Baseball Fiends and Flying Machines – The Many Lives and Outrageous Times of George and Alfred Lawson", McFarland 2009]
Laskaris, Peter, Collectors Guide to Postcards of Middletown New York 1995
Peterson, Robert, Only the Ball Was White, Prentice Hall 1970
Riley, James, The Biographical Encyclopedia of the Negro Baseball Leagues, Carroll & Graf Publishers, Inc. 1994
White, Sol, History of Colored Base Ball, University of Nebraska Press 1995, incl. reprint of Sol White's Official Base Ball Guide 1907
Wright, Marshall D., The International League Year-by-Year Statistics, 1884-1953, McFarland & Company Publishers 2005
Websites
Baseball-Reference.com
Baseball Almanac
Baseball Library
Deadball.com
Minor League Ball, John Sickels
The Baseball Index
American Memory from the Library of Congress
National Baseball Hall of Fame
Ancestry.com
Other
Baseball Hall of Fame Research Library, Cooperstown
Conway (MA) Town Clerk
Middletown Historical Society
Middletown Psychiatric Center
New York State Archives, Albany
North Adams (MA) Library
North Adams Museum
North Adams Visitors Center
Norwich NY Museum
Ontario & Western Railway Archives
Sidney (NY) Historical Society
Thrall Library, Middletown (NY)
United States Census Data
John Degnan, Director of Middletown's Business Improvement District (Asylum Photos)
Scott Fiesthumel (SABR Member), Utica Baseball
Vernon Hale Hawkins (Charles Ketcham RPPC)
Tony Kissell, Utica Baseball
Gerald Kleiner, Middletown City Council (Asylum Game Photo)
Joseph Lawlor (JJL Photo)
Peter Mancuso, SABR Member and Chair, Nineteenth Century Committee
Marc Okkonen
John Pardon, SABR Founding Member
https://sabr.org/wp-content/uploads/2020/03/research-collection4_350x300.jpg
300
350
admin
/wp-content/uploads/2020/02/sabr_logo.png
admin
2017-07-24 21:13:44
2021-12-09 00:54:58
The Asylum Base Ball Club: The Great Reunion Game, September 29, 1905