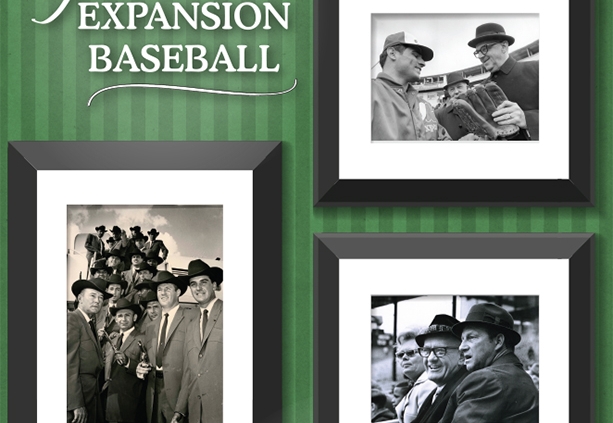 The Making of the Marlins
This article was written by Stephen R. Keeney
This article was published in Time For Expansion Baseball
---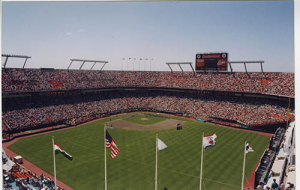 Joe Robbie Stadium on Opening Day, April 5, 1993. (Courtesy of the Miami Marlins)
The National League expansion of 1993 was a long time coming. The 1991 decision to add the Colorado Rockies and the Florida Marlins to the major leagues was the end of "the road that began six years, three commissioners, and three league presidents ago."1
This road began in January of 1984, when Major League Baseball announced an eight-member committee to study the possibility another expansion after 1977. In the fall of 1985, twelve groups presented expansion proposals to a 14-owner committee. At that year's winter meetings, Commissioner Peter Ueberroth mentioned expansion in his "state of the game" speech
Over the next few years, the owners tabled expansion talks, focusing instead on clubs claiming to be in financial trouble and on fighting claims of collusion by the players union.
By 1987, the US Senate had formed a Task Force on Expansion. This bipartisan group was led by Senator Tim Wirth (D) of Colorado, and included senators from several states with cities that had expressed interest in a baseball franchise. These included Arizona (Phoenix), Tennessee (Nashville), Indiana (Indianapolis), Ohio (Columbus), Colorado (Denver), Florida (Miami, St. Petersburg), and the delegate from Washington, D.C.
As other congressional groups had done in the past, this task force told MLB to either expand to more cities or lose its antitrust exemption, which protected it from being sued or broken up as an illegal monopoly. The owners agreed to expand, at one point planning to increase each league to 16 teams, for a total of 32.
But the owners continued to stall. They conducted studies and held various rounds of presentations by competing cities and ownership groups. Some owners wanted to stall until a new collective-bargaining agreement was negotiated with the players union in 1990, in order to use expansion to win other concessions. The threat of losing their monopoly was made slightly more real when a group calling itself the Professional Baseball Federation announced plans to start a new league with 8 to 10 teams and to lure current major-league stars away.
Having faced threats to its monopoly profits from upstart leagues and Congress several times before, the owners again relented. In June of 1990, the National League announced that it would expand by two teams. The cities would be selected by September 1991 with play to begin in 1993. In December 1990 the six finalists for expansion were announced: Buffalo, Denver, Orlando, St. Petersburg/Tampa, Washington, and Miami.
On June 10, 1991, the ownership groups from Denver and Miami were announced as the winners of the two new franchises. The additions still had to be approved by a vote of all the owners, which required approval of three-quarters (9 of 12) of the National League owners and a majority (8 of 14) American League owners. The decision became official on July 5, 1991, when the owners from both leagues unanimously approved the two new franchises.
But the four rejected cities still wanted baseball. They wanted an ownership group to purchase an existing team and move it to town. The Houston Astros, the Cleveland Indians, and especially the Seattle Mariners were seen as potential buy-and-move targets. This also failed, but at the time there was reason to hope. The Buffalo group – the Rich family – already owned the city's Triple-A Bisons and had tried the buy-and-move tactic with the Montreal Expos in 1990. Washington Mayor Sharon Pratt-Kelly told the Associated Press that she would "work with investors and other baseball boosters to pursue teams for sale in order to bring baseball to Washington."2
The Tampa-St. Petersburg area was especially desperate to lure an existing team, since the city of St. Petersburg had just finished building a $110 million domed stadium. Since construction on what is today Tropicana Field began in the 1980s when the notion of baseball expansion was first being batted around, missing out on the 1993 expansion was particularly painful. However, the city would get a team in the next round of expansion.
The Miami franchise chose the name Florida Marlins. Marlins was chosen as an homage to a line of several minor-league baseball teams that had previously called Miami home. Major League Baseball hoped the ownership group would choose the alliterative Miami Marlins, which it thought was better for marketing and kept open the door for the next round of expansion to include another Florida city. But the ownership group wanted to appeal to as many potential customers in the state as possible, and thus decided on the Florida Marlins.
This homage came with its own complications. The original Miami Marlins were a minor-league team that began play in 1956 in the International League. Its first game ever saw an almost 50-year-old Satchel Paige come out of a helicopter that landed on the field, only to go straight to the bullpen and not pitch at all that day – although he did pitch that season. The team moved to San Juan, Puerto Rico, after the 1960 season.3
Another team called the Miami Marlins began play in the 1960s. This team – with a family tree going back to the 1920s – was not affiliated with the original Marlins, but adopted the mascot as an homage. As affiliations changed, this team went from the Miami Marlins to the Miami Orioles and back again, before becoming the Miami Miracle of the Florida State League, which was the name it played under when the Florida Marlins became a team. It was this team – the Miracle – that sued the new Florida Marlins in October of 1992. The Miracle argued that the Florida Marlins had refused to negotiate with the Miracle about the rights to the team name and the exclusive territorial rights for the Miami territory.
The Miracle held exclusive rights to everything within 35 miles of their home plate – an expanse that encompassed the new home of the Marlins, Joe Robbie Stadium – and under the master agreement between the major and minor leagues, the new Florida Marlins were supposed to compensate the Miracle for the loss of those rights. At the time, the compensation for these rights was estimated to be between $1 million and $14 million.
Once the search for expansion cities became serious, Miami had been all but counted out. The rain, the heat, and the lack of fans turned off many baseball observers. The Miami Miracle had drawn fewer than 125 spectators per game in 1989.4 But Miami became a frontrunner after the South Florida Big League Baseball bidding group was chosen to represent the city's bid. What brought on this change? The deep, deep pockets of the group's owner, H. Wayne Huizenga.
Huizenga agreed to pay the entire $95 million franchise fee himself. After that, everyone found reasons to support Miami's bid. The prospect of professional baseball seemed to excite the city, at least a little – the Miracle's attendance increased to 700 per game (still well below any measure of success) and 114,000 fans went out to Joe Robbie Stadium over two nights in March of 1991 to watch the Yankees and the Orioles play.
Suddenly, the fact that Miami was one of the nation's 20 largest television markets was a major factor. And of course, if Huizenga built it, the city's "Latin and Caribbean population" would come, and "provide a wellspring of fans."5 But there is little doubt that at least part of the allure of Miami's bid to the other owners was Huizenga's wealth – his net worth in the summer of 1991 was estimated to be between $500 million and $800 million.
In all, it was estimated that it would cost Huizenga between $131 million and $142 million before the Marlins could begin play, not including his partial purchase of Joe Robbie Stadium. This included the $95 million franchise fee, about $30 million or $40 million more in start-up costs (including salaries and equipment), and about $6 million or $7 million for renovations to Joe Robbie Stadium to make it baseball-friendly. Huizenga ended up spending $10 million to get the ballpark baseball-ready. Compared with these numbers, the $500,000 Huizenga spent promoting his bid to the other owners seemed paltry.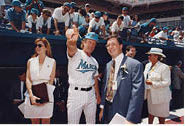 Marlins manager Rene Lachemann (l.) on Opening Day 1993 as he is besieged by autograph seekers. (Courtesy of the Miami Marlins)
Huizenga was born in 1937 in Chicago, where his Dutch-born grandfather had founded a garbage-hauling company in 1894. His father was a cabinetmaker and homebuilder. The family moved to Fort Lauderdale, Florida, when Huizenga was 15. After dropping out of college in Michigan, Huizenga ended up managing a family friend's three-truck garbage-hauling company. Huizenga eventually started his own trash-hauling service with just one truck, which he drove. In a few years, his Southern Sanitation Service was a 20-truck operation with routes in several major South Florida cities.
After starting and growing his own small business, Huizenga made his real money by buying out small businesses and aggregating them into progressively bigger conglomerates. He bought dozens of small garbage haulers and added them to his own company to create his first billion-dollar company, Waste Management.
Under Huizenga's leadership, Waste Management was accused of everything from price fixing to violating environmental laws to making improper political contributions. Huizenga stepped down as vice chairman in 1984, and planned to retire. Instead, however, he began growing his fortune by buying up "mom-and-pop" companies and consolidating them into larger entities.
At the time of the Marlins' expansion, Huizenga was best known for owning Blockbuster Video. Huizenga and other Waste Management executives had bought shares in the nascent enterprise in 1987. Once the original founder left the company, Huizenga's experience in consolidating small local businesses like those that comprised most of the video rental industry of the time really paid off.
During his ownership of the Marlins, Huizenga sold Blockbuster to Viacom for $8.4 billion and – again using his buy-small-and-consolidate model – created AutoNation, a Fortune 500 network of car dealerships. In 2017, Huizenga was ranked the 288th wealthiest American, with a net worth of $2.8 billion. He died on March 22, 2018, at the age of 80 in his Fort Lauderdale home.
Huizenga started building his front-office staff before the other owners had cast their final votes of approval. The first person Huizenga brought on board was Carl Barger as president. Formerly the president of the Pittsburgh Pirates and a longtime friend of Huizenga's, Barger was a member of the board of directors of Huizenga's Blockbuster Video.6 Barger technically resigned from the Pirates on July 8, 1991. But while major-league rules barred one person from working for two clubs at once, Barger was allowed to begin staffing the front office of the Marlins while also running the Pirates until the owners selected a new president.
As it turned out, Barger would never see his new team play a single game. On December 9, 1992, during the annual Winter Meetings in Louisville, he collapsed from a ruptured abdominal aortic aneurysm. He was taken to a hospital in an ambulance but died before surgery could be performed. Barger's position remained vacant through the Marlins' first season. Today, Carl F. Barger Boulevard sits just outside what is now Hard Rock Stadium (formerly Joe Robbie Stadium, among other names), the first home of the Marlins.
Team President David Dombrowski (l.) on Opening Day 1993. Dombrowski remained- with the Marlins through 2001 before moving on to the Detroit Tigers and the Boston Red Sox. (Courtesy of the Miami Marlins)
The next move for the Marlins was to appoint a general manager In September of 1991, the Marlins hired Dave Dombrowski away from the Montreal Expos. Dombrowski in turn "lured virtually all the Expos' front-office executives to the expansion Marlins."7 As Murray Chass of the New York Times put it:
Dombrowski was not bashful about raiding his former employer's cupboard. At last count, 12 other former Expo employees had migrated, including the scouting director, the assistant scouting director, the player development director, the senior consultant on player personnel, the special consultant to the vice president for player personnel, three scouts, three minor league coaches and a secretary.8
But one position that was not filled by a former Expo was manager. The job of managing an expansion team had never been easy. Out of 34 seasons coached by the 10 previous managers of major-league expansion teams, only three seasons, all from the same manager (Bill Rigney of the Angels), were winning seasons. For this daunting task, the Marlins chose Rene Lachemann. In 1992, when Lachemann was hired, he had not managed a baseball team for eight years. His last stop had been with the Milwaukee Brewers in 1984.
And if expansion dilutes the talent level of the major-league player pool by promoting previously unqualified or unsuccessful players, the same could be said of the managerial pool. Despite being liked by his players, particularly in Seattle, Lachemann had only three winning records in 13 minor- and major-league seasons9 – once in Class A, once in Double A, and once in Triple A, when his Spokane Indians were 11-9 in the Pacific Coast League before Lachemann was promoted to manage the Seattle Mariners for the rest of the season. Lachemann never had a winning season with the Marlins, and his only managing job after that was one game as interim manager of the Chicago Cubs.
The Marlins even had a television broadcast team lined up before any players had been drafted. For play-by-play, they hired Jay Randolph. For analysis, they hired future-Hall of Fame catcher Gary Carter. Carter was an 11-time All-Star, with three Gold Gloves and five Silver Slugger Awards, who had also won the 1986 World Series with the Mets. Carter had spent most of his career, including his final season, with – no surprise – the Montreal Expos.
The next step for the new Marlins franchise was to stock its roster. To do this, the major leagues held an expansion draft. This draft was unique among expansion drafts; all major-league teams had been required by Commissioner Fay Vincent to make players available to the two new National League franchises, the Florida Marlins and the Colorado Rockies. (By the time of the draft, Vincent was a former commissioner.)
Each team was allowed to protect 15 players before the draft started, and could lose up to three players in the draft. This also meant that it was the first time teams from both leagues split the expansion fees. Each new franchise paid a fee of $95 million to join, for a total of $190 million. Of this total, 22 percent ($42 million) went to the American League, $3 million per team. The remaining $148 million was divided among the National League teams, for $12.33 million each.
American League officials were understandably upset that they had to provide just as many players to the draft but received less than a quarter of the amount of the franchise fees that the National League teams received. Oakland Athletics general manager Sandy Alderson said that the American League teams would rather have received no money and not have to provide players, because three players were potentially more valuable than the $3 million.10
Chicago White Sox owner Jerry Reinsdorf, one of the most vocal opponents of the plan, said the same. However, when asked if he would have taken $3 million for the three players the White Sox had actually lost in the 1976 expansion draft, when the Toronto Blue Jays and Seattle Mariners were added to the American League, he said he happily would.11 Another American League owner who complained about the deal said that he would "be thrilled" to have gotten $3 million in exchange for the five players his club lost in the 1976 expansion draft.12
Still, the owners knew there was nothing they could do but try to change Commissioner Vincent's mind. As a compromise to the American League owners, Vincent decided that all 12 National League teams would lose three players, and that only eight American League teams would lose three players, with the other six teams losing only two players. He also allowed each National League team to protect three additional players each time they lost a player to the draft, but allowed each American League team to protect four more players each time.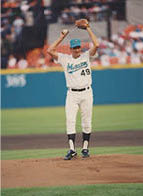 Charlie Hough was the pitcher of record on Opening Day 1993, a 6-3 victory over the Los Angeles Dodgers. (Courtesy of the Miami Marlins)
The day finally came on November 17, 1992. All current major-league teams had to deliver their list of 15 protected players by November 9. Both expansion teams focused on pitching and youth, particularly the Marlins. Of the Marlins' 36 draft picks, 21 were pitchers – the Rockies drafted 20. The Marlins' first pick was Nigel Wilson, a top young outfield prospect in the Blue Jays' system. Many in baseball were surprised that Toronto had left him unprotected. The average age of the Marlins' 13 first-round picks was 24.6, against 26.5 for the Rockies, and only two of the Marlins' picks had more than two years of major-league experience, compared with seven for the Rockies.
Several of the veterans the Marlins chose were used as trade bait. They drafted veterans Greg Hibbard and Bryan Harvey in the first round, and traded Hibbard to the Cubs for Gary Scott, a young but struggling third baseman, and shortstop Alex Arias. They also drafted veteran left-hander Danny Jackson from the Pirates, just to turn him around to the Phillies for two young pitchers, Joel Adamson and Matt Whisenant. Both of these deals had been all but made before the draft, and were contingent upon how the draft went. In another fascinating swap, the Marlins drafted Eric Helfand, a young catcher the Athletics had left unprotected, and traded him right back to Oakland for veteran shortstop Walt Weiss, whom the Athletics had protected.
By far the most notable player drafted by the Marlins was Jeff Conine, their 11th pick in the first round. Then 26, Conine would become the only player to play for both of the Marlins' World Series-winning teams. Conine was nicknamed "Mr. Marlin" for his role as both an inaugural member of, and two-time champion with, the team.
Now that the Marlins finally had players, they needed a place to play. That place was Joe Robbie Stadium, the home of the NFL's Miami Dolphins, named after their owner. After several failed attempts at getting a publicly financed stadium, Robbie used loan money to build the $115 million stadium, which opened in 1987. After Robbie died in 1990, Huizenga bought 50 percent of the stadium for a reported $40 million from the Robbie family. Huizenga also bought 15 percent of the Dolphins.
In 1994 Huizenga purchased the other half of the stadium's ownership rights, and would continue to own the stadium (and the Dolphins), collecting rent, concessions money, and luxury and club-seat revenues until long after he sold the Marlins in 1998.
Major-league Opening Day finally came to Miami on April 5, 1993. Opening Day souvenirs were sold out an hour before game time. Clearly the excitement was there. The team honored its late president, Carl Barger, in a pregame ceremony. The first pitch was thrown out by 78-year-old Joe DiMaggio, who had lent his name to the Children's Hospital in neighboring Hollywood.
The Marlins' Opening Day pitcher, 45-year-old knuckleballer Charlie Hough, joked that DiMaggio threw harder than he could. Despite fielding a team ESPN later described as "your usual array of expansion team washouts and hopefuls,"13 the Marlins won the franchise's first game, 6-3, over the Dodgers. Hough outpitched Orel Hershiser, throwing to batterymate Benito Santiago, who had played for the minor-league Miami Marlins 10 years earlier as an 18-year-old. Mr. Marlin, Jeff Conine, went 4-for-4. The opening three-game series drew 126,575 spectators. Everything was off to a good start for the fans and the owner.
The rest of that first season ended the way most expansion seasons do. The Marlins finished next to last in the National League East (above the Mets), but avoided the 100-loss fate suffered by half of the previous expansion teams, ending the season at 64-98 (.395). Center fielder Chuck Carr led the National League with 58 stolen bases. Attendance remained strong that first season. A total of 3,064,847 attended home games, an average of 37,838, making the Marlins one of only seven major-league teams to draw over 3 million fans in 1993.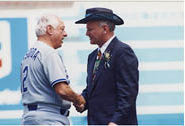 Dodgers' manager Tommy Lasorda and Marlins' owner Wayne Huizenga. (Courtesy of the Miami Marlins)
In the first years after expansion, the Marlins seemed to have a clear plan: to draft and develop young players, with just enough veterans to help the development along. Of the 10 expansion teams between 1961 and 1991, the average team started out with a winning percentage of .365, building up to .491 by year eight. The Marlins were ahead of the curve, winning .395 of games the first year and .494 by year four. The process seemed to be working.
But the process was not working quickly enough for Huizenga. By 1997 he owned the Marlins, the Dolphins, and the NHL expansion Florida Panthers. The Panthers had lost the 1996 Stanley Cup finals to the Colorado Avalanche. After being so close, Huizenga wanted a championship. As the Marlins' steady improvement showed, they already had a promising young core, which included players like Edgar Renteria, Charles Johnson, Al Leiter, and Gary Sheffield.
However, in the offseason after the Panthers' runner-up finish, Huizenga and Dombrowski shocked the baseball world by spending a record-breaking $89 million on free agents. To the already promising core, the Marlins added pitcher Alex Fernandez, and boosted the offense with third baseman Bobby Bonilla and outfielder Moises Alou, who alone cost $25 million. They also added depth through a series of smaller but solid moves. The payroll for the 1996 season was $31 million, and by 1997 it was $52 million.
The spending spree paid off. The Marlins finished the 1996 season 80-82, almost reaching .500. They finished the 1997 season 92-70 – their first winning season. They went on to beat the Atlanta Braves in the NLCS and the Indians in the World Series.
The World Series championship was the peak before a deep valley for the Marlins under Huizenga. Championship in hand, he began the first Marlins fire sale, a process one writer dubbed "a textbook case in how to alienate a fan base."14 The Marlins sold off big-money free agents from a year earlier – Bonilla, and Alou15 – as well as some of its promising core, including Gary Sheffield and Robb Nen, who had both been with the Marlins since their first season. Fans and sportswriters across the country skewered Huizenga, some saying he was just throwing a "hissy fit"16 over his failure to get a new taxpayer-funded, baseball-only ballpark.
Huizenga also complained that he was losing money. He said the Marlins had lost $34 million during the 1997 World Series season. While they may well have lost $34 million on paper, paper losses in professional sports – as with many large companies – are largely due to accounting practices. The former president of the Toronto Blue Jays, Paul Beeston, said, "Under current generally accepted accounting principles, I can turn a $4 million profit into a $2 million loss, and I can get every national accounting firm to agree with me."17
Using a tax benefit known in the sports context as the roster depreciation allowance – whose benefits Huizenga had already exhausted – and other paper-only accounting maneuvers, teams often claimed large financial losses while also raking in huge profits.
And such claims of massive losses were nothing new in baseball. As former Players Association executive director Donald Fehr once told Sports Illustrated, "You go through The Sporting News for the last 100 years, and you will find two things are always true. You never have enough pitching, and nobody ever made money."18
Another thing that made Huizenga's claim more dubious was the way he structured the various entities he owned that were connected to the Marlins. Huizenga owned Joe Robbie Stadium – by now called Pro Player Stadium – and the team's cable broadcaster, Sportschannel Florida. Between owning these two entities and giving the Marlins favorable deals with them, Huizenga made about $40.1 million in revenue off the Marlins that were counted under those other entities instead of the Marlins.
Championship in hand and tax shelter exhausted, Huizenga tried to sell the Marlins. He may have been trying to sell the team as early as April 1997. If so, part of the impetus for the free-agent splash may have been the thought that a successful team would fetch a higher sale price.
Whether the goal of Huizenga's spending spree was the personal goal of a winning a championship or the financial goal of making a higher profit by selling the team, what is certain is that, despite claiming that the team's finances were suffering, Huizenga almost sold the team to longtime business associate and then team President Don Smiley. Surely, if the finances were so bad, Smiley would have known, and would not have tried to buy the team for $169 million. Smiley's bid fell apart when his group of investors came up $50 million short of the sale price.
Huizenga eventually did sell the team, to another South Florida multimillionaire, John Henry. After long, contentious, and very public negotiations, Henry agreed to buy the team for $150 million and to pay $8 million for renovations at Pro Player (formerly Joe Robbie, in 2018 Hard Rock) Stadium.
But Huizenga still owned the ballpark and the cable channel. He was able to negotiate a 10-year contract for his cable channel to broadcast the Marlins' games before selling the team, and by owning the ballpark he kept all the luxury-box and club-seat revenue, as well as a majority (62.5 percent) of the parking revenue and a portion (30 percent) of the concession profit from Marlins games.
So even after selling the team, Huizenga continued to profit off the Marlins until at least 2012, when they moved to Marlins Park and changed their name to the Miami Marlins.
STEPHEN R. KEENEY is a lifelong Reds fan and joined SABR in early 2015. He graduated from Miami University in 2010 with degrees in History and International Studies, and from Northern Kentucky University's Chase College of Law in 2013. After passing the bar exam he moved from his hometown of Cincinnati to Dayton, Ohio, where he works as a union staff representative and lives with his wife, Christine, and newborn son, Leo.
Sources
In addition to the sources cited in the Notes, the author also consulted Baseball-Reference.com and the following:
"6 Cities Named Finalists for 2 NL Expansion Teams," Wilmington (North Carolina) Morning Star, December 18, 1990: C1.
"And Batting Second…," Palm Beach Post, January 24, 1994.
Berardino, Mike. "Lloyd's Balks at Marlins' Claim on Fernandez's Injury." Sun-Sentinel.com, April 26, 2001, available at articles.sun-sentinel.com/2001-04-26/sports/0104260199_1_marlins-alex-fernandez-fernandez-s-case.
Blum, Ronald. "Owners Approve Rockies, Marlins," Kentucky New Era (Hopkinsville, Kentucky), July 6, 1991: 1B.
Chass, Murray. "A Busy Day of Drafting and Dealing," New York Times, November 18, 1992.
Chass, Murray. "Baseball Destined to Grow, but Not Any Time Soon," New York Times, June 26, 1988.
Chass, Murray. "Barger Leaves Pirates," New York Times, July 9, 1991.
Chass, Murray. "Expansion Losers Turn to Unlikely Plan 2," New York Times, June 12, 1991.
Chass, Murray. "For the Rockies and Marlins: At Last, the Envelopes Please," New York Times, November 9, 1992.
Chass, Murray. "Lawsuit from Minors Seeks to Derail Marlin Expansion Draft," New York Times, October 20, 1992.
Chass, Murray. "Marlins Have Old Business to Finish," New York Times, October 29, 1992.
Chass, Murray. "No Party for Expansion Managers," New York Times, November 1, 1992.
Chass, Murray. "Vincent Splits Expansion Booty," New York Times, June 6, 1991.
Clarke, Norm. "Expansion Cities Play Hardball," Chicago Tribune, November 15, 1987. articles.chicagotribune.com/1987-11-15/sports/8703260355_1_antitrust-protection-major-league-baseball-antitrust-lawsuit.
Clary, Mike, Marcia Heroux Pounds, and Craig Davis. "H. Wayne Huizenga, South Florida Business Titan, Dead at 80," South Florida Sun-Sentinel, March 23, 2018. sun-sentinel.com/news/obituaries/fl-reg-h-wayne-huizenga-obituary-20180118-story.html.
"Dave Dombrowski," Baseball-Reference.com. baseball-reference.com/bullpen/Dave_Dombrowski#Record_as_a_General_Manager.
Donnelly, H. "High Stakes of Sports Economics," Editorial Research Reports, 1988. Washington, DC: CQ Press. library.cqpress.com/cqresearcher/document.php?id=cqresrre1988040800.
"Expansion of 1993 – BR Bullpen," Baseball-Reference.com. baseball-reference.com/bullpen/Expansion_of_1993.
"Fifteen U.S. Senators, Many Representing States Seeking Big-League Franchises…" UPI.com, November 3, 1987. upi.com/Archives/1987/11/03/Fifteen-US-senators-many-representing-states-seeking-big-league-franchises/8050562914000/.
Fisaro, Joe. "New Name, but Deep-Rooted Tradition in Miami," Marlins.mlb.com. web.archive.org/web/20141204133053/http://m.marlins.mlb.com/news/article/25948494/.
Hyde, Dave. "M's Would Be Great Consolation Prize." Fort Lauderdale Sun-Sentinel, republished in The Spokesman-Review and Spokane Chronicle, July 6, 1991: B2.
Keeney, Stephen. "The Roster Depreciation Allowance: How Major League Baseball Teams Turn Profits Into Losses," The Baseball Research Journal 45, 1 (Spring 2016): 88-95.
Keri, Jonah. "Is Wayne Huizenga a Genius?" In Jonah Keri, ed., Baseball Between the Numbers: Why Everything You Know About the Game is Wrong. (New York: Basic Books (for Baseball Prospectus), 2006).
"Marlins to Rest Alex Fernandez." UPI.com., September 5, 1999. Available at upi.com/Archives/1999/09/05/Marlins-to-rest-Alex-Fernandez/6922936504000/ph.
Olney, Buster. "Marlins Lose Fernandez to Bad Shoulder Injury," New York Times. October 10, 1997.
Peterson, Iver. "Cities Spending Big for Shot at Baseball," Lawrence (Kansas) Journal-World, January 8, 1984, 4B.
Rader, Benjamin. "The Resurgence of America's Game," In Baseball: A History of America's Game (Champaign: University of Illinois Press, 2008).
"Rene Lachemann," Baseball-Reference.com. Available at baseball-reference.com/register/player.fcgi?id=lachem001ren.
"Rene Lachemann – BR Bullpen," Baseball-Reference.com. Available at baseball-reference.com/bullpen/Rene_Lachemann.
Sandomir, Richard. "New Teams Need Players and Patience," New York Times, June 16, 1991.
Sandomir, Richard. "Wayne Huizenga's Growth Complex," New York Times, July 9, 1991.
Smith, Claire. "National League Expansion Vote Delayed," New York Times, June 6, 1991.
"Sold! John Henry Buys Marlins." CBS News.com. November 6, 1998. cbsnews.com/news/sold-john-henry-buys-marlins/.
Sullivan, Paul. "Huizenga's Big Splash Engulfs All of Baseball," Chicago Tribune, June 29, 1997. articles.chicagotribune.com/1997-06-29/sports/9706290424_1_florida-marlins-wayne-huizenga-million-by-financial-world.
"Transactions," New York Times, September 20, 1991.
Weingarden, Steve, and Bill Nowlin, eds., Baseball's Business: The Winter Meetings, Volume 2 – 1956-2016 (Phoenix: Society for American Baseball Research, Inc., 2017).
Zimbalist, Andrew. "The Capitalist: A Miami Fish Story," New York Times Magazine, October 8, 1998.
Notes
1 Murray Chass, "The Marlins? The Rockies? Get Used to It. It's Official," New York Times, July 6, 1991.
2 Murray Chass, "Baseball Ready to Add Miami and Denver Teams," New York Times, June 11, 1991: A1.
3 The team then moved several times, changing names, cities, and league affiliations.
4 Different sources have put the number of spectators per game as 40 (Tim Golden, supra, Endnote 4) and 112 (Lloyd Johnson and Miles Wolff, The Encyclopedia of Minor League Baseball, 2nd Edition, Baseball America: April 1997).
5 Tim Golden, "Miami Still Has Heat and Rain, but Now It Has a Team," New York Times, June 11, 1991.
6 There was talk of a potential conflict of interest regarding Barger, largely because Pittsburgh's chairman, Douglas Danforth, was chairman of the National League Expansion Committee, which had made the decision to award the new franchises to Denver and Miami. See Murray Chass, "New Teams Expect Approval Today," New York Times, July 4, 1991.
7 Murray Chass, "Youthful Executive Rebuilding the Expos in Old-Fashioned Way," New York Times, March 4, 1992.
8 Ibid.
9 This count includes 12 seasons with one team only, and one season (1981) that was split between two teams, the Seattle Mariners and their Triple-A affiliate.
10 "Denver and Miami a Step Closer to Obtaining Expansion Teams," New York Times, June 13, 1991.
11 Murray Chass, "New Teams, Not Some Owners, May Be Getting the Raw Deal," New York Times, June 23, 1991."
12 Ibid.
13 David Schoenfield, "Marlins, Rockies Still Seeking Answers," ESPN.com, April 5, 2013. espn.com/blog/sweetspot/post/_/id/34431/marlins-rockies-still-seeking-answers.
14 Frank Jackson, "It Was Twenty Years Ago Today," The Hardball Times, Fangraphs.com, April 9, 2013. fangraphs.com/tht/it-was-20-years-ago-today/.
15 Alex Fernandez survived the fire sale, as he was injured in the 1997 NLCS, and was essentially untradeable. He missed the entire 1998 season. However, the Marlins did avoid paying most of Fernandez's 1998 salary. About 75 percent of it was covered by an insurance policy. See Buster Olney, "Marlins Lose Fernandez to Bad Shoulder Injury," New York Times, October 10, 1997, and Mike Berardino, "Lloyd's Balks at Marlins' Claim on Fernandez's Injury," Sun-Sentinel.com, April 26, 2001, available at articles.sun-sentinel.com/2001-04-26/sports/0104260199_1_marlins-alex-fernandez-fernandez-s-case.
16 Tom Verducci, "The Faux Classic," Sports Illustrated, October 27, 1997: 42.
17 Dan Alexander, "Can Houston Astros Really Be Losing Money Despite Rock-Bottom Payroll?" Forbes.com. August 29, 2013. forbes.com/sites/danalexander/2013/08/29/can-houston-astros-really-be-losing-money-despite-rock-bottom-payroll/.
18 Richard Hoffer, "The Bucks Stop Here," Sports Illustrated, July 29, 1991. si.com/vault/1991/07/29/124615/the-bucks-stop-here-spiraling-salaries-and-a-potential-loss-of-tv-loot-imperil-baseballs-prosperity.
---
FLORIDA MARLINS EXPANSION DRAFT

PICK

PLAYER

POSITION

FORMER TEAM

 
 
 
 

ROUND 1

 
 
 
 

1

Nigel Wilson

of

Toronto Blue Jays

2

Jose Martinez

p

New York Mets

3

Bret Barberie

2b

Montreal Expos

4

Trevor Hoffman

p

Cincinnati Reds

5

Pat Rapp

p

San Francisco Giants

6

Greg Hibbard

p

Chicago White Sox

7

Chuck Carr

of

St. Louis Cardinals

8

Darrell Whitmore

of

Cleveland Indians

9

Eric Helfand

c

Oakland A's

10

Bryan Harvey

p

California Angels

11

Jeff Conine

1b

Kansas City Royals

12

Kip Yaughn

p

Baltimore Orioles

13

Jesus Tavarez

of

Seattle Mariners

 
 
 
 

ROUND 2

 
 
 
 

14

Carl Everett

of

New York Yankees

15

David Weathers

p

Toronto Blue Jays

16

John Johnstone

p

New York Mets

17

Ramon Martinez

ss

Pittsburgh Pirates

18

Steve Decker

c

San Francisco Giants

19

Cris Carpenter

p

St. Louis Cardinals

20

Jack Armstrong

p

Cleveland Indians

21

Scott Chiamparino

p

Texas Rangers

22

Tom Edens

p

Minnesota Twins

23

Andres Berumen

p

Kansas City Royals

24

Robert Person

p

Chicago White Sox

25

Jim Corsi

p

Oakland A's

26

Richie Lewis

p

Baltimore Orioles

 
 
 
 

ROUND 3

 
 
 
 

27

Brad Ausmus

c

New York Yankees

28

Marcus Moore

p

Toronto Blue Jays

29

Armando Reynoso

p

Atlanta Braves

30

Steve Reed

p

San Francisco Giants

31

Mo Sanford

p

Cincinnati Reds

32

Pedro Castellano

ss

Chicago Cubs

33

Curtis Leskanic

p

Minnesota Twins

34

Scott Fredrickson

p

San Diego Padres

35

Braulio Castillo

of

Philadelphia Phillies

36

Denis Boucher

p

Cleveland Indians
https://sabr.org/wp-content/uploads/2019/10/Expansion-Baseball-cover-800px.jpg
800
613
admin
/wp-content/uploads/2020/02/sabr_logo.png
admin
2018-02-20 01:36:37
2023-02-27 01:41:57
The Making of the Marlins